Which is The Best React Component Library in 2021?
React is a popular front-end and open-source framework used by software developers to create SPAs (single-page applications). The React community of developers has created numerous component libraries to aid in speeding up development.
A React component is a function that accepts properties and returns a UI element. They are independent yet reusable pieces of code. A React component takes raw data and renders it in the DOM as HTML. The React component uses properties (props) and states which contribute to the raw data. The props and states are plain JS (JavaScript) objects.
We will look at the best React JS libraries of 2021
1.    Material Kit React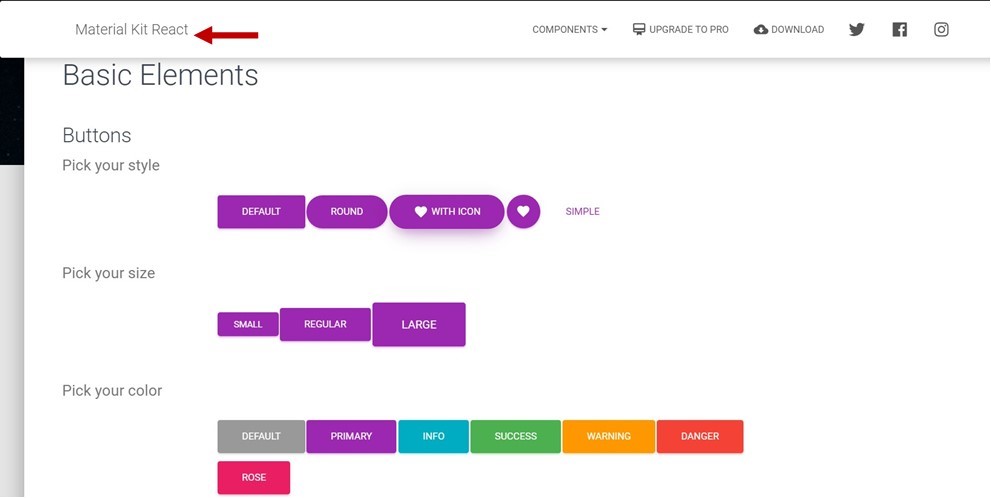 Material Kit React was inspired by Google's Material Design, and it builds a set of consistent elements. This allows your web project to retain consistency in appearance and functionality. The layout is similar to multiple paper sheets. This gives order and depth to the layouts.
Material Kit contains several essential elements like badges, buttons, menu, sliders, pagination, pills, tabs, and navigation bars that allow you to create an excellent React application. The JavaScript elements include a date-time picker, tooltips, modals, popovers, and carousels. You can use the kit to start a new project or restyle an old Bootstrap project.
Material Kit has three example pages that show what you can do with this kit. The example pages also act as templates where you can substitute images and text with yours. You can get the Material Kit React Pro Version with more components, example pages, and sections.
2.    ANT Design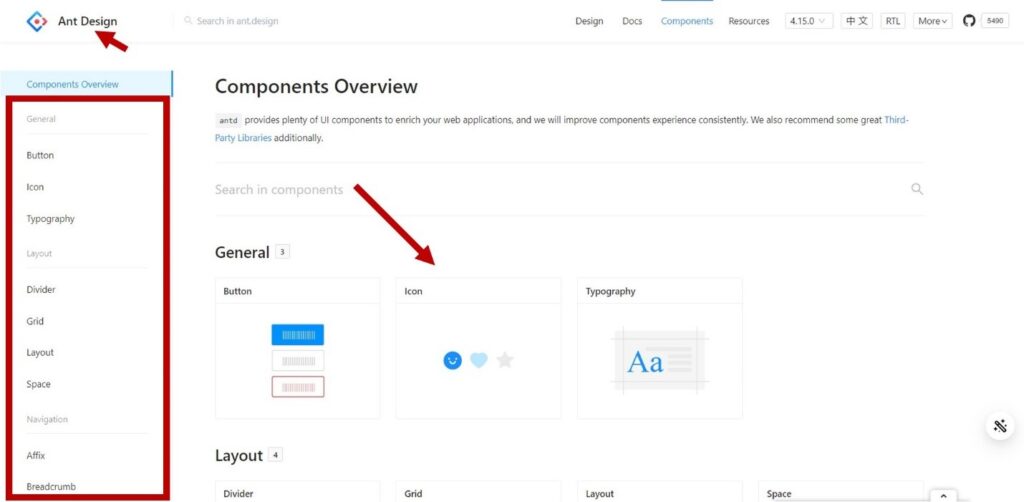 The Ant Design is a React UI library and a design system for enterprise-level web apps. It provides developers with a set of components and demos for building interactive UIs such as buttons, icons, breadcrumb, grids, cards, navbars, layout helpers, etc. The components include support in various languages.
Ant Design recently ranked above Material UI by garnering more than 56K stars on Github, making it the most popular React library. The library is used in thousands of applications in a broad range of industries and has enough community support.
All aspects of Ant Design are well thought out, and it is built based on a design system designed by its creators. The library is based on various unitary specifications and principles, primarily created for internal desktop apps. The Ant Design allows you to create consistency across all your application components and its style language is Less.js.
It is created explicitly for desktop apps and is based on various principles and specifications. Using Ant Design, you can seamlessly build a consistent look across all components of your app. A mobile app version is available for React Native.
3.    React Bootstrap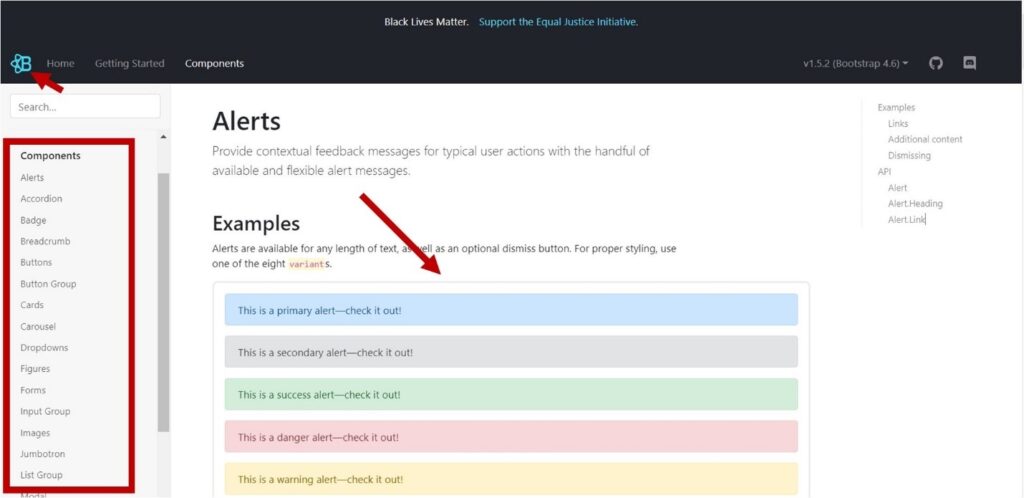 The old Bootstrap library was a combination of JS and CSS files. This combination allowed developers to add pre-programmed and pre-styled UI components. React Bootstrap is a combination of React and Bootstrap libraries. This library bridges the old and new styles by injecting React's power into an already robust and dynamic library.
To allow you more control over each component's function and form, the React Bootstrap replaces Bootstrap's JS (JavaScript) with React. Every component built becomes easy to access, which is crucial for front-end framework development.
React Bootstrap does not stray far from its Bootstrap core, so developers have a choice between thousands of Bootstrap themes. If you used Bootstrap or enhance your JavaScript/CSS skills, you can use this alternative. The React Bootstrap has over 16k stars on Github and is downloaded almost 500k times in a week.
4.    React Virtualized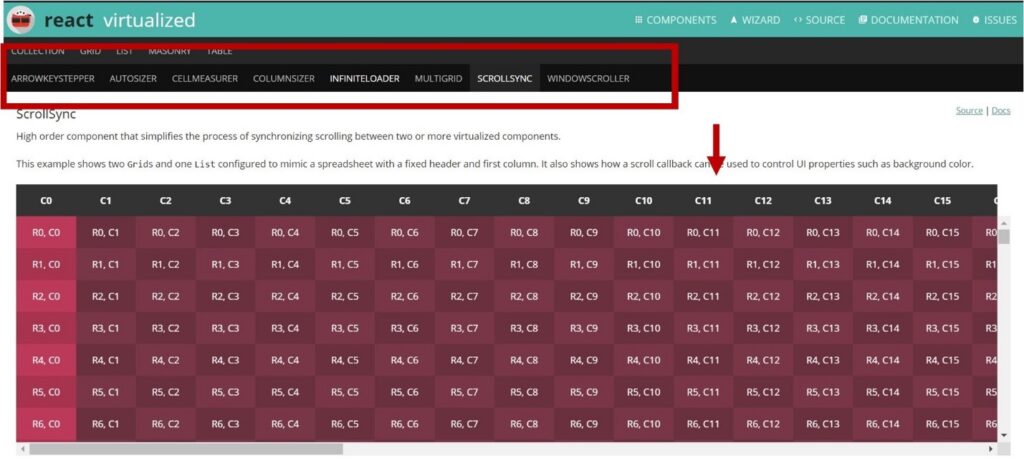 If you are building a data-heavy front-end, React Virtualized is the library to use. It has numerous components useful for rendering huge tables, grids, and lists. You will find window scrollers, masonry, autosizers, columns, etc. The tables are customizable by configuring row heights and displaying placeholders inside the cells. This library has few dependencies and supports the standard type of browsers, such as the recent Android and iOS mobile browsers. It has at least 18k stars on Github.
5.    Material UI
The Ant Design creators built a unique design language and implemented React components on it. On the other hand, Google created their language known as Material Design based on responsive animations, grid-based layouts, and cards.
Material UI has numerous configurable and accessible UI widgets. These components are independent and self-supporting, and they inject only the styles needed for display, improving app performance. Material UI has strong community support and more than 54k stars on Github, making it among the most popular libraries.
It provides you with a light, simple, and user-friendly design and layout, making it easy for developers to build dynamic applications. If you want to quickly create a lightweight but beautiful interface without compromising on performance and accessibility, this is the library for you.
6.    Blueprint
In Blueprint, the React components are primarily used for desktop applications. These components are well suited for the development of data-dense and complicated interfaces. You can pick up pieces of code from the component library to generate and display icons, pick times zones, interact with dates and times, etc.
You can find much more in this library, such as buttons, breadcrumbs, cards, callouts, tags, navbars, tabs, etc. In Blueprint, it is possible to customize the elements as you please. It has over 15k stars on Github.
7.    Grommet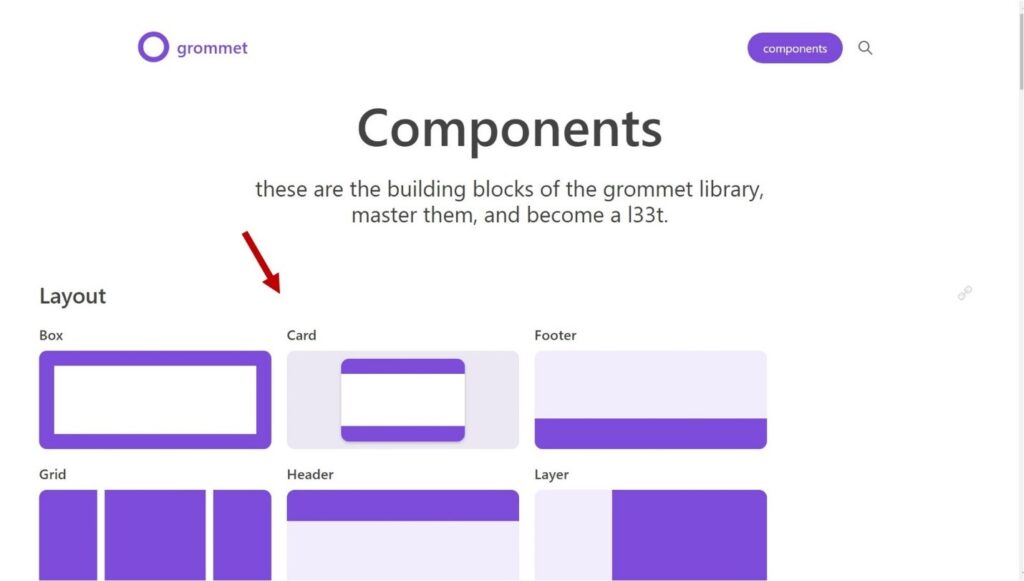 Grommet is a React-based framework designed to help you build your website by combining and matching the parts. Grommet provides developers with modular, responsive, theme-able, and accessible components.
As not all developers are good at designing, Grommet provides you with an icon set(complete) and a design kit. This design kit has different themes like Adobe XD, Sketch for macOS, etc. Grommet helps you to build accessible and responsive mobile-first web projects with an easy-to-use library. Boeing and Netflix are some of its users.
The beauty of Grommet is that it allows integration with an existing project or even when starting new projects. For wider screens or small screen mobile phones, Grommet quickly helps you to design a layout. This library has more than 5.6k stars on Github, and the NPM downloads are at least 16k times per week.
8.    Chakra
Chakra UI is a simple yet modular and accessible component library that provides you with building blocks for building a dynamic React app. Chakra has a set of layout components like Stack and Box that make styling your components via passing props much more effortless. One of the best things about Chakra is that most of the components are compatible with dark mode. Chakra can set you off in the direction of building composable and simple components that are relatable to real-world UI issues. Chakra has gained more than 4k stars on Github and has gotten many thumbs-up from some of the best React developers.
9.    Onsen UI
Onsen is a components library that focuses on Mobile apps design. This library was written in JavaScript and did not have any substantial framework dependencies. It is not purely a React-based library, and you can use it with any significant framework you choose to. Onsen is available for Vue, AngularJS 1 and 2.
This does not mean Onsen has no React bindings. It has React bindings useful for simplifying Onsen's integration into React projects. If you want a mobile-first app, you can use Onsen UI as it will provide you with the ability to build an excellent user experience with reduced effort and unique compatibility with other platforms. The Onsen library does not have a crazy following, but it is a significant one, with more than 7.8 stars and NPM downloads of more than 12k per week.
10. Semantic
Semantic UI React is jQuery-based, which adds more functionality. It uses friendly HTML for its framework and integrates with React, Ember, Meteor, Angular, and other frameworks. Semantic enables you to load Semantic any Semantic CSS on your Semantic React application. You get flexibility in component customization since you have markup access. It has a star count of more than 11k on GitHub.
Semantic has more compatibility with React, and you can now use JSX code for components' definition and binding it with its React component code. In short, you do not need to fret about selecting the right element and adding code. The React approach solves this by simplifying the process.
11. Rebass
Rebass is a small components library that can create theme-able UI elements based on a Styled System library. Rebase has eight foundational components in a very tiny file, and they are all made for building responsive web designs.
These components serve as an excellent start for developers to extend into custom UI components for their apps using the built-in ThemeProvider. If a developer does not want to rely on component libraries and instead wants to expand an existing one, the developer can use Rebass. It is fast gaining popularity and already has a star rating of over 6k on Github and approximately 130k downloads per month.
12. Evergreen
The evergreen component library is from Segment developers and is an open-sourced project with components for any web functionality. Evergreen's design is simple, intuitive, and light. Evergreen explains all the design decisions, and you can use it to build beautiful interfaces fast.
The current Evergreen version offers developers theming options with the ThemeProvider component, but it is expected that future versions will have a more efficient and powerful API. The developers of Evergreen set the core values as:
Versatility that facilitates rapid changes in designs
More control that allows for granular element fine-tuning
Rich documentation that covers every library aspect.
Evergreen has plenty of components that range from typography, different layout primitive styles, icons, colors, and other elements. Evergreen has nearly 10k stars on GitHub.
13. Fluent UI
Fluent UI was previously known as Fabric React, and the Fluent Design UI from Microsoft inspires it. Fluent offers React developers a new approach to design elements used for building robust web apps. The Fluent library is compatible with several platforms such as desktop, macOS, Windows, iOS, and Android.
Fluent is already used by various Microsoft apps like Azure DevOps, OneNote, Office 365, and others. The library provides developers with resources such as design toolkits, controls, demos, tutorials, fonts, documentation, etc. Fluent UI from Microsoft has a consistent and straightforward look and feel. It is no wonder it has become a popular React component library.
14. React Toolbox
The React Toolbox is one of the few component libraries that provide React UI components premising on the Google Material Design specification. It has numerous components like cards, buttons, dialogues, date pickers, and other elements that enable developers to build excellent web applications.
The library is also equipped with excellent documentation. Their website offers developers space for experimenting with the docs. Getting started is as easy as an NPM download. It would help if you remembered that CSS Modules are by default responsible for the importation of stylesheets that are written in SASS, which powers the React Toolbox.
Ensure your module bundler is capable of using the SASS modules. The most popular choice by developers is to use the Webpack module bundler, although you can use any you prefer.
15. Storybook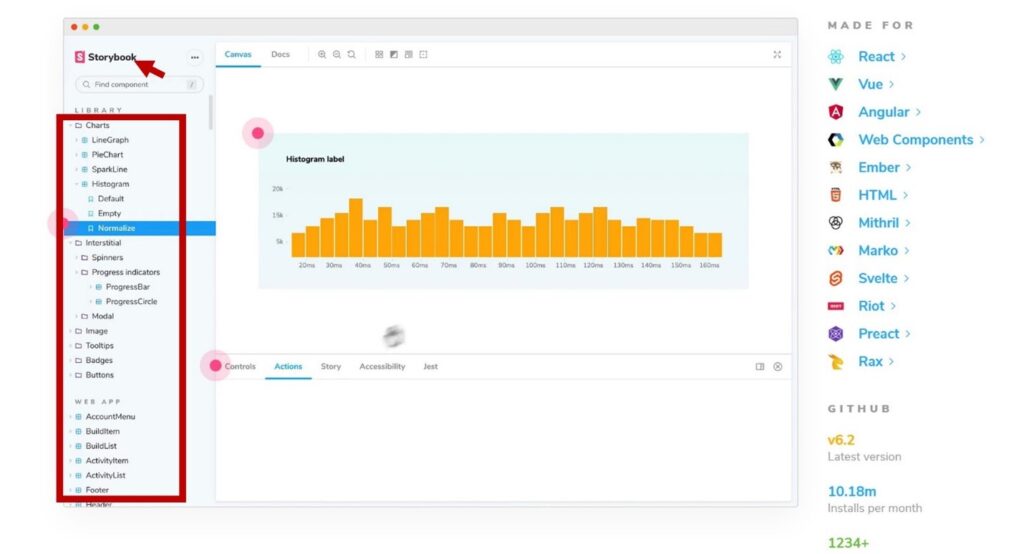 Last but not least is Storybook, which has been a popular tool for some time. It is not really a component library but more of an open-source tool used to develop UI components in isolation for many platforms and technologies, including React. What makes Storybook different is that you can work on one component in isolation, making the development process faster. The Github repository for Storybook reads over 58k stars.
Conclusion
Numerous React component libraries exist on the market, and choosing one is no easy feat. There is no blanket solution for everyone as each project is unique in its needs. Evaluate your project's needs, developer's style, and other factors to see which appeals to you.
What may work for another project may not necessarily work on your app, so you have to be careful not to pick what is popular, but what will work for you.
The best framework is what works for you, not the one with the most stars on GitHub.