Podcast popularity has grown in the past few years, and most specialists declared that 2019 was the year of the podcast. They suggested that anyone not already on the platform should make haste and get onto the podcast bandwagon.
As a SaaS entrepreneur, startup or not, podcasts are the way to go to get as much information as you can. The Software as a Service (SaaS) industry is one of the most rapidly growing industries. SaaS companies include such companies as Spotify, Dropbox, Salesforce, HubSpot, and many others.
What are Podcasts?
Podcasts are a series of episodes comprised of digital audio files that users can download to a device. Podcasting services and streaming apps make managing your listening queue across different podcast sources and devices easy. A podcast typically has one or more hosts who engage in various discussions about topics or events. The content in a podcast can either be scripted or freestyle, depending on the hosts. Most podcast series provide listeners with websites, links, guest biographies and transcripts, commentary, additional resources, or a community forum that discusses the show's content.
Why a SaaS Podcast is an Excellent Choice for SaaS Owners
The first-ever podcast was called Daily Source Code by Adam Curry, and podcasts have come a long way since then. Today, successful SaaS marketers, CEOs, and startup founders use podcasts to expand their businesses.
Popular and successful podcasts comprise a series of episodes conducted in an interview style and discuss trending SaaS topics. These podcasts are designed to offer tips and actionable insights on how to improve your SaaS business.
Benefits of a SaaS Podcast
SaaS podcasts have several benefits:
Generates Traffic
A podcast allows you to generate more traffic for your SaaS business by projecting you to new and broader audiences. Once people listen and like the podcast, they subscribe so that when you upload new episodes, they get a notification to attend.
Your podcast directory allows you to link back to your business website so that you can direct your audience to your website at the end of an episode. They can sign up for newsletters that will give them more information on your business and the products you offer.
Builds a Relationship With the Audience
A podcast is an excellent way to build relationships with your audience. Podcasts are versatile, and people prefer them because they can multitask while listening to the podcast. This intimacy that a podcast presents helps the audience feel a connection to the speaker.
Podcasts provide accessibility that helps you reach more people, appeal to people who prefer audio, and recommend your podcast to others. When you make your brand more accessible to people, you make them more aware of your brand. This awareness creates a robust user community loyal to your podcast and one that allows you to modify your content to fit their interests.
Cost-Effective
Podcasting allows you to create content cost-effectively. You can reach new audiences using minimal resources. Podcasting is easier to create, cheaper than video, has little pressure for camera-shy hosts, and is faster and more affordable than written content.
Engaging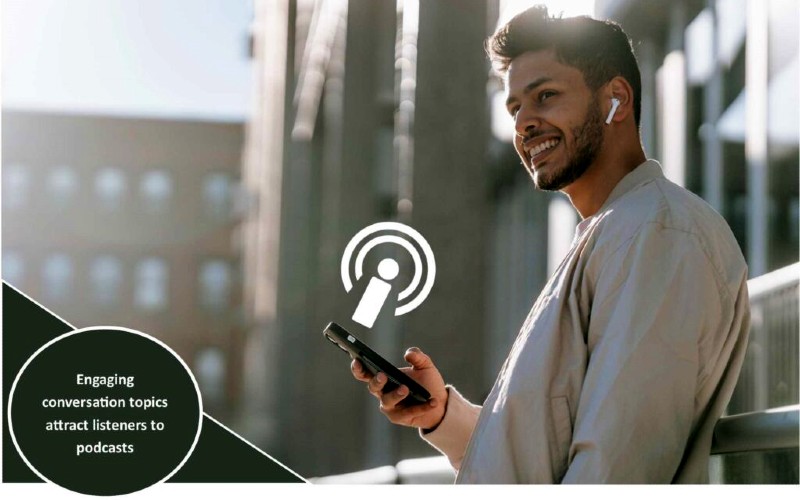 Podcasts are excellent at capturing an audience's attention. The engaging conversation topics attract listeners to podcasts by breaking the monotony of conventional content marketing. Podcasts allow the hosts to interact with their audience, making them more relatable.
Once you hook the audience, you can craft the content so that you influence their purchasing decisions. For instance, you can add product ads within the podcast episode or sell airtime to other businesses that complement your business. The most successful podcasts give their audience information in real-time.
Better Return on Investment
Podcasting will give you a faster ROI with the more listeners you attract. Research has shown that podcast audiences are typically more affluent and educated, making better potential customers.
14 Best Podcasts
There are hundreds of SaaS podcasts out there. Here are some of the top ten you need to subscribe to that feature all SaaS-related topics from SaaS startups to B2B marketing.
1. SaaStr Podcast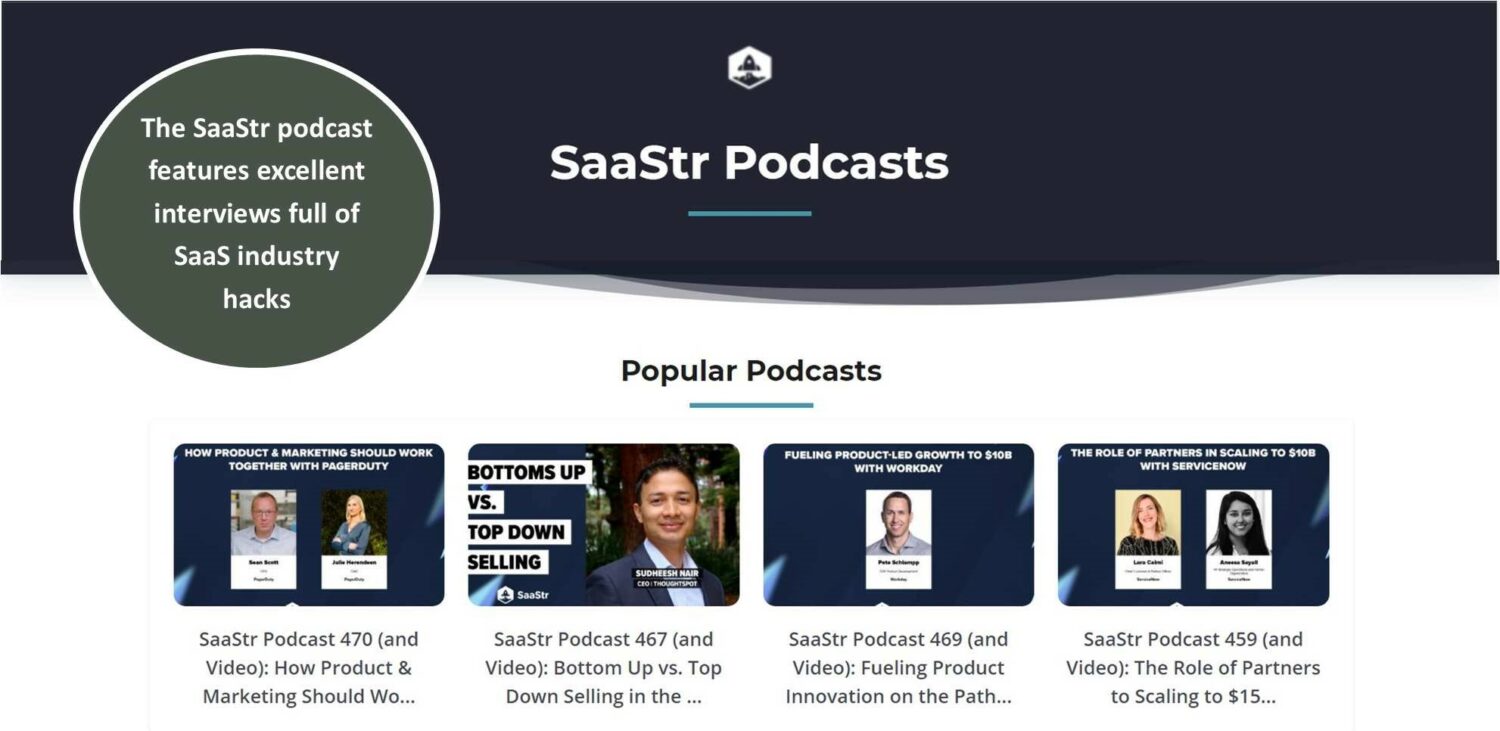 SaaStr is one of the more popular SaaS-related podcasts with quite a significant following. The podcast is hosted byJason Lemkin and Harry Stebbings, who facilitate excellent interviews full of SaaS industry hacks. He interviews VPs and CEOs, allowing his audience to sample reliable and factual information from experts in their fields. You can catch the podcast on Apple Podcast, Spotify, iHeartRadio, SoundCloud, and Google Play.
2. The Big Break Software Podcast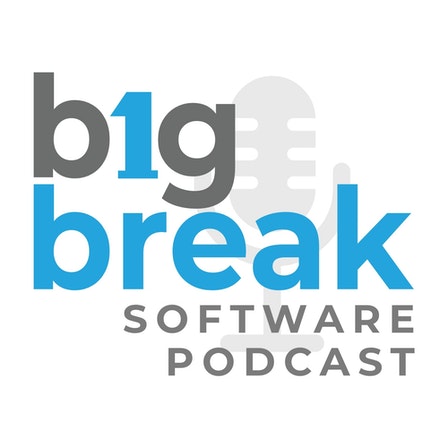 Geordie Wardman hosts the Big Break Software Podcast where he engages software consultants, coaches, and startup founders. The core aim of the podcast is to understand how entrepreneurs in the SaaS industry came up with their MVP idea and navigated challenges to achieve their zero to 30,000 MRR software success.
Whether you are a startup entrepreneur or run an already established business, you can learn numerous lessons from the insightful tips that guests on this podcast offer. The Big Break Software Podcast operates under OneStop DevShop, a platform with 45 professional, skilled, and experienced developers willing to transform ideas into a successful SaaS business.
By working with this full-stack development team you will enjoy a no-risk service for the first thirty days. The team strives to deliver your product on time, failure to which they complete it at no additional cost.
3. The SaaS Revolution Show
Alex Theuma from Saastock hosts the SaaS Revolution Show and interviews SaaS founders. These interviews concentrate on sharing in-depth insights by these founders on how to start and grow a SaaS business. Topics covered range from SaaS sales, marketing, employee relationships, and much more. The podcast is available weekly on SoundCloud, Apple Podcast, PlayerFM, and Stitcher.
4. The SaaS Podcast
The SaaS Podcast is hosted by Omer Khan, founder of the SaaS Club, where he provides his listeners with information on current SaaS trends. This podcast works well for those entrepreneurs who want to learn more about the fundamentals of launching, growing, and scaling your SaaS business. You can listen tothe podcast on Apple Podcasts, Spotify, and Google Play.
5. The SaaS Breakthrough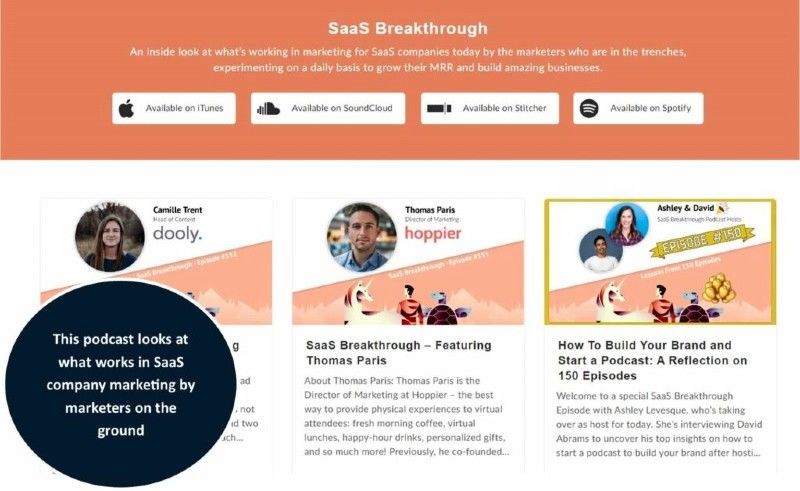 The SaaS Breakthrough Show is a podcast that looks at what works in SaaS company marketing by marketers on the ground. These marketers experiment daily on how to build successful businesses and improve their MRR and AR. SaaS Breakthrough Show is sponsored by Demio, reliable and easy-to-use Software for webinars. The Software helps customer education and marketing teams, especially the CMO, scale their efforts in the shortest time possible.
6. Startup Chat
The Startup Chat is another popular podcast with a sizeable following hosted by Hiten Shah and Steli Efti. This podcast brings you entertaining and engaging content that gives you deeper insight into SaaS-related trends and tips for growing your business, especially SaaS startups. The biweekly episodes are available on YouTube or Apple Podcast.
7. Startups For The Rest of Us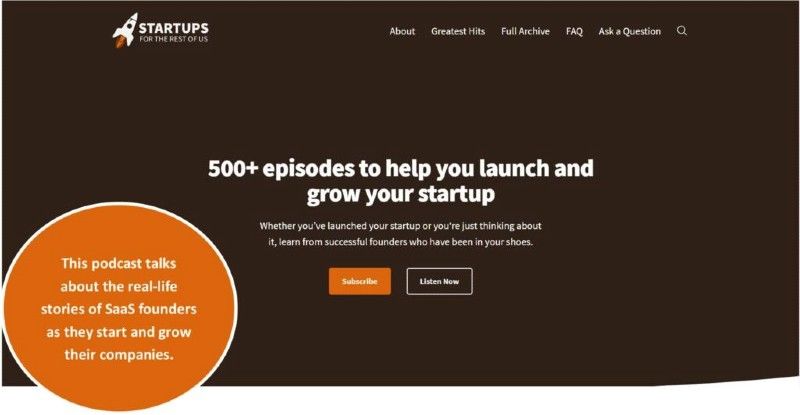 Another most popular and long-running show for 100% bootstrapped and partly bootstrapped startups is Startups For The rest of Us. The podcast talks about the real-life stories of SaaS founders as they start and grow their companies.
8. SaaS Growth Stacking
SaaS growth Stacking is presented in short and powerful episodes. Hosted by Dan Martell,an angel investor, and serial entrepreneur, this podcast is value-packed and ideal for busy people who cannot listen to overly long podcasts. The podcast discusses various SaaS topics, ranging from customer profiles, growth strategies, pitching, angel investors vs. Venture Capitalists, fundraising, vetting co-founders, and even public speaking. You can find it on Apple Podcasts, PlayerFM, or Stitcher.
9. Inside Intercom Podcast
Inside Intercom is a podcast hosted by Intercom, a growth acceleration customer-messaging tool manufacturer. The company focuses on startup growth and covers topics like changing companies to communities, selling to educated clients, and making bots feel more human.
10. Build Your SaaS
Build Your SaaS is hosted by Jon Buda and Justin Jackson, who talk about their journey in building, launching, and growing their SaaS product called Transistor.fm. They strive to find out what it takes to build a profitable startup in 2021. Thousands of people have tried launching web apps on their own. However, there are thousands of startups backed by venture capital companies, and competition is stiff. Listen to the podcast on Spotify, iTunes, Overcast, Google Podcasts, or RSS.
11. Searching For SaaS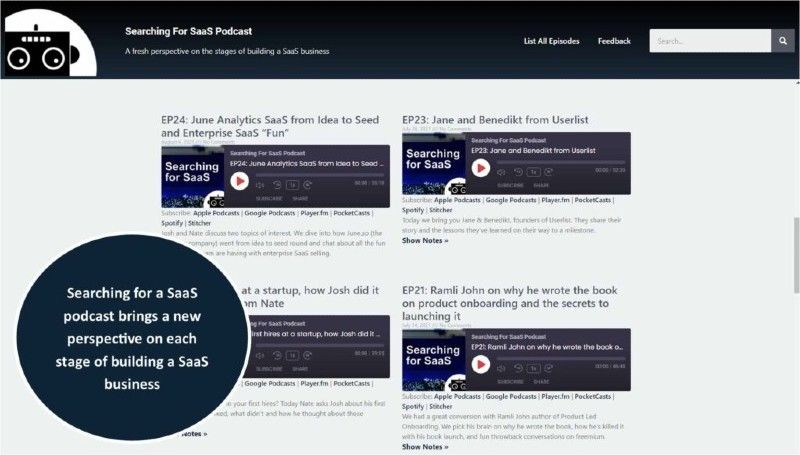 Searching for a SaaS podcast brings a new perspective on each stage of building a SaaS business. Josh Ho and Nate Bosscher are each SaaS founder but in different stages of the journey. Josh is in the phase of company building while Nate is struggling with starting a SaaS. You can follow the podcast as Josh assists Nate in navigating the world of SaaS.
Nate is an entrepreneur and a software engineer. He has tried his hand at several failed startup attempts, but he never gives up.Josh is the founder of a SaaS business called Referral Rock, which is into marketing technology. He is an engineer turned businessman, and you can find him on both LinkedIn and Twitter.
Both Josh and Nate's businesses are bootstrapped, but the podcast does not exclusively deal with bootstrapping. The two intend to start covering topics like B2B SaaS, ARR, MRR, onboarding, churn, growth hacking, growth strategies, content marketing, case studies, SaaS marketing bootstrapping, SEO and marketing strategies. You can listen on Spotify, PlayerFM, Apple Podcasts, Google Podcasts, Stitcher, and PocketCasts.
12. SaaS Open Mic
SaaS Open Mic is a podcast by ChartMogul and hosted by Ed Shelley talk about various SaaS topics with innovators of high-growth SaaS businesses. ChartMogul assists businesses in using the data they collect to understand what their customers want to achieve sustainable business growth.
13. Scale or Die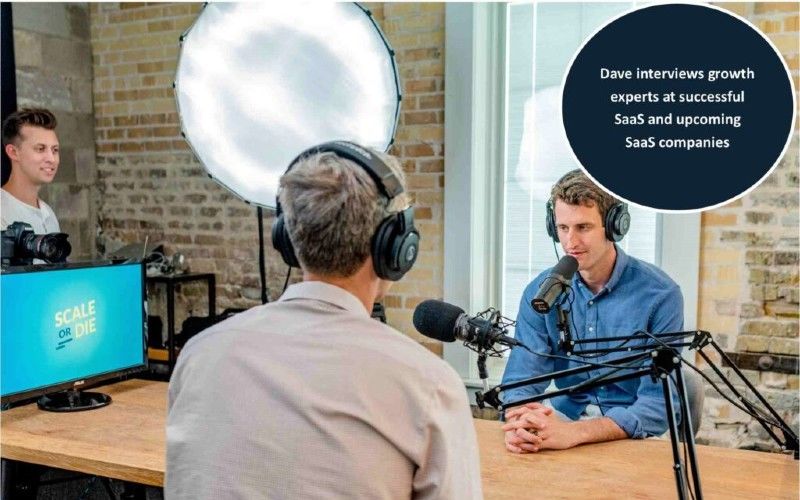 Scale or Die is a podcast hosted by the co-founder of Proof- Dave Rogenmoser. Dave interviews growth experts at successful SaaSand upcoming SaaS companies that have developed ways to scale and move up to the next phase. The experts share their stories of overcoming hurdles like partnerships, streamlining sales and marketing, novel growth strategies, and getting client feedback.
14. The Top
The Top podcast is hosted by a serial entrepreneur, author of bestsellers, and investor specializing in B2B SaaS companies-Nathan Latka. Nathan interviews SaaS sounders and gets the actual details of their numbers and how they do it. Each episode of The Top is 15 minutes long, but enough for Latka and his guests to impart crucial and inspiring information and ideas.
Nathan posts one episode each morning, which you can listen to on your commute. The SaaS sector has various sectors, and each CEO or founder he hosts gives listeners great views on how they handle issues. With Nathan's bluntness, he is well-known for gettingaccurate metrics from his guests.
15. Masters of Scale
Masters of Scale podcast is hosted by the co-founder of LinkedIn, Reid Hoffman. Reid offers his listeners great and actionable advice, and the podcast also acts as aprogram for news updates on the tech world. Reid interviews leaders who are making significant moves and acquisitions. He also moves from tech topics and talks to business leaders who inspire the listeners.
Conclusion
As a startup or an already existing SaaS, the above are some of the podcasts that can inspire you and clarify issues on entrepreneurship. The podcasts allow you to listen to some of the greatest minds in the SaaS industry. Listen to a few of the podcasts and chose those you like, and subscribe so that you never miss an episode. It will be considered worth your while as you get top-rated tips and listen to the issues of those gone before you and how they solved them.