To hire top node.js developers for your development project, you must evaluate their skills according to their back-end technology knowledge. Still, numerous other factors are crucial in determining the relevant skills for a full-stack developer. Do you want to hire a node js developer? Read on for insights to ease the hiring process.
What is a Node JS Developer?
A node.js developer writes server-side web application javascript or its variants like IcedCoffeeScript and CoffeeScript. Worth mentioning is that node.js is a javascript runtime environment that facilitates the development of scalable network apps.
Often, Node.js developers build back-end components, support front-end developers by merging the node.js application with their network and link the application with third-party web services.
How do I Hire a Node Developer?
A structured development team or developer can build a wide range of applications, develop server-side logic, and set up a seamless transmission between the server and users. However, not every node.js developer is proficient enough to run a development services project. If you are looking for the ideal developer, you must assess their skill set based on your project needs. Here are some factors to consider before hiring a dedicated node.js developer.
·       Define Your Requirements
Define your needs before evaluating the skills your crew should have. Knowing your project needs helps you identify the relevant candidates or development companies. Apart from a proper understanding of the programming language, your ideal development teams should possess the following.
Ability to write integration verification codes
Understanding of the agile and scrum methodologies
Conversant with GitHub coding
Ability to code intricate designs
Deep knowledge of the popular front end technologies
The candidate you choose should be well-conversant with your product niche and additional elements like python, react.js, nest.js, databases, PHP, UX design, and angular.js.
·       Determine the Type of Hiring
You can hire your development team using any of the three options available in the market. To hire the ideal team start by writing your requirements, then choose the option that best meets your needs. These hiring options are freelancers, outsourcing software developers, and in-house employees. Many organizations today are working with freelancers. In-house employees work from your office while outsourcing teams are ideal for large projects.
·       Work Experience
Work experience is a critical aspect to consider when hiring a development team. Assessing past projects of the candidate or development company helps you determine their potential. If they have previously worked in a similar domain to yours, the hiring process becomes easy. If they have not, assess their projects and determine how they can help your project.
·       The technology Stack or Programming skills
If you are looking for a freelance coder, be sure to evaluate their technical skills. If you don't understand the technology, seek assistance from a technical specialist. Run technical tests to assess a potential developer's skills.
If you opt for a development company, evaluate their technology stack and determine the technologies they use when developing a web app. Request them for real-time examples of the application in the technology they use. Doing so helps you assess their potential.
·       Other Skills Outside the Technical Domain
Whether you choose an individual developer or a development company, having someone who strives to improve your app development is crucial. The developer you pick should possess excellent problem-solving skills to ensure they can handle suggestions to make your mobile app better.
What are the Benefits of Hiring a Node Developer?
Professional full-stack developers can elevate your product in the market. Here are reasons why you should hire node developers.
·       They are Experienced and Highly Talented
Hiring talented and Node.js certified developers who execute projects carefully guarantees high-quality web application development to scale businesses. Experienced node.js programmers can write clean code by complying with the standards set by nodejs.org. Whether they are working on a complex or simple Android development, Node.js experts handle them efficiently and professionally.
·       Offer Customized Solutions
Expert node.js developers are skilled at using the node.js API child process.fork () to initiate Child Processes. Node.js allows processes to share sockets to facilitate load balancing. Our Node.js professional developers can design node-oriented web applications with databases like My SQL, SQL, and Oracle. They can also leverage NoSQL databases like CouchDB and MongoDB.
Experienced developers stay up to date with the latest potential tools and technology. By hiring them, your business can reap major benefits. Some of the most experienced node.js programmers use the following node.js frameworks to build your web app effectively.
Express.js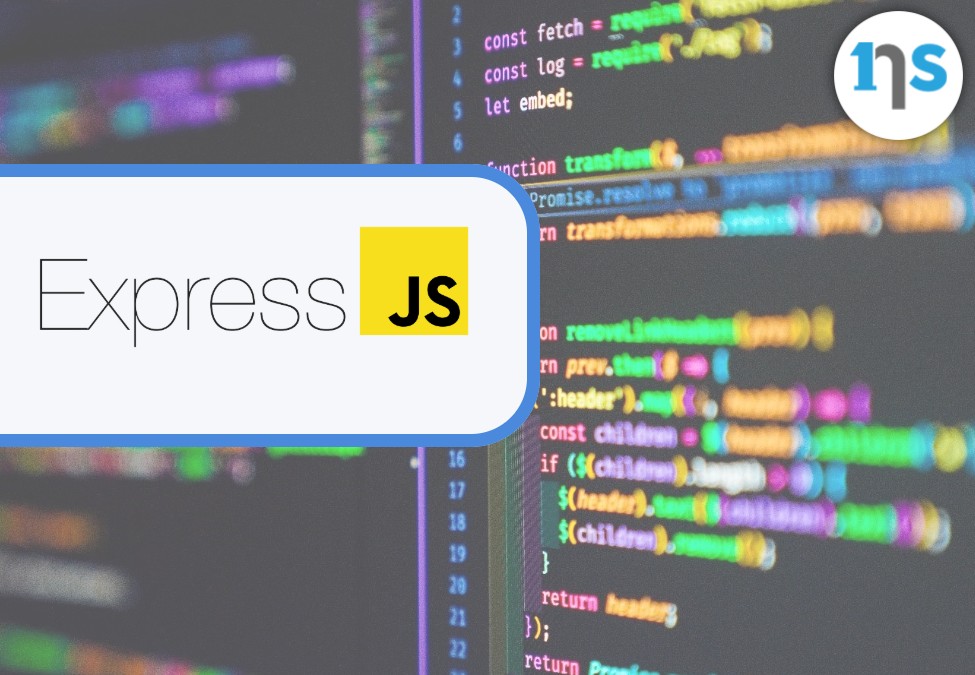 To host mobile and web applications and develop robust APIs expert programmers leverage Express.js, one of the most effective node frameworks. Express.js comes with streamlined multiple routing, template engines, and database integration.
Meteor.js
Meteor.js is node.js's model view controller framework. By using it accordingly, professional backend developers can build robust mobile applications and websites to boost your needs and help your business meet its goals.
·       Transparent Communication
A skilled team of remote dedicated developers can collaborate with the in-house developers and project manager through Skype, BitBucket, and GitHub.
·       They Offer Post Development Support
Hiring professional node.js developers guarantees you an efficient experience throughout the development process and competitive post-development support.
What Skills do Node Developers Need?
Hiring a developer may be a better option than trying to become one. Apart from having basic characteristics and knowledge, an open-source javascript developer should have various supporting skills. Every developer comes with unique skills that can be critical for your business. However, here are some of the skills your developer must possess.
An understanding of the Basics
The ideal node.js developer should be conversant with the following.
js architecture
Node package manager (NPM)
JSON FILES
·       Database management
Database management is a critical skill set, especially when working on applications or collaborating with businesses that use lots of data.
Node.js developers must handle various databases and integrate different data sources where necessary. They should be capable of maintaining database security always. Further, the ideal developer should develop database schemas that reinforce workflow, business processes, and serve clients based on their project requirements.
·       Time Management
Having excellent time management skills is vital. Often. Developers work on multiple projects or different parts of a single project. As a result, they should be good at time management to complete the project promptly. The right expert understands how to offer precise time estimations, prioritize their tasks, and complete tasks by the set deadline.
·       An Understanding of Front-End Technologies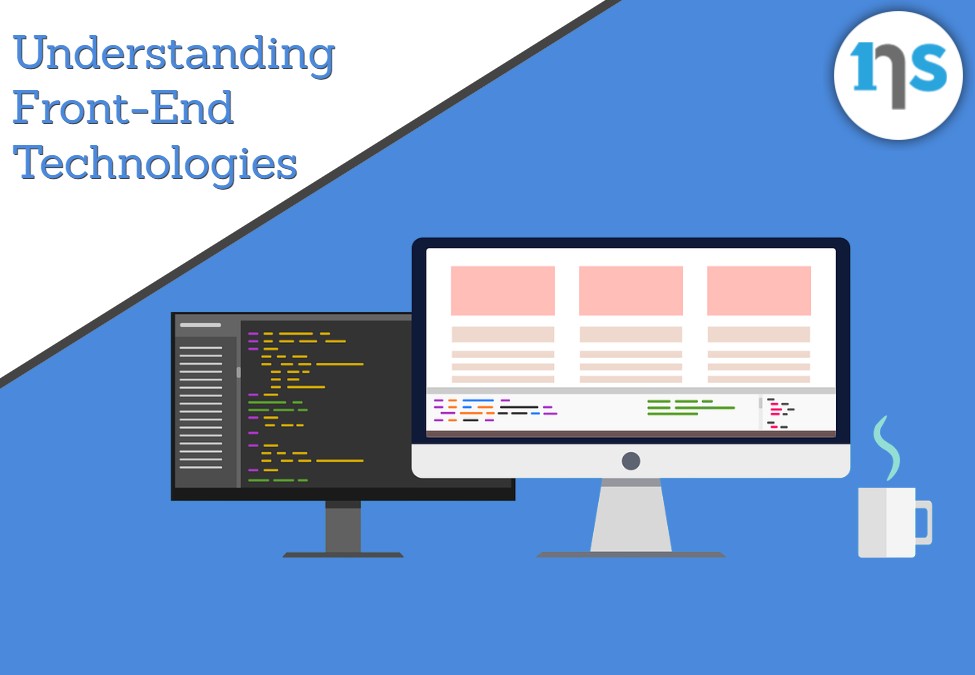 A lot goes on in front-end development. As a result, software developers should have comprehensive knowledge and experience in frontend development and some basic understanding of CSS and HTML.
·       Soft Skills
Apart from Technical Skills, the ideal Developer should possess the following soft skills.
Commitment
Active learning
Analytical ability
Collaboration
Engineering reasoning
Proper knowledge of English
How to Shortlist Node.js Development Professionals
Choosing the right Node.js developer can be a daunting task. You must consider various things when shortlisting candidates as seen below.
·       Ask the Correct Questions
Asking the right questions during an interview is vital. Here are guidelines to ease the process.
Ask your candidate to describe themselves briefly and the recent projects they have worked on. That allows you to understand them and determine how passionate they are about the job.
Find out whether they are working on any other project just to be sure they don't have too much on their hands.
Tell them your expectations from the word go.
·       Know Your Requirements
Whether you are a developer or not, you will need a basic understanding of what the task entails to conduct a successful shortlisting exercise.
·       Conduct Market Study
Study the market to understand the type of employees your competitors are employing, how much they are paying them, and any extra things they could be offering. This knowledge will help you understand the type of candidates you should hire.
·       Ask Your Prospects for Evidence of their Previous Work
A good developer will have worked in other companies previously. Ask them for their portfolio during the interview. A skillfully assembled portfolio demonstrates the experience prospects have and their ability to work in an orderly manner.
·       Leverage Social Media
Check prospective employees on their social networks and find out what they say. Doing so helps you determine their personalities and professionalism.
·       Create a Testing Blueprint
Having a robust testing blueprint for potential employees enables you to understand what they can do.
How to Write an Effective Node.js Development Job Post
The ideal software developer job post should contain the following core points.
Job title
Location
Employment type (part-time or full-time)
Crucial qualifications
Years of experience
The company's vision and mission
Responsibilities
Salary
Perks
Your development job post should be precise. Ensure the person reading it gets sufficient information about the company and the job. Don't make it overly long because prospects could end up feeling overwhelmed with the skills and knowledge required. Here are some tips to help you write a good development job post.
Ensure it is readable. Formatting is crucial. Ensure the post looks appealing and professional to encourage prospects to read it.
Customize job requirements to the specific product or project. Limit your essential qualifications to four and additional requirements to two to ensure the list is not overly long and overwhelming.
Use the proper key phrases. The job post should be attention-grabbing for potential candidates to read it. Include the correct language and include key phrases that attract your target candidates.
Seek assistance from other developers. If you experience difficulties along the way, consult your team of software engineers. They are qualified and experienced to help you curate the appropriate job posting.
Describe your company culture. Potential candidates want to know more about a company before applying for a job. Include your vision, mission statement, and what sets it apart from other organizations.
What to Look for in Hiring a Node.js Developer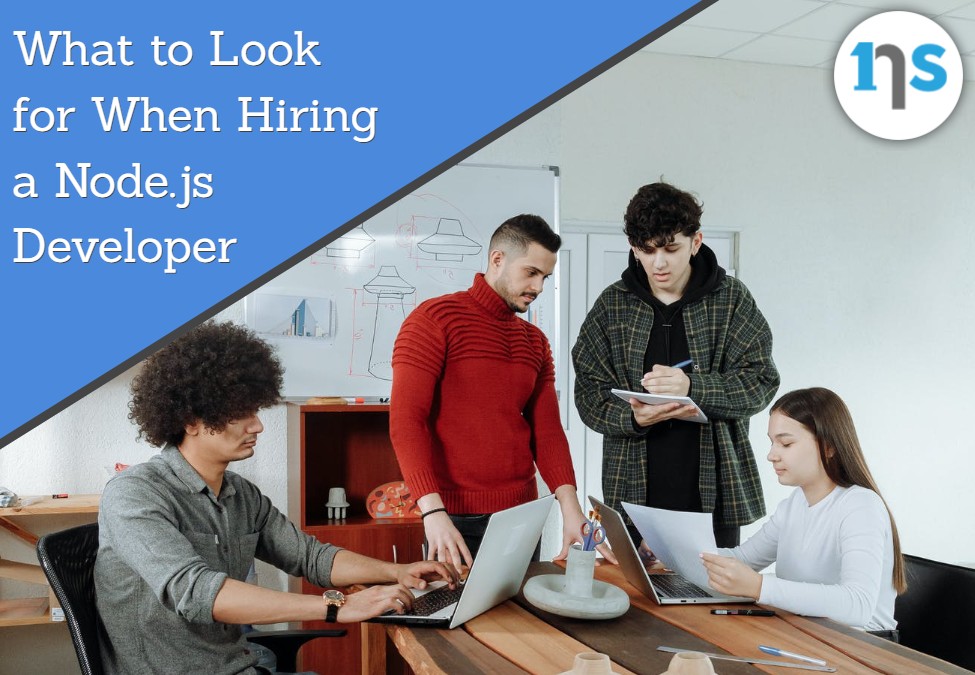 Are you looking for the best node.js developers to join your team? How can you conduct the vetting process and get the right candidate for the job? According to experts, node.js is a massive ecosystem with lots of code and numerous existing modules.
One of the most popular questions among many node developers is; has anyone written code or devised a solution I can utilize in my project? Here are things you should look out for when hiring a node.js developer.
The ideal candidate should be able to search for an already existing Node package that can execute their task. Such a quality demonstrates efficiency and commitment.
The candidate you choose should be capable of interacting with and engaging code to ensure it blends with your existing systems and the entire ecosystem works.
A competitive candidate should do more than cut and paste code from the node package manager. They should be capable of identifying and resolving potential issues.
The candidate you hire should have previously used node.js within production environments.
Ensure your interviewee is conversant with the node.js application data flow; buffers and streams, asynchronous behavior and asynchronous programming, performance and security needs, and how to improve them and ensure JavaScript and Node.js applications can scale.
A candidate who has participated in developer conferences and meetups and enrolled in refresher courses filed bug data, and added code to the ecosystem are ideal.
What Skills Should I Look for in a Node.Js Developer Before Hiring?
Here are some node.js developer skills you should look out for before hiring.
·       Extensive Experience
Experience influences the speed and quality of software and website development. The right candidate should have between 2-3 years of experience in node js development. A web developer with extensive experience should have various Node.js projects to show their potential.
·       Front-End Technologies Understanding
Front-end development is what end-users view on an app from their side. Understanding front-end development and design like CSS3 and HTML5 is crucial for Node.js developers.
·       Node.js Frameworks knowledge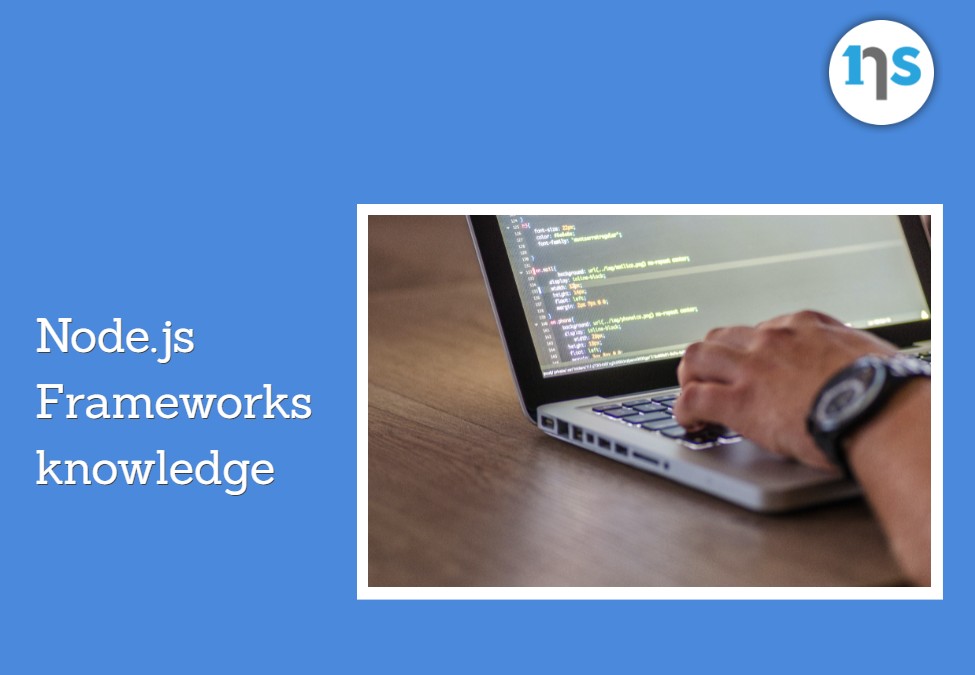 Frameworks are elemental to the Node.js ecosystem because they broaden the functionality and features of Node.js. There are different node.js frameworks to choose from, and the ideal web developer should be conversant with different frameworks.
Many node.js developers understand that Express is the central framework. Other frameworks like Total.js, Hapi, and Koa. jshelp broaden the standard functionalities of Express.
·       Knowledge of API and Restful APIS Communication
The ideal Node.js developer should understand how to define existing APIs codes to use them in their projects. They should be capable of handling interactions between different systems.
·       Proper Understanding of Asynchronous Programming
Asynchronous or non-blocking programming is part of node.js. Asynchronous input/output reduces the waiting time for requests by facilitating the execution of multiple functions. However, asynchronous programming is a new concept, and developers should understand it to perform relevant actions.
What Qualifications do I Need to be a Node.Js Developer?
The ideal node.js developer should have the following qualifications
A bachelor's degree in information science, computer science, or its equivalent.
Proper understanding of web stacks, frameworks, libraries, and javascript
At least two years of experience in the node.js development field
Knowledge of front-end technologies like CSS3 and HTML5
Excellent problem-solving and analytical skills
Ability to manage cross-platform plugins
Great communication, interpersonal, and collaboration skills
Ability to solve urgent website application problems out of working hours
Time management and organizational skills
What Are Good Interview Questions to Ask when Hiring Node.Js Developers?
When hiring node.js developers you have to ask as many questions as possible to get the right candidate. Here are is a list of must-ask questions.
What is Node.js and is it free to use?
What type of application is node.js?
What are the key benefits of node.js?
What's the intend of node.js?
What does the term I/O mean?
Is node.js better than other popular frameworks? Support your answer
What's node.js's web application architecture?
What's callback hell in node.js?
How does node.js operate?
Where is node.js regularly used?
How many API functions does node.js have?
Give examples of the modules in node.js
Give reasons to explain why node.js is single-threaded
Explain the difference between node.js and JavaScript
What's the meaning of the first-class function in JavaScript?
Define the process of managing packages in a node.js project
Which is the ideal tool you can use to guarantee code style consistency in node.js?
What does fork mean in node.js?
Illustrate how to use async-await in Node.js?
What is the core difference between back-end and front-end development?
Define an asynchronous API
Define V8 engine in node.js
How can you debug a node.js application?
Define event-driven programming
What tasks can you execute asynchronously with the event loop?
What's the Best Way to Hire a Really Talented Node.Js Developer?
There are various options for hiring node.js developers as we have mentioned previously. Remember, the option you pick depends on the needs and methods your organization adapts to.
Developers can select the job that best fits their preferences. Let's discuss the pros and cons of each of the three options. Regardless of the method you pick, ensure your employees sign an NDA to secure any project-related information.
·       Freelancers
A freelancer is a self-employed individual who offers services to individual clients, startups, and established companies. Freelancers can work for multiple clients at once. Hiring a freelancer comes with various pros and cons, as seen below.
Pros
Reduced risks and cost-effectiveness
A wider global reach
Cons
Supervising them can be a daunting task
Dedication and security exposures from the developer's side
·       In-House Developers
In-house developers are permanently employed individuals of a company. Working with in-house developers comes with the following benefits and drawbacks.
Pros
Easy regulation of the development process
Effective collaboration
Better project management
No communication barriers
Cons
Clients must pay in-house developers whether they met their deadlines or not.
Sometimes engineers may be poorly talented
Employers incur extra incentive expenses
Flexibility problems
·       Outsourcing
Outsourcing is the concept where an organization hires third-party programmers to offer software development services. Here are the pros and cons of outsourcing your project.
Pros
Fewer production costs
Better accessibility to talent
No extra expenses
Enhanced quality of work
Cons
Language barrier, especially if you outsource to an overseas company
Maintaining trustworthy financial relationships can be difficult
Communication problems resulting from varying time zones
What is the Basic Salary of a Node.Js Developer?
Node.js developers earn more than their counterparts in similar development positions due to the existing gap between employers and proficient node.js developers. The average salary of node.js developers is approximately $106,000 annually.
Experience level often has an impact on a developer's final salary. Many employers are ready to pay big salaries for experienced developers. If you are a developer, your salary will increase based on the number of years you spend practicing your preferred skills.
According to some studies, the average salary for junior node.js developers is $86,000 annually. Mid-range developers with between four to six years of experience earn $110,000 annually, while senior developers earn more than $145,000 annually.
Node.js is a complex career that needs lots of technical skills. Beginners are likely to struggle before grasping node.js, which explains why junior node.js developers earn more than beginners in similar development positions.
·       Factors Affecting Node.Js salaries
Apart from location and experience, other factors like skills and knowledge can affect average nodde.js development salaries. Here are additional skills that influence node.js development salaries.
Understanding of the vital design standards behind scalable AWS applications.
User authorization and authentication among different systems, environments, and servers
Firsthand experience using node.js development tools like Grunt and NPM (node package manager)
Knowledge of lean and agile methodologies
Project management proficiency
Robust troubleshooting and problem-solving skills
Attention to detail
New Hire Doesn't Seem Equipped. What to Do?
Is your new hire struggling to conform to your company culture? Employees who don't blend well with your company culture can trigger tension in different departments.
To promote teamwork among your employees, consider taking the necessary steps to evaluate the situation and address arising issues. Doing so improves the working environment in the office and maintains high productivity.
·       Supporting the New Hire
Joining a new team can feel intimidating. However, employers can ease the tension by supporting new hires. Open communication among the employer and new hires can go a long way in identifying barriers that trigger unnecessary issues.
A welcoming, informative, and extensive onboarding process helps new hires catch up fast. Incorporate the company culture in the orientation process to ensure they understand the expectations in the office.
Allocating a mentor can be a great way of supporting new hires. A mentor helps hires find answers to arising questions during their first days with the company. A new hire can learn fast through proficient team members and mentorship programs.
Finally
Working with a professional node.js development team can be all you need to work on critical projects and achieve your goals faster. Use the tips in this article to ease the hiring process. Do you want to complete your project in record time? Hire a node.js developer now.