Node developer in Switzerland work with Node to perform various tasks like debugging, coding, and collaborating with front-end developers. Node.js is an open-source tool that facilitates server-side operations for websites.
As a full-stack developer, your job description will include tracking the latest software updates and their impact on a site's functions. You should know various things if you intend to become a web design professional in Switzerland. Read on for more insights.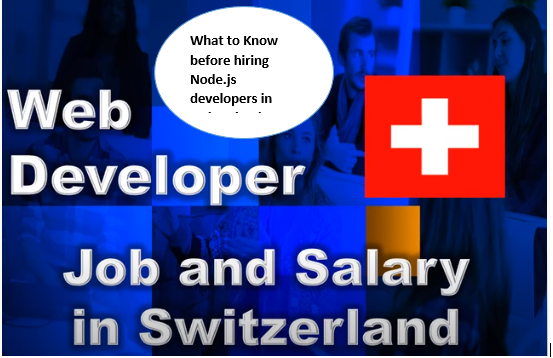 Are Node JS Developers in Demand in Switzerland?
Different countries in Europe have been experiencing a shortage of software engineers. There has been a vast gap between software DevOps supply and demand in Switzerland. Based on a State of European Tech study in 2019, more than 155,000 registered software developers were in Switzerland.
The country has maintained a constant strive to become the leading technology country in Europe. As a result, demand for full-stack engineers is expected to rise in the coming years. Some of the cities said to be attractive in the country include; Geneva (Genève), Lausanne, Winterthur, Bern, Zurich, and Basel.
What is the Average Salary of Node JS Developers in Switzerland?
As a Nodejs developer working in Switzerland, your salary will be approximately 136,000 CHF annually. Salaries fall between 66,500 CHF for the lowest and 212,000 CHF for the highest. This average annual salary is inclusive of various benefits like transport and housing.
Worth mentioning is that Nodejs developer salaries in Switzerland vary depending on location, gender, skills, and experience. Whether you work for a startup or seasoned web development company also determines the average salary you will earn. Here is a salary breakdown depending on various factors.
Salary Comparison for Nodejs Developers Based by Experience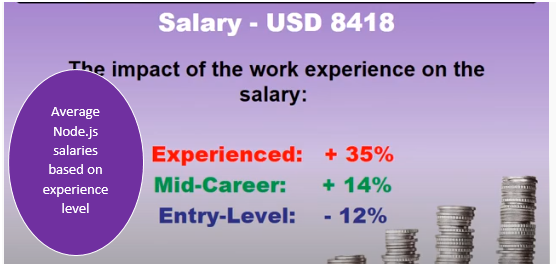 Years of experience and age play a huge role in determining a full-time Nodejs developer's salary in Switzerland. The higher your experience level, the more you will earn. Here is a breakdown to give you a better understanding.
Nodejs developers with below two years of experience earn around 78,900 CHF annually. If your experience level lies between two to five years, your salary will be approximately 101,000 CHF annually.
If you have been in the node industry for between five and ten years, your average salary will be about 140,000 CHF annually. Further, Nodejs professionals between ten and fifteen years will earn an average salary of around 173,000 CHF annually. If you have more than twenty years of experience in Nodejs, your average salary will be about 198,000 CHF per year.
·       Nodejs Software Engineer Salary Based on Gender
While gender should not determine how much professionals earn, it does in one way or another. For example, male developers in Switzerland usually make 4% more than females in the same position.
·       Nodejs Developer Salary Comparison based on Education
Nodejs developers in Switzerland with a Diploma or certificate will earn an average of 101,000 CHF annually. Bachelor's degree holders will earn an average salary of 136,000 CHF annually, 34% more than that of diploma or certificate holders. If you have a master's degree in computer science, your average salary will be 209,000 CHF per year.
·       Average Annual Salary Increment for Nodejs Developers in Switzerland
Nodejs full-stack engineers in Switzerland often get approximately a 12% salary increment every 17 months.
What is the Job Market for Node Developers in Switzerland?
Over the last few years, the software industry has grown tremendously, escalating demand for IT professionals in different countries, including Switzerland. However, the government has struggled to bridge the existing gap between front-end engineer supply and demand.
How to Become a NodeJs Developer in Switzerland?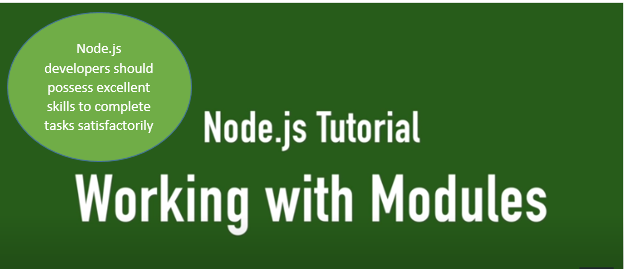 To become a Nodejs developer, you should be conversant with programming languages such as Java, CSS, python, typescript, HTML5, and web environments. Further, you should also know how the different web design codes of work components function together. Here are must-have skills for Nodejs developers.
·       More than Two Years of Nodejs Development Experience
Nodejs is an open-source platform, and many contributors have improved it since it was developed in 2019. Its library comprises various Node.js tools, integrated development environments (IDEs), and frameworks.
With proper experience, a node js developer should have multiple projects under their name. They should also contribute bug patches and fixes regularly to the Node.js community. Actively contributing and participating in node js projects is proof that they are conversant with Node.js operations. It also demonstrates their ability to collaborate with like-minded teammates.
·       Proficiency in Front-End Technologies
Front-end development is a computer programming technique that involves creating and coding a website's features and components that end-users will see. Proficiency in front-end development and design languages like CSS3 and HTML5 is critical for Nodejs developers in Switzerland.
Nodejs developers should also be proficient in other languages like PHP and JavaScript. Node.js is a crucial language that facilitates the development of back-end technologies like Android and iOS web and mobile apps.
As a result, recruiters should assess the developer's node.js back-end skills. The ideal Nodejs developer must be conversant with front-end design view, programming language, and developing software according to wireframes.
·       Proper Understanding of Node.js Frameworks
Frameworks are inbuilt into the Node.js ecosystem because they broaden Node.js operability and features. Many Nodejs frameworks are available, but the ideal developer should be well conversant with select frameworks like Express. Total.js, Hapi, and Koa.js were developed to broaden Express' basic operations.
Other MVC (Model-View-Controller) frameworks Node.js developers should know include Rails, Sinatra, and StrongLoop. Remember, some full-stack MVC frameworks like Derby, ActionHero, Meteor, Angular.js, and Keystone.js offer additional out-of-the-box features.
·       Knowledge of API Communications and RESTful APIs
Nodejs developers should be conversant with interpreting existent RESTful API codes to embrace their use in their projects. Many projects and tools can simplify node.js software development.
Developers can merge the tools with available systems via APIs. Besides their ability to work with essential APIs, the right Node.js developer should determine how different systems communicate with one another.
·       Proficiency in Database Management for Business
A qualified Nide.js developer must be capable of handling different e-commerce databases effectively. They should also be knowledgeable about integrating multiple databases into one. Further, they should be conversant with managing the databases and maintaining their security. Knowledge of relational databases such as SQLite, MariaDB, PostgreSQL, MYSQL, and NoSQL databases such as Orchestrate, CouchDB, and MongoDB will be necessary.
·       Testing and Error Management Capabilities
A competent Nodejs developer works well with test-based software development and rapid bug fixes. Experienced developers should manage both major and minor bug fixes with ease. Their projects should align with the testing phase of the project.
Node.js should possess excellent communication skills to work together with their supervisors and understand the details of the products tested after the development process and before they are launched.
Technical skills that recruiters should be on the lookout for include expertise in managing the functionality of asynchronous programming. Proficiency in various server-side programmings like JavaScript, CSS, HTML, CSS3, and HTML5 is critical. Knowledge of AWS also comes in handy when looking for offshore Nodejs software developers.
The ability to manage server-based queries will be an added advantage. Proper knowledge of Github and Git is also beneficial. The ideal Node.js developer in Switzerland should understand the latest tools, projects, and developments affiliated with Node.js developments needed to meet product code. Further, they should be capable of writing clean and effective codes with minimal bugs.
 How to Hire Node Developer in Swiss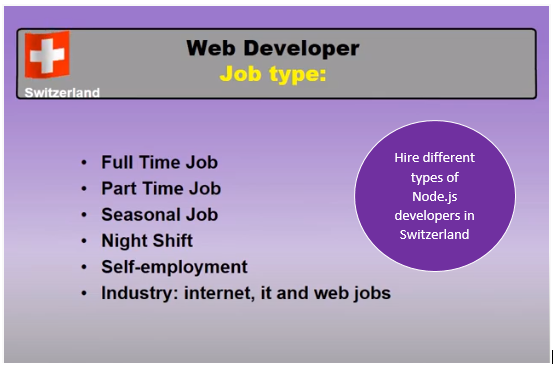 There are different methods of hiring Nodejs developers in Switzerland, as we shall see below.
·       Working with a Contractor or Freelancer
Hiring a contractor or freelancer is ideal for people looking for a short-term partnership. Apart from saving on costs, Hiring freelancers allows you to access a wide range of professionals from across the world.
Job boards such as Upwork, Freelancer, and Toptal are some of the ideal places to search for freelancers. You can also advertise your vacant developer jobs on LinkedIn or social media platforms to reach a wider audience. Hiring a freelance is a cost-effective method because you only pay for the work done.
Further, you are not under any obligation to settle the company employee costs. While this method comes with various benefits, it is unreliable because the parties involved never sign agreements. As a result, clients have no guarantee that the project will be completed or launched on time.
·       In-House Team
If you are working on a complex and large project that needs constant support and updating, hiring an in-house team of developers will be ideal. This arrangement eliminates the need for external consultancy services because all your developers work from your company.
The team collaborates to execute tasks allocated to them using resources from the office. You pick and train the development team to ensure they perform a particular set of roles accordingly. The benefits of working with an in-house development team include considerable involvement, high control levels, and direct communication.
While many employers prefer working with an in-house team, this method can be expensive, especially if you hire the team at the early stages of your project. Some of the expenses recruiters will incur during and after the hiring process includes paying for office premises, recruiting, and vacations further if you have to pay for downtime.
·       Outsourcing Development
The outsourcing hiring model involves delegating a task or project to experts outside your organization. You work with a development team from a different Fintech firm to execute the work on your behalf. This hiring method can be cost-effective and time-saving. Outsourcing is less costly compared to hiring in-house developers. Further, outsourcing allows organizations to work with ui design specialists with a comprehensive experience.
As a result, you can be guaranteed to find a professional Node.Js specialist who will work on your project skillfully and help you improve your product's interfaces and user experience. If you want to reduce or increase the outsourcing development team, you will have nothing to lose. However, the outsourcing model comes with various risks, such as unreliable management and communication.
What are the top 5 Node Development Companies in Switzerland?
Here are some of the best web development companies in Switzerland renowned for designing robust websites. Finding the best node development organizations in Switzerland capable of offering excellent websites, the latest back-end, and front-end technology, and informative content does not have to be complicated. Collaborating with the right company is all you need to get a high-quality website. Here are some of the best development firms in Switzerland.
·       Cocomore AG

Cocomore AG is among Switzerland's best mobile and app GMBH development companies, launched in 2000. The firm supports active interaction, excellent brand showcasing, unique services, and appealing designs.
It works closely with its customers to estimate and assess the results of its projects. Further, they evaluate their successes and learn from their mistakes to improve their projects. They enjoy long-term collaborations with their clients, attributed to measurable success.
·       Bytebrand Outsourcing AG
Bytebrand Outsourcing AG delivers its projects with a bug-fixing guarantee. They offer ongoing support ranging from lifecycle to on-time, and customers can choose their preferred options. The team walks with their clients throughout the project and makes follow-ups. The organization strives to seal the gap between offshore web developers and businesses. They can manage medium and small-sized IT projects to ensure their clients get high-quality products.
·       Tapptic
Tapptic is a consulting firm that facilitates its client's digital transformation process by combining advanced and unique technologies. Their robust relationships with popular names have reinforced their experience in developing smart digital solutions. The Tappic team supplies excellent work and redesigns existing websites uniquely using advanced technologies to meet market demands.
·       BeDjango

BeDjango has experienced developers who develop unique digital platforms to meet their client's needs. They strive to help you achieve digital transformation and solve your challenges. The team also seeks to understand your business goals and establishes an ideal digital strategy to help you achieve conversions, engagement, loyalty, and acquisition. BeDjango developers appealingly design your website to reduce its bounce rate.  
·       ICON Worldwide
ICON Worldwide is a technology and design firm located in Zurich, Switzerland, with branches in Sofia, Bulgaria. The organization has professional developers who collaborate with clients to deliver excellent results. The ICON Worldwide team is experienced and focuses on offering personalized services. They develop and offer support to some famous companies in healthcare, fintech, technology, education, and startups.
Finally
Are you looking for a professional Node.js developer? Leverage this article's tips to hire Swiss Node developer based on your project needs.