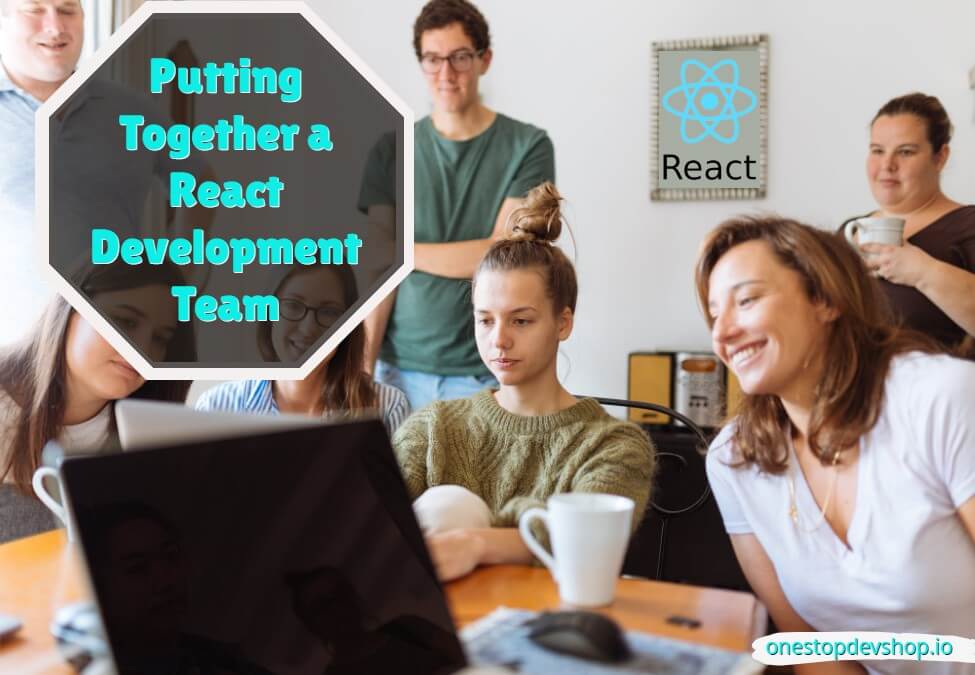 All You Need to Know about Putting Together an Efficient React Development Team
If you ever had to hire a react development team in a hurry, you know how difficult it is to find the right team. Putting together a React development team is not a task you approach out of the blue and without careful consideration. React is a front end and open-source JavaScript library by Facebook used in building native apps and UI components. We shall delve further into the differences between React Native and React.js in the article.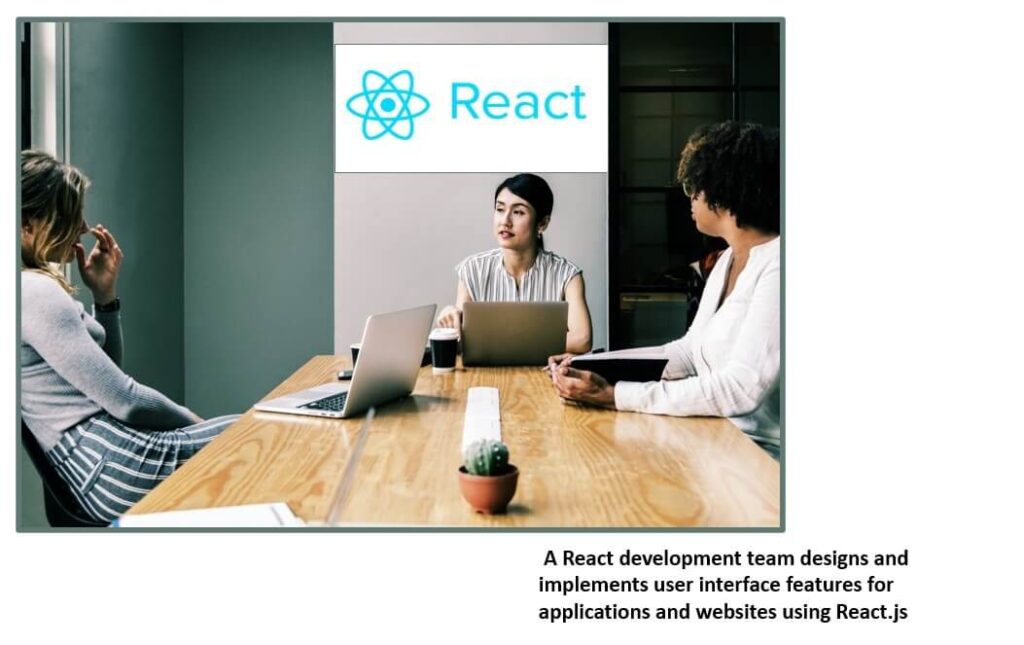 A React development team designs and implements user interface features for applications and websites using React.js. The development team is also called front-end developers, which is a sub-group of the developers who manage everything users see and interact with on their apps or websites to ensure an excellent user experience.
A Brief React History
A recent case study by Stack Overflow revealed that React is more popular than all full-fledged JS frameworks, with more than a third of all survey participants admitting to using the framework.
React.js and React Native are currently trending for powering some of the biggest names in websites and mobile app development. In 2011, Facebook was expanding in ads and embracing new features. The development team noted with concern that the continuous updates were pulling back performance and progress.
The updates and content cascading forced the development team to restructure the entire application. As the team grew, the problems escalated in equal proportions. The model was perfect, but the problem was the interface, which needed a re-haul. At that point, a Facebook engineer called Jordan Walke used an HTML component library for PHP called XHP to build FaxJS, which became ReactJS's initial prototype.
ReactJS was used on Facebook's timeline in 2011, which was a huge step. The following year, Facebook bought Instagram, and the developers used ReactJS for its timeline. Facebook's CEO Mark Zuckerberg in the same year said that they realized that their biggest error was to rely too much on HTML instead of native.
This was the beginning of developing React Native for use as a framework. Within a short time, the software development industry witnessed the growth of the two technologies-ReactJS and React Native. Since then, React enjoys support from Instagram and Facebook engineers, over one thousand GitHub members and StackOverflow community.
Differences between ReactJS and React Native
To the inexperienced, ReactJS and React Native could easily be the same thing, but they have several differences that distinguish them.
ReactJS is a JavaScript library, which supports server and front-end. The library is useful for the creation of mobile apps and website UIs (User interfaces). For the sake of the corporation seeking to hire React.JS developers, UI is a term that refers to an element that allows ease interaction and communication with any data flow saved on a device such as a smartphone, laptop or tablet. The UI is the main contact point between the user and a computer. Mice, keyboards, desktop layouts and computer texts are examples of UI.
Before ReactJS, developers built UIs via raw JS (JavaScript) or jQuery, which is React's predecessor, but with less focus on UI. The development process took a long time and left more room for bugs and errors. The FaxJS solved this problem by shortening the process and leaving less room for error.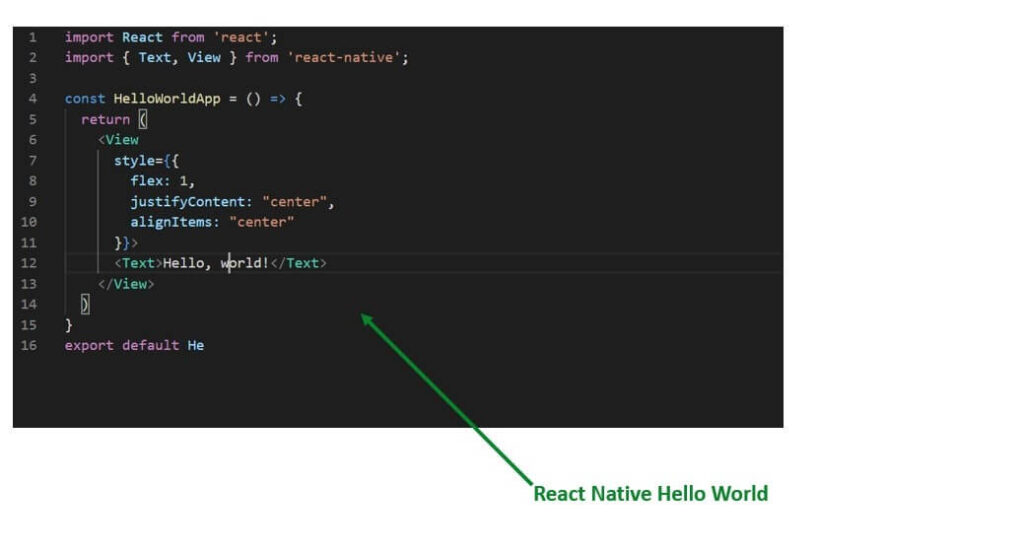 React Native is a cross-platform framework and utilizes ReactJS for building web applications. React Native assists developers to build mobile apps that run on varying platforms like Android, Windows or iOS in JS.
More organizations such as Netflix, Reddit, Airbnb, and Uber use React, and along with React's rising popularity is the hike in demand for React developers. Highly skilled React developers are involved in all the development and maintenance of user interfaces.
Some of the Advantages of React
React focuses on Responsive Web Development, which allows you to create apps that work well o whichever screen size you use.
React has mechanisms that allow web engines to find and index the app, making your page more visible.
Development relies on reusable React components that make coding and testing faster.
React allows for seamless rendering, due to the Virtual DOM (Document Object Model). DOM is a programming interface for XML and HTML documents and represents a page so that programs can alter the document style, content and structure.
The DOM represents the document as objects and node so that programming languages can communicate with the page. The Virtual DOM is a concept in programming where a virtual representation of a user interface is saved in memory, and then synced with the real DOM via a process called reconciliation. The virtual DOM is faster and thus provides for more seamless rendering.
React Developer Tools (RDT), an extension to Chrome Developer Tools is a dedicated debugging tool that ensures your app stays free of bugs.
The JavaScript Extension provides intuitive development via JSX, which paves the way for the use of Syntax, which is the same as HTML in JS code.
How to Hire a React Development Team
As mentioned earlier, React developers are involved in the designing and implementation of user interface features for apps and websites that use React.JS. These developers are the ones responsible for managing all that the users see on their applications or web browsers.
The online forms, menu buttons, voice recognition (Cortana and Siri), gesture-driven interfaces (expanding your smartphone screen with your fingers to zoom), graphics and images and other things are some of the things React developers do. React developers use their experience in HTML, CSS, JS and other languages, and integrate them into the ReactJS library.
The developers work with software testers and perform codebase tests long before a website or web app goes live. They also collaborate with developer teams, project managers, web designers and programmers on a client's project.
When hiring an in-house React team, you need to hire individuals who will add value and transform your project into a high-performance software. The individuals should have the necessary skills, professionally and interpersonally. Here are some of the required skills when putting together a React development team for startups.
1. Excellent JavaScript Code Knowledge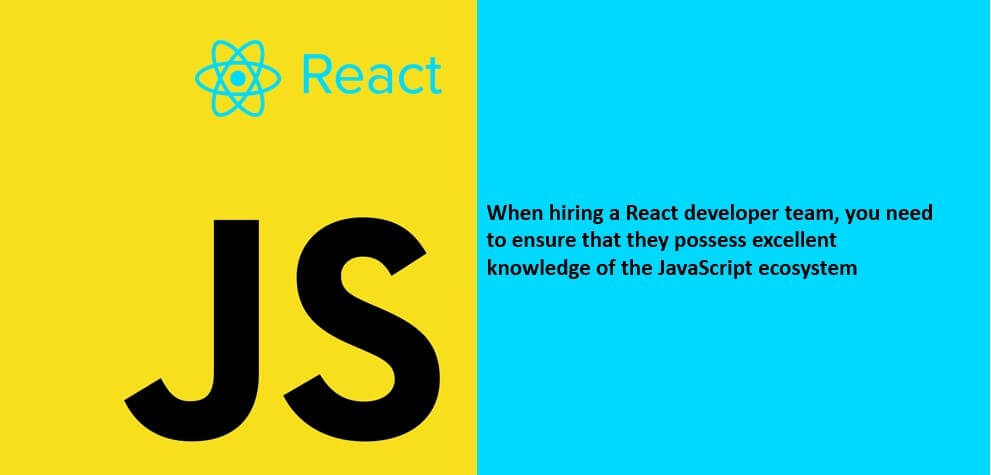 When hiring a React developer team, you need to ensure that they possess excellent knowledge of the JavaScript ecosystem. JS is the center of everything about cross-platform mobile application development. The potential candidates must know how to structure application services and logic, understand their flow, and how to build components.
Even with a deep JS knowledge, ReactJS has its own set of features and excellent knowledge of React applications and their core is important.
2. Familiarity with Tech Tools
You cannot demand that the candidates know everything about developing software. It would be beneficial, however, if they are familiar with useful tools like Redux, Hockeyapp, Enzyme, etc.
3. Thorough Knowledge of React Assumptions
A React developer should know and be familiar with concepts such as JSX, Virtual DOM and component lifecycle. You must ensure that the candidate understands these concepts thoroughly.
4. Good in Code Clarity
The apps that your development teams create must contain a readable, as well as consistent code. This is crucial since you need to maintain the app in the present and improve them later on.
5. Android and iOS Development Experience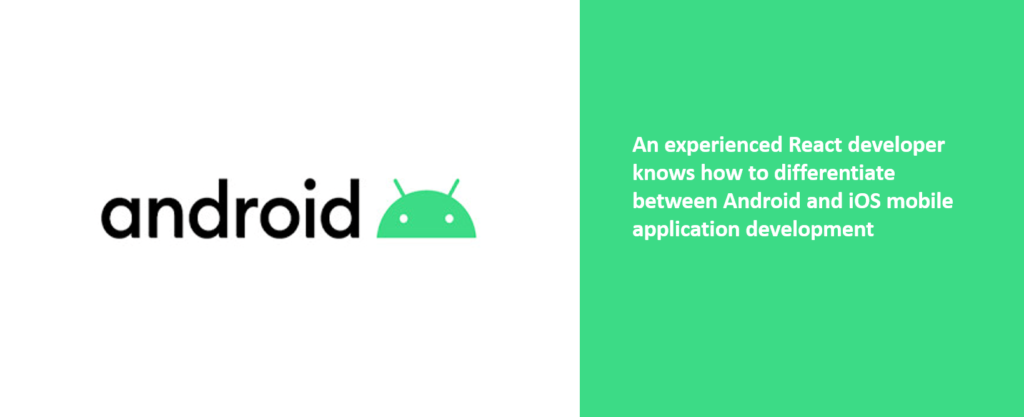 An experienced React developer knows how to differentiate between Android and iOS mobile application development. Familiarity with Swift and Objective-C to make the app functional on various devices is a necessary skill.
6. Soft Skills
The React developers you hire will not work in isolation, and they need to be expert professionals with nice personalities to boot, especially if they will be working full-time. They need to be good at communication, problem solving and team players. They should be capable of giving excellent feedback, graciously receive criticism and be open-minded and eager to learn, even by watching React tutorials to learn new technologies.
Ensure that the people you hire fit into your company culture. You might employ the best React developers, but if the team members are not on the same page or comfortable with each other, it will not work, and you may have to replace the developers and got through the hassle of having to look for a new team.
The Two Different Ways to Hire Developers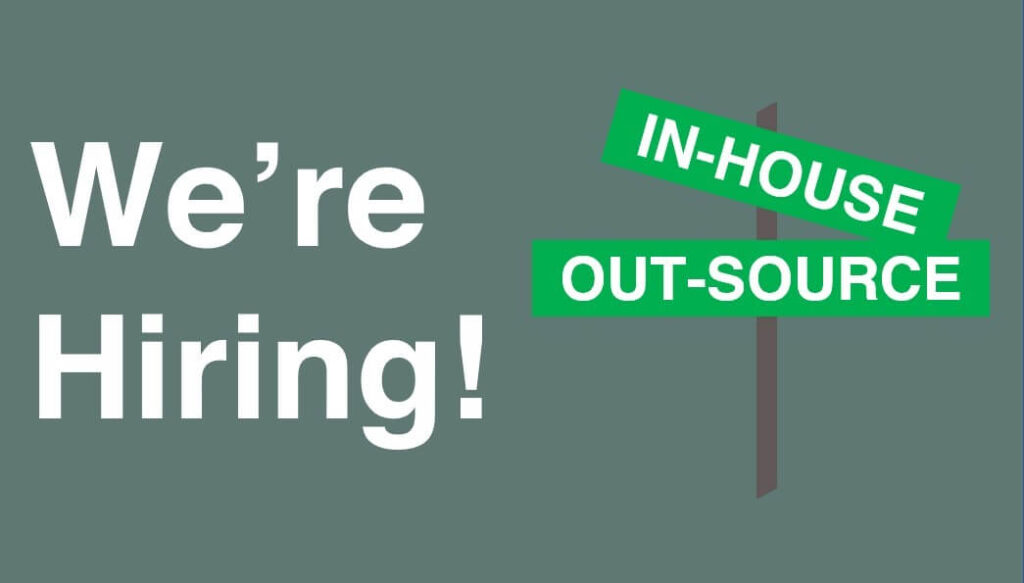 You can choose to either hire an in-house React development team or outsource. If you decide to outsource, you have two options. One is to find developers on the various freelance platforms or hire a software development house.
A common preference by most clients is to hire freelancers via dedicated freelancer platforms that connect clients with freelancers. The most common freelancer websites are Upwork, Toptal, YouTeam and Freelancer.com. Some of the pros and cons of this method are:
Pros
Affordable rates
More talent available on demand
Access to previous client feedback on freelancer
An excellent alternative if you want to tweak an existing product
Cons
Lack of a formal contract and the co-operation is trust-based
Mostly the freelancers are in varying time zones
Most times, the language barrier is an issue
The recruitment, managing and accounting tasks are your responsibility
Outsourcing from Development Houses
Outsourcing from development houses is a more straightforward and cost-effective way of putting together a React development team. All you need to do is give them your specifications, and they will take care of all the rest. All they require from you is collaboration and supplying them with the project details, and they will handle the project management from start to finish.
Pros
You are guaranteed of high quality work, reliability and expertise
Affordable
The development house takes care of all the details of managing, accounting, etc.
You can expand the team by taking on more team members if you need to expedite the project.
Pros
Sometimes language barrier may exist if you are outsourcing outside the country
Time zone difference
If you are outsourcing to a development company, you may have to pay a bit more since you leave everything in their hands. The company you choose should be:
The developers should be pragmatic enough to build simple software that works. At the same time, the engineers approach complex issues with innovative solutions. Their goal should be to make your vision a reality, which means they have to scale their innovation and practicality to align with the task, and whether it adds value to your software. The engineers need to be practical enough to lay the pros and cons out for the client and make intelligent recommendations.
The company needs to be able to use various methodologies such as Agile or SCRUM, to manage your project. Check if the team has a proven track record on timely delivery. A good ReactJS company should finish your project on the agreed timelines, and communicate any delays.
Find out if the company is flexible and whether they can integrate several changes. Due to time differences, ask if the programmer can work with you in your time zone.
The right ReactJS developing company should have expertise in several domains. While you are looking for a company with excellent ReactJS skills, a company with all-round developers is recommended. This includes those with experience in Angular.
Innovativeness
New technologies keep coming up, and a good ReactJS company should hire innovative programmers who are quick adaptors to changes in the industry. Using API-first approaches, the company should be compatible with your back-end developers, no matter which core technology you are using, such as Net, Java, Node.js, Ruby, Python, etc.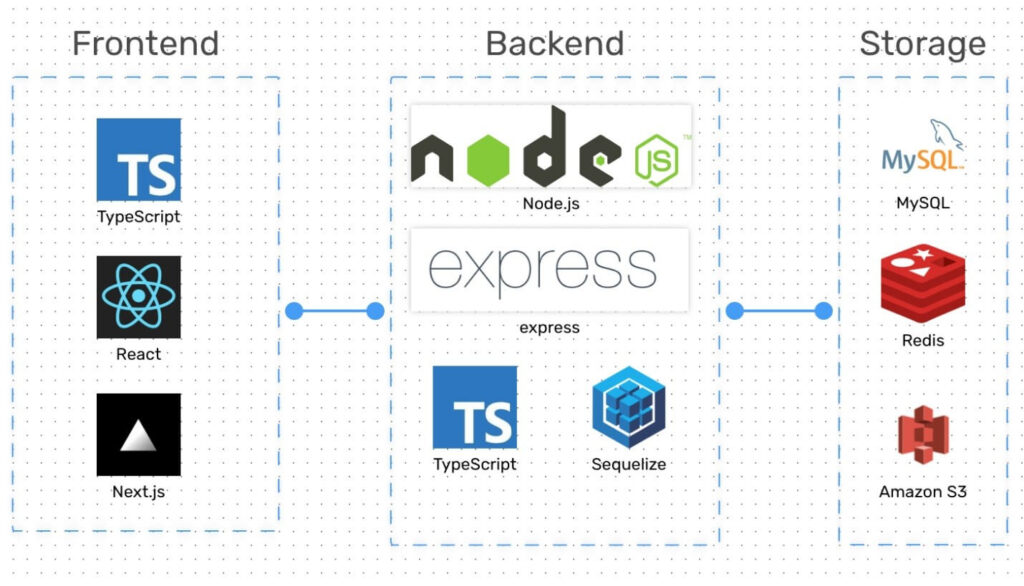 Final Thoughts
React is useful for creating attractive user interfaces for your web apps. To build an excellent website or app, you need to bring on board a React development team that will bring your vision into fruition. Finding a React developer is not easy, and you have to ensure that while putting together a dedicated team, you should make careful considerations on the team members.
Professionalism, coupled with a pleasant personality allows the team members to bond and work well together. If you are not interested in the logistics of an in-house team, you can hire a freelancer from the many platforms or seek ReactJS development services from a software development house or company. While each has its pros and cons, your top priority should be to get the best talent that will deliver quality and on the agreed timeline. Proper project management using Agile or Scrum methodology should be one of the few criteria used to find the right software company.