In the past few years, there has been an upsurge in cloud computing technologies. Salesforce is one of the many technologies that have made a significant impact on the computing industry. Before we delve further into the technology, let us see where it all began.
Salesforce.com is a cloud computing company, which provides SaaS (software as a service). The company was founded in 1999 by Marc Benioff and is based in San Francisco, California and Salesforce happens to be their flagship product. Salesforce is a customizable CRM (Customer Relationship Management) with very enticing and unique features such as weeding duplicate leads, Web to Lead, Email and Campaign management, etc. Oracle is one of Salesforce's biggest competitors, with huge companies like Amazon running on Oracle CRM.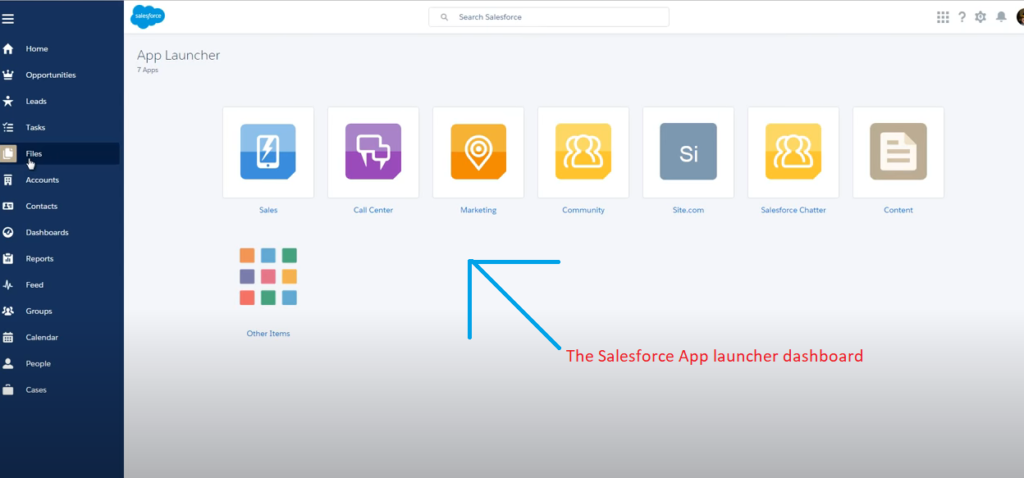 Customer Relationship Management (CRM)
A CRM platform helps you to manage your customer data. The system delivers actionable management, supports sales management, integrates with your social media, facilitates communication within the team, and more. A cloud-based CRM system offers mobility and allows you to access an entire bespoke app ecosystem.
A CRM system helps to keep businesses up to date with their client contact details, manage client accounts, and track all the clients' interactions. It is specifically designed to help your business have better customer relationships, and CLV (customer lifetime value), which are significant because a company generates a lot of data every day.
Traditionally, this collected data was documented in analogue methods such as notebooks or just plain memory. Before the advent, each company/ firm would host CRM solutions on its server, which was expensive and literary impossible for a business to have its CRM solutions. It took a long time to set up CRM solutions, and the cost was astronomical. After set up, the answers were hard to use, which did not make economic sense to spend so much, only for you to abandon the system.
The sensible solution was to build an affordable CRM software and delivering it to customers and potential customers as an online service. This was the primary underpinning of the Salesforce. It started as a SaaS company, which grew into one of the largest software company globally.
Salesforce CRM was catapulted to the top because they were offering a better product for less money. The most critical aspect was because they replaced the lengthy and tedious installation processes and moved everything online. They revolutionized the business model as it was, removing the need for long-term contacts and costly licenses, ensuring anybody could use Salesforce for only a 30$ subscription.
Salesforce Services and Products
Salesforce.com is best known for its CRM product, and is built on different types of Cloud, namely:
1. Sales Cloud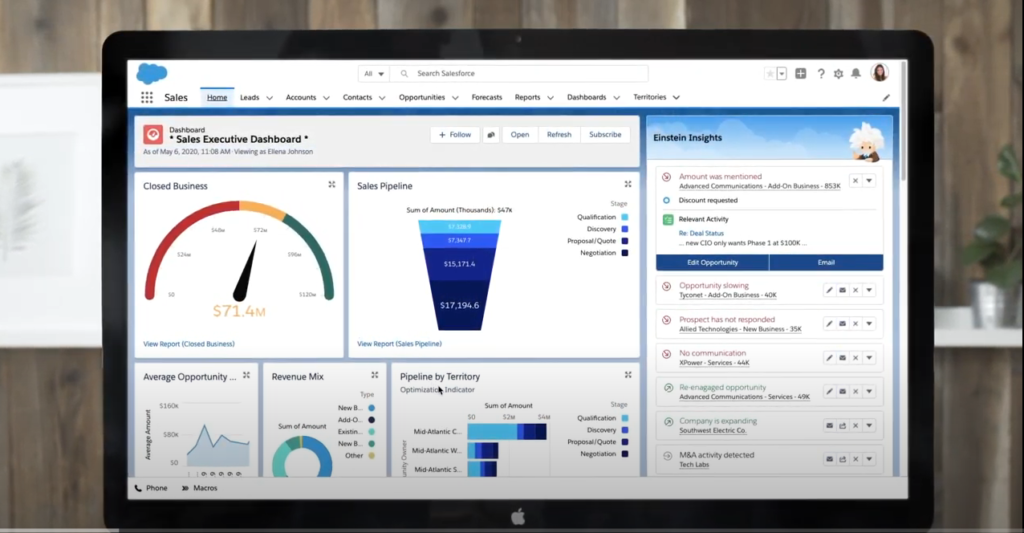 Salesforce Sales Cloud manages customer contact data, social media integration, and real-time client collaboration via chatter. The cloud assists marketing and sales teams, as well as client support in B2B and B2C. The sales cloud helps in tracking Salesforce customer interactions and data in a single place, automates business processes, keeps data updated, follows up on leads and tracks how effective marketing campaigns are. Its main features include:
1. Opportunity management
2. Contact management
3. Salesforce Engage
4. Salesforce inbox
5. Reports
6. Marketing automation
7. Dashboards
8. Wave app for sales
2. Service Cloud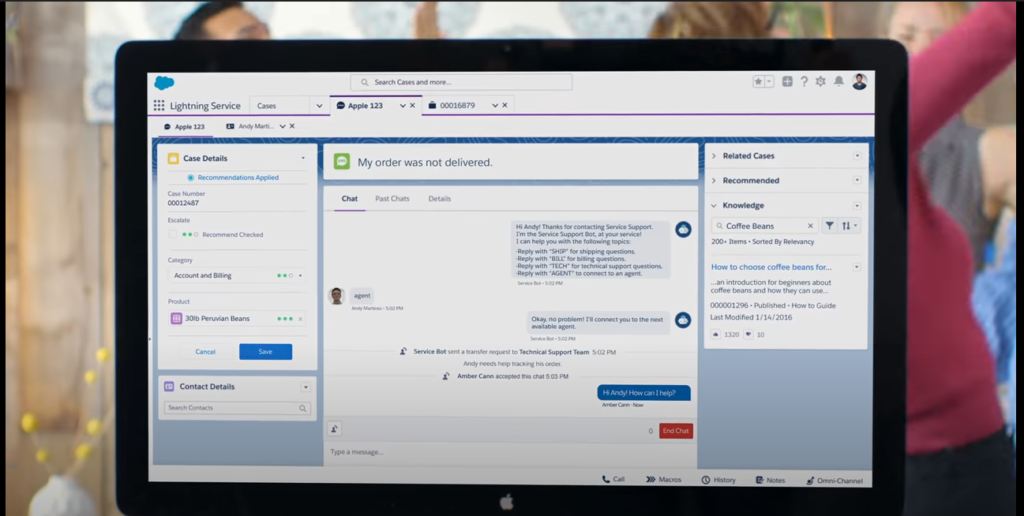 The Salesforce Service Cloud is a platform for customer acquisition, support and service. It includes a tracking feature that resembles a call center and a social network plug-in for analytics and conversations.
This Cloud allows agents to solve client issues quickly, give clients access to solutions for their problems, predict customer needs, deliver customer support, and personalize services. Service Cloud features include:
1. LiveMessage
2. Field Service Lightning
3. Live agent
4. Snap-ins
5. Social customer service
6. Omni Routing.
3. Custom Cloud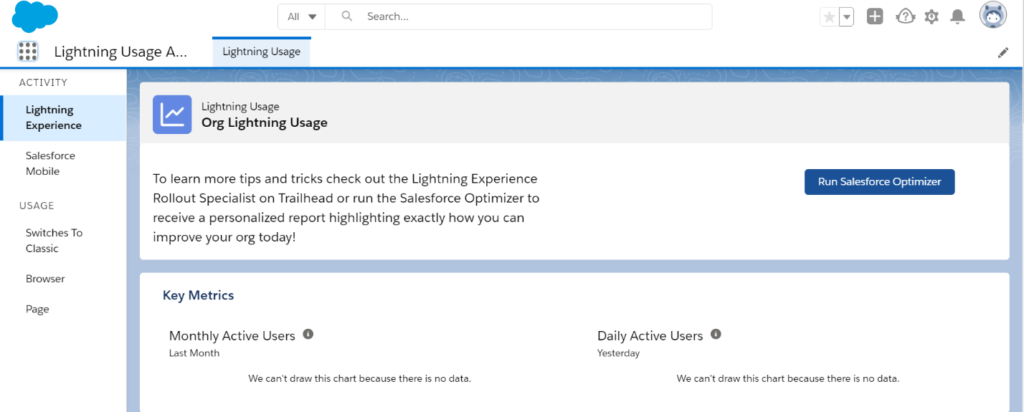 You can add custom fields to standard objects, or create custom workflows. For business logic or custom views, you can use Visualforce pages and other apex classes. All these customization facilities make it feasible to fulfil any need a customer might have.
4. Salesforce Analytics Cloud
Salesforce Analytics Cloud is also known as Salesforce Wave analytics and it is an intelligence platform for businesses. It allows companies to receive essential data instantly and makes immediate data-oriented decisions.
Analytics allows the user to act immediately on the received data. It can also connect to the Sales and Service cloud data, analyze collected data entry for improved insights, work via any device, and use analytics apps for each function, which include service, sales, HR, IT and marketing.
5. Marketing
Salesforce Marketing Cloud helps to personalize email marketing. It connects social media to marketing, and engage via mobile marketing, ad campaign management to assist in acquiring customers, delivering personalized but effective web content and creating a one on one client journey across various cloud platforms.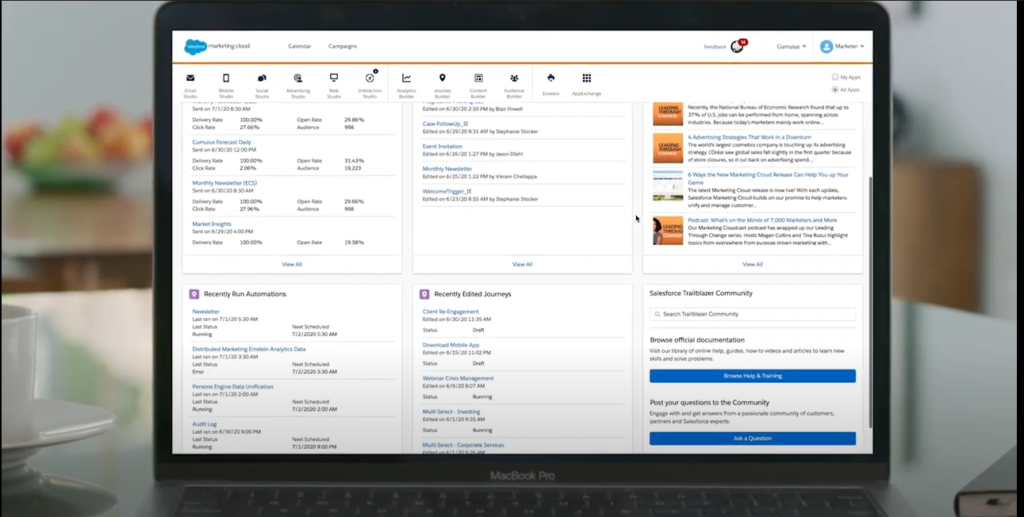 6. Community Cloud
Salesforce Community Cloud facilitates and connects proper communication among partners, employees and customers. The Community Cloud builds communities for any need and provides customers with a platform for helping each other, builds stronger relationships when customers interact, allows partners to increase sales by connecting and helps to improve employee productivity by collaborating online.
Its features include:
1. Personalization
2. Case escalation
3. Lightning Bolt
4. e-commerce
5. Community management
6. Collaboration
7. Automation
7. Salesforce Commerce
Salesforce Commerce Cloud was previously called Demandware and is a cloud-based service. This Cloud unifies how a business engages with its clients over different channels. The Commerce Cloud helps a business in the management of digital commerce, control of order and point of sale. This Cloud also helps in the launch of new sites; bring businesses online, integration of partner technologies and creation of novel customer experiences.
8. Salesforce App Cloud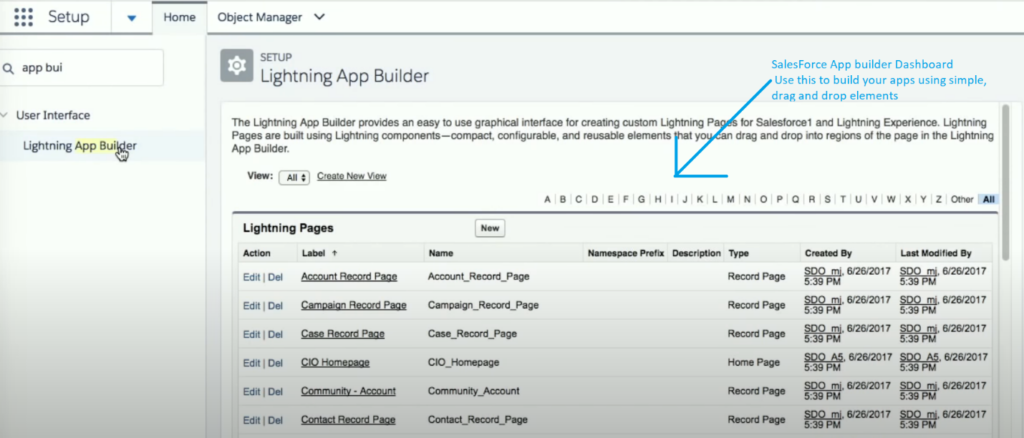 The Salesforce App Cloud is an assembly of development tools that Salesforce developers use to create apps on the Salesforce platform quickly. App Cloud allows for native integration, which removes any need for IT. The Cloud enables users to build applications that integrate client data for better customer experience. The Cloud allows businesses to automate their processes and use powerful APIs (Application Programming Interfaces) for improved security.
Included in the App Cloud services are tools such as:
com, which is a PaaS (Platform as a Service), lets developers and admins build apps and websites using Apex, and which, integrates into the Salesforce.com, Inc. app.
AppExchange: a building and sharing platform used by third-party apps running on the Force.com platform.
Heroku Enterprise allows developers the flexibility for app creation using the preferred tools and language.
App cloud mobile
Salesforce Shield acts as a protector for enterprises by using compliance and transparency enhancing tools across various apps.
Salesforce Identity offers a trusted identity for partners, customers and employees.
Salesforce DX is a novel way of managing and developing Salesforce apps on the lifecycle.
Salesforce Thunder is a processing engine for rules and big data and designed for analyzing events and taking personalized steps.
Salesforce Trailhead consists of a bunch of online tutorials that teach developers on different levels how to build code on the Salesforce platform.
Salesforce Sandbox is for developers to try out ideas in a safe, albeit controlled environment.
Salesforce connect allows the user to access data from various Salesforce organizations and other outside sources.
9. Salesforce IoT Cloud
Salesforce IoT Cloud is a Salesforce.com platform that uses the Internet of things (IoT). It uses customer, device, sensor and partner-generated data into action. The Cloud allows its users to process extensive data, engage clients in real-time and build rules using intuitive tools.
10. Salesforce Financial Services
Salesforce Financial Service Cloud helps businesses to deliver better experiences via customized tools, allows existing opportunities to become more visible and track more referrals, addresses the issue of regulatory compliance and allows the access of client data in a single location.
11. Salesforce Health Cloud
The Health Cloud is a health-oriented CRM system that integrates the doctor/patient relationship with record management services. It creates personalized profiles for every member from demographics to communication and other data in one location. Patients can track their progress in their quest towards their health-related goals. The health Cloud also prioritizes and tracks cased according to their level of importance or immediacy. The system also improves and unlocks HER (electronic health record) modes and integrates apps in a flexible and secure platform.
12. Salesforce Data.com
Formerly known as Jigsaw, Salesforce Data.com, formerly known as Jigsaw is an automated, Cloud-based system used for acquiring and managing CRM records within your account. The system has the following features:
1. Users can exchange data online
2. You can access it anywhere and on any device
3. You can do real-time cleaning of leads, accounts and contacts
4. You can find the right leads of any organization
5. It provides email and phone information
6. It enhances CRM adoption and productivity
7. You can easily find new clients
8. It automatically cleans data
9. Prevents duplication in your account
10. Has Autofill
Salesforce Data.com is available in three editions:
Data.com clean
Data.com prospector
Data.com premium
13. Pardot
Pardot is B2B or business-to-business marketing automation, which assists in the acceleration of sales via sales intelligence, generating leads using marketing tools, automating lead qualification and tracking campaign performance for optimization of revenue goals.
14. Desk.com
Desk.com, formerly known as Assistly, is a helpdesk system that interacts with clients to solve their issues. Desk.com assists customers much faster, builds better products, makes better decisions and provides insights for improving support teams. The syste m also allows customers to solve their problems and help to scale customer care with 360-degree client views. Other features include business insights, embedded service, CSAT Scores, App Hub, SalesforceIQ and Salesforce Integration.
15. Chatter
Chatter is a social network in the Salesforce platform. This helps to push productivity by the connection of employees. It helps to drive innovation via a forum where all and sundry can share ideas and allows product teams to get direct feedback. Chatter will enable people to share knowledge by connecting all employees with industry experts from different organizations. It enables firms to track their ongoing projects on mobile and act on updates from anywhere.
Technology
· Apex
Apex is a programming language used by developers on the Force.com platform for executing flow and transaction control statements. Apex is easy to use, integrated, rigorous, data-focused, multi-tenant aware, hosted, upgradeable automatically, versioned and easy to test.
· Visualforce
Visualforce is a framework, and it enables the building of dynamic, but reusable interfaces, which can be natively hosted on the Force.com. It can also be used for creating custom pages in a Salesforce company. A developer can use a Visualforce page to override tab review pages, standard buttons, define custom tabs, create dashboard components, the embedding of elements in page layouts, add menu items and customize sidebars in Salesforce.
· Lightning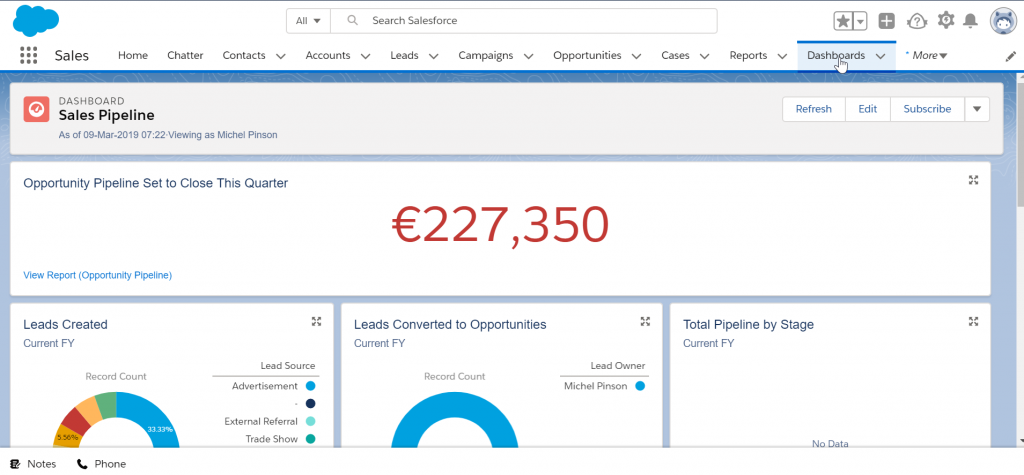 Lightning is a group of several technologies on this platform. They include:
a) Lightning Experience
This is the newest UI (user interface) for installations. It is an excellent upgrade of the UI, up from the Classic view, and brings functionality and a modern look to the platform.
b) Lightning Design System (SLDS)
The SLDS is a CSS/HTML framework for building lightning apps and accelerates development. Instead of making each item, you can use pre-built components.
These frameworks act as tools for creating Lightning components that power the app running in Lightning Experience. One significant advantage of the Lightning ecosystem is the ability to write an app and have it run on different platforms such as Salesforce, mobile and web. A Lightning Component is s reusable and independent code piece, which can be used in multiple spots.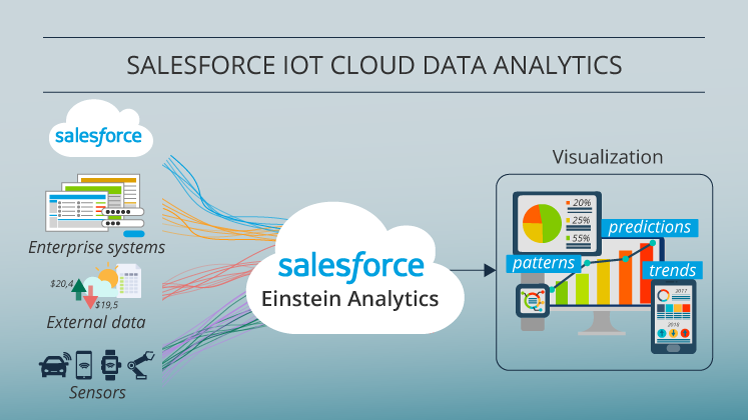 Albert Einstein quoted that "The definition of genius is taking the complex and making it simple." This platform has taken up the task of removing the complexity of artificial intelligence, which enables companies to deliver more intelligent, predictive and customized customer experiences. This is a set of platform services that integrate AI capabilities with the Customer Success Platform.
Deep and machine learning, natural language processing, predictive analytics power the Salesforce Einstein. Salesforce Einstein's models will automatically self-customize for each customer, and it will self-tune, learn and become more intelligent with each interaction and data addition. Its intelligence will be integrated within a business context, will automatically discover insights, predict future behavior and automate tasks.
What makes Salesforce unique?
Some of the reasons that make this platform unique and keep it relevant are innovations in CRM. Some of the unique ways has innovated include:
This platform is one system that enables users to plug in all the its products, from Sales, Customer Service, Marketing, etc. it allows users to build their apps on the platform via the use of a no-code or point-and-click interface, which is easy to use.
AppExchange is an innovative idea by Salesforce. Think of the Google Play Store on your Android or the App Store on your iOS. These two allow you to search for and install apps that extend your phone's functionality. This might be an app for sleep or weight monitoring, or for playing games. AppExchange's concept is identical and extends it's functionality. If you need project management, accounting, or eSignature app, you can get it on the AppExchange. This app allows developers to create excellent apps that solve users' problems and will enable apps such as DocuSign or MailChimp to create a harmonious integration.
The world is becoming more mobile, and this platform is helping users to access their data on the go via the Salesforce Mobile App. This app allows you access to the same information as you would on the full product, and can be customized for the creation of great user experiences.
Conclusion
Salesforce takes care of all customer relationships, such as marketing and service. Any firm that wants to manage its customer relationships can use this platform's wand avoid time-wasting and losing money for hardware infrastructure and software solutions development.
The application of CRM systems in your company might feel economically overwhelming if you do not have the resources for customizing it for your company's needs, or for maintenance. Salesforce removed the complexity and cost of installing expensive systems by providing SaaS. This means even small businesses can improve sales and grow by process automation, which saves time and resources.
All businesses in the future will use CRM. The software solutions make a record of your customers, your interactions with them and the purchased product or service. If you have a small business like a nail salon, you might keep a notebook or spreadsheet of your regular clients. If you run a hotel with thousands of employees, you will use CRM software solutions.
After 21 years, Salesforce is still a CRM software market leader, taking at least 20% of the market share. When choosing a CRM software, all you need to do is some due diligence and decide what suits your business needs.