Salesforce AppExchange is a cloud computing marketplace by Salesforce.com that enables end-users to access, download, and install software applications for different use cases. It offers a mix of paid and free apps organized into categories, industry solutions, and collections that encompass various fields. These fields include customer service, small business, education, real estate, and manufacturing.
AppExchange was launched by Salesforce in 2005, becoming the first public directory of its kind. LinkedIn for Salesforce and Outlook Integration for Salesforce are among the most popular apps on Salesforce AppExhange.
LinkedIn for Salesforce enables users to access LinkedIn profiles and account information stored on Salesforce. Outlook integration for Salesforce allows users to access Salesforce information directly in Microsoft Outlook.
In the early 2000s, Salesforce CEO, Marc Benioff, had an eye-opening chat with Steve Jobs, during which Jobs requested Benioff to create a Cloud Software Ecosystem. Years later, Benioff had had the idea to establish a site that allowed Salesforce platform users from the entire world to showcase their apps. In addition, any Salesforce end-users could access and download the apps.
Consequently, the Salesforce store, Appstore, was launched in 2005 as a Force.com plugin. It became the first App shop dedicated to distributing and selling Salesforce-based apps.
Marc Benioff was the initial owner of the trademark "App Store." However, he opted to relinquish it to Apple when they introduced their App Store. Apple received the domain as a gift, and Salesforce renamed its marketplace to AppExchange.
What can we Find on Salesforce AppExchange?
Salesforce AppExchange is a marketplace for solutions, consultancy, and cloud computing apps. AppExchange offers over 4,000 solutions, 7.5 million installs, and 90,000 reviews.
In addition, the platform's app developers release new products every week. There are free and paid apps available for end-users to select from.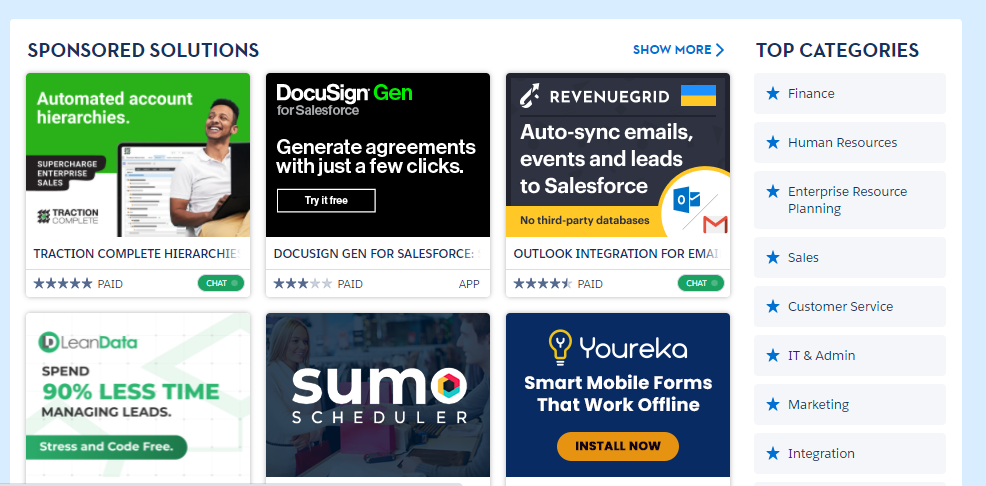 Salesforce AppExchange Apps Categories
Industrial Collection: Several industries fall under this category, including communications, media, education, government, retail, and others.
Product Collections: This category includes Sales Cloud, Marketing Cloud, Service Cloud, Commerce Cloud, Financial Services Cloud, Einstein Analytics, and many more.
Types of Solutions: These Apps include Bolt Solutions, Lightning Data, Flow Solutions, and Components.
Finance Solutions: Among the top finance apps available on the Salesforce platform are Xero Integration with Salesforce, Blackthorn Payments, and ChargeOn Payment Processing App.
Top Categories: Sales, Enterprise Resource Planning, and Human Resources are among the top categories.
Implementing AppExchange Apps

Implementing AppExchange apps involves a series of steps to ensure a successful deployment and integration within the Salesforce ecosystem. Here is a general guide on how to implement AppExchange apps:
Identify the AppExchange App
Browse through the Salesforce AppExchange marketplace and find the app that best fits your business requirements. Evaluate the app's features, functionality, user reviews, and compatibility with your Salesforce edition.
Plan and Scope
Determine the goals and objectives you want to achieve with the AppExchange app. Create a project plan that outlines the implementation timeline, resources required, and budget considerations. Define the scope of the implementation, including which Salesforce orgs or departments will be affected.
Installation and Setup
Once you've selected an app, install it in your Salesforce org. Depending on the app, you may need to configure certain settings or customize its behavior to align with your business processes. Follow the vendor's documentation or installation guide for step-by-step instructions.
Security and Permissions
Review the security and permissions model of the AppExchange app. Determine which users or user profiles should have access to the app and its specific features. Set up appropriate user permissions, role hierarchy, and sharing settings to ensure data security and compliance.
Data Migration
If necessary, plan and execute data migration from existing systems or apps to the AppExchange app. Ensure that the data is cleansed, transformed, and mapped correctly to align with the app's data structure. Test the data migration process thoroughly to maintain data integrity.
Customization and Configuration
Many AppExchange apps allow customization and configuration to tailor them to your specific needs. Utilize the available customization options to align the app with your business processes and branding. This may involve creating custom fields, workflows, validation rules, or page layouts.
Integration
Consider integrating the AppExchange app with other Salesforce features or third-party systems. Explore integration options such as APIs, connectors, or middleware to streamline data flow and improve overall system efficiency. Work with the app vendor or a qualified developer to ensure smooth integration.
Testing and Quality Assurance
Thoroughly test the implemented AppExchange app to ensure it functions as expected. Create test scenarios and perform both functional and integration testing. Validate data accuracy, user permissions, app behavior in various scenarios, and overall system performance.
User Training and Adoption
Conduct user training sessions to familiarize your team with the AppExchange app's features and functionality. Provide training materials, user guides, and hands-on practice opportunities. Encourage user adoption by highlighting the benefits and explaining how the app improves their work processes.
Ongoing Support and Maintenance
Establish a support process to handle user inquiries, issues, and updates related to the AppExchange app. Stay updated with new app versions and patches released by the vendor, ensuring that you install updates in a timely manner to benefit from bug fixes and new features.
Monitor and Optimize
Continuously monitor the performance and usage of the AppExchange app. Leverage Salesforce reporting and analytics tools to gain insights into user adoption, system performance, and ROI. Identify areas for improvement and optimize your app configuration or business processes accordingly.
Remember that each AppExchange app may have unique implementation requirements and considerations, so consult the vendor's documentation and support resources throughout the process. By following these steps, you can successfully implement AppExchange apps and leverage the power of Salesforce to enhance your business operations.
Most Popular Salesforce AppExchange Apps
Salesforce users have a wide range of apps to choose from. The top categories include:
Finance: Blackthorn Payment processes numerous Subscriptions, Mobile Payments, ACH Payments, and PCI-Compliant Credit Cards via PayPal, Stripe, and Authorize.net.
Marketing:You can send, automate, and report using the Mailchimp Integration App on MailChimp Campaigns within Salesforce CRM.
Integration:

 A cloud service known as Dataloader.io enables you to export, import, and delete Salesforce data.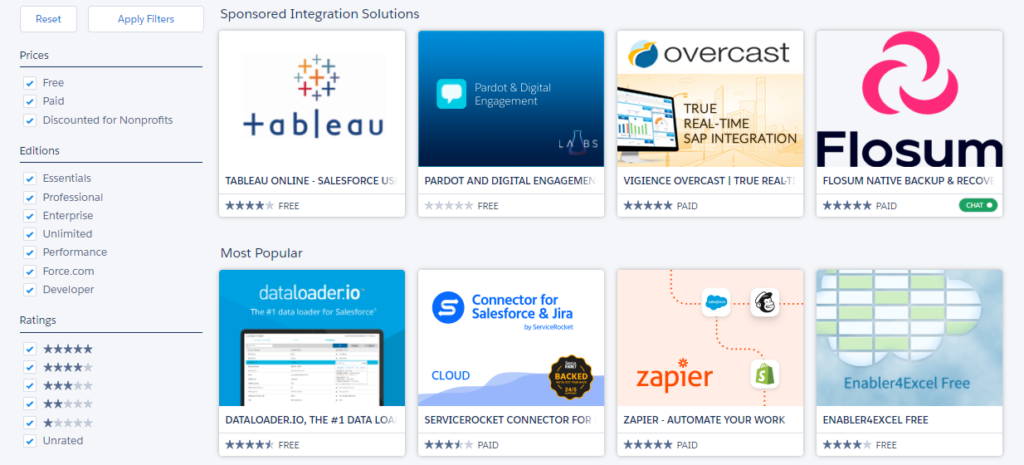 Salesforce Labs: The platform offers In-App Guidance, which is helpful for user adoption of major Salesforce features.
Analytics: Analytics Rollup Helper uses clicks instead of code to roll up Salesforce data.
Sales: The platform has a free adventure game known as Trail Tracker, which teaches Salesforce customers how to use the dashboard on Trailhead.
Customer Service: It has a category that includes a wide range of customer support services such as signing documents using e-Signature. DocuSign is one such e-signature solution that enables Salesforce users to sign, send, track, and save documents.
IT and Administration: Element Catalyst helps manage the whole Salesforce installation lifecycle, such as capturing user stories and requirements, mapping business processes, documentation, and driving adoption.
Human Resource: Salesforce Recruiting Software is an app for tracking open vacancies and candidates' information.
Enterprise Resource Planning:

Zenkraft Multi-Carrier is an app inside Salesforce CRM, which allows users to ship and monitor packages with over 60 shipping companies, including DHL, UPS, and FedEx.
Why Should we use Salesforce AppExchange?
AppExchange has top-notch apps for Customer service marketing, sales, analytics, and Salesforce consulting. Over 90 percent of Fortune 100 SMEs use at least one of the Salesforce platform applications.
Salesforce developers and companies publish their Salesforce solutions on AppExchage. You can boost your yield by offering your Salesforce apps to a broad but relevant professional market.
App developers can become members of the Salesforce Partner Community and access AppExchange Partner Business Organization. The organization allows developers to distribute and sell their apps and grow with Salesforce.
The marketplace is user-friendly, and it will allow Salesforce developers to monitor their app's metrics and browse other apps. Salesforce can include adverts for developer's Apps in the monthly Digest Mail, enabling you to reach a wider audience.
The Salesforce AppExchage offers more than just apps; it has ready-to-use solutions that allow developers to extend Salesforce CRM's Functionality. These solutions are quick and straightforward to set up and include Flow Solutions, Lightning Data, Bolt Solutions, and Components.
Independent Software Vendors
Salesforce developers build some of the apps in AppExchange. But ISVs (Independent Software Vendors) develop most of the apps using the Lightning Platform, Salesforce's cloud computing technology. Every application on AppExchange is available to Salesforce customers on-demand, either as free or paid apps.
The AppExchage Partner or ISV can join a Salesforce Partnership Program that enables the partners to develop their businesses and provide customer success. ISV partners can leverage building expertise and innovative tools to build successful companies. Before accessing the program, partners must accept the policies subject to the Salesforce Partner Program Agreement (SPPA).
Navigating the Salesforce AppExchange
Navigating the Salesforce AppExchange effectively can help you discover valuable apps and streamline your business processes. Here are some tips to help you navigate the Salesforce AppExchange:
Understand your requirements
Before diving into the AppExchange, it's crucial to have a clear understanding of your business needs and requirements. Identify the specific functionalities or features you're looking for in an app. This will help you narrow down your search and focus on the apps that are most relevant to your business.
Explore the categories and collections
The AppExchange organizes apps into various categories and collections to make it easier for users to find what they're looking for. Browse through the different categories such as Sales, Service, Marketing, Analytics, Collaboration, and more. Additionally, check out the curated collections created by Salesforce or industry experts. These collections highlight popular or recommended apps based on specific use cases or industries.
Read app descriptions and reviews
When you find an app that seems promising, take the time to read its description, features, and benefits. The app listing provides valuable information about the app's functionality, integration capabilities, and system requirements. Make sure to also go through user reviews and ratings to get insights into the app's performance, user experience, and customer satisfaction. Look for reviews from users who have similar business needs as yours.
Demo and trial options
Many apps on the AppExchange offer demos or trial versions that allow you to explore the app's features and test its suitability for your organization. Take advantage of these opportunities to get hands-on experience with the app. It's advisable to involve relevant stakeholders in the evaluation process and gather feedback from potential users within your organization.
Evaluate app compatibility and security
Before installing any app, ensure that it's compatible with your Salesforce edition and version. The AppExchange provides information on the Salesforce editions and versions supported by each app. Additionally, consider the security implications of installing a third-party app. Review the app's security certifications, data privacy measures, and any potential impact on your organization's data security and compliance requirements.
Engage with the Salesforce community
The Salesforce community is a valuable resource for app recommendations and insights. Engage with the Salesforce Trailblazer Community, Success Community, or relevant user groups to seek advice and recommendations from fellow Salesforce users. Participate in forums, ask questions, and share your experiences to gain insights from the collective wisdom of the community.
Reach out to app providers
If you have specific questions or require further clarification about an app, don't hesitate to reach out to the app provider. Most app listings provide contact information or links to the app provider's website. Direct communication with the provider can help you gather more information, understand pricing structures, discuss customization options, or request additional support.
Consider consulting partners
Salesforce consulting partners can assist you in navigating the AppExchange and selecting the right apps for your business. These partners have expertise in the Salesforce ecosystem and can provide guidance on app selection, implementation, and customization based on your unique requirements. Engaging a consulting partner can help streamline the evaluation process and ensure successful app integration into your Salesforce environment.
Benefits of Salesforce AppExchange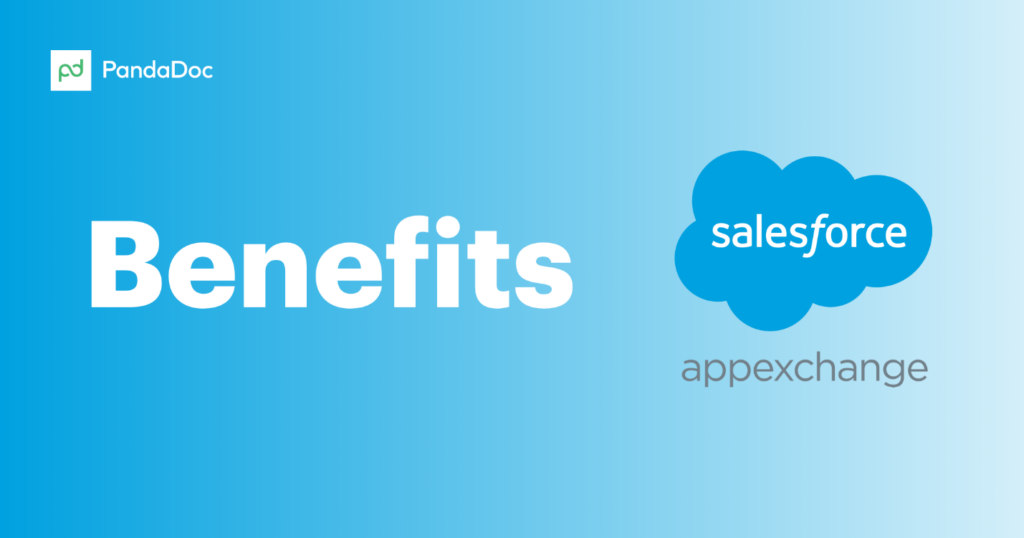 AppExchange has numerous benefits, including:
● Executes Events More Effectively
Securing events requires significant resources and coordination. There are many challenges involved in planning events that comprise several spreadsheets, software, and other systems. Fonteva Events, a top app on the platform, can assist you with many event planning elements while incorporating Salesforce data simultaneously.
● Quick, Easy, and Secure System Integrations
Salesforce integration with low-code platforms and native-cloud can assist businesses to manage customer data and seamlessly connect with customers on social media, nurture leads, and offer more outstanding customer service.
● Create Documents and Contracts Effortlessly
Sales representatives spend the most time on time-consuming manual activities rather than selling. Conga Composer, a document creation tool on AppExchange, eliminates the manual data entry process, freeing sales teams. The tool makes document creation and presentation easy. It reports in MsWord, Excel, PowerPoint, email, and HTML.
● Automate Routing and Lead Assignment
AppExchage applications optimize workflow and support lead routing to assign leads based on specific criteria automatically.
● Assist Service Agents in Offering Personalized Customer Experiences
AppExchange apps can assist service agents in providing delightful customer support in various ways. Numerous productive and robust apps support omnichannel customer service via telephone, SMS, live chat, and more. You can integrate Salesforce apps to provide service agents with the correct information they require to improve customer service.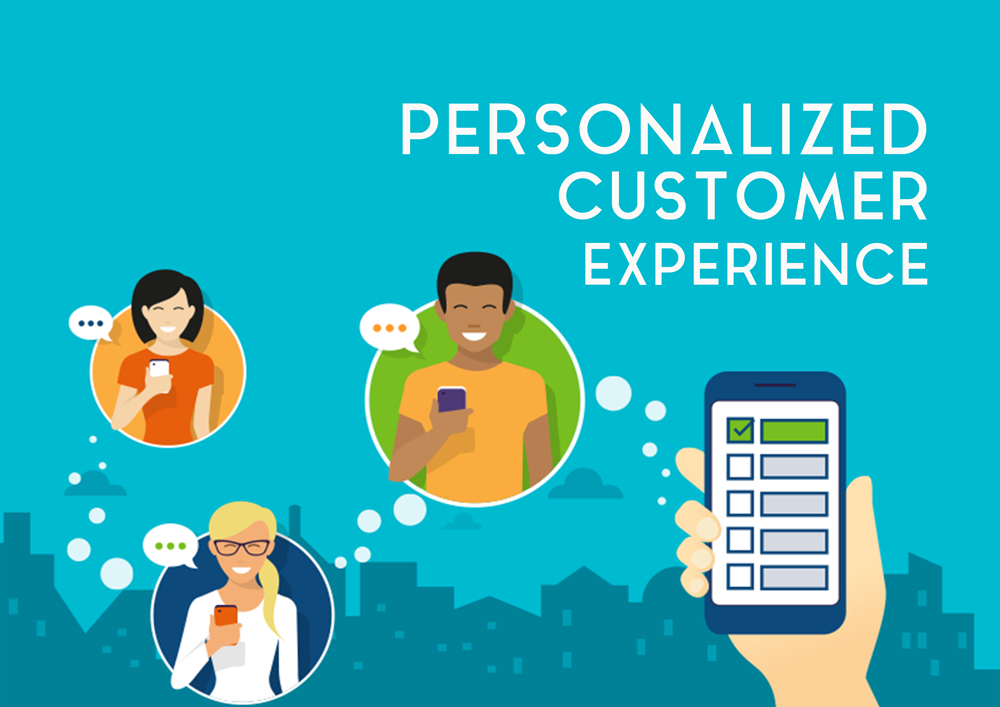 How the Salesforce AppExchange Works
Salesforce AppExchange listing is your key marketing tool for advertising your solution. The listing allows providers to describe their solution, support, pricing, and other features so that customers can decide whether your offering is right for them.
It also offers you the opportunity to upload white papers, templates, videos, and content to assist customers in understanding what you are offering. An AppExchange curator classifies your app into one or more categories like marketing, analytics, or sales based on the information you provide.
After creating your profile and uploading a solution package, you can create a listing. But you can only make a single listing per solution. The approach has several benefits as the providers can easily manage and upgrade their offering over its lifecycle. A single listing also helps achieve a higher ranking. A single listing ensures multiple listings do not dilute metrics like page views on AppExchange, which uses metrics to rank apps and components.
Customers benefit too because your listing is easier to find, and all customer and security reviews are in one place. Furthermore, there aren't multiple similar listings to confuse.
Members can also join the AppExchange trailblazer community to find reviews, ask questions, and get tips.
Some of the Best Salesforce AppExchange Apps
Scrolling through thousands of apps may be tiresome. Here is a list of the best apps on AppExchange:
Cirrus Insight: This is an all-in-one Salesforce app with an email integration that works with Gmail, Outlook, and Office 365. It automatically logs your activities into Salesforce, allowing you to meet prospective clients and close deals.
DocuSign: This app is ideal for electronically signing documents in real-time. Signing contracts can be resource-draining and time-consuming. The app uses a simple one-click e-signature solution that is super effective, simple, and secure.
Formstack: It is the number one form builder for Salesforce. It makes it easy to create and publish forms even if you are not familiar with coding.
CongaComposser: This app is ideal for creating engaging and dynamic documents and presentations. It is AI-powered and allows team members to collaborate seamlessly.
Geopointe Mapping Analytics: The app is suitable for planning where clients are located. Keeping track of Salesforce leads is essential in optimizing your schedule.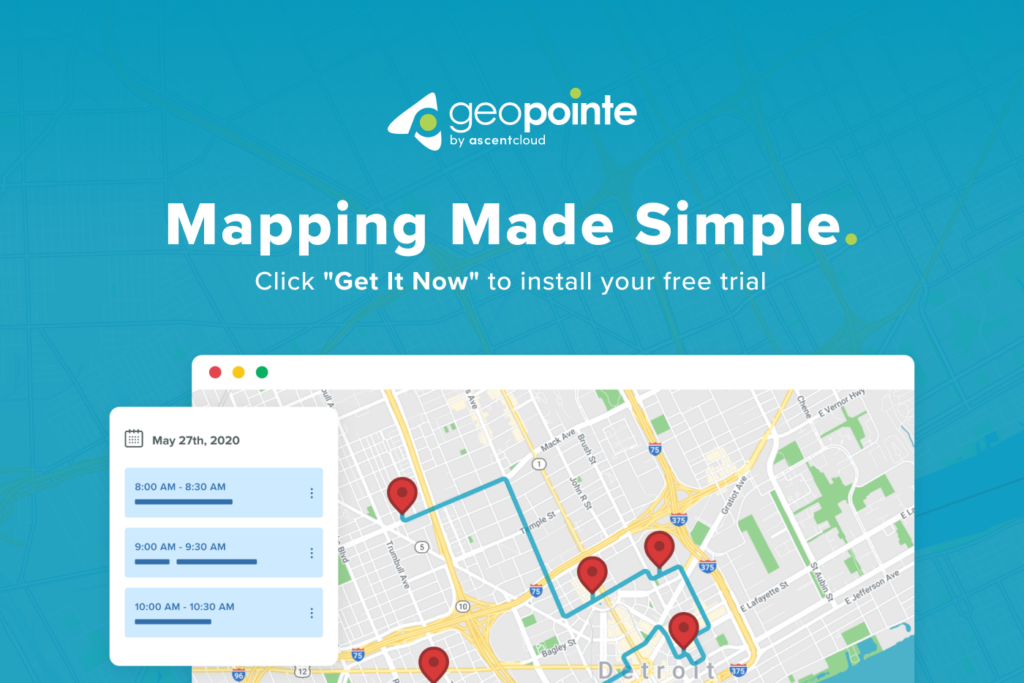 How to Choose an App on AppExchange
Choosing the right app that will fit your needs can be daunting, especially when you have thousands of apps to choose from. Conducting an assessment to determine what you need the app for will significantly guide you in selecting the best. To narrow down your list of apps, decide what you want the app to do.
Once you scroll through the apps, you will be tempted to download many, some of which you do not need. However, the Salesforce admin will have the final say on whether the app to install.
Conclusion
Salesforce AppExchange provides a wide range of apps that are helpful to businesses. App developers can also join the platform as ISVs and benefit from the platform's expertise and the broad market. However, choosing the best app for you might be challenging, but you Find a SaaS Developer to assist with integrations.