There are lots of Microsoft's products like Power BI, SharePoint,Skype, OneNote etc. and Microsoft Office remains one of the most popular office suites in the world. It comes with applications that allow users to create presentations, spreadsheets, databases, and documents. However, there are numerous alternatives you may want to try. We shall discuss them below.
What is Microsoft Office?
Microsoft is a collection of desktop performance applications that Microsoft designed for business use and released in 1990. Microsoft Office is supported by Linux, Mac, and Windows variants and is available in 35 different languages. It can comprise Excel, Word Processor, Outlook, Powerpoint, Access, and Publisher, based on the version you choose. More services like OneDrive cloud storage space are available in some packages.
What are the Pros and Cons of Microsoft Office?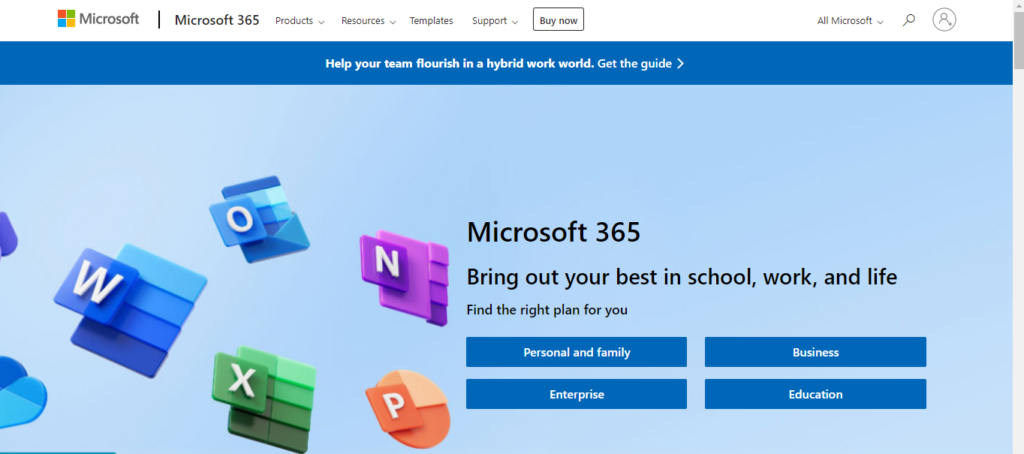 If you have many documents to create or edit, purchasing a Microsoft Office subscription like Office 365 could be necessary. Other pros of having an MS Office subscription include:
· Ability to Work from Anywhere as long as you have Internet Access
One of the core advantages of using a cloud-based suite is accessing it remotely. Unlike in the past, when people would only access programs from physical servers or desktops at the office, Microsoft Office 365 allows individuals and businesses to access programs and files from anywhere.
You don't need to be at the office to complete your work because you can save everything on a cloud server. Some Microsoft 365 plans allow users to install the complete desktop versions of the applications and programs, allowing users to continue working even under poor internet conditions.
Users can continue working and sync the changes once their internet connection stabilizes. Office 365 is a convenient suite for remote workers.
· Enhanced Productivity
Microsoft Office Enhances productivity by:
Flawless Team Collaboration
Collaboration between employees, internal departments, and third parties is critical for many companies. Office 365 comes with a Co-Authoring tool enabling multiple people to collaborate on a single project simultaneously in real-time. Supervisors can monitor the changes and see who made them and at what time.
Multiple Adaptable Plans Customized to Businesses
With the ideal office software, businesses don't have to change to fit in as they would when using productivity suites with limited plans. Microsoft has multiple projects to choose from, which comprise unique features that cater to different types of businesses. In this case, business owners can choose the right plan that meets their needs.
Cons of Microsoft Office
While there are numerous advantages of using Office 365, there are drawbacks, as we shall see below.
· You need an Internet Connection to Access Updated Files
The ability to access programs and files is the core advantage of Office 365. However, it is also its biggest drawback. Office 365 is a cloud-based system that uploads data on the internet. If you suffer regular downtime or poor internet connection, uploading files will be a struggle, and you won't access the most recent files.
Some Office 365 plans allow users to download the complete desktop version applications, as we have seen above. If your internet is not stable, you can download them, continue working and upload them to the cloud when your internet stabilizes.
· Compatibility Issues
Compatibility is one of the core problems that many businesses struggle with. Usually, Microsoft releases updates regularly, complete with advanced features. However, they often tend to be compatible with gadgets capable of managing such sophisticated software.
If your systems are incompatible with Office 365, you can buy new systems or upgrade all your plans to more recent versions of Microsoft Windows. Worth mentioning is that these methods can be time-consuming and costly.
You might also encounter third-party companies or clients that neither use cloud-based systems nor the same software as you. In this case, Office 365 comes with the Offline Online tool that enables third-party users to utilize primary functions like editing documents and viewing without requiring a subscription plan. However, this tool is basic and has limited features.
What is the price for Microsoft Office?
While you can access Microsoft Office free of charge, premium office online packages give you an excellent experience. Below you will find prices of the new small business and consumer Office 2021 perpetual-license products for Macs and PCs.
Office Home and Student 2021 is available for $149.99. It features Excel, Word, Microsoft Teams, OneNote, and PowerPoint for Mac and PC.
Office Home and Business 2021 is available for $249.99. It comes with the same apps as Office Home and Student 2021, plus Outlook for Mac and PC. Users also get the right to use the office apps for business motives.
Users of Office 2021 can create free OneDrive accounts, which gives them access to 5GB worth of cloud storage.
Price of the New Small Business and Consumer Microsoft 365 Subscriptions
Microsoft 365 Personal is available for $6.99 monthly or $69.99 annually.
Microsoft 365 Family is available for $9.99 monthly or $99.99 annually. It supports households and families of up to six individuals.
These Microsoft 365subscriptions allow users to access premium versions of Powerpoint, Excel, Word, OneDrive, Outlook, OneNote, Microsoft Family Safety, and Microsoft Editor for mobile, Mac, and PC.
What is the Best Alternative for MS Office
With so many Microsoft Office alternatives available today, choosing the right one for your business can be a difficult task. Here are some of the best options available to ease your search.
· LibreOffice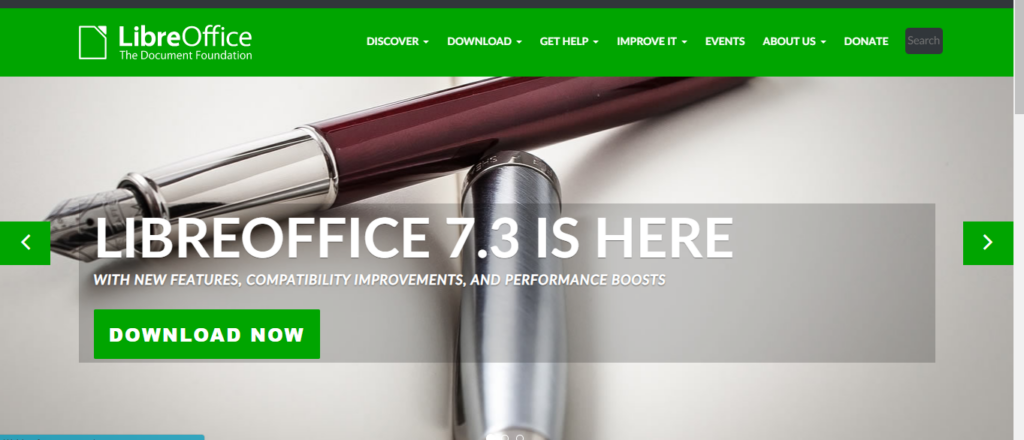 LibreOffice is one of the best open-source, free alternatives to Microsoft Office that evolved from the Openoffice suite. It features a word processor, presentation, and spreadsheet software, and users can access it in 110 languages. LibreOffice utilizes OpenDocument Format (ODF) but still supports other formats similar to what is used in Microsoft Office.
It is the default suite for many Linux distros and can also be used in macOS and Windows. LibreOffice Viewer is also available for Android. While users can get support online, LibreOffice is easy to use, meaning they will hardly need help. Users can include additional features to LibreOffice, such as templates for documents from its site.
· Calligra
Initially, Calligra Office Suite was launched in October 2000 as a component of KOffice. It is developed by KDE and is available on Android, Windows, macOS, and Linux. Calligra is an open-source software ideal for graphic art design, and users can download it from KDE's downloads page or its website.
It comes with a project managing and mind-mapping tool, but users will need to pay extra for the services. You can read DOX and DOCX formats with this suite, but editing is restricted.
· WordPerfect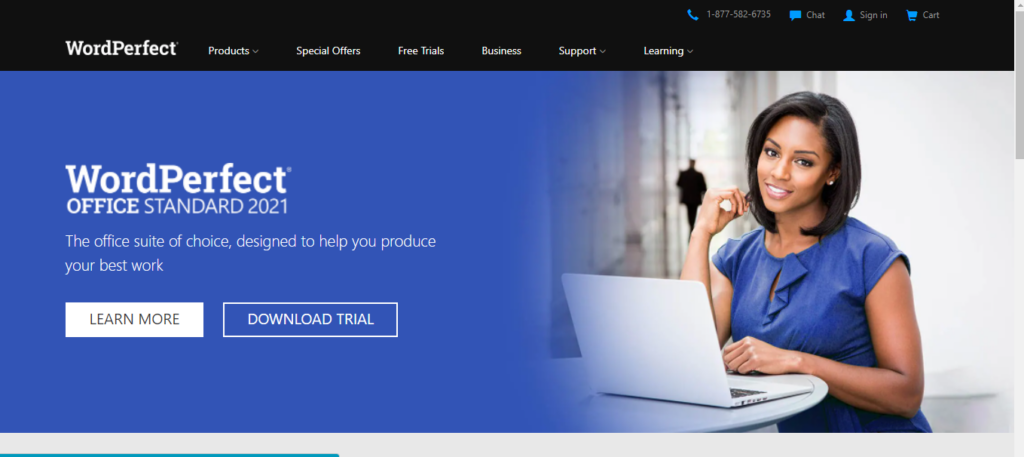 WordPerfect is a robust but costly office suite compatible with numerous document formats and features extra apps to facilitate photo manipulation. It is one of the oldest Microsoft Office alternatives available for Windows only.
WordPerfect is not for you if you are looking for an advanced modern-day suite. This Office suite is old school and does not support cloud-based services. WordPerfect comes with an archaic pricing model where the professional version is $339.99, the basic version costs $249.99, and the Home & Student version is $99.99, which can be expensive.
WordPerfect versions feature a spreadsheet program, word processor, digital notebook, and slideshow creator. However, the word processor in the Home & Student version eliminates features like Bates numbering and PDF import. Some features of this Office Suite can convince you to choose it over its competitors. For example, the Professional and Standard versions come with eBook Publisher, allowing you to change your documents into EPUB format.
· FreeOffice
FreeOffice is a free-to-use plain version of SoftMaker Office developed for Linux and Windows. It is compatible with Powerpoint, Excel, and Microsoft Word formats, meaning users can view and save files in various formats like PPTX, XLSX, and DOCX. Its recently launched user interface allows users to work with classic or modern toolbars and menus, meaning they can easily switch from Microsoft Office.
· Google Workspace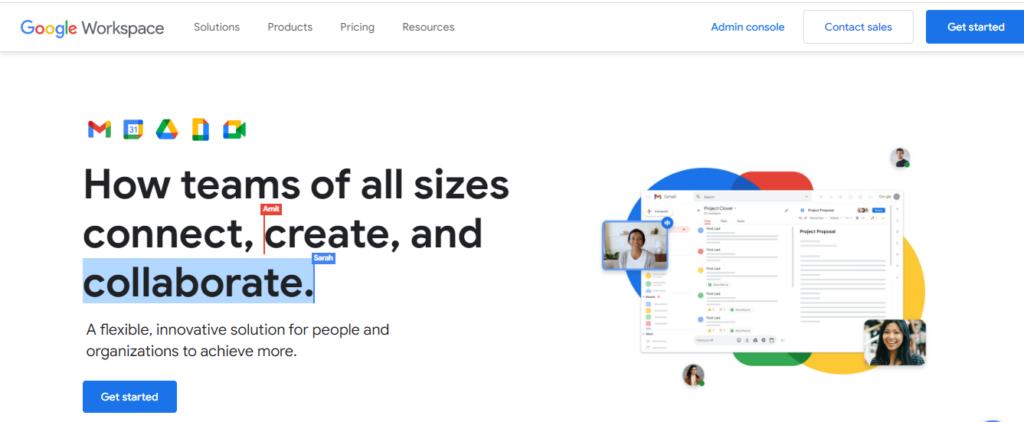 Google Workspace is one of the best Microsoft Office alternatives for companies. Users can use Google Docs, Gmail, Google Sheets, Google Forms, Google Slides, Google Chat, and Google Meet to boost productivity. Google Drive is also an ideal online storage solution.
This Office suite works well with Linux, Mac, Windows, and other computers with an advanced web browser. Teams can collaborate and share files without having to download anything. They can also add extra features by integrating plugins and work with different types of file formats, such as Microsoft Office files.
Google provides Offline suite versions via plugins with Chrome. However, they are neither reliable nor consistent, even though they work well with a reliable internet connection. Google Workspace works well with local apps for the Google mobile operating system. Google Workspace is available for business users for $6 monthly. A free Google account offers everything a non-business user needs.
· OnlyOffice
Apart from the standard features like Spreadsheets and Word processing, OnlyOffice facilitates sales and order fulfillment documentation. It also comes with a calendar feature, allowing users to stay updated with work-based and personal tasks. You can also edit documents using this Office suite. Different users can collaborate on a single project and leave comments when needed.
· Dropbox Paper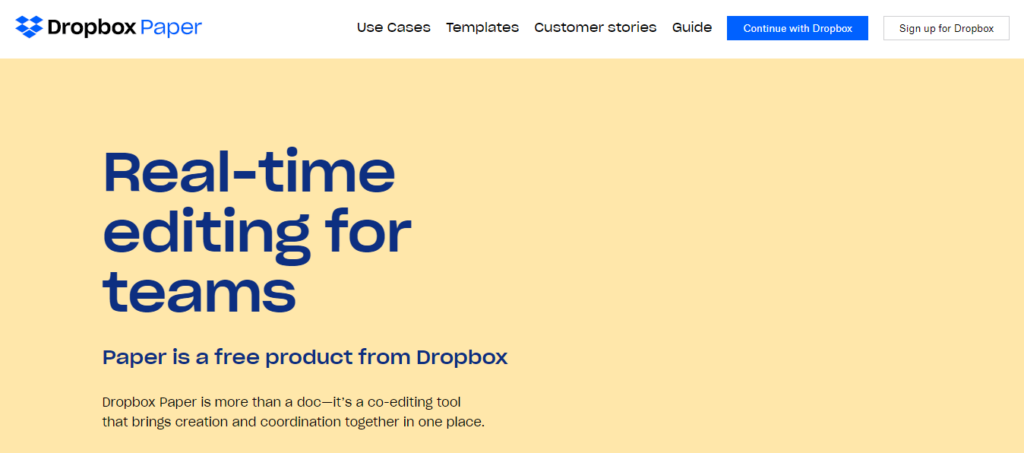 Dropbox may not be popularly known for its office programs, but it provides a solid word processing application. Dropbox Paper is incorporated in Dropbox, easing file sharing. This Office suite allows users to export files in PDF and .docx file formats. It gives you a user-friendly interface and is available for free for people with a Dropbox account. Individuals and businesses with more significant storage needs will pay $19.99 monthly.
· Zoho Workplace
Zoho Workplace's refined look replaces the standard word-style user interface with a formatting sidebar. This office suite also features a robust site creation tool, numerous collaboration tools, and a file management solution. While some of these tools are simple, they are ideal for small business owners. You can sign up for the free version of this office suite by searching for the Forever Free plan on the pricing page.
· Apple iWork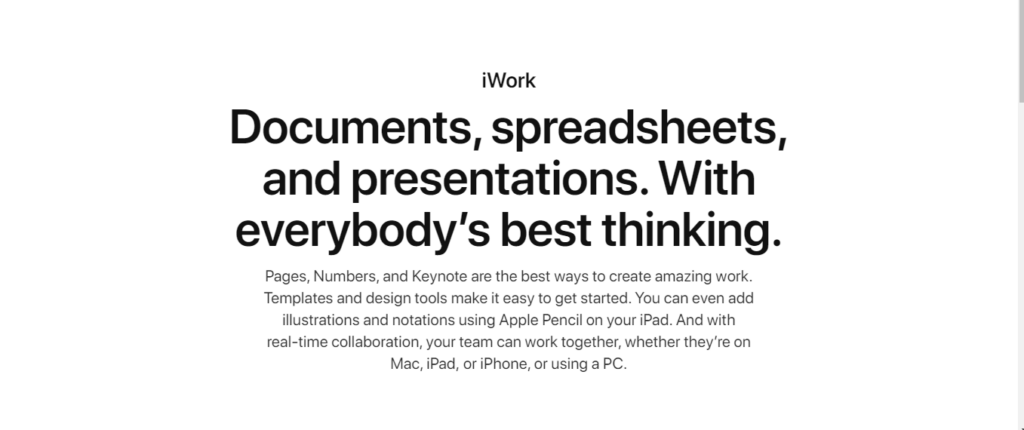 Apple's office suite, iWork, is only available on macOS. It supports word processing, emphasizing presentation software, spreadsheets, and design. It comes with a simple user interface that works well on different display sizes, including smaller screens on an iPad or iPhone.
This Office suite supports iCloud, Apple Pencil, and Handoff. It allows contractors and freelancers to import MS Office documents into Keynote, Numbers, or Pages and send them to their clients in the relevant MS Office formats.
Today, Windows PC users can use iWork through iCloud. However, Apple is yet to release versions compatible with PCs. iWork for iCloud is the cloud-based version. In the past, only Apple users could access iCloud. However, various platforms are now compatible with iWork apps, thanks to iCloud's free office suite.
· WPS Office
Kingsoft, a Chinese software developer, launched WPS Office in 2016. WPS is a cross-platform office suite available for Android, Linux, Windows, and iOS. It is also available in Spanish, English, German, and French languages. You can choose the premium or free tier. The latter allows users to use Spreadsheets, Presentation, and Writer, alternatives to the MS office suite. Its PDF to Word converter is easy to use and fast. You will get 1GB of cloud storage for PC and iOS free. However, the WPS office is not yet available for Android users.
Users can link up to 9 gadgets at once with the premium tier. It also eliminates the adverts available on the free level. Some users are unhappy that WPS Office's user interface can be slow, especially when loading documents. Linux users say some fonts have not been included, forcing them to install them separately. On the other hand, Android users say WPS is significant and urges the developer to consider making it lightweight.
· Apache OpenOffice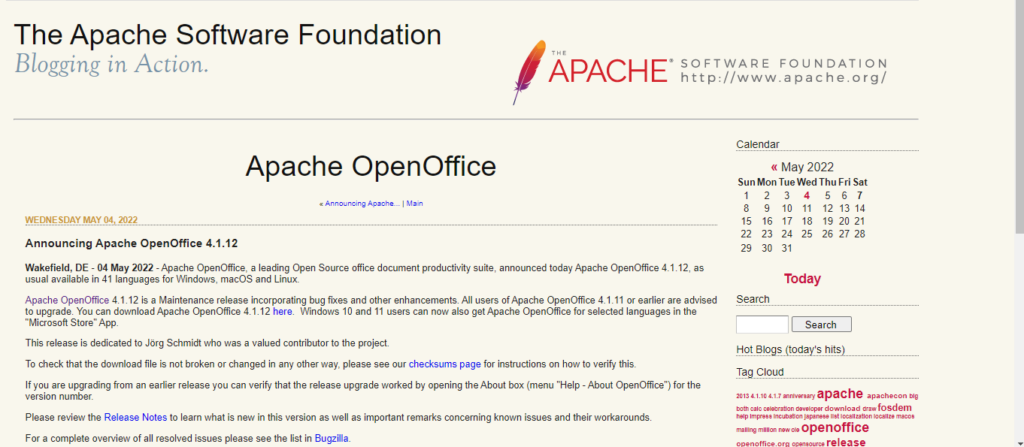 Apache OpenOffice is a free, open-source office suite available in more than 40 languages. This office suite has a clean and neat user interface. It offers various programs such as Base, Math, Draw, which operate as a vector graphics editor, Calc (similar to Microsoft Excel), Impress (similar to Microsoft PowerPoint), and Writer. However, some users say the interface is archaic.
Apache OpenOffice suite is compatible with Windows operating system. However, you will need to install Java in 32-bit for outstretched functionalities.
Finally
Whether you opt for a free or paid Microsoft Office alternative, you will need to research extensively to ensure it meets your specific individual or business needs. This list provides some of the best MS Office alternatives available today. Choose one that seems close to what you are looking for and try it to figure out whether or not it works satisfactorily.