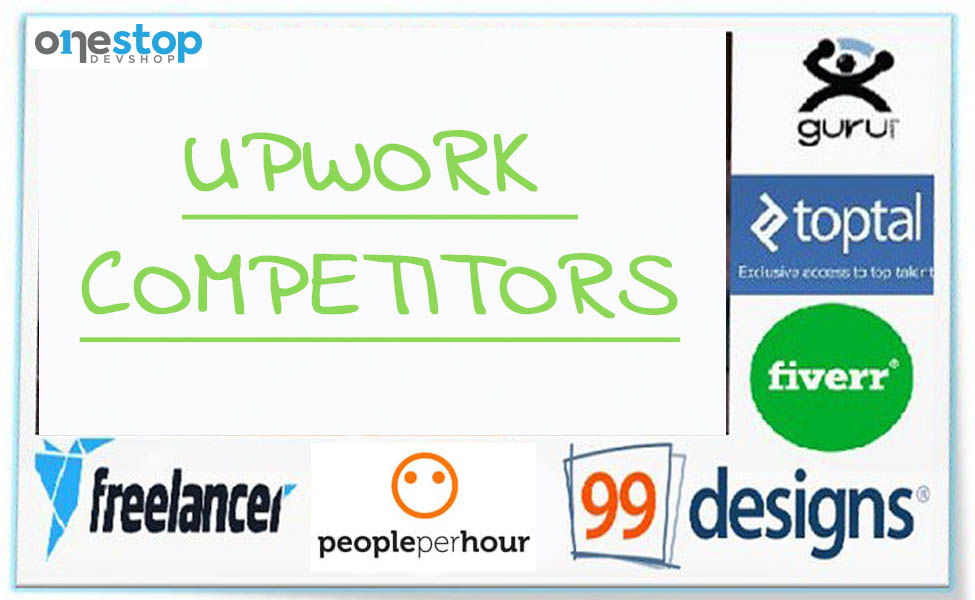 Upwork Competitors
When you mention freelancing, most people, off the top of their head will think of Upwork. Two friends founded Upwork through a merger between oDesk and Elance. With the Covid-19 pandemic, working remotely has become necessary, which makes the 2017 report by the Freelancer Union and Upwork on Freelancing in America almost prophetic.
The study revealed that Freelancers were generally more prepared for the future, and as the work landscape evolves, 54% of the American workforce was not very sure that their current jobs would exist in the next 20 years. The study also revealed that by 2027, most of America's workforce would freelance, from either choice or necessity.
What Upwork means for Freelancers and Remote Jobs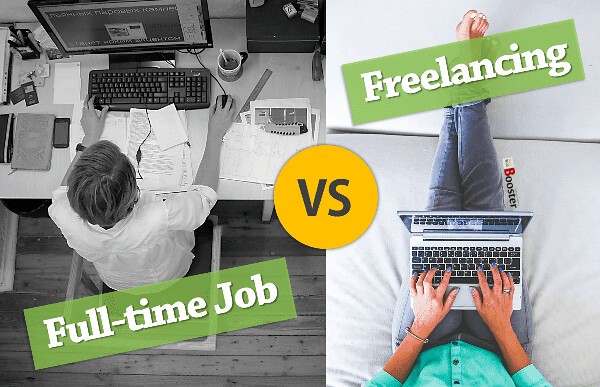 Upwork means a lot of things to different people and most people wonder, "Is Upwork legit?" The Upwork platform is legit, but it is possible to fall prey to a scammer, both employers, and freelancers. For freelancers, Upwork means:
Being their own boss and not having to work full-time
Having a flexible timeline and working location
Better ability to balance their work and personal life
A better work environment devoid of stress
For employers, it means:
A costs reduction of almost 30%
Reduced overheads and employees
More talent and skills that can be used when needed
Upwork also has its negatives, and while it is superb for small projects, large projects may be tricky as it is not a full-time job. Freelancers pay high fees, which are as much as between 5 and 20% of earnings, and if the earnings exceed a certain amount, Upwork charges an extra 5%. Competition is also very high on Upwork and it is hard for freelancers to get jobs without good feedback from clients.
Currently, there are more than one hundred freelancing platforms, but we shall highlight the top 15 Upwork alternatives where freelancers and employers can interact and compare them with Upwork.
1. Fiverr

Fiverr considers itself as the largest global marketplace for freelancers on-demand. Originally, Fiverr offered only five-dollar services, hence the name. Over time, this changed, and you can find any type of service for five dollars or more.
Upwork vs. Fiverr
On the Upwork platform, clients post gigs as well as a rate, which could be a fixed or hourly price. Freelancers go ahead and submit their bids for the gigs, inclusive of their rates. On Fiverr, it is the other way round. Clients scroll through a freelancer list, subdivided and categorized according to the freelancers' specialties, and ranked according to their rates.
Fiverr, in this case, advertises the freelance services and the clients get to determine when and how they will engage the chosen freelancer. Creating a Fiverr account is free and the client can communicate with the freelancer before placing the job order to ensure the job delivery happens in the desired manner, and within the correct time frame. Fiverr is best suited for fast jobs with a small budget.
2. Guru
Founded in 1998 by Inder Guglani, Guru.com has come a long way from a fledgling startup to a leading market player in the freelance industry. Since 1998 to date, Guru has paid out in fees more than $250 million to about 3 million people
Guru vs. Upwork
Upwork is a great platform to get access to millions of freelancers and for less too. Guru also has a sizeable following of over 3 million freelancers from around the globe, managing more than 1 million projects. Both of these sites allow the clients to view the freelance providers' profiles and rank the freelancer's according to the feedback received from past projects. Guru has an international and much better feel when it comes to clients and freelancers.
Once a job is posted on Guru.com free of charge, the client is sent a list of freelancers that they can choose from. As with Upwork, freelancers can review jobs and submit their bids for the jobs. Clients are at liberty to pay a small fee to promote the project on the Guru site. Guru urges the client to upload and use a contract that clarifies terms and conditions in advance to prevent any future misunderstandings.
3. PeoplePerHour
Founded in 2007, PeoplePerHour has offices in both London and Athens. They describe themselves as being in the business of matching small companies and startups with great freelancers, providing better flexibility. PeoplePerHour focuses on hourly projects and major projects that need a dedicated team. This platform allows its clients to post projects and receive freelancer bids at either a fixed or an hourly price. PeoplePerHour also allows clients to view the profiles of freelancers to enable them to identify the talent they need for specific projects. A dashboard aids the client in tracking, managing, and paying freelancers. The platform holds all the funds until approval of the work.
Upwork vs. PeoplePerHour
The two platforms, Upwork and PeoplePerHour allow the client to submit a job and receive bids from freelancers. They both provide communication, payment management, and time tracking, but PeoplePerHour has a fixed price reserved for freelancers that do not have accounts with Upwork.
4. Freelancer.com
Freelancer.com, as the name suggests, is an excellent freelancer marketplace. The platform is one of the largest and rapidly expanding online marketplace. Freelancer.com boasts of more than 9 million projects and users that number up to 17 million worldwide. Its model is based on fees, and on-demand offers up to 30 million freelance professionals. The clients on Freelancer.com post their tasks and a suggested rate. The freelance professionals respond with their bid proposals and their pricing. Some of the key features of Freelancer.com include customer support, live chat, payment verification, and time tracking.
Freelancer VS Upwork
The two platforms have a lot in common, their key difference being the Freelancer "contests" feature. This feature allows clients to start a free contest with a reward for whoever wins the contest. Freelancer features a project management option that is not found on Upwork. Freelancer has a lot more competition in comparison to Upwork, benefitting the clients more as they have a wider base for talent selection.
5. Toptal
Toptal is a freelance development platform that features the top 3% talent in design, project management, and software development. Toptal allows employers to hire only the very best freelance professionals from its network of highly vetted skill pools. The cost of hiring freelancers from this platform depends on the role you need them for.
Toptal is one of the best alternatives to Upwork and has an impressive 95% success rate from trial to hire. As an employer, you are introduced to potential candidates within the first 24 hours after sign-up. 90% of the employer hires the very first introduced candidate. If you need a freelancer for a small project, or you are working on a tight budget, Toptal is not the right marketplace to look at.
Toptal's stringent talent screening process ensures you hire the best freelancers who are the best in development, design, product, and project management and finance.
Toptal vs. Upwork
In Toptal, freelancers have to take a test to distinguish between the good and the best freelancers. Upwork does not give any tests to freelancers. Toptal accepts the top 3% of software development, designers who apply to work with them. Upwork, on the other hand, accepts all freelancer skills, making Upwork a large freelancing platform with a huge talent pool.
6. Hubstaff Talent
Hubstaff Talent positions itself as a free directory for employers looking for remote talent, but it caters more for agencies. Hubstaff provides simple and effective time tracking software for Linux, Mac, Windows, Chromebook, Android, and iOS. Their desktop timers measure activity levels and take screenshots to allow you to monitor remote employees. Hubstaff's mobile apps allow you to track time driving or working which tracks fleet and employee using GPS. Other services include employee attendance, internet monitoring, and cost control.
Hubstaff Talent vs. Upwork
Hubstaff Talent and Upwork's business models are different. Both freelance platforms offer time-trackers, but for varying purposes. Upwork uses the time tracker to benefit the client, while Hubstaff tracker is for the agency's benefit.
7. FreeeUp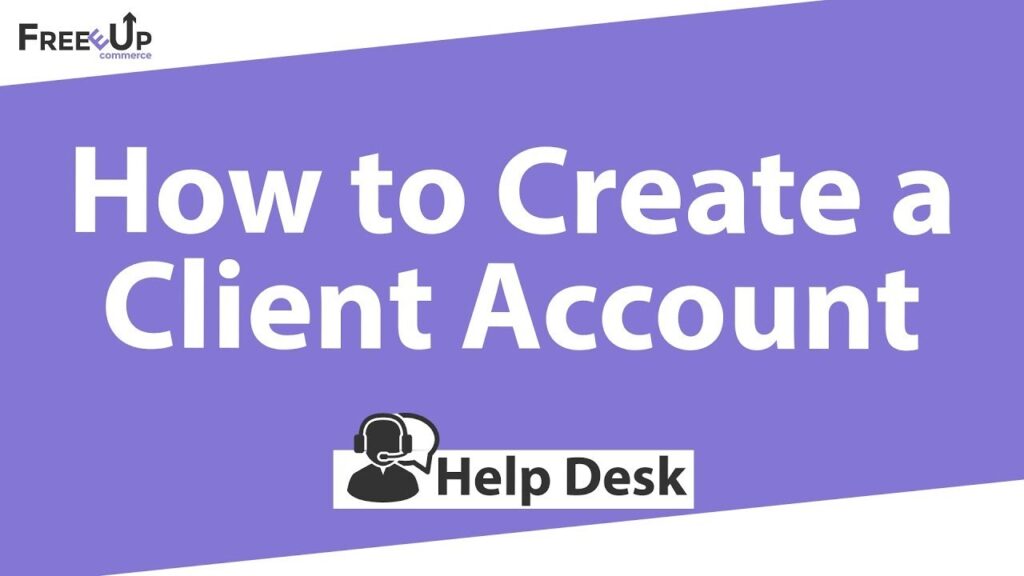 FreeeUp was borne of years of frustration in freelancing, and the co-founders came together to create a better freelance experience through pre-vetting. The FreeeUp platform offers better exclusivity in comparison to other models. Only the best 1% of all freelancers is chosen for a potential task, making it easier for the client.
The FreeeUp platform does all the recruiting, interviewing, and vetting of thousands of freelance professionals each month. This gives the client access to the best 1% of all applicants, and to give the clients freelancers that match their requirements within a single business day.
FreeeUp vs. Upwork
The main differences between FreeeUp and Upwork are in the engagement and exclusivity. FreeeUp Is more customer-centric and identifies the most qualified professionals by trawling the internet and recommending at least three qualified candidates in one business day at no commission or charges.
8. WorkHoppers
WorkHoppers touts itself as a site for matching flexible assignments for remote teams. It concentrates on local freelancers who work on contracts with no recruiting fees, which gets rid of middlemen. WorkHoppers uses an algorithm that identifies great talent. The client goes ahead to select talent from a talent pool that has been curated and filtered and can communicate directly with the talent as well as negotiate terms.
WorkHoppers vs. Upwork
The differences between WorkHoppers and Upwork include:
The client and freelancer relationship
The nature of negotiations between clients and the freelancer is direct
The freelancers get 100% of their money, with WorkHopper retaining none of it.
9. FlexJobs
FlexJobs is a leading freelance job board for remote teams as well as other job listings such as part-time, temporary, at-home, and various scheduled jobs. FlexJobs has been a great help for both employers and recruiters from both large and small companies with their remote hiring. FlexJobs charges a small fee every month and each job posted on the platform is carefully curated, ensuring no scammers can post jobs.
FlexJobs is an online marketplace that ensures a freelancer can do free skill tests that help them to showcase their abilities to clients. FlexJobs allows you to cancel a subscription if you are unsatisfied with the service. If you need to tweak your resume or some advice on your career, FlexJobs members can pay a one-off fee and get Career Coaching and Resume Review to improve job-hunting skills.
FlexJobs vs. Upwork
FlexJobs is more stringent in vetting and curating jobs than Upwork, making it hard to get scammed on FlexJobs. Upwork is free, while FlexJobs charges a small fee every month. Both platforms offer employers freelancers with different skill sets.
10. TaskRabbit
TaskRabbit is a platform that focuses on physical jobs such as furniture assembly, item storage, television mounting, etc. TaskRabbit focuses more on individuals, rather than corporations. The platform matches clients with the skill sets they need.
TaskRabbit vs. Upwork
Although both platforms provide the same service of talent sharing, the skills the freelancers need to have are completely different. TaskRabbit needs physical skills while Upwork requires softer skills.
11. Credo
Credo is famed for their care in vetting and subsequent matching of talent with their employers. Marketers who have digital and SEO skills are added to the platform's public network only after an interview and they have been seriously vetted. Credo is not free, and freelancers are charged an annual fee. Credo was formed after the founder worked with many clients who had gone through bad experiences with consultants. The platform was formed to help clients find reputable SEO professionals.
Credo makes sure all freelance professionals operate within the given Google guidelines and communicate professionally with clients. Credo liaises with agencies and freelancers to improve their strategies.
Credo vs. Upwork
Credo takes a more consultative stance, with both agencies and freelancers providing clients and services alike. When Credo engages clients, it ensures the clients adhere to certain standards that favor freelancers. It has an annual fee as opposed to Upwork, which withholds a percentage of the payments on an hourly or weekly basis.
12. Textbroker

Textbroker involves content creation and is the world's digital content leader and for top content talent. It has more than 100,000 American, verified authors, 53,000 contented clients, and 10 million content oriented projects. Textbroker is a vibrant site that offers a rating system, content packages, plagiarism protection, translation services, downloadable forms, and video tutorials.
Textbroker vs. Upwork
Textbroker provides services that are more specialized and are purely dedicated to digital content. Clients and freelance writers who need content should add Textbroker to their toolboxes.
13. 99 Designs
99 Designs is a company based in Melbourne and it provides a freelancer platform that connects clients and graphic designers from across the globe. 99 Designs allows designers to build their portfolio and earn an income. To date, 99 Designs has paid millions to designers, and holds potential for making an income. In 99 Designs, designers compete against each other in contests.
There are three different types of contests:
Platinum contests are awarded to the most hardworking and talented and professional designers. Guaranteed contests are those contests the client commits to selecting a winning submission and the designer is assured of payment. Blind contests ensure your designs are not visible to others, which prevents plagiarism. Freelancers should choose a blind contest, which has a timeline that allows them to work comfortably.
When a client approves the freelancer's final design, the contest ends and the payment released to the designer in credits form. To cash in the money, the freelancer requests for a payout via Skrill, Payoneer, or PayPal.
99 Designs vs. Upwork
Designers in 99 designs work towards winning contests, without considering the clients' goals and needs. 99 Designs is a legit site and is reliable in payments, but the freelancer's payment rests solely with the client. The client can decline to make a payment to the freelancer if the contest was not indicated as pre-paid. This is unlike Upwork where the funds for the contract or milestone are deposited and held in trust in Escrow until the work is finished, and approved.
14. Outsourcely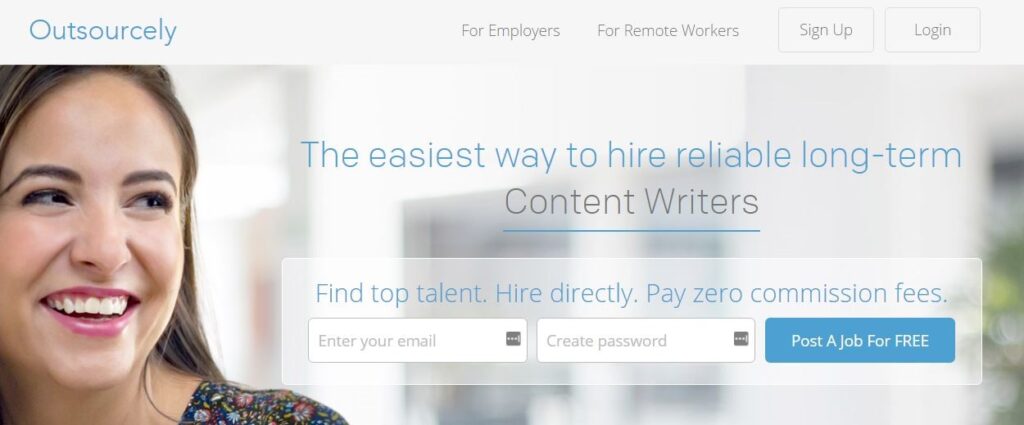 Outsourcely is different from other freelancing sites in that it provides a unique approach by matching potential full-time workers to small businesses. This online marketplace has a presence in 180 countries and boasts more than 400,000 potential employees and freelancers. Clients engage directly with prospective employees via direct mail, instant messaging, phone calls, and video chats. Clients search for a talent pool for their specific company needs or post jobs and let applicants apply.
Outsourcely vs. Upwork
Outsourcely is more focused on full-time employment, rather than project-based or part-time assignments. Outsourcely encourages the company and client to be in direct contact, with hiring being the ultimate goal. During the initial posting duration, the clients do not pay any monthly fee to the platform, but the long-term plans cost from $19 each month. Outsourcely does not hold any percentage of the employee fees.
15. YouTeam
YouTeam is a platform that builds remote teams of top-rated engineers anywhere in the world. YouTeam can help to get together, hire a team of engineers in South America or Europe, and ensure the work gets underway in a matter of days. YouTeam's talent pool (HackerRank) consists of the best agencies and various tools help to vet the skills of al developers on YouTeam.
YouTeam vs. Upwork
Upwork is an online digital marketplace for all freelancers. All the specialists in the platform's talent pool are either upper-middle or in senior full-time employment. They only work on one project and their workplace, as well as their time properly managed and organized. Each company found on YouTeam must go through a due diligence process, which includes the HackerRank vetting, review of track record plus 3rd Party References, intensive legal review, etc.
To Wrap Things Up: Beware Freelancers Who Operate As Lone Wolves
Upwork is one of the largest and arguably, fastest-growing freelancer platforms but if you hire freelancers or use freelance sites keep in mind that top talent comes at a cost for some business owners or SaaS startups. With the increase in online freelancing, freelancers are using other alternatives to earn a living. Most of these Upwork alternatives have their pros and cons, just as Upwork does.
I can tell you from personal experience that working with a single freelancer who knows he/she is going to get another job posting on social media or on Upwork itself readily available, they are not so incentivized to deliver your project for the long term. They want to bid on your project in a freelance marketplace type environment where new leads are coming in quickly, and constantly.
I have had some very bad experiences from top-rated freelancers, mostly developers that had loads of 5 stars. Top-rated developers in the 97th percentile bidding on my project, and complete the project, have a certain arrogance because they know they are top-rated, and then finish the job to become unresponsive after the work is complete.
To build your SaaS or ecommerce product, I personally do not use platforms like Guru, Toptal, or Upwork. I like to work with teams because teams or small development shops tend to have your long-term interest in mind. They want to make sure that you are happy and stay with them. Why? Because it means more recurring long-term revenue for them, and less hustle getting new jobs.
So what are some of the best Upwork Alternatives? Well, for starters, we are a full stack development shop. We have designers, UI specialists, .net, node.js, angular, react and react native developers waiting to take your software development idea to the next level. Between the 45-team members and myself, we have built hundreds of applications, just like yours. Instead of having to hire a UI person, a designer, and a developer on Upwork, you can work seamlessly with our team and we can do everything from clickable prototype to building your minimum viable product.
Why not book a call with one of our software entrepreneurs today?