Upwork is a popular freelance platform that connects businesses with independent professionals for various projects. However, there are several other platforms available that offer similar services and can be considered Upwork Alternatives. These platforms vary in terms of their features, pricing, and the types of projects they specialize in.
While there have been many success stories from Upwork, some talented freelancers have fallen victim to scam clients. Such experiences water down Upwork's benefit of being the biggest freelance platform. As the popularity of Upwork grows, the number of freelancers is also rising exponentially, making it difficult for freelancers to find gigs. Startups are also struggling to hire qualified freelancers.
Today, many established freelancers seek the best alternatives to Upwork to beat the increasing competition and avoid scams. The availability of Upwork competitors is a chance to make the industry more competitive and diverse.
No doubt that Upwork is one of the best talent pool sources. However, there are other freelance services providers where you can find excellent freelance jobs. If you are looking for the ideal Upwork alternative, this article discusses five of the most powerful platforms you can use.
What to Look Out For in the Best Upwork Alternatives

Here are some factors to consider before abandoning Upwork for other job boards.
· Accommodates a Wide Range of Professions
If you are one of the freelancers whose skill sets are high-competitive, your chances of getting on Upwork are slim. The best Upwork alternatives should offer a vast range of jobs with varying experience and skill levels.
· Platform Subscription Fees
Upwork deducts 20% of the amount a freelancer earns up to their first $500. If you upgrade to the premium version of the platform, then you will have to spend more money. The Upwork alternative freelancing platform you choose should allow freelancers to keep a more significant percentage of their earnings.
· Sufficient Work
Finding the ideal full-time content marketing project can be difficult, primarily if you use a highly competitive online marketplace. The alternative outsourcing freelancing platform you choose should offer enough jobs in nearly all professions.
· Reliable Clients
As a freelancer, you are highly likely to come encounter scammers online. However, some freelancing platforms provide enhanced protection, with some offering dispute resolution services, organized client lists, and employer review systems.
Is Upwork Worth it in 2023?
Upwork remains one of the biggest platforms for linking companies with qualified freelancers. With the demand for remote work rising, Upwork continues escalating. The big question here is whether the platform is worth it in 2023. Let's discuss the good things about Upwork and what its proprietors can do to improve service delivery.
Upwork services act as a dependable intermediary between freelancers and clients. It withholds money in escrow, tracks billable hours where necessary, and facilitates settling disputes. Upwork is classified into the following categories.
Creative and design
Copywriting
IT and development
Accounting and finance
Marketing and sales
Admin and Customer support
Translation and writing
Every type of freelance work is catered to on Upwork.
· How Upwork Operates
Creating a profile and using the Upwork services is easy from a technical point of view. Still, some of the processes on Upwork may seem confusing for new users. First, you must create an account to join the community.
Worth mentioning is that not every applicant will be accepted on Upwork. Upwork regulates the number of new freelancers to balance client and freelance requirements. Applicants are rejected if their services fall in an already saturated category. Further, existing members could be deprived of their active status if they don't attempt to find potential clients.
When your account is active, you will be able to apply for tasks and submit proposals. Suppose a potential client accepts your proposal, they will organize an interview, and if the outcome is successful, they will give you the task. If you are working on an hourly rate agreement, Upwork tracks the number of hours you have worked and presents the client with your invoice.
If you are working under a fixed payment contract, you will need to submit your invoice to the client after completing the project. Upwork will then release your client's funds from an escrow account.
Your profile will continue growing as you complete more tasks and get positive feedback. It will reflect your experience and the client contentment rating, helping you attract better-paying clients. Once you have accumulated sufficient feedback, you could get a Top Rated level, allowing you the privilege of identifying as an expert in your industry.
· What are the Features of Upwork?
Here are various things that differentiate Upwork from other freelancing platforms.
Vetting of Freelancers
As we've seen above, not everyone that creates an Upwork profile will be accepted. Applying and configuring an Upwork profile can be a time-intensive task. However, the website's exclusivity only attracts clients looking for high-quality Hubstaff talent. If you are skilled in your field, the website connects you to prospective clients with a high likelihood of appreciating your skills.
Accessible to both Experienced and Newbies
Upwork is a solid platform for newbies in the freelancing industry. The system allows freelancers to build an excellent reputation even when they don't have an established profile.
While you may be forced to accept some low-paying tasks initially, the more you work and deliver excellent quality work, the more you continue building a robust profile to attract better-paying jobs. Upwork is also an ideal platform for experienced freelancers. A solid history of success in your niche helps you stand out from your competitors even when new to the forum.
Payment Methods
Holding funds in an escrow enables Upwork to prevent prolonged payment conflicts. When freelancers complete their work, but a client tries to raise a non-meritable complaint, Upwork intervenes to ensure they still get their pay. Further, the platform has an inbuilt tracker that facilitates the monitoring of hourly tasks.
It automatically creates a work diary with screenshots that clients can evaluate to verify invoices. The time tracker makes Upwork one of the most preferred options for freelancers working hourly contracts.
· How to Use Upwork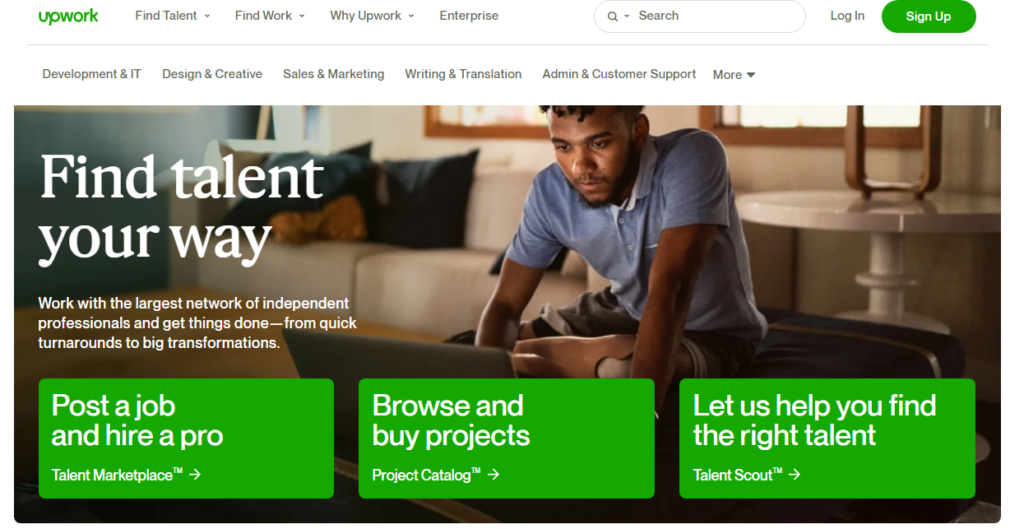 Newbies on Upwork will have to work harder to attract clients on Upwork. Some of the struggles of being a newbie on Upwork include working for low-paying and tedious tasks in the first month. You must develop your reputation on Upwork to attract better-paying clients.
The path is not easier for experienced freelancers as well. The platform is already overly competitive and saturated. As a result, they will need to accept some low-paying jobs to boost the demand for their profiles.
Further, having good communication skills goes a long way. Some SEO job postings include extra questions. Spending more time to provide thorough answers increases your likelihood of bagging the project. Maintain clear and responsive communication throughout the project. Downloading and installing the Upwork application helps you respond to client inquiries as fast as possible.
Build a compelling profile. Clients have numerous options and could move to other profiles fast. Including images, clear messaging, and videos with suitable keywords enables you to stand out among competitors. It can convince potential clients that you are the right candidate.
Common Issues with Upwork
Here are some common issues that users may have with Upwork:
· High Fees
Upwork charges both freelancers and clients fees for using the platform. Freelancers are charged a percentage of their earnings, and clients are charged a percentage of the total project cost. These fees can add up quickly, especially for large projects.
· Unreliable Freelancers
While Upwork has many skilled freelancers, there are also a number of less reliable ones. Clients may struggle to find high-quality freelancers for their projects, or may have difficulty communicating with them.
· Limited Control
Clients may feel that they have limited control over the freelancer selection process. Upwork's algorithm suggests potential freelancers based on a project's requirements, but clients may not always be happy with these recommendations.
· Communication Issues
Communication is key in any project, but it can be especially challenging on Upwork. Freelancers and clients may live in different time zones, speak different languages, or simply have trouble communicating effectively.
· Bidding System
Upwork's bidding system can be frustrating for both clients and freelancers. Clients may receive an overwhelming number of proposals for their project, while freelancers may feel that they are constantly competing with others for work.
· Platform Stability
Upwork has had issues with platform stability in the past, causing frustration for both clients and freelancers. Technical issues, such as bugs or slow loading times, can cause delays and impact project timelines.
It's worth noting that while these issues can be frustrating, many businesses continue to use Upwork successfully. However, if you're experiencing any of these problems or simply looking for a change, there are a number of alternatives to consider.
5 of the Best Upwork Alternatives or Platforms Similar to Upwork
Despite the excellent features of Upwork, many freelancers today are looking for alternative platforms. Here are some reasons you may want to consider an alternative platform to Upwork.
While the platform has a strict profile registration process, it does not perform the vetting process on its talent. As a result, unqualified freelancers are highly likely to create profiles on the platform.
The high concentration of substandard talent on Upwork forces recruiters to waste lots of time perusing non-valuable applications to find relevant candidates.
Upwork's talent rating system is not equivalent to the candidate's general work ethic and communication skills. Further, the rating system is partial for freelancers that have been using the platform for a long time. As a result, many skilled newbie freelancers are likely to get overlooked.
Clients are responsible for vetting potential candidates and prolonging the process of hiring freelancers.
Due to these reasons, many clients are considering Upwork's competitor platforms. Still, choosing a suitable competitor can be difficult, especially with today's numerous platforms. Here are some of the best options you may want to consider.
1. Fiverr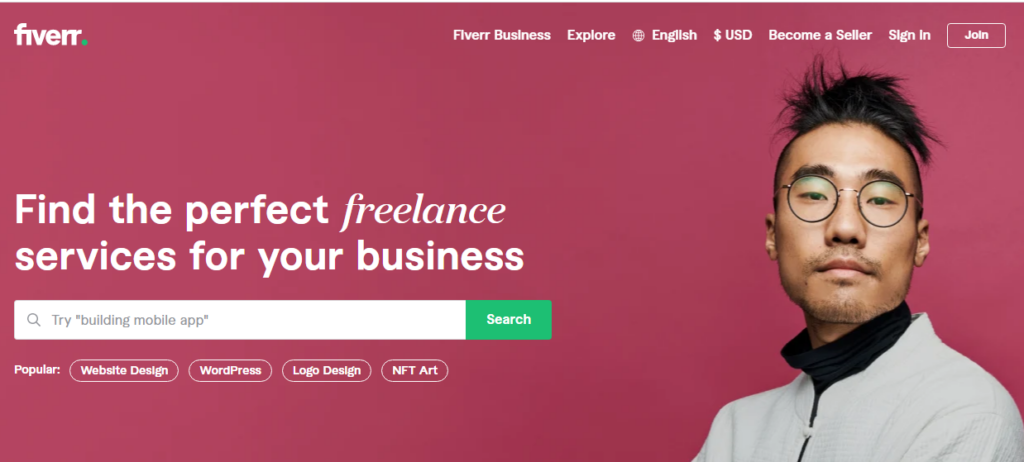 Fiverr is one of the most popular independent talent pools where individuals and small businesses can sell or buy services and products for as low as $5. Freelancers on this platform offer a wide range of popular services such as web design, logo design contests, digital marketing, web development, content writing, and graphic design.
Fiverr is a user-friendly and cost-effective website, explaining why it attracts candidates seeking jobs and clients looking to buy low-cost services. This factor is one of the biggest differentiators between Fiverr and Upwork. There are some similarities between the two platforms. For example, if you want to grow your freelancing reputation in the community, you must get an excellent rating via the platform's scoring system.
· Why Should Businesses choose Fiverr?
Fiverr has various classes and subclasses. Entrepreneurs looking for a specific service or product can effectively and quickly identify specialized and appropriate providers in that niche.
Businesses peruse through the different prices and pick the best suits their budget.
Fiverr offers an extra fast delivery option, making it ideal for clients who need service delivery in less than 24 hours.
· Cons
The number of well-trained service providers on the platform is low
Fraud cases on Fiverr are common. One common scam is where sellers shortchange buyers by delivering substandard products. Doing so spoils the reputation's reputation. Such cases are occasional on established freelancer websites such as Upwork.
Pros of Fiverr for Freelancers
Fiverr is an excellent opportunity to help freelancers leverage their skills to earn extra coins with low commitment.
Fiverr is available in nearly every country across the world
Unlike other Upwork competitors like Guru, freelancers using Fiverr don't have to apply to a specific project. Buyers approach them if they love their services or products.
Cons
The platform charges a 20% fee which many freelancers find unreasonable, especially because projects are small at the beginning.
There is fierce competition on the platform, with freelancers fighting to get the first projects. Some freelancers never win a single client on Fiverr.
After delivering the end product, you must wait for 14 days before getting paid.
Worth mentioning is that Fiverr focuses on fixed-price projects. If you choose hourly projects, you will require a time tracking application to record the hours you have invested in the project. Doing so helps you prove that you are tackling the project.
2. PeoplePerHour

PeoplePerHour is the center for freelancer marketplaces. It's an excellent platform that offers numerous fields and different skill levels to cater to budgetary needs. PeoplePerHour is neither too small nor too big. This platform is an option you may want to consider if the other Upwork alternatives on this list don't appeal to you.
In Upwork and PeoplePerHour, clients post jobs, and freelancers place their bids. The difference between the two platforms is that Upwork focuses more on skilled freelancers, and PeoplePerHour accommodates numerous entry-level freelancers. As a result, PeoplePerHour is the best platform for clients looking for low-cost freelancers.
· PeoplePerHour for Freelancers
There is minimal competition for freelancers on PeoplePerHour. However, experienced freelancers may be frustrated when they lose bids to less-skilled and cheaper competitors. PeoplePerHour locks in a client's deposit, guaranteeing freelancers' payment at the end of the project.
· PeoplePerHour for Businesses
Businesses using PeoplePerHour can reap nearly the same benefits as is available on Fiverr. However, the platform offers more security. Entrepreneurs can manage multiple freelancers from their dashboards simultaneously, making the platform convenient if you are running different projects simultaneously.
3. Freelancer.com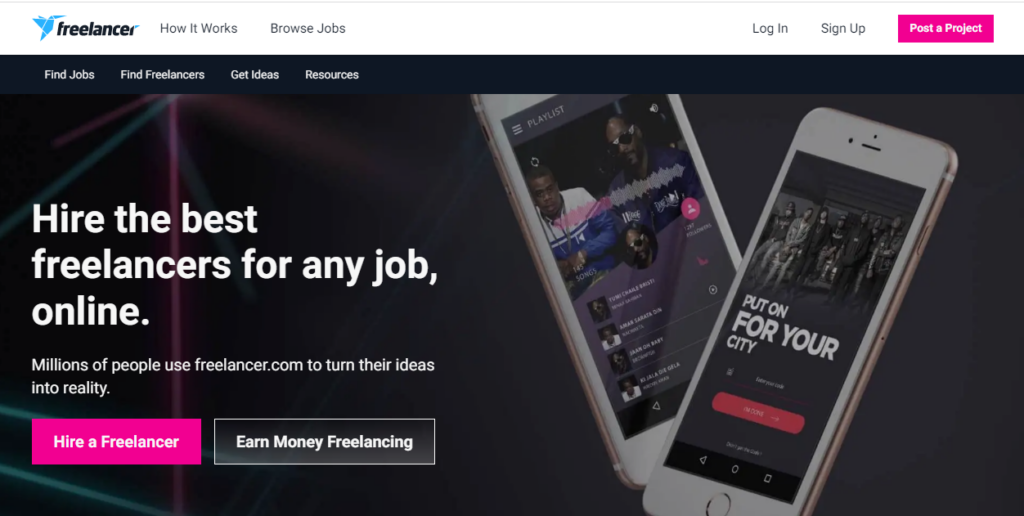 Freelancer.com is one of the oldest freelancing platforms boasting approximately 32 million users and 1800 categories. The platform is also considered one of the biggest marketplace-type freelancing channels.
Freelancer.com has been in the market for over ten years now, during which it has become the go-to option allowing numerous freelancers and businesses to collaborate on a wide range of projects.
Freelancers using this platform can benefit from the numerous projects available. On the other hand, businesses can find a wide range of freelancers skilled in different niches offering their services at cost-friendly prices.
Pros for Businesses
Freelancer offers different payment systems. Businesses operating on a low budget can get competitive prices on Freelancer.com than on Upwork, where freelancers' rates can be higher.
This platform comes with various tools like private chate to facilitate direct communication with the candidate you hire.
com offers various payment systems.
Cons
There is a percentage of low-skilled freelancers on the com, making it difficult for businesses to pick the ideal candidate.
The hiring process can be costly. If you need extra upgrades, you will need to pay separately, lowering the platform's appeal among businesses.
Pros for Freelancers
Some freelancers and employers who have been using the platform for some time now admit that their customer service is one of the best.
com is available to everyone regardless of their skill level. You can exercise your skills in different niches. Freelancers are exempted from paying fees on the platform if they refer an employer to Freelancer.com.
com provides different ways of withdrawing money.
Cons
Freelancers are limited to eight job applications per month. If you want to apply for more jobs, you must pay the subscription fee, which beginners can find difficult.
4. Toptal

Toptal is the short form of top talent. The platform specializes in hiring high-quality freelancers only. Out of the numerous applications they receive from candidates monthly, they only hire less than 3%. They have a strict screening process that ensures that only the most qualified freelance talent works on clients' projects.
· Why Should You Consider Toptal?
Toptal's strict application process ensures that clients work with qualified freelancers only.
Toptal hosts freelancers specializing in various niches such as entertainment and healthcare
You can hire a team of designers, project managers, and developers from the platform.
Employers can't peruse freelancer profiles as on other freelancing platforms. Instead, Toptal has an algorithm that does matchmaking based on a client's needs.
Toptal is ideal for clients committed to collaborating with specialists.
While Toptal doesn't display pricing information on its site, some review websites say its fees are higher than other freelancing sites. The value of this platform comes in handy when you want professionals to work on a complex project but have no time to hire vets and onboard new employees.
5. 99designs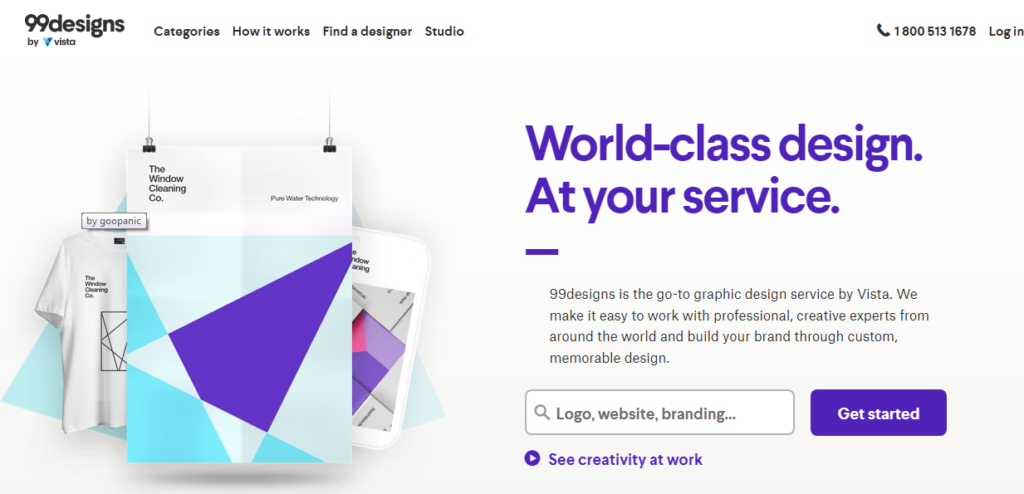 Freelancers searching for graphic design jobs would highly benefit from 99Designs. There are numerous opportunities for designers with clients from different parts of the world. The platform enables freelancers and clients to continue working together long-term. The amount of commission that 99designs charges vary based on a freelancer's skill level. However, the starting commission is 15%, and freelancers must pay a $100 introductory fee.
The core difference between 99designs and Upwork is:
It's a design-only platform
Faster payout
Allows freelancers to collaborate
Freelancers have to pay an introductory fee
Other Upwork alternatives you may consider include:
There are numerous other websites for graphic designers and freelance writers where remote workers and businesses can collaborate. Here are some of the best Upwork alternatives for graphic designers you should consider.
io is a graphic design firm that links businesses with cost-friendly graphic design at fixed monthly rates. Kimp is not a channel where freelancers can find more gigs. However, it's an effective Upwork alternative for businesses that want to boost their graphic design output.
If you run an eCommerce business such as Amazon, consider hiring qualified designers to help you develop themes for your websites.
DesignCrowd is an appealing platform for graphic and website designers. It has a wide range of freelancers available. Its features are similar to 99designs, and it offers crowdsourcing options.
Upwork Alternative Websites for Developers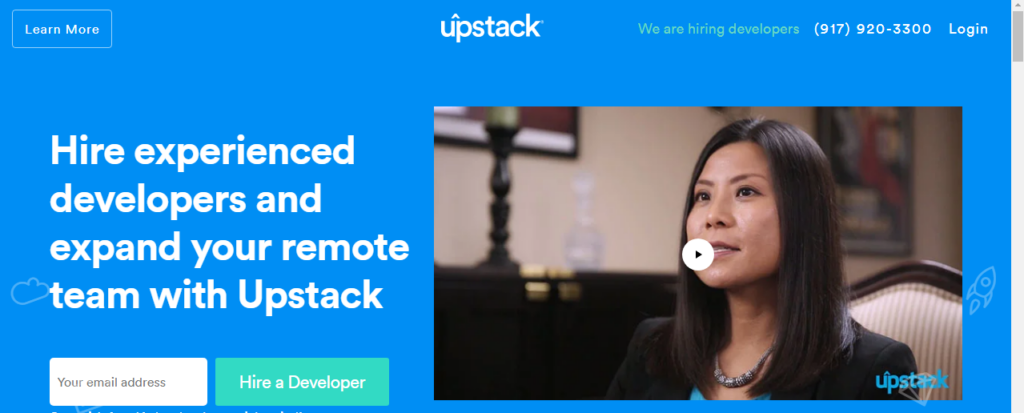 Here are some of the best alternative Upwork websites for employers looking for more technical and experienced programmers and developers.
Upstack strives to promote tech teams globally by offering dedicated freelance talent. They search for the best freelance talent by sourcing developers from different parts of the world.
Flexible is a system with some of the leading freelance developers. The website boasts a comprehensive vetting process for freelancers that takes prospects through different stages of interviews
Upwork Alternative Websites for Content Writing
Businesses searching for qualified writing talent appreciate rich content writing freelance platforms. Here are some of the best Upwork alternatives for content and WordPress blog writing.
Panda Copy offers unlimited copywriting and blog services to businesses seeking to regulate their writing costs.
SEOButler is a content generation website where clients can submit guest post requests, written content, citations, and social signals on different websites.
WriterAccess is a platform where employers can commission their writing projects and access experienced freelance writers. They vet the writers heavily to ensure they can satisfy high writing standards.
Alternative Upwork Websites for Marketing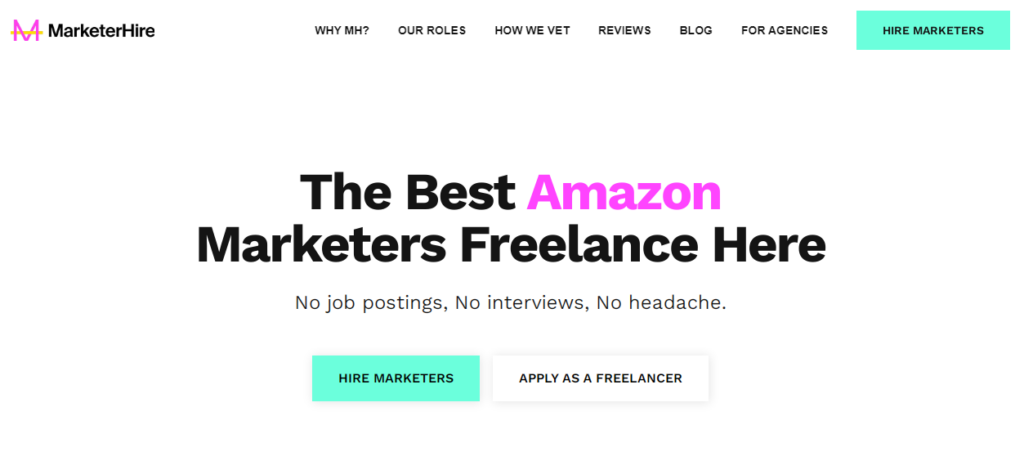 Upwork can pair you with different marketing freelancers from other parts of the world. Here are some of the best Upwork alternative platforms where you can hire qualified marketers.
MarketerHire makes the process of hiring social media marketers smooth. The team behind this platform strives to recruit qualified marketers to freelance on their platform.
Acadium features a search tool that links businesses with the most qualified individuals from their program. As a result, clients get a chance to connect with leading digital marketers immediately after they graduate.
Credo is a platform where employers can hire senior consultants, digital marketing agencies, PPC, and SEO experts. The platform only deals with pre-vetted and certified consultants and agencies—the team behind Credo assists and guides employers through the entire hiring process.
The platform matches you with carefully selected digital marketing providers from their network that fit your project needs. Businesses can use Credo and be paired with the ideal pre-vetted providers for free.
Finally
While all these freelancing platforms pursue a common goal, some of them are better than Upwork depending on your particular needs. Trying other alternatives doesn't hurt. Remember, you will need to keep testing until you find the ideal alternative for your unique needs. If you what to try other freelancing website options, this article should help you make an informed choice. You will identify one platform that enables you to hire the best talent easily.