Freelancing websites Guru vs Upwork come in handy when you need a project done but don't want to recruit a full-time employee or plan interviews for suitable personnel.
Freelancing websites are a terrific marketplace where you can discover a large number of specialists to help you with your freelancing work. Guru, Fiverr, Freelancer.com, Upwork, and more freelancing platforms exist, each with its own set of benefits and drawbacks.
Therefore, as a newcomer, you may be puzzled about which platform is best for your needs. In this review, we'll compare and contrast the two most popular platforms for all kinds of freelancing jobs, Guru and Upwork.com (Elance – ODesk)
With a vast number of freelancers and jobs, Upwork is the most popular freelancing platform. It's the most effective online marketplace for freelance work. This platform is the most vital online workplace platform since it contains a massive number of companies and job seekers.
Guru.com, on the other hand, is the oldest platform for connecting freelance talent with individuals and businesses, having been started in 1998. It now boasts a global network of over 3 million freelancers who can take on high-quality assignments at low costs.
What Is the Difference Between Guru and Upwork?
Customer Support Reviews
Both Guru and Upwork have a majority of positive customer service evaluations, as well as a few horror stories. In addition, Guru offers freelancers and clients round-the-clock help in the event that they have a problem with the platform.
Upwork also offers customer assistance 24 hours a day, seven days a week; however, consumers are more satisfied with this platform than freelancers.
Job Opportunities
On both platforms, you'll find a wide range of employment openings. For instance, Guru has plenty of web design, web development and writing jobs available. In addition, this platform includes employment openings for over 100 different skills.
Upwork employs millions of full-time freelancers who rely on the site for a career. However, the majority of them utilize it as a side hustle to supplement their income. As a result, you may find employment opportunities for practically every profession on Upwork. Even large service providers such as Airbnb and Microsoft, advertise their freelance job openings on Upwork.
Platform Fees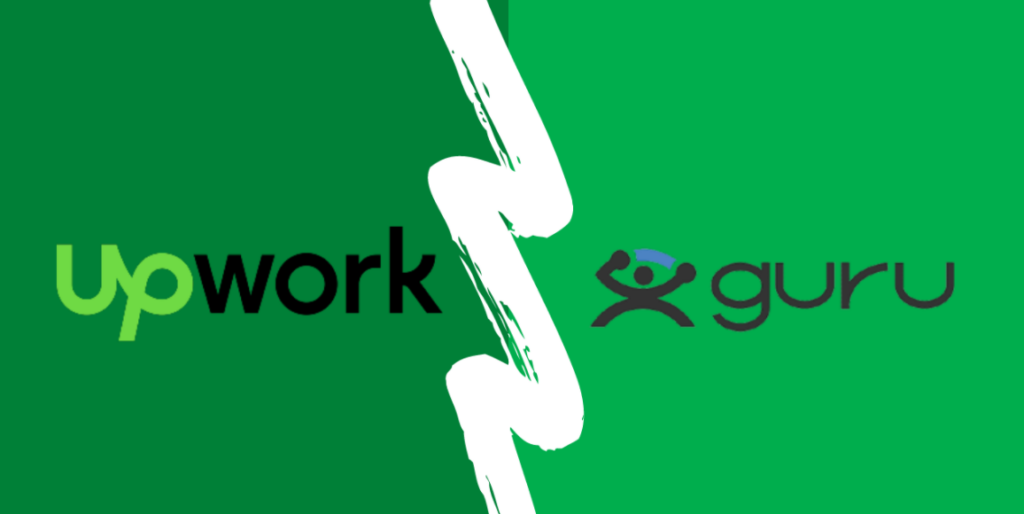 The Guru platform offers five membership options, including a free plan with a 9% cost for freelance users. Basic+, Business, Executive, and Pro plans are also available, with job rates ranging from 9% to 5% for freelancers.
The Basic+ plan costs $8.95 per month, the Business plan costs $24.95, the Executive plan costs $39.95 per month, and the Professional plan costs $15.95.
Upwork charges freelancers a sliding-scale fee for their lifetime invoices. For incomes between $0 and $500, Upwork imposes a 20% charge. Upwork charges a 10% fee for incomes between $500 and $10,000 and just a 5% fee for profits beyond $10,000. So, whether the assignments are for an hourly rate, a set price, or a project, Upwork imposes the same fees.
Security
Upwork's regulations are highly tight, and the company is vigilant in preventing fraudulent behavior and transactions. Upwork's staff readily identifies scams and bogus profiles on a daily basis due to their regulations. As a result, it assists them in maintaining the integrity of their site while also protecting genuine visitors. As a result, Upwork has become the go-to site for freelancers and employers all across the world due to its well-placed security safeguards.
The dependability of a freelancer on Guru is lower than on Upwork. This is due to the lack of rigorous security checks and validation measures in place. So, you need to be certain if you're working with a new freelancer who hasn't worked on the Guru platform before.
Statistics
Below are a few common Guru statistics
1. 800,000 Employers Globally
2. 1 Million issued Invoices
3. 250 Million dollars paid to workers
4. 99% client satisfaction rating
Below are a few common Upwork statistics
1.  2.3 billion dollars earned in 2020.
2. 99% client rating by experts.
3. Ranked world's number one freelance platform.
4. Up to 50,000 contracts signed per week.
What Are the Pros and Cons of Guru and Upwork?
Benefits of Guru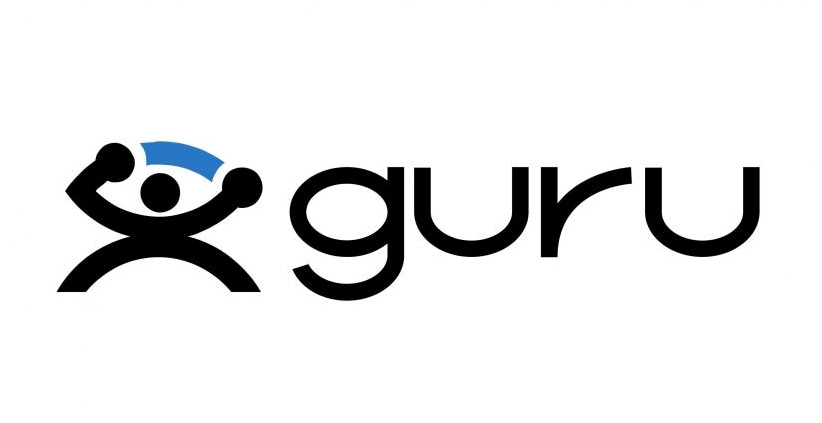 Easy Recruitment
Guru keeps things easy, even when it comes to hiring freelancers. For instance, if an employer on Guru wants a specialist for a certain project, they simply need to sign the contract, and the job order will be fulfilled automatically. This saves time and effort for all stakeholders involved, resulting in a speedier project completion rate.
Feature Your Projects
You can do digital marketing for your projects on Guru to reach a larger number of experts. As previously stated, this service costs only $29.95 for your position to be displayed at the top of the search results (SEO) for 30 days. This will raise the number of views of your position, drawing the attention of competent experts who will submit their offers.
Forge Long-Term Relationships
Businesses and specialists can develop long-term ties using the site. Guru offers a list of recommended freelancers with a strong track record, so employers won't have to comb through guru profiles for extended periods. This helps job seekers to save time and meet proven experts with whom they may work on a one-time or long-term project.
Numerous Payment Methods for Accessibility
Many employers already have a preferred payment means. Guru understands this, and as a result, it accepts transactions other than credit cards and electronic payments.
Unlike other platforms, Guru supports checks, e-checks, in-website cash funds, and wire transfers (PayPal, skrill etc.) as forms of payment. This ensures there is payment protection and that the process more user-friendly.
Streamline Your Project Management
Guru's platform features a simple yet comprehensive dashboard from which you can monitor and manage your tasks. You can interact with the gurus you hired, monitor project progress and status, send data, and even track their time on your dashboard. In addition, the workflow can be simply structured due to the user interface's ease.
Drawbacks of Guru
Accountability Issues
While making members on your team "specialists" on specific pieces of information is one of Guru's trendiest features, some users have complained that keeping up with the accountability on unverified data may be tough – notably when their teams are dealing with plenty of information all the time.
Pricing
While the basic package offers a free trial for up to three users, the fixed price rises to $5 per month per user if you add a fourth person.
While this may work for some teams, it does have some limitations. There are, of course, alternative options that cost more per month, per user, and offer more features.
Scammers
Scammers are everywhere on the internet, and it's difficult to avoid them. Your greatest defense is using your common sense to search for red flags.
Benefits of Upwork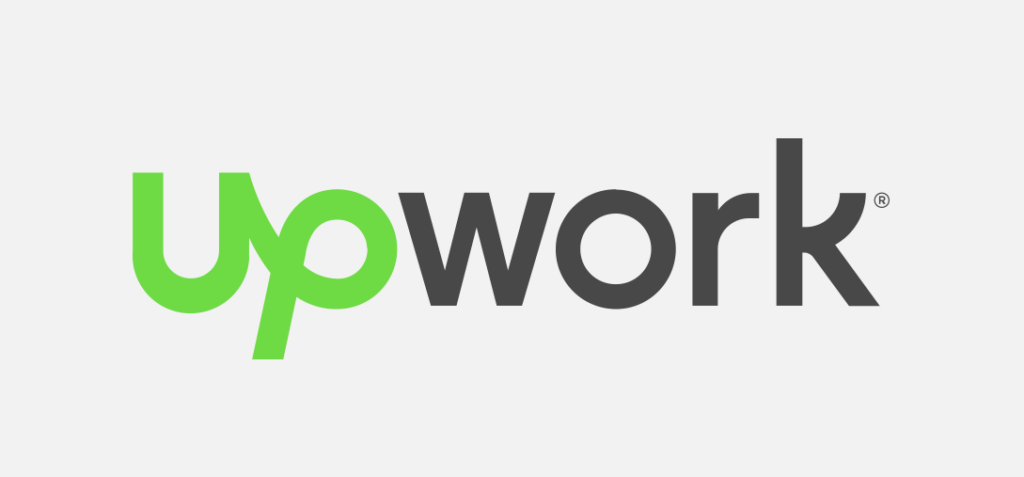 Get Hired Quickly
The majority of UpWork clients are eager to get started right away. If a customer loves your proposal and you have a great phone call, you may be working on a project the next day. This is a significant advantage over more typical recruiting methods, which might require months of planning and paperwork before you can start working on a project.
Get Paid Easily
As an autonomous contractor, sending invoices and taking payments might be hard. Payments are built-in to the system at the click of a button, which is a massive benefit. UpWork makes it easy to integrate your bank account, and funds are instantly wired into your account.
Upwork Pays Better Than Most Freelancer Sites
UpWork has branded itself as a "premium" freelance marketplace. As a result, Upwork clients are more likely to pay higher fees for your services than clients on budget freelance platforms like Fiverr or Freelancer.com.
This implies they're looking for higher-quality work, clear communication, and meticulous attention to detail. UpWork also features a "U.S. Only" function, allowing customers to advertise jobs only for talent based in the United States. These positions, according to UpWork, pay 75 percent more than other similar posts.
Work from Anywhere
It's a no-brainer that working remotely is a significant advantage of getting employed on UpWork. Almost every customer is familiar with and comfortable with remote hiring and is acquainted with how it works.
Drawbacks
It's Hard to Get the First Client
On UpWork, there is plenty of competition, and being hired for your first project might be challenging because of this. For instance, you could apply for over fifty gigs and only secure one after messaging with the client for long.
Hefty Fees
UpWork charges a percentage of your overall billings for each project in addition to the service fee for submitting bids. This percentage ranges from 5% to 20%, depending on your earnings.
Most Clients Have Limited Budgets
Despite this being a "premium" freelance employment site, UpWork clients will have substantially lower budgets than those in your personal network.
That's understandable; clients using UpWork to find contractors are seeking someone with low overhead expenses rather than consulting a business or hiring an agency.
Which Is a Good Site for Freelancers?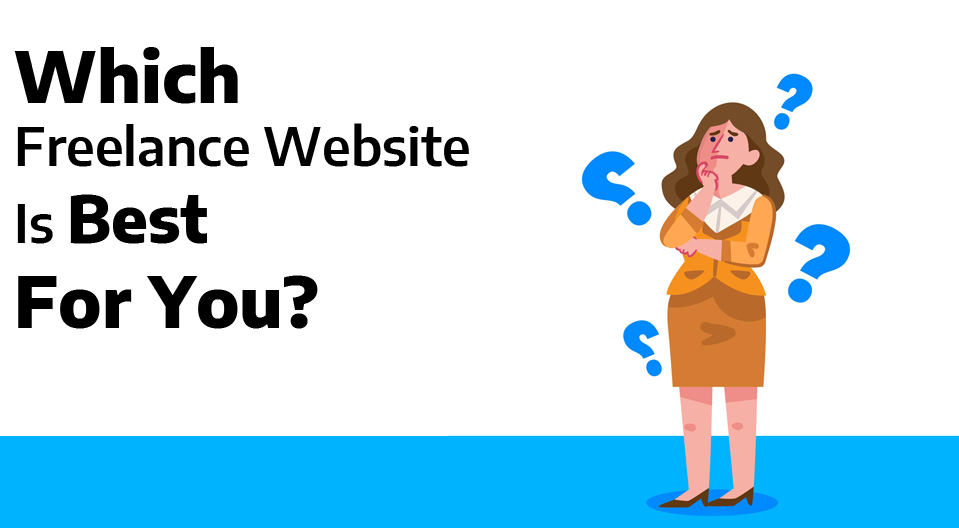 It's quite difficult to pick a winner because the least-priced isn't always the best. Other considerations include the availability of customers or freelancers and projects, as well as platform support, security, and simplicity.
Both Guru and Upwork compete for the top spot, which we believe Upwork holds. Upwork charges 10% overall, although that figure has since doubled for small projects. It is certainly a source of concern for small firms, and many individuals are unhappy.
Guru's total charge per project transaction is 11.45% (2.5% + 8.95%). Guru has emerged as a strong force in pricing, capable of competing with Freelancer.com. and PeoplePerHour.
Tips for Success on Guru and Upwork
Here are some tips for success on Guru and Upwork:
Create a strong profile
Your profile is often the first thing that clients see, so make sure it accurately showcases your skills, experience, and personality. Be sure to include a professional headshot, a compelling headline, and a detailed description of your expertise.
Specialize in a niche
Specializing in a particular niche can help you stand out from the competition and attract clients looking for specific skills or expertise. Consider developing a portfolio or samples of your work in your chosen niche to showcase your abilities.
Be proactive
Don't wait for clients to come to you – actively search for projects and submit proposals that showcase your strengths and highlight how you can help the client achieve their goals. Use keywords and search filters to find projects that align with your skills and interests.
Communicate clearly and professionally
Communication is key to building strong relationships with clients. Respond to messages and inquiries promptly, and be clear and concise in your communication. Make sure to clarify expectations and deadlines to avoid misunderstandings or miscommunications.
Price competitively
While it's important to value your time and expertise, pricing yourself out of the market can limit your opportunities. Research industry rates and consider setting your rates competitively based on your experience and the complexity of the project.
Deliver high-quality work
Delivering high-quality work is essential to building a strong reputation on Guru and Upwork. Make sure to adhere to deadlines, deliver work that meets or exceeds the client's expectations, and be open to feedback and revisions.
Build relationships with clients
Building relationships with clients can lead to repeat business and positive reviews. Follow up with clients after projects are completed, ask for feedback, and offer your services for future projects.
Stay up-to-date with industry trends
Keeping up-to-date with industry trends and best practices can help you stay competitive and offer clients the latest solutions and strategies. Consider taking courses or attending webinars to continue learning and developing your skills.
Final Thought
So that's it with regard to the most common freelancing platforms (Guru vs Upwork). You'll find the ideal platform by evaluating all their features based on your needs. Both Guru and Upwork offer the best talents saving you plenty of cash and time. In addition, since both feature millions of users, you can sign up if you just want to get started and become a freelancer.