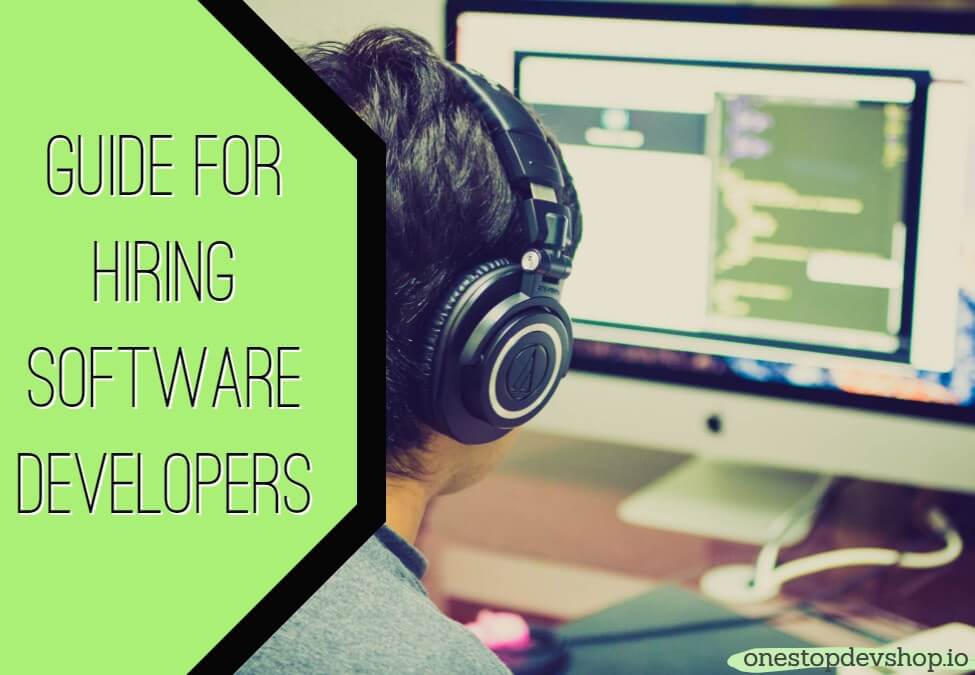 A Comprehensive Guide on Hiring Software Developers
For project managers on a software development team, hiring software developers can be a tedious affair. If you make the wrong choice, it will cost you a lot in time, effort and money. If you had already started on a project, it might mean late project delivery to the client as you go through the re-hiring motions.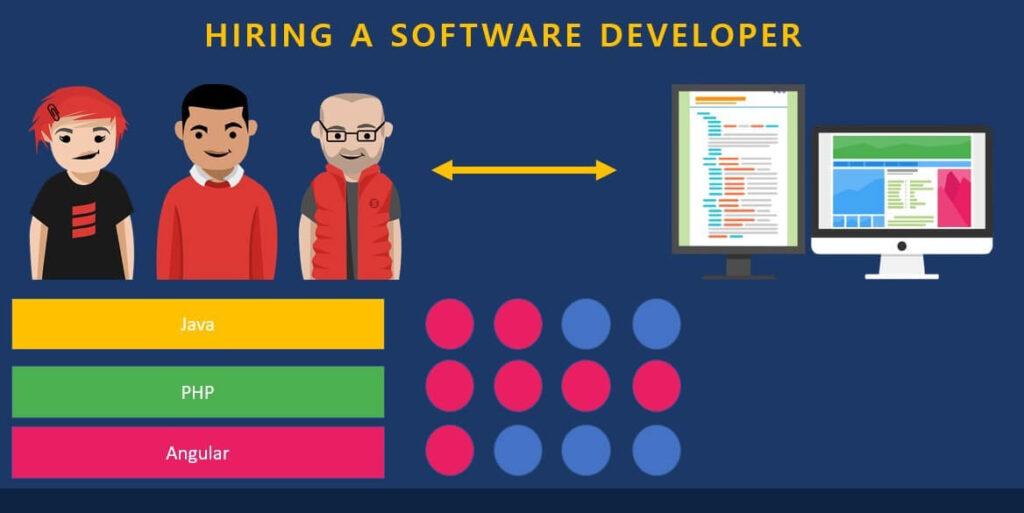 Hiring software developers is a skill that borders on technical acumen, process management, social networking, and intuition.
Who are Software Developers?
Software developers are individuals who create computer programs that perform specific tasks. These programs range from user-friendly desktop functionality and mobile apps, to the more complex networks and systems that work behind the scenes. It is the software developers' responsibility to build, test, and maintain these codes.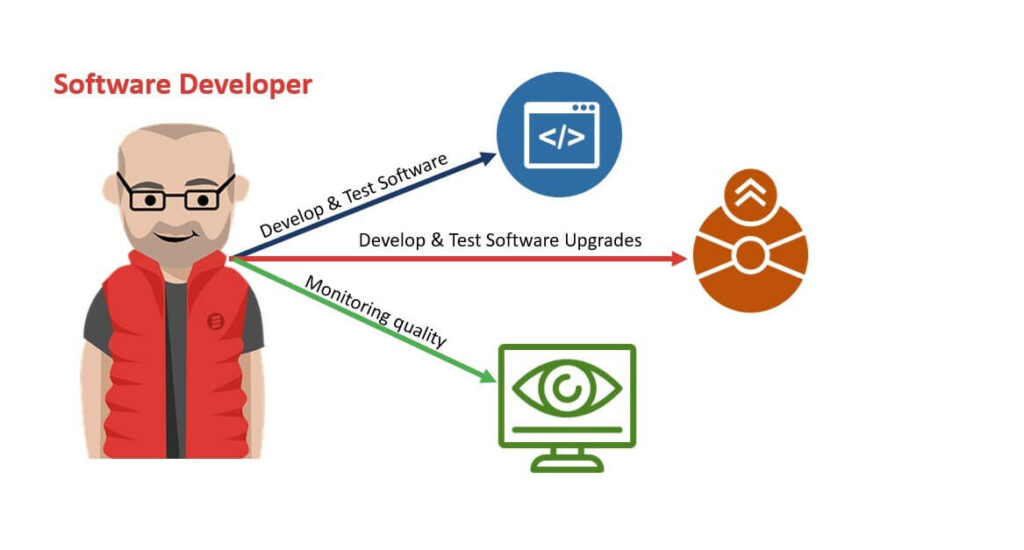 In the past, software developers were considered nerdy, bespectacled fellows who worked as lone wolves, hunched over their computers. Software developers have long since moved away from these stereotypes, and the developing world has changed.
Today, software developers are team players, and the software development ecosystem has switched to using methodologies like DevOps and Agile, which focus on collaboration, communication, and teamwork. Software developers need to be highly skilled in programming and possess some good old ingenuity that comes in handy when solving complex issues.
The United States Bureau of Labor Statistics states that the demand for developers by 2028 will expand by 21%, compared with a 5% average for other professions. That will mean 284,000 software developer jobs in the United States only, and there will still be a shortage of software developers, meaning the demand will always be high.
Developer Categories
When hiring software developers, you need to know the different categories of developers. These include:
The part that users interact with is called the front-end, and is either an app, website, or any other interface. Developing the front-end requires the software developer to understand scripting languages such as JavaScript, algorithms, and designing talent.
Back-end developers work in compiled languages like C++, C#, or Java. They also need to have an in-depth knowledge of database technologies like Microsoft SQL.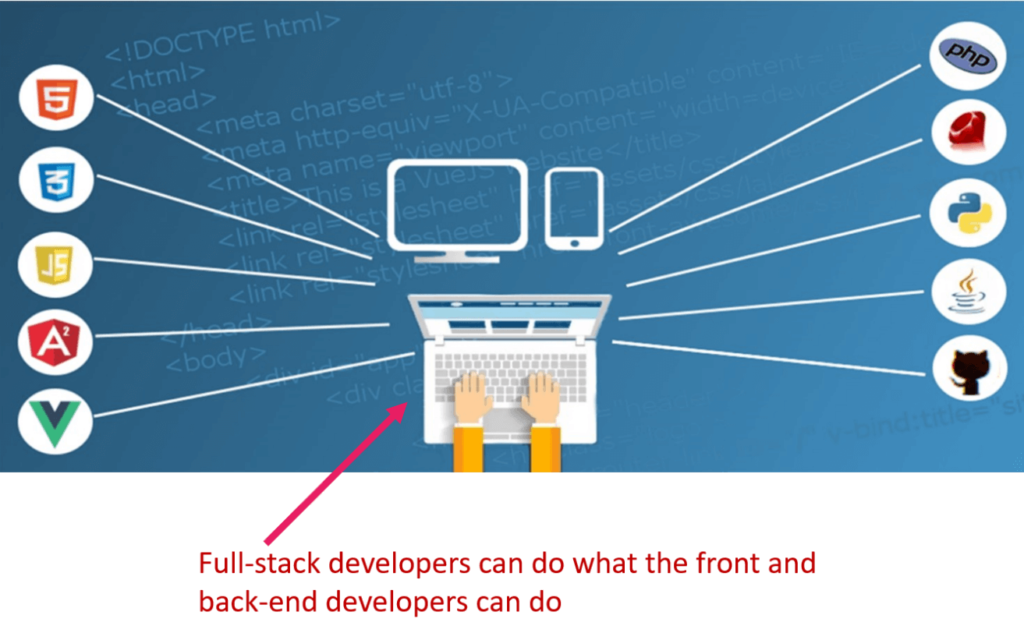 Full-stack developers can do what the front and back-end developers can do. A full-stack developer can help with the project co-ordination, app design, and other tasks in a company setting.
There are other developers, including those who specialize in security, big data, and middleware. For recruiters seeking to hire a software developer, they must consider the software they intend to build and the extra skills you want to bring onboard your development team.
Crafting Your Job Description
When crafting the job description for a software developer, you need to be clear on what you expect the ideal software developer to look like. Some of the considerations should include:
Essential technical Skills
The essential technical talent includes being fluent in the main programming languages. Work this requirement into your job description and catch the attention of top developers who might skip the advert if it is too cliché.
If your project will be mostly in Java, a job description that is more accurate like "Looking for a Java Developer" might be more apt than just posting "Looking for a Software Developer." The skills needed will highly depend on the industry.
For instance, SQL is used for marketing projects, while Python is popular in the finance and banking industry. C is popular in the security sector, while JavaScript is mostly used in dynamic web apps and retail.
When crafting the advert, you may opt to add some extra skills that may be nice-to-have on board but not utterly essential. Some examples include working with AWS (Amazon Web Services) or Docker. No one can have all the skills, so ensure that the skills are not mandatory.
As mentioned earlier, development nowadays is team-based, and you will need to have a candidate who fits into your company culture. Indicate if your team is Agile or DevOps, your working hours, etc. If you work full-time from nine to five without exception, or if you often slide into a crunch mode and the whole team outs in extra hours to beat deadlines, indicate this on the job description.
In a collaborative space, soft skills are as equally important as technical skills. You will need to spell out the essential non-technical skills the position demands of the new hire, especially empathy, teamwork, problem solving and communication.
What Makes an Excellent Software Developer?
Crafting a job description is one thing, and getting a good software developer is another, especially one who is all rounded. What does a good developer look like?
Thorough Knowledge of AWS
A software engineer should have a thorough knowledge of cloud platforms such as Amazon Web Services (AWS) and Azure. Most software companies turn to the cloud because it is easy to use and scalable, which means an in-depth knowledge of AWS, is becoming a necessity.
A good software developer should be an expert at developing projects dealing with big data. These projects analyze and extract large data volumes. A big data web developer develops, tests, and maintains solutions for big data in companies.
Projects that deal with the Internet of Things (IoT), AI (Artificial Intelligence), and machine learning are becoming more popular since the last couple of years. Today's apps are using colossal amounts of data, and developers with significant data skills stand better job opportunities in the future.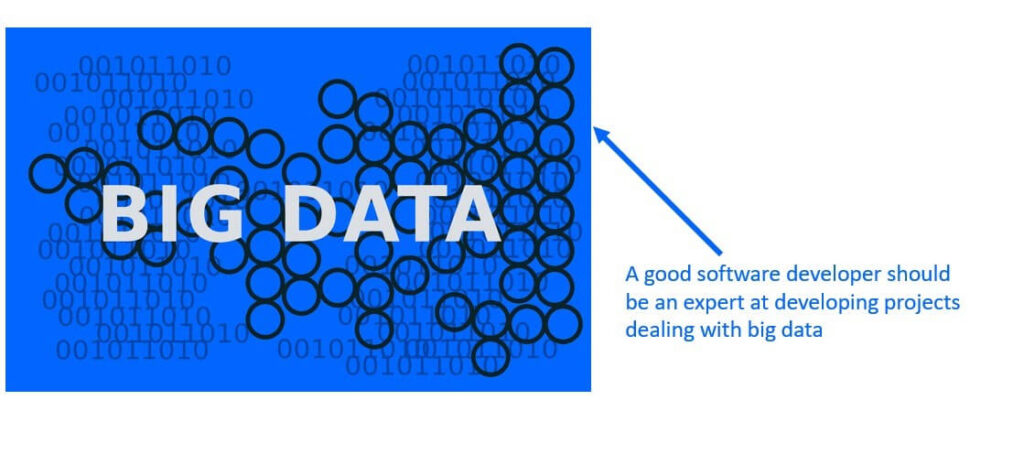 A great software developer is versatile and is conversant with more than three coding languages. Ruby on Rails, Python, and C# are some of the languages developers should have on their resume. For instance, Ruby on Rails is an excellent language if you want a developer to work with information systems like search engine systems, data storage, and a complex web application like a social media platform. Python dates back to the 90s, and it is useful for scripting video games, web pages, and other complex applications.
Has an Impressive Portfolio
Great developers build outstanding software and do not shy away from putting them on their GitHub profiles as open-source code. As a recruiter or team leaders looking into hiring a software developer with code knowledge, check out the candidate's GitHub profile to ascertain they are capable.
A software developer has to play a cross-functional and collaborative role. This means that having software skills is a ticket for success. Software developers can work with the rest of the development team, including designers, QA testers, product managers, etc. For this reason, the developer should be a great team player with excellent communication skills.
How to Hire a Great Software Developer
Without any regard to the current situation in the market, the one constant is that excellent software developers will always be on demand. Even if you do not need to hire a developer now, you might need to in the future. Here are some key factors to consider when hiring one.
Make the Job Listing Specific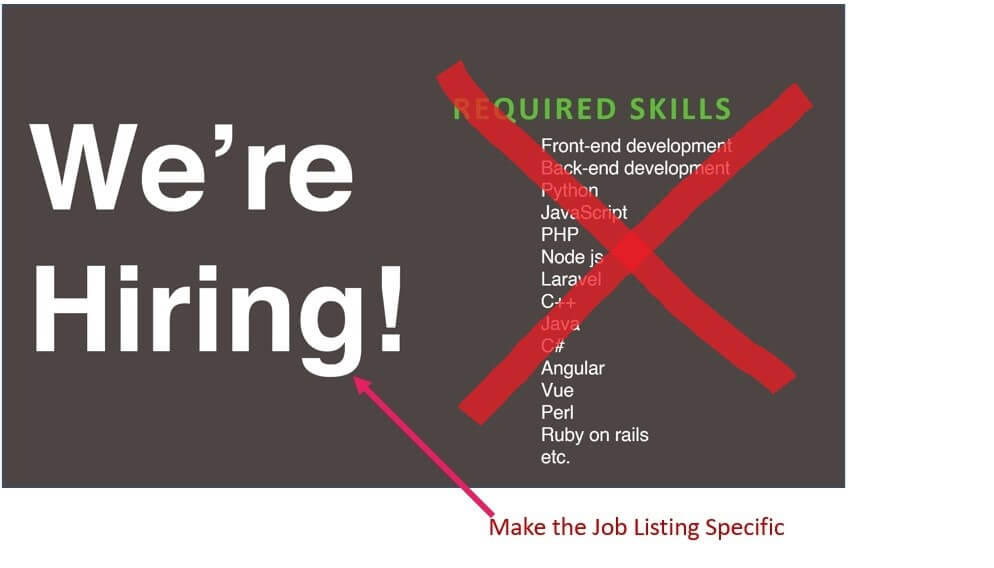 Writing "We are working on an exciting new app, similar to ABC, but better and simpler" will not work in a job description. It might sound reasonable, but not to a software developer and the possibility of eliciting any interest are slim.
The better you describe the project and the candidate's type, the better talent you will attract. Being specific also allows the candidate to assess whether their skill set matches the job description. Being specific saves, you and your candidate time wasted on lengthy interviews.
Do Not Look on Job Boards
Good developers are NOT found on job boards. These are professional developers, who are good at their jobs, and they are working elsewhere, or they have their startup. If you want to pry such developers from their jobs and apply for your listing, you need to catch them unaware in places where they do not expect a job posting.
For example, some employers have found great developers by putting up job adverts on social media and targeting the developers by their job title. Attending developer seminars and other events also allow you to interact with the developers one-on-one and get to know them better.
Make your Offer Attractive
There is no shortage of jobs for software developers, but employers keep asking for the same cliché things such as resumes, samples of candidates' previous work, and cover letters. As a candidate with many years of experience, this becomes tedious to compile and, for the hiring managers, even more, tedious to go through.
When the job offer is this bland, you will not get the top talent. Instead, craft your ad and memorably challenge the candidates. You can use a pre-employment skill test such software such as Toggl Hire, Plum, eSkill, etc. This setup allows candidates to take a twenty minutes skill test to apply for the job.
The skill tests have databases of questions that generate tests for various programming languages, depending on your requirements. This software takes a few seconds to set up, you can immediately screen the candidates based on their results, and they can get instant feedback. This allows you to disqualify unqualified candidates from the word go.
You can hire a software developer by taking them onboard your team for a test drive. If you find three or four strong candidates who are a great fit, you can bring them onboard for a test drive to see if they fit in with your existing team. This is a great way to see how they think, work independently and in a group, and confirm that they can deliver what you need in the allocated time.
Ensure that the set task is meaningful, and it is a reflection of their real job if hired. Paying the candidate during this period is crucial as they are also committing, yet they are not guaranteed a job at the end of the test.
How to Prepare, and Pitfalls to Avoid When Hiring Software Developers
As earlier mentioned, both you and your hired candidate will benefit from the extra screening during a paid trial period. Ensure that the candidate understands what is expected of them and that you expect them to work as if they were already hired.
The candidates need to use the trial period for both parties to understand whether they are a good fit for your team. Provide the candidate with the appropriate software development tasks and support, and keep your wits about you as you study their progress. Whether the developer is a fit or not, both of you will have gained a wealth of experience.
You can easily start a software developer on the wrong foot by throwing them blindly into development and offering them zero support. Sometimes you might have to do this, but upfront before the interview process. Even when you do throw the developer blindly, offer as much support as possible to boost morale and improve productivity. If your onboarding is poor, small mistakes that should be resolved fast become disastrous.
Even experienced software developers need time to acclimatize to your environment, although it might be less time than a less experienced developer might. Please give them a feel for your expectations and work culture. Let them in on an overview of boundaries, team responsibilities, workflows, etc. Give them enough mentoring and information to get them started on the code soonest possible. Provide them with all the necessary documentation, and if you do not have it, you can use their experience to create the documentation.
Find a task in your project to start him or her off, and if possible, get another software developer to review the code on the job. These tasks should be simple tasks that do not add any burden to the team but will provide information on any gaps in the developer's work and your expectations. It becomes easier to address these gaps now rather than later.
The biggest pitfall to avoid in software engineering is lack of precision. The chances of getting what you want when hiring a software developer are slim, especially if you do not spell out your expectations. The possibilities become slimmer if you have no clue about what you want.
Communicate all details to help the developer tell whether they possess or can acquire the job's right skills. Ensure you know everything about the essential techniques and technologies. Find out the details on the developer's work level, from architectural changes and code touch-ups.
Top 10 Sites to Find Software Developers
1. Toptal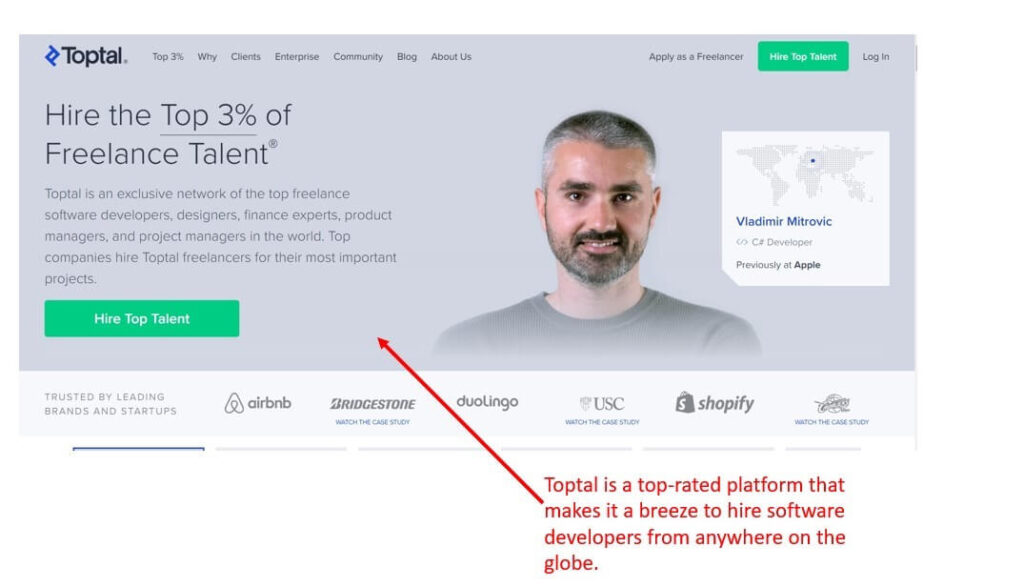 Toptal is a top-rated platform that makes it a breeze to hire software developers from anywhere on the globe. This platform is so well known that it features professionals in their thousands partnering with clients in various niches.
The platform was created for tech talent but expanded to include finance experts and designers. The company mostly relies on its developer vertical such as Python developers, PHP, etc. If you want to shorten the hiring process and hire an exceptional software developer, Toptal boasts an elite crop of developers. Toptal only picks the top 3% of applicants who pass their rigorous tests and their vetting process.
2. DevTeam Space
DevTeam Space is a community of the best software developers on the internet. Development teams and lone wolf experts are brought in to the talent space via invite-only. This means that DevTeam Space only picks the best and the category of professionals they want associating with their brand.
By vetting members from the get-go, the community ensures that their development teams are on par with your project needs.
3. LinkedIn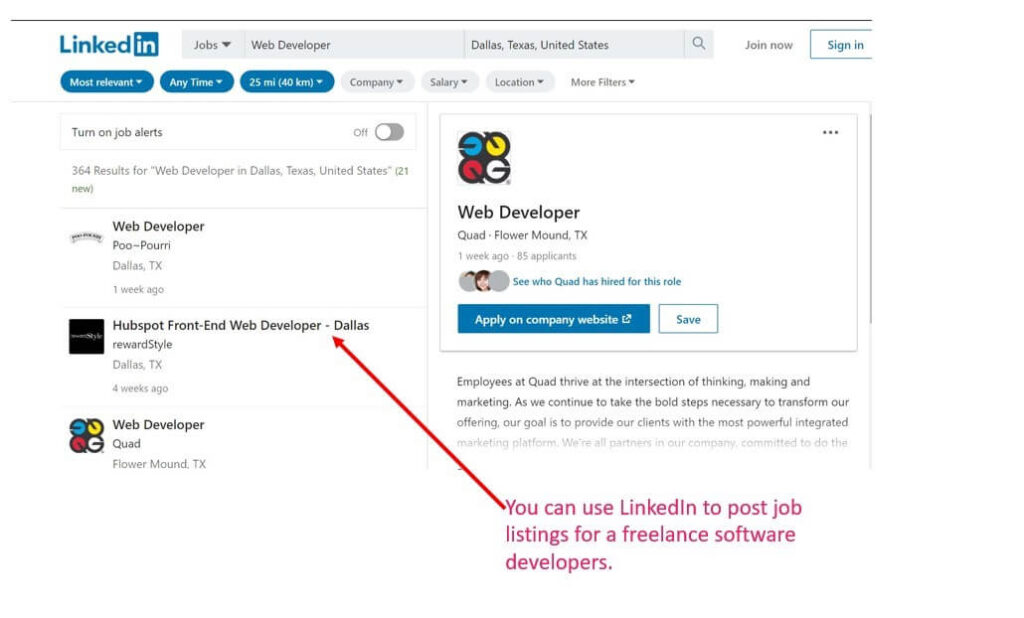 Among all the social media platforms, LinkedIn is a platform that employers can use to connect with professionals worldwide. LinkedIn merges the interaction of a communication network to be among the best social media platforms for professionals.
Over the years, LinkedIn has built a reputation for being a talent-filled hub. Like other freelance platforms, you can use LinkedIn to post a job listing for a freelance software developer, and you are sure to get experts that meet your requirements.
It is worth mentioning that LinkedIn has more than 590 million registered members and more than 250 million users spread across more than 200 countries.
4. GitHub
GitHub is a community comprising of experts and pioneers in software development and who collaborate to build software. You will find the best professionals in the software development industry in GitHub. What makes the platform more attractive to clients is that it is purely a tech-based space, which means all the members are knowledgeable in software development.
5. People Per Hour
People Per Hour is among the leading recruiter platforms today. The platform connects employers and freelancers living in the United Kingdom. Still, depending on your location and your requirements, you might be looking for a software developer residing in the UK. Some of the top UK-based professionals in computer science and development are found on this platform. All you need to do is open an account and reach out to the freelancers.
6. Stack Overflow
Stack Overflow's online community rivals that of GitHub. It is one of the largest and trusted developer communities on the internet. Stack Overflow is a resource used by most employers to find great developers, ranging from the not-so-experienced novices to expert coders, all seeking more coding knowledge. Their job board is a lot like GitHub's, and it allows for significant exposure to developers across the globe.
7. Upwork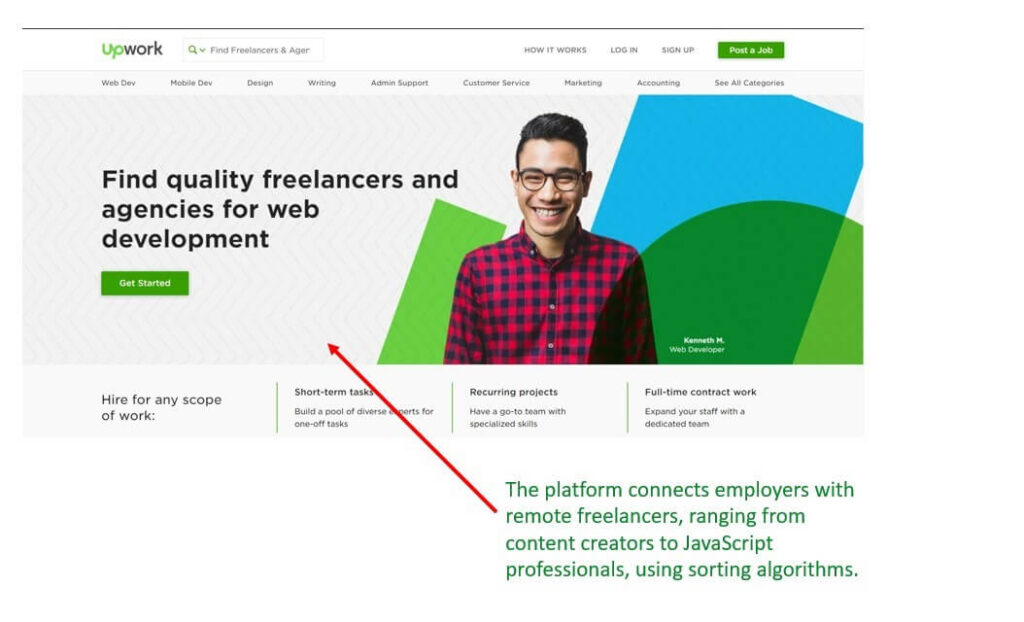 Upwork is a massive freelance marketplace, which boasts of more than twelve million users. The platform connects employers with remote freelancers, ranging from content creators to JavaScript professionals, using sorting algorithms.
Clients like Upwork's easy to use interface but often cite irregular quality as a huge problem. Finding programmers on Upwork is easy, but you have to contend with interviewing several candidates, which is time-consuming. Although the platform performs minimal screening of candidates, most of the screening and vetting legwork is up to you.
8. Guru
Guru has a massive and global network of freelancers, which is smaller than People per Hour and Upwork's talent pool are. You have the option of exploring 1.5 million guru profiles, propose projects, and pay the hired freelancers via the platform's SafePay system.
Guru is not developer-focused only, and you can find other professionals if need be. Like with People Per Hour and Upwork, most of the screening, interviewing, and vetting legwork is left to you.
9. Freelancer
Freelancer is a vast marketplace with twenty-five million registered users, twelve million job postings, and thousands of projects marked complete. The market size poses a challenge of finding the perfect software developer, seeing, as they are so many.
Web development is a popular job category on Freelancer, but you have to go through thousands of Freelancer profiles, vet and conduct the interview questions, and manage the freelancer payments. The beauty of Freelancer is its affordability, and for long-term projects, you might want to consider using matching services like Toptal.
10. CodePen.io
CodePen is an open-source code repository, which is renowned for its attractive user interface. Developers who code in CSS, JavaScript, and HTML mostly use CodePen. The platform is popular with developers, and its job board is perfect for employers looking for talented, self-motivated, passionate, and driven developers.
Final thoughts
Hiring software developers is not a walk in the park for a CTO, and if not careful, it is easy to be lured by colorful resumes. Employers need to steer away from the overly used recruitment methods of asking for resumes and past job samples.
When hiring a developer, you need to ensure you craft a very specific job post. Developers may be skilled in different programming languages, and specifying the exact wording you need is more straightforward than wasting your time and the potential candidate's. The job posting will help the candidates decide from the posting whether they can do the job or not.
Look for specific qualities in the developer. Are they team players? Are they good communicators? How do they fit into your company culture? One way to gauge the potential candidate's personality is to meet them outside an interview setting. Go to developer seminars and workshops and talk to various developers. You can also take a developer on board on a paid trial period to decide if they are a good fit.
Alternatively, you can use hiring sites to look for a developer. Some of the top hiring sites like TopTal do all the legwork for you. The site vets, screens, and interviews the candidates and makes it easy to find your match. The choice is up to you, depending on your budget and the scope of your project.