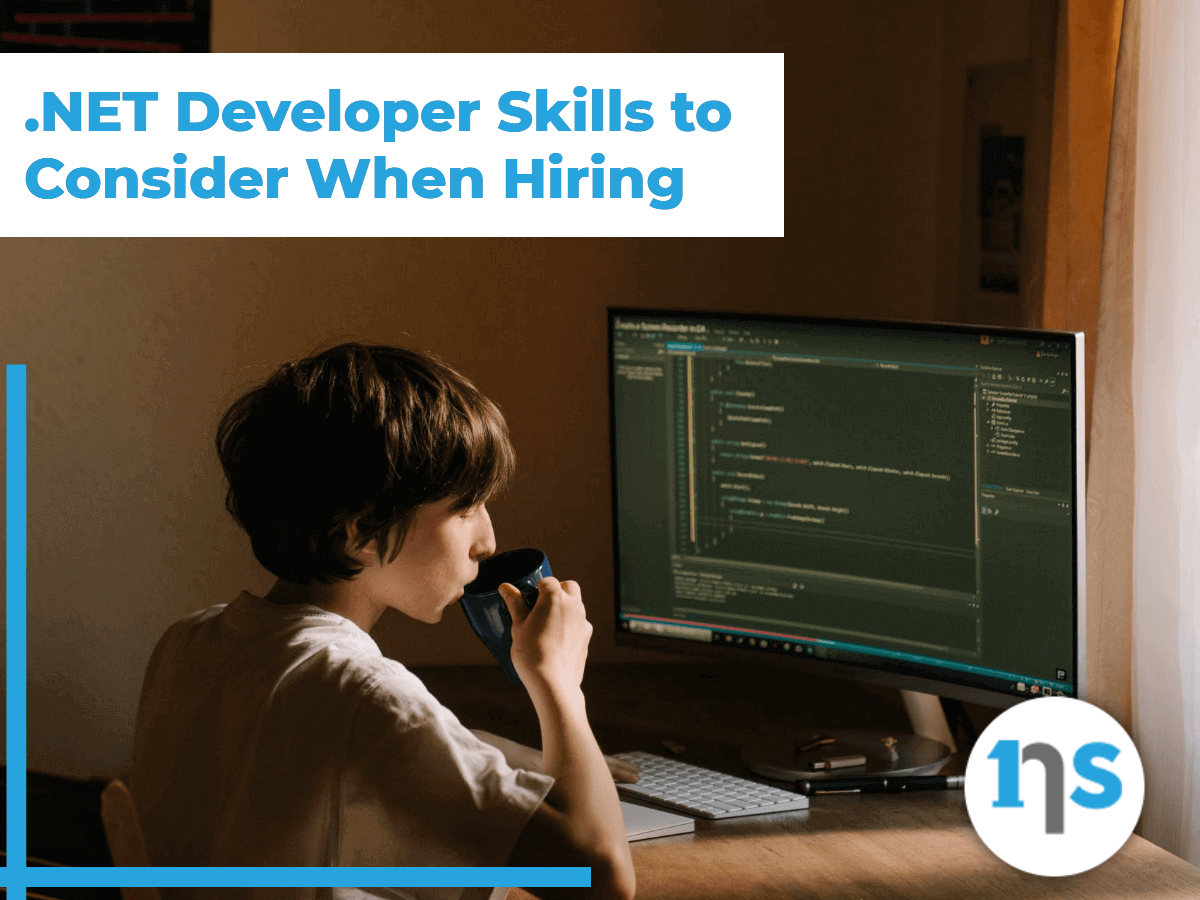 The Skills for a .Net Developer You Need to Take into Consideration When Hiring
If you have a software development project that needs a .NET developer, what are the skills for a .NET developer that you need to take into consideration when hiring?
A .Net developer is termed as an individual who designs, tailors, and develops software applications according to your business needs. Hiring one requires you to have hands-on technical knowledge of the .NET framework or outsource the process.
What is .NET?
Before you embark on the hiring process, what is .NET? .NET is an open-source software development framework by Microsoft. It provides developers with a controlled environment to develop, install and execute software, mainly on Windows operating systems.
However, this restriction on Windows OS is changing with .Net Core. Net Core was how Microsoft responded to Java's exponential growth—which explains why most of their concepts (such as languages' syntax and the execution of programs on a virtual machine) are so similar.
The .NET platform supports more than 60 programming languages. A developer can write code in more than one of these languages simultaneously and for the same app via shares elements. Microsoft developed eleven of these languages, and languages supported by Microsoft include:
C#
Visual Basic .NET
C++/CLI
F#
IronPython
PowerShell
It provides .NET developers with multiple frameworks and libraries, making it very easy to create a wide range of .NET applications—such as desktop, web, and mobile apps. This includes apps designed for the most complex business purposes.
Why .Net is Popular
.NET is among the most popular frameworks and is steadily gaining more popularity. Some of the reasons it's popular are as follows:
Speed
Applications and websites built via the .NET framework are faster. This is because .NET apps are not interpreted but compiled. Compilation means the code is first translated into object code before execution. This is faster than when code is interpreted—mainly in PHP— as translated code must be read first before execution.
More Code Control
.NET utilizes Object-oriented languages such as C#, C++, or VB.NET. The advantage of these languages is that the code is more granular, seamlessly lending itself to tests and reuse.
Multiple Apps
Over the years, Microsoft has strived to provide software developers with tools for developing the best applications—both in the technology stack and application context. .NET supports a broad spectrum of apps, ranging from 3D games, cloud-enabled apps, enterprise apps, and cross-platform web application development.
What .NET Recruiters Should Know About the Platform
Some of the essential things a .NET recruiter should learn about the .Net platform include:
Similar to the Java environment, knowing one programming language—mostly C#— does not suffice. A productive and efficient .NET developer must be proficient with frameworks and libraries such as MVC, Entity Framework, or ASP.NET web API. These are the basis of any significant commercial app built via Dot NET.
Do not rule out a potential candidate if they aren't familiar with any framework listed in your job list. .NET frameworks often have many similarities. If the candidate knows at least one, he/she should have no problems migrating to your required framework. Even without knowledge of the specified framework, they can still grasp the basic concepts and principles.
What counts in a candidate is commercial experience that can add value to your enterprise, especially as a startup. A. NET developer straight from college doesn't bring much value to enterprise coding. If you seek to hire a junior developer, education still counts, but you can consider an account programmer's experience, commercial or non-commercial. Check with the candidate if they have undertaken any voluntary open-source programming project done via .NET technology.
NET Core Framework
As mentioned earlier, the Net Core framework solves OS restrictions—such as porting the framework to various operating systems and architectures. This and other factors led to the general .NET Core framework, and now supports Windows and Linux, and Mac.
.NET Core did not replace the previous .NET version. The two are just developed simultaneously. Numerous apps have been developed using .NET and still need to be maintained and updated. Aside from this, updating a .NET app to .NET Core might be very difficult or impossible—owing to financial and technological reasons.
Skills a .NET Developer Should Possess
A developer should have core technical and non-technical skills, like creativity, problem-solving, and logical thinking. A .NET developer creates text-based apps that run on various. NET-based apps. The developer also prepares the policy and procedural documentation needed to run these apps. Here are some of the essential skills to consider.
Education level
The .NET developer should have a Bachelor's degree or formal training in Computer Science, Information Technology, software engineering, cybernetics, or mathematics.
C# Proficiency
C# is one of the most supported and popular languages in building .NET apps. The developer needs to have a thorough knowledge of async features, LINQ, Object-Oriented Programming concepts, and principles—like override, inheritance overload, encapsulation, and abstraction. Another prerequisite is knowledge of Microsoft Visual Studio, which provides C# with a coding environment.
.NET Framework Knowledge
Among the .NET developer's skills should be their deep knowledge and familiarity with the .NET framework. The in-depth understanding of the framework makes the developer aware of the framework's capability, allowing them to know where to look and what to look for when building a solution. Knowledge of things like the .NET Framework Class Library and the .NET Framework Runtime is crucial. Also, a .NET programmer needs to keep updated with the latest .NET Framework.
Knowledge of MVC and .NET Core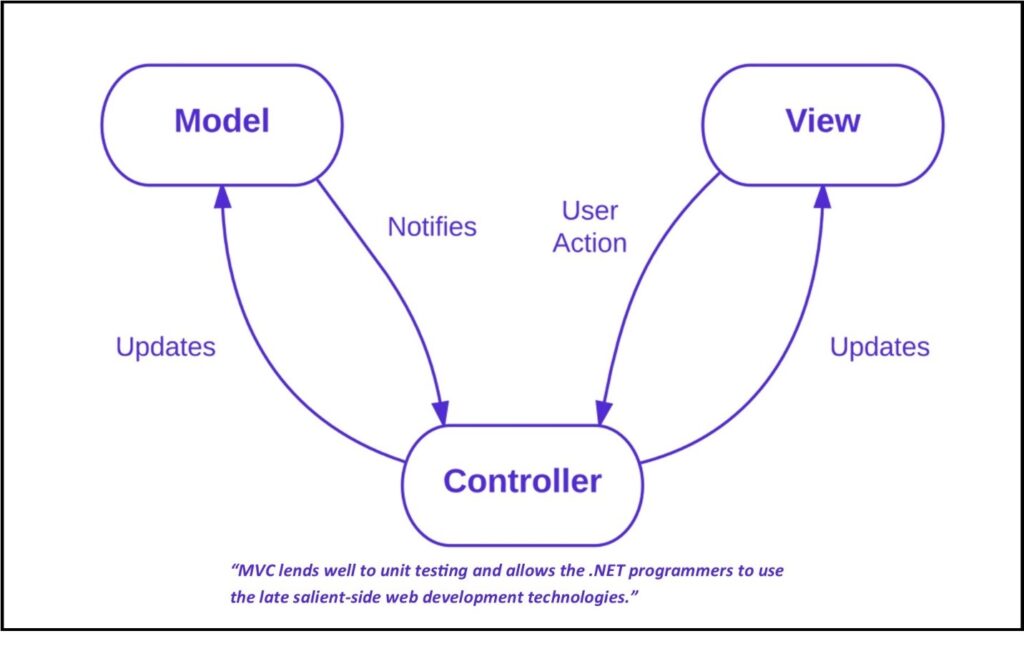 In web development, ASP.NET MVC is now a popular open-source framework. MVC enables developers to create beautiful web pages easily. MVC lends well to unit testing and allows the .NET programmers to use the late salient-side web development technologies.
.NET Core is an open-source, modular framework that has grown popular over the past few years. You can run .NET Core on various architectures and platforms, which allows you to build an application that either run on X86 and ARM, or iOS, Linux, or Windows. This makes the .NET Core an excellent option for developing desktop applications, making it a remarkable skill for a developer to possess.
Cloud Engineering
A .NET developer should be adept in cloud engineering and building cloud apps. The programmer should have expertise in cloud-computing platforms such as Microsoft Azure and Amazon AWS.
Front-End Technologies
The developer must know front-end technologies such as TypeScript, JavaScript, Angular, AngularJS, CSS, CSS3, React, Ajax, HTML, HTML5, Bootstrap, and jQuery.
Agile Methodologies
A .NET developer needs to have experience working with Agile methodologies. The .NET programmer should be capable of DevOps tools, TDD (Test-Driven Development), and BDD (Behavior Driven Development).
Database Skills
.NET developers must possess excellent database technology skills (MySQL, Microsoft Cosmos DB, and Microsoft SQL server). The developer should also be able to deal with Oracle and other NoSQL technologies.
Microsoft MVP
A Microsoft MVP (Most Valuable Professional) demonstrates the developer's commitment and passion to their profession: the. NET community.
A Microsoft Most Valuable Professional (MVP) demonstrates a developer's commitment to their profession. The .net community considers them a guru or a mentor. This highly valued and prestigious rank indicates technical and solid excellence in the .net framework.
Microsoft Certified Solutions Developer (MCSD)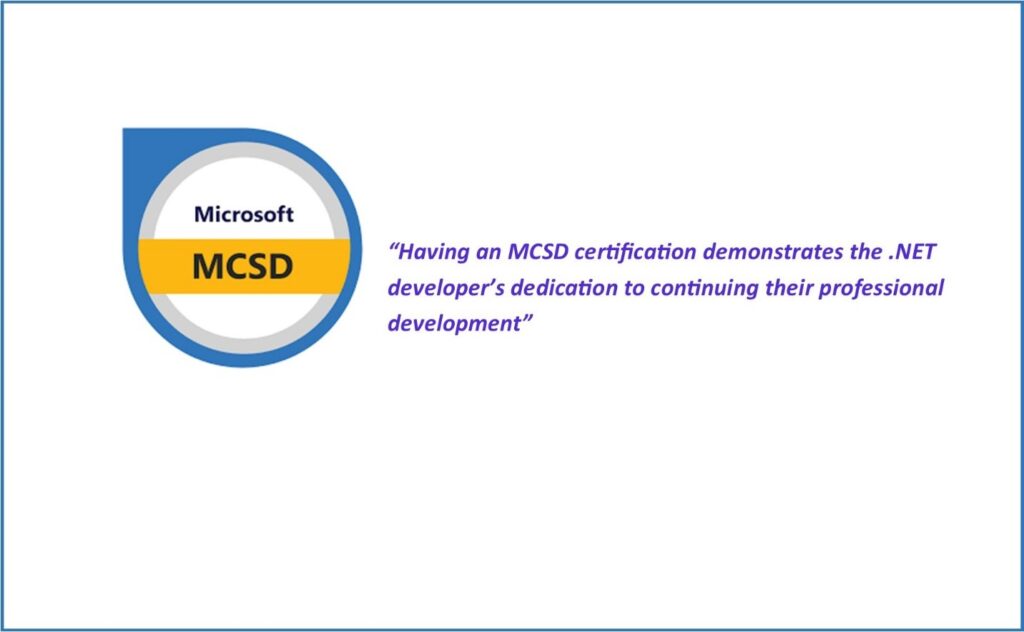 Microsoft Certified Solutions Developer (MCSD) certificate demonstrates the developer's dedication to continuing their professional development.
Soft Skills a .NET Developer Should Possess
When hiring a Dot NET developer, you shouldn't consider the developer's technical skills in isolation. This individual has to work with other development team members and needs some soft skills to cope with the job's demands. These skills include:
Critical thinking: Developers need to be critical thinkers, allowing them to execute various processes via different frameworks and methodologies to decide which one is the best option.
Ego Management: The developer needs to teach others and learn from them as well. Accepting constructive criticism is also part of ego management.
Listening skills: Developers must have good listening skills. This allows them to understand and better interpret what they hear.
Communication skills: The developer has to give brief yet detailed information to development team members, project managers, and clients.
Teamwork: The developer should have an excellent rapport with team members and establish social relationships at the workplace.
Adaptability: The .NET programmer should be able to respond to any changes that occur quickly. This goes for changes either in software development but also at the workplace.
Work Ethics: The .NET developer should possess good work ethics displayed through integrity, honesty, and initiative.
Responsibilities of a .NET Developer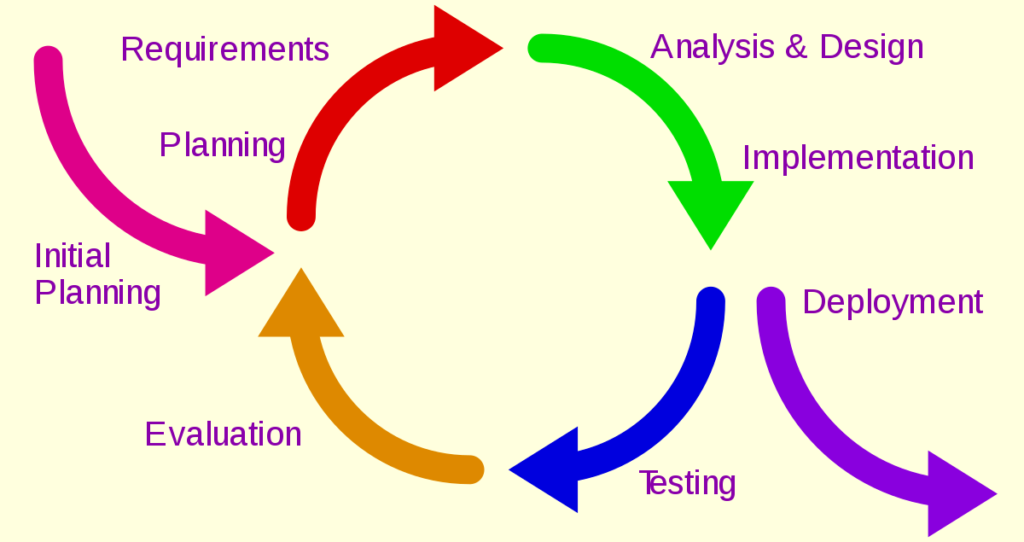 The responsibility of a .NET developer depends on the application they're developing. The responsibility of a .NET programmer is similar to any other developer, but a senior full-stack developer may need to manage a development team.
Collate client software requirements
Research and evaluate the technologies and products related to the software development project
Develop specifications, client displays, interactive user interfaces, and architecture using the .NET framework
Develop and test the software prototypes
Write excellent quality code that meets client-side specification and requirements
Design and develop all back-end deployment and maintenance procedures
How to Verify a .NET Developer's Skills
You can verify a. NET's developer skills in different ways during the early screening process. Resumes cannot tell you everything you need to know about a developer. You should not ask them questions based on their resume, and you have to test their skills to see if they can walk the talk.
This all calls for you to be a techie who knows the ins and outs of .NET development. If you aren't a techie, you can outsource the process to a software development company, offshore it, or get a freelancer from the many freelancer platforms. After you shortlist based on their resumes, invite the developers for either a face-to-face interview, video, or phone interview.
Tips to consider before the candidate interview
Before you embark on a .NET developer search and start asking them advanced questions, prepare a list of things that will help you choose the best developer.
1. Coding mentor
A coding mentor is provided when—or if—you're looking to hire a junior .NET developer. If you need to hire a developer who will need to acquire some novel skills and adapt to your team, the newcomer needs a mentor to guide and teach them, help them fix bugs, as well as improve app functionality, etc.
2. Look out for Motivation
It would be best if you were on the lookout for your candidate's level of motivation. Identify an individual who knows what they want and plan how they intend to achieve this. This will be an employee who will be easy to work with and who has initiative. They will strive to learn more and ensure they are updated in everything in the .NET development world. If you are looking to hire long-term, ensure that you get a candidate who stays around for at least two to three years.
3.     Make a List of the Skill Set
Write a list with the skill set description. Make a detailed job description post as well to remove any miscommunication. This shortlists people without your desired skills. Ensure that the shortlisted candidates have at least half of the skills you list—both technical and soft skills.
4. Prepare a Technical Skill
A technical test is the best option for selecting a candidate. During the technical test, you can check the candidate's analytical thinking and whether they follow due process and the set code-writing and code style standards. The test does not need to be complex but needs to be enough to check how good the developer is at their job. The test can also check how good the candidate is at decomposition. This checks how well they can divide the tasks at hand and implement them in an orderly fashion.
5. Attend Conferences and Seminars
Attending conferences and seminars leads you to meet the motivated developer. Passionate .NET programmers will often be found in such meetups, seeking to learn more, network, and stay updated in their craft.
Net Developer Questions
To select the best candidate, you can test their technical skills by asking questions about their field. Here are some of the most commonly asked questions.
Basic .NET interview questions
What is an unchecked keyword?
Where is the entry point in the program; where and when does it exist?
Main differences between String and StringBuilder
What are out and ref keywords?
The main differences between ValueType and ReferenceType
Which are the OOP basic principles?
Differences between Abstract class and Interface
What are .NET Namespaces?
What is MSIL in .NET?
What are the functions the .NET Assembly performs?
What is .Net Assembly Manifest?
Middle or Senior .NET Developer Interview Questions
Design patterns
Validation
LINQ
EF Core
Async/await
JWT token
Identity server
Reflection
Exceptions
Briefly explain the ASP.NET page life cycle.
What is view state in ASP.NET?
What's the difference between Response.Redirect and Server.Transfer?
Explain what the ASP.NET session state modes are
List some of the various ASP.NET validators
Explain the difference between Thread and Task in .NET
Soft Skill .NET Developer Interview Questions
Teamwork
Describe the last teams you worked with. How did you work on projects with them? Describe some situations you've faced. How did you take the initiative?
Ego management
How well did you take constructive criticism? Did it offend you, or did you take it as a way to move forward and be better?
Response to situations
Discuss planning processes and your role in it. How did you deal with issues when something went wrong? Give an example of a time you took the initiative and why you took that initiative.
Adaptability
When something unpredictable happened, what was your reaction? What did you do? How did you solve the issue?
Communication Skills
How well do you communicate with colleagues on what needs to be done? Can you clearly explain yourself and make others understand your point of view?
Creativity
What outstanding achievements can you lay claim to? Have you thought up unusual and unique ideas that have helped improve a software project or integrate a technology?
Conclusion
Hiring a .NET developer needs careful consideration in terms of skills. By being intentional about the skills a developer should have, you save yourself—and the candidates—a ton of time and energy. So make sure you have the right questions for assessing their skills, and before you sign that NDA, you'll be sure you have chosen the right candidate.