While application development can be a tedious, lengthy, and costly process, it plays a significant role in the success of a business. To get a high return on investment, you should hire dedicated developers with at least three years of experience working on extensive front-end and back-end development projects. This article discusses various things about mobile and web application developers.
What is Dedicated Developers?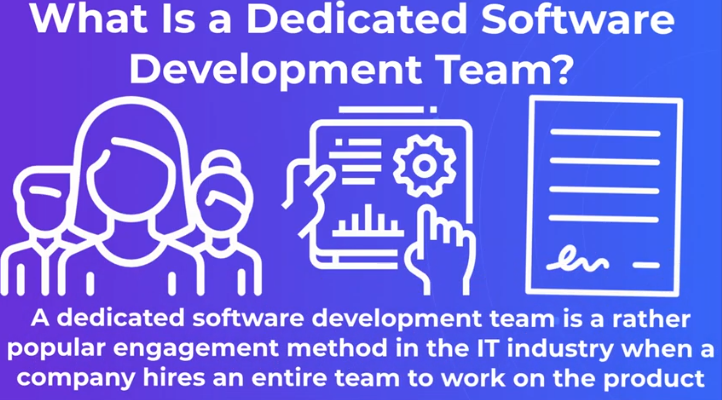 Dedicated developers are professionals hired to facilitate the development of a specific project for a prolonged period. They leverage the latest methodologies and technologies to build a solid strategy based on your business needs.
They help businesses run and maintain their operations efficiently. Further, hiring an Android and iOS programmer is one of the best ways to build your business website and mobile applications skillfully. When you hire the ideal developer, you can focus on the core aspects of your business as they maintain top-notch software development.
There are various hiring models through which you can hire dedicated developers based on the complexity of your project and budget. These include the full-time, part-time, or hourly model. Here are the different methods of hiring dedicated developers.
· Freelancers
Freelance developers are independent groups or individuals who can work remotely from a small office or from home.
· Dedicated Development Outsourcing Model
Software development outsourcing involves contracting the development needs of your company to dedicated teams managed by an outsourcing firm.
· IT Staff Augmentation
In this concept, a firm collaborates with an IT staff augmentation service provider to build the application at the company's office. Often, the hired developers offer support to the already existing in-house IT staff.
How Dedicated Team Works
A DTM (dedicated team model) is a group of specialists who work remotely on a project. Through a dedicated team, a company can speed up a product's time to market and boost clients' business processes.
Dedicated teams are also cost-effective. Worth mentioning is that this team is a separate group that comes with its management and framework. Here are steps to help you understand the dedicated team concept better.
Customers must outline their needs. For example, they must indicate the number of employees required for the project, technical skills, and character traits required.
The service provider must hire a dedicated team that conforms to the project requirements. The client and the group should work together to determine the workload and study the project requirements for the stated time.
The dedicated team comprises experts who monitor the operations to guarantee a smooth running of the project. The team works during regular working hours.
The client enjoys full management rights over the team and project. On the other hand, the dedicated team's services strive to deliver the best results.
When Should you Hire Dedicated Developers?
Hiring in-house skilled developers can be time-consuming and costly, so some companies choose to hire offshore developers. Here are various scenarios where you may want to hire a dedicated development team.
When you want to replace talent gaps within your team with professionals with specific skills, sometimes the in-house development team lacks the ideal experience and expertise for a particular project.
Hiring dedicated developers with a broad and solid understanding of technology allows companies to leverage the latest technologies in the market. For example, your mobile app development company can have a qualified team of developers but lacks the right team to test your products' functionality and UI/UX.
When you need to respond to sudden development needs fast. Often, your company may encounter needs that surpass their capacity or understanding. Hiring a team of dedicated developers from regions with cost-effective labor charges, in this case, helps you to cut down on expense and schedule differences.
You will only need to pay the developers the agreed-upon salary for the number of hours they will work. Worth mentioning is that remote developers offer project flexibility, allowing you to successfully handle any arising changes in the project needs.
When you need to lower your operational costs, here, the need for remote developers is hired because the vendor executes all the administrative, HR, and infrastructure-based tasks. They also manage the risks that team scaling poses.
How Dedicated Software Development Works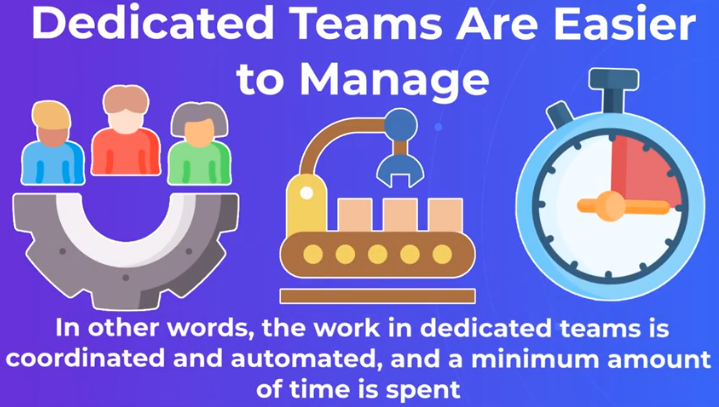 Dedicated software development is the approach where a professional virtual team is intertwined into a client's software project even though they work away from the vendor's office. Usually, the vendor identifies the group, establishes the workflow, and coordinates internal and external.
Dedicated Developer Vs. Development Team
Dedicated developers are project management, designers, or QA professionals who work on a specific project to completion. On the other hand, a development team comprises individuals who work on projects remotely. Each option comes with pros and cons that you should consider to help you choose the best option that meets your needs.
Pros of Dedicated Developers
· They are Highly Motivated
Dedicated developers, often in-house teams, are inspired to execute their tasks appropriately. Finding skilled programmers passionate about giving their organizations the best agile software development services in the USA is easy.
· Enhanced Communication 
When problems arise, the entire team of in-house developers can collaborate to fix the issue immediately. Companies can make fast decisions and adopt better solutions to improve their customer's experience when working with dedicated developers.
· Early Debugging
Dedicated developers often work in your office. As a result, detecting problems and solving them early enough becomes easier.
Hiring dedicated developers come with various drawbacks, such as
The cost of maintaining in house developers is high
The hiring and orientation process can be time consuming
Pros of Working with Development Teams
· Cost Saving
Often, development teams work remotely, meaning that maintaining them is cheaper than an in-house team. You can even negotiate their salaries based on the tasks at hand.
· Flexibility
Working with dedicated teams allows companies to either increase or reduce team members based on the complexity of your project.
· Extensive Expertise
Working with development teams exposes you to a talent pool in various sectors. Whether you are looking for Jira or PHP experts for your eCommerce platform or React Native professionals to boost the operations of your business in the healthcare sector, the options are limitless. What's more, you can conduct interviews and shortlist candidates through Skype.
· Speed
Development teams work as a group, meaning they will complete your projects within the agreed-upon timeframe.
The drawbacks of hiring a development team include:
· Lack of Full Control
Working with dedicated developers means you have complete control over the entire team and can monitor the development process. That does not happen when working with development teams.
· Time Zone Challenges
When working with development teams, sometimes you will need to outsource your work to a different country. Working in different time zones can be challenging, especially when you require immediate support.
How to Hire a Dedicated Developer Team?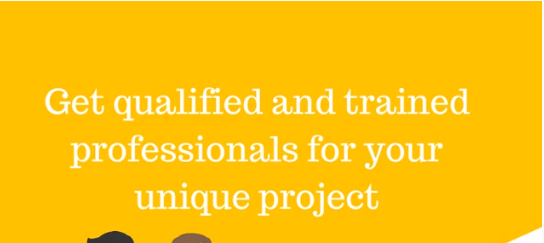 You need to be well prepared to hire a talented, dedicated team. Here are tips to ease the hiring process.
· Select a Partner Company
Choosing an ideal vendor who offers the services of a dedicated development team is the first step of the hiring process. Remember, you must conduct this step carefully to pick the suitable partner that meets your technical tasks.
· Conduct Market Research
The market is critical in finding the right software company for your product development needs. Begin your search from websites like IT Firms, GoodFirms, and Clutch. Such websites collect information about development vendors from different parts of the world. Always choose companies with your desired expertise. Remember, the longer the company you choose has been in the market, the more software experience they have.
· Analyze the Company's Previous Projects
A reliable vendor should have a collection of previous works. Check through the launched technology products on their website for more details.
· Read the Company's Reviews
Today, many individuals and companies rely on customer reviews to determine the effectiveness of a product. A reliable company should display its review page for its visitors to see. Still, you can read reviews from various other platforms online.
Why Hire a Software Outsourcing Company?
Working with an in-house software development team can be costly, especially for startup businesses. However, you can reduce costs by outsourcing some of your project development tasks to another company. If you are yet to decide whether or not to outsource your development, here are reasons why you should give it a try.
· Acquire Domain Knowledge
While your in-house team may be talented and up to the task, the chances are high that their skill sets are not as solid as those of the entire team from a software development company. Bringing in a group of new hires helps drive innovation, resulting in a high-quality product.
· Boost the Flexibility of Scaling a Project
Often, different factors can prolong or shorten a project or make it cheaper or more costly than expected. The best thing to do during such times is to scale your project. Having a substantial in-house team that may be of less importance at that moment could do nothing to prevent the losses.
On the other hand, the lack of enough people for the job can be daunting. Software development outsourcing firms can remove or add team members to the project as the need arises. Such improved scalability levels can be some of the biggest wins any CTO or CEO can gain from the entire outsourcing experience.
· Collaborate with a Managed Team
While individual developers can save you labor force, money, and time, management plays a critical role. Hiring a suitable manager for your in-house team of developers can be a difficult task. However, when you outsource, your team will be under proper management. While you will need to offer guidance for the project until completion, your company's roles will be minimal.
· Focus on the Core Operations of Your Business
Outsourcing your development tasks allows you to focus on the core operations of your business. You will focus on improving effectiveness and productivity and work towards achieving your goals with minimal distraction.
How to Find Dedicated Developers
Once you are ready to work with dedicated programmers, try.
· Search Engines
Submitting a simple request on Google or any other search engine generates numerous specialists.
· Freelancing Platforms

Freelancing platforms such as Upwork are excellent sources where you can find talented developers from different parts of the world. You can narrow your search to your preferred experts and have assurance against untrustworthy contractors.
· Word of Mouth
Word of mouth is one of the most effective referral methods. However, you should have a vast range of contacts to get suitable candidates.
· LinkedIn
LinkedIn is a business social platform that allows hiring managers to search for talent from different parts of the world. The platform specializes in vacancies and offers no guarantee against the risk of contracting fraudulent partners.
How to Hire the Best Dedicated Developers
Here are tips to help you hire the best-dedicated developers for your software development project.
· Establish Your Business Requirements
Before hiring dedicated developers, you need to understand your business needs and outline your project plan. Doing so fast forwards the hiring process. Qualified developers will only stick in your company if they clearly understand your project.
· Hire Developers from the Appropriate Platform
To find the right developers, you need to know where they spend most of their time. Using the right platform helps you hire reliable and trustworthy developers. Google, freelancing websites, and social media platforms are some of the most effective platforms you can use to find talented developers.
· Assess Domain Knowledge
Once you identify potential project managers, focus on determining their skill set and domain knowledge. The person you hire should be conversant with your unique development domain. Their knowledge of the latest methodologies, technologies, programming languages, and tools will be vital to building a high-quality product.
· Use a Non-Disclosure Agreement to Safeguard Intellectual Property
An NDA (Non-Disclosure Agreement) is an essential, legally binding contract. It defines the information and confidential resources that the parties will be sharing for specific reasons. However, it bars the hired party from disclosing information to third parties.
Before hiring dedicated developers, you need to ensure they sign an NDA. Doing so means that all the developers will keep any information and data at their disposal private under all circumstances.
Qualities of a Dedicated Developer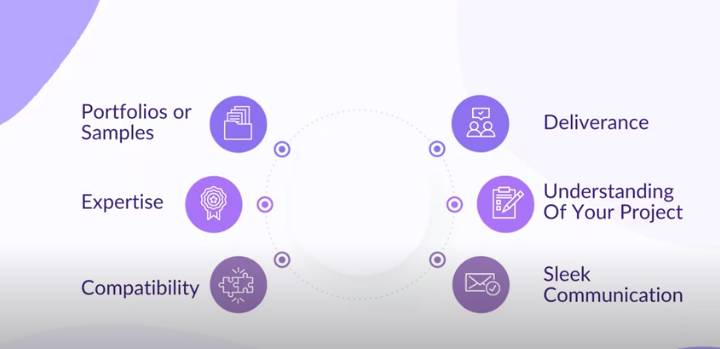 The ideal cross-platform app developer must possess various qualities, which include:
· Professionalism
Dedicated developers must have excellent programming skills and proficiency in related technologies. A superb development team knows the importance of innovation and invests time in it. They keep pace with the latest technology trends and understand how to incorporate them into your project to boost performance.
· Creative Problem Solvers
Designing websites or coding for software programs from scratch can be daunting. An excellent developer strives to find strategies to make processes work regardless of their challenges. Sometimes they need to be creative in finding a functional solution. The right developer is the one who believes that nothing is impossible. Proper working knowledge of the framework or language they are using is critical. Once developers understand the code's abilities or limitations, they become more creative and develop workable ideas for finding a solution.
· Commitment to the Goal
Setting clear and measurable goals is crucial for any web development team. Before creating short-term and long-term goals and allocating tasks to the team, you must ensure that everybody understands your vision and goals at the end of the project. The developers should believe in their abilities, and the client should inspire them to give the project their best. Doing so helps you develop reliable software and a web app development team.
· Excellent Communication Skills
Communication enables a team to function correctly. The two critical forms of communication for dedicated development teams are communication within the team and communication with the stakeholders. Encouraging good communication between teams promotes effective processes and software solutions. Communication is vital for a successful collaboration between parties. The project manager should always lead the communication between the team and the client.
· Commitment to the Goal
Setting clear and measurable goals is crucial for any web development team. Before creating short-term and long-term goals and allocating tasks to the team, you need to ensure that everybody understands your vision and goals at the end of the project. The developers should believe in their abilities, and the client should inspire them to give the project their best. Doing so helps you develop reliable software and a web app development team.
· Business-Mindedness
A talented developer focuses past their current project and envisions the bigger picture for their clients. Being business-minded can help them design new automated processes or applications to help the company save money and time. You don't have to be passionate or possess a degree in macroeconomics to be business-minded. Demonstrating interest in specific aspects of the business outside your core scope helps you understand the company's goals better.
· They Understand the Business Rationale of the Digital Product
Good development teams understand the actual customers. They build a product that meets the end user's needs. By communicating with the client or stakeholders constantly, they know the end-user's desires and strive to make informed technical decisions.
· Excellent Planners
Before tackling it, a talented developer takes time to learn and understand the project and the preferred end product. They then outline the whole structure of the project before designing a single line of code. This step is critical because a single miscalculation can hinder the project deadline, prolonging it beyond the expected completion date. Proper planning eliminates unnecessary delays.
· Excellent Debugging Skills
Writing and creating code is only a tiny percentage of a WordPress web developer's job. They should also recognize problems before they arise. Instead of blindly making changes, the ideal developer should be conversant with modern browsers' different web development tools.
Finally
Hiring dedicated developers who can help you achieve all your web and mobile application needs and deliver excellent software solutions based on the expected time and help you save money is suitable for businesses. However, you will need guidance to recruit the right candidate or team for your project.