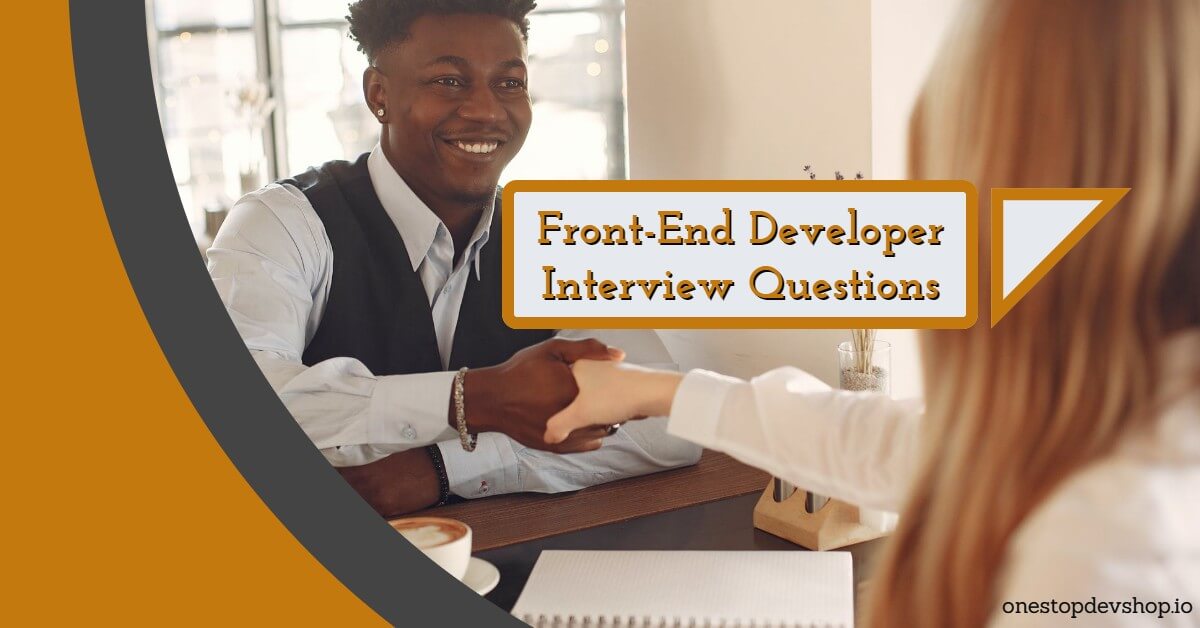 How to Craft Thorough Front-End Developer Interview Questions
With the Covid-19 pandemic came WFH (Work-From-Home) and social distancing concepts. Interviewing front-end developers has shifted to online interviews. However, you still have to ask the same questions as if it were a physical interview, which is more economical for a startup.
The crafting of front-end developer interview questions needs an analytical mind as well as a touch of tact. The questions need to be able to bring out the developer's technical and soft skills simultaneously.
Top tech companies employ front-end developers to build convenient, elegant, interactive, and responsive interfaces on various devices and platforms.
What does a Front-End Developer Do?
The front end of web applications or sites is the user interface that the user interacts with. This front-end development comprises of buttons, animations, images, typography, and forms. The definition of a front-end developer is a programmer who codes for a website's front end.
The developer's main task is to ensure the website's appearance remains uniform on all devices and across platforms. Front end developers handle the design, layout, and navigation elements of mobile apps and websites.
They must therefore be highly qualified in CSS, JavaScript, and HTML. The front-end developers typically have support from back-end developers who handle the server-side integration and logic of the front-end programmers' job. The front-end developer might also be a full stack developer who can work on both the front and back-ends.
Why Should You Write a Good Job Description for A Front-End Developer Role?
Before you conduct any job interview for a front-end developer position, you need to write a catchy job description and ad that separates concerns. You cannot write a generic job description asking for a web developer when, in essence, you are looking for a front-end developer.
The generic ad will have your ad flooded by back-end services specialists or web designers with no programming experience since some technologies are common knowledge to all web developers. The ad should specify that the front-end developers have the following skills:
Proficiency in web markup, including CSS3 and HTML5
Knowledge in closures, distributed XHR calls, HTTP, callback hell, cross-domain scripting, async/sync, etc.
Knowledge in Java algorithms and data structures, JavaScript with frameworks, and System Design and DOM
Basic proficiency in CSS pre-processing platforms of the server-side such as SASS helps organize large stylesheets and quickly gets smaller stylesheet running.
Proficiency in JavaScript frameworks such as jQuery and client-side scripting. All front-end developers must be proficient in JavaScript, while only some front-end developers need to know jQuery.
Depending on case merit, a front-end developer must be proficient in advanced JavaScript frameworks and libraries such as DurandalJS, ReactJS, AngularJS, BackboneJS, etc.
Proficiency in AJAX, asynchronous request handling, async wait, and partial page updates.
Basic understanding of image authoring tools. The developer should be able to resize, crop, or make small image adjustments and be familiar with tools such as Photoshop or Gimp. A UX/UI designer should deliver a complete resource to be incorporated into an app by the developer. A front-end developer, most times, needs to make adjustments.
Understand why HTML5 History API is crucial for SPAs (Single Page Applications)
Proficiency in problems that plague cross-browser compatibility and know how to work their way around the issues. An example of an answer is changing the DIV positions on Microsoft web pages since the browser might be more problematic than Firefox or Chrome.
Proficiency with code versioning tools such as SVN, Mercurial, and Git
Knowledge of SEO principles and making sure the app adheres to them. Ensure you add other libraries, frameworks like React, Angular and other technologies relevant to your development stack
List the desired education level.
Some experience in a Content Management System (CMS) such as Joomla or WordPress
Knowledge in object-oriented programming such as OOPs and PHP
Basic understanding of tools used to display web-based information to users such as Flash and Dreamweaver.
Soft skills such as teamwork and the ability to work well with others
Front-End Developer Interview Questions        
                                                                                        
Spotting good front-end developers is not easy. Some have very attractive-looking resumes but do not cut when it comes to hands-on technical skills or years of experience. Some cannot go beyond the basic queries like the difference between a cookie, local storage, and session storage-type questions.
Here are some front-end developer questions that can help you in identifying a developer's prowess. These questions will help in identifying the candidate's tech skills, soft skills, and behavioral intelligence.
Top Tech Questions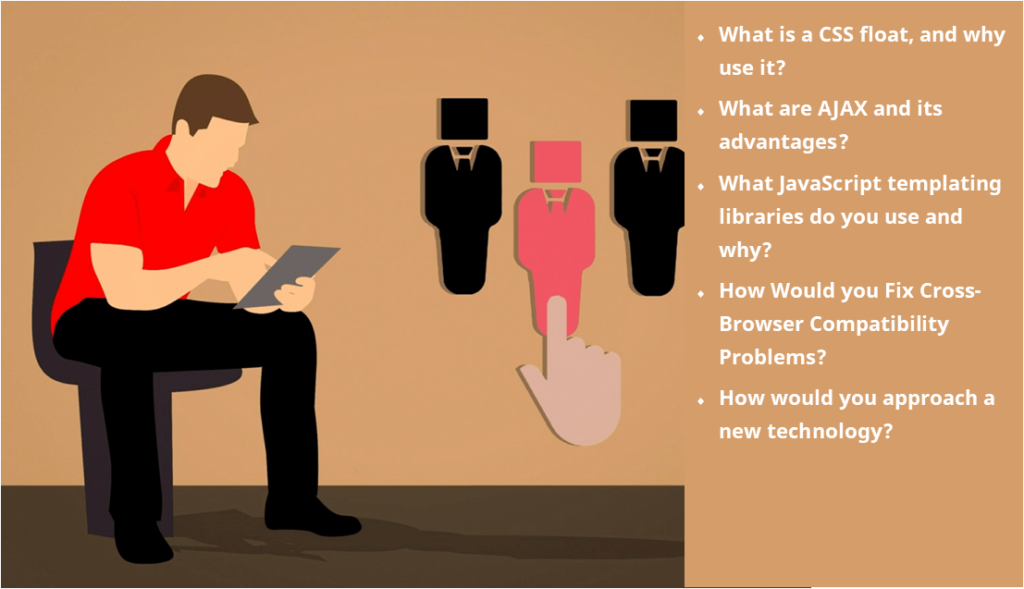 1.  What is a CSS float, and why use it?
This question is better suited for junior front-end developers. It tests how well they understand the CSS language. While the candidate must possess the technical knowledge, his or her "why" is more important.
The developer's reason for using CSS floats helps you gauge their website styling approach and whether they are a good fit for your company's position. The candidate should articulate what the CSS float property is and when to use it.
2.  What are AJAX and its advantages?
AJAX means asynchronous JavaScript and XML, although XML nowadays may be substituted with JSON). AJAX refers to a set of web design and development tools that developers can use to alter web page segments in the background and avoid reloading the whole page. This question tests the candidate's shared understanding of various web programming languages.
3.  What JavaScript templating libraries do you use and why?
JavaScript templating is a useful and straightforward strategy for separating HTML structures from JavaScript strings. This technique lets a developer become more efficient, and the candidate should have a couple of libraries they use regularly and are confident about discussing them. The candidate might answer this question by mentioning libraries like Handlebars.js and Mustache.js.
Top Soft Skills Questions
4.  Talk to me About the Process You Would Use to Fix Cross-Browser Compatibility Problems. Give an example of one challenge you might go through and how to fix it.
Each user has a preference on browsers, so you must provide the same user experience, regardless of how they opt to access your website. Web browser compatibility is a significant challenge, so the answer the candidate offers will give you a clue as to the developer's patience level.
The right candidate should demonstrate their dedication to working through difficult situations, as frustrating as they might be.
5.  If you had a chance to master a new technology, which one would it be, and what steps would you take in doing it?
This question allows you to test the front-end developer's ambition and how willing they are to learn. The web development environment changes very fast, so the more ambitious and ready to learn, the better the candidate can stay ahead of the pack. Dig deeper and ask why they would choose that technology and whether it would be relevant to their career.
6.  Which questions did you last view and answer on Stack Overflow? Are You Active on Github?
Stack Overflow and Github are crucial resources for developers and allows them to source answers and advice from the large tech community. This question will enable you to test if the candidate's skills are advanced, based on the standard of items they view, ask, and answer.
What is his or her level of activity on Github? Does he/she make contributions to open source projects. Check for signs that reveal the candidate's active engagement in the community, not just the tech communities. Also, check if they are willing to share their knowledge and expertise with the community.
Top Behavioral Interview Questions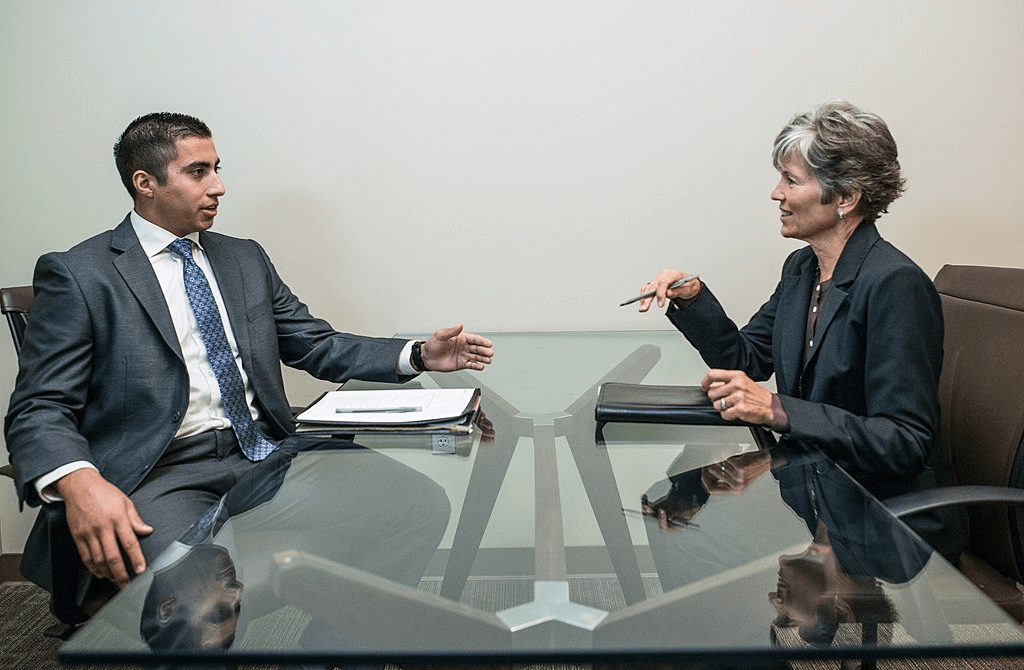 7.  When you think back on your last web app or site, what steps were taken to make it accessible and optimize it to become user-friendly?
A good front-end developer always develops a new web app or site considering the end-users comfort and ease of use. The best candidate will take this aspect seriously. Ask them about their best practices on past projects. Did they perform a test on assistive solutions to ensure the app or website was accessible to every user?
A front-end developer needs to understand accessibility and usability when designing webpages or apps. The answer to this question gives an insight into the candidate's knowledge and grasp of the best practices and standards.
8.  When did you experience a project pushback, and how did you handle the challenge?
A front-end developer should be able to work with different stakeholders from the company or the client. This allows them to create a product that meets all the client's requirements. A good developer is dedicated to his/her vision and can defend a development decision they made and believed in.
Look for people who dealt with the project pushback with ease, listened to feedback, and explained their perspective. A good answer covers how the candidate got the stakeholders to try things differently or how a compromise they proposed was implemented.
9.  What was your experience on a complex project involving multiple stakeholders, and how did you accomplish the task?
Front-end developers are a part of a larger team that works on projects to completion. Pay close attention to the candidate's approach to collaboration. Ask questions that let you understand their thought and work process and their part to push the project to completion. Look for indications that the candidate is a go-getter and a take-charge type of individual.
Conclusion
Hiring a front-end developer is not something you do off the cuff. It is a task that needs preparation and asking the right questions, both technical and soft skill questions. Hiring the wrong person, only to discover his/her soft skills are non-existent, is a waste of time, money, and effort.
Follow the right steps and ask the right questions, and you will end up with a top front-end developer who will develop a great app or web page for your company with ease.