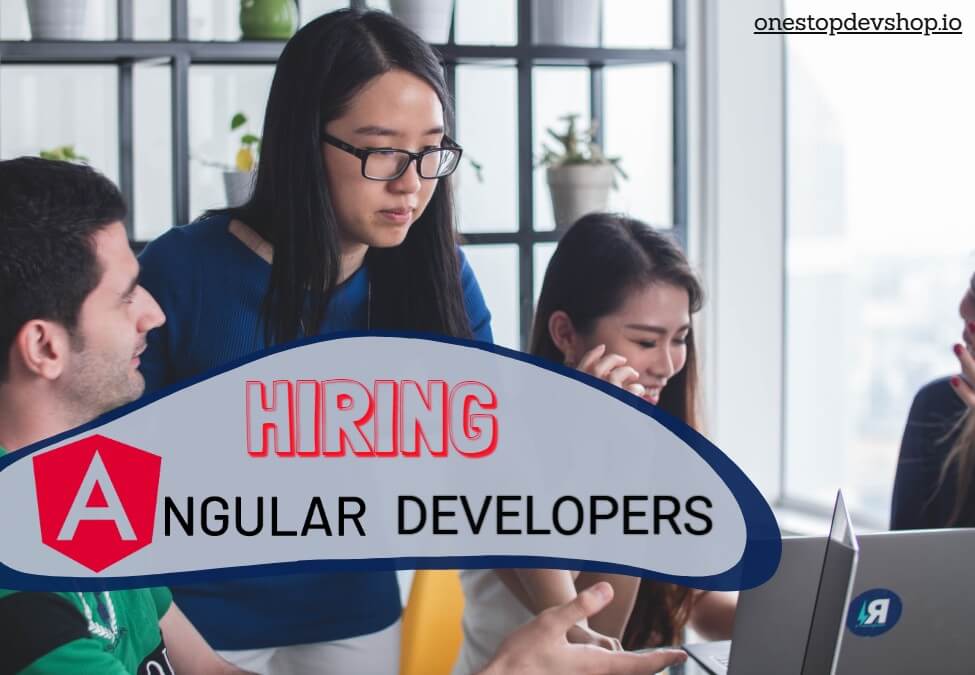 Things You Should Know Before You Hire Angular Developers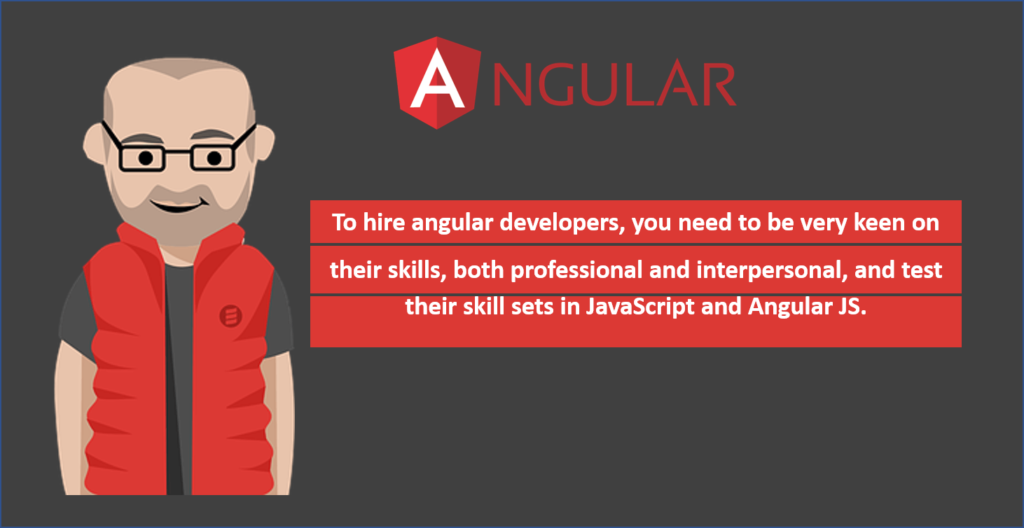 Angular is a popular programming language, and many organizations that use it include Netflix, PayPal, Nike, Sony, HBO, and others. Hiring Angular developers is part of the process of building great applications.
To hire angular developers, you need to be very keen on their skills, both professional and interpersonal, and test their skill sets in JavaScript and Angular JS.
What is Angular?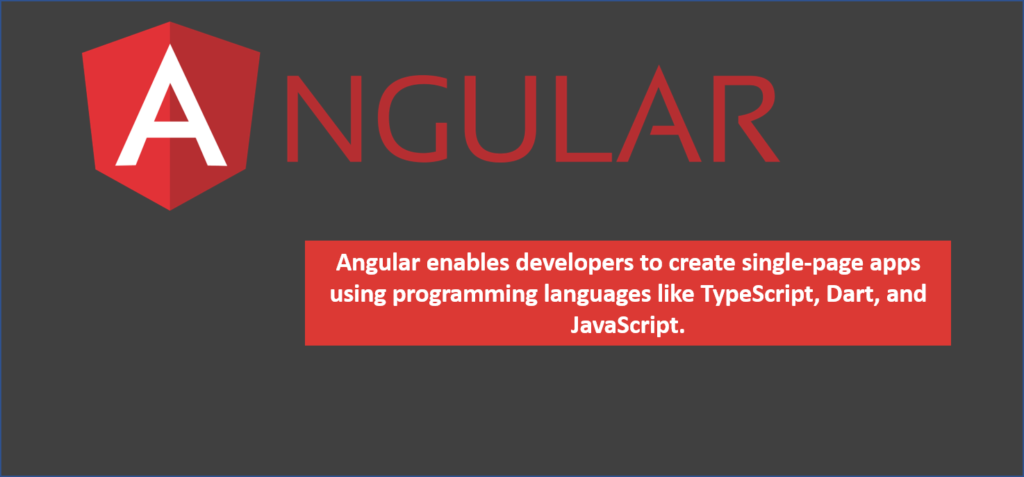 Angular is an open-source TypeScript framework that is used for mobile, e-commerce, and web application development. Angular enables developers to create single-page apps using programming languages like TypeScript, Dart, and JavaScript. Developers recommend using TypeScript as it is updated regularly, community support and provides good documentation.
Google developed Angular in 2010 and maintained the framework as well. Angular is both client and browser-based and does not communicate with a server for HTML page reloads but allows for faster and efficient website rendering. In 2016, the release of Angular 2 saw the drop of JS from its name, and instead of being known as Angular JS, it is now known as Angular, but there are some differences between the two.
Angular is a self-sufficient framework with built-in tools such as routing, state management solutions, and form validation. Angular makes use of various editing tools such as Aptana and Sublime Text. The project set up is via Angular (CLI) Command Line Interface, and the server-side rendering happens via Angular Universal. Angular simplifies application development and testing through its MVVM and MVC frameworks.
Differences between Angular and AngularJS
AngularJS is the previous version of Angular that is in use today. Angular is a blanket term for all the new versions from 2-9. Angular 2 was a total rewrite of AngularJS, and some of the differences include:
Angular is TypeScript based while AngularJS is JavaScript-based
Both frameworks are built differently, and AngularJs uses controller and terms of scope while Angular uses component hierarchy.
AngularJS development allows you to use either customized directives or the existing ones. Angular only has standard directives, which can be utilized in different ways.
The rewrite of AngularJS divided the framework's core functionality into separate modules, which allowed for a lighter, yet lightning fast core. Angular is better in mobile performance problems, which allows for an easier time in desktop development. Some of Angular's strengths include:
The TypeScript in Angular allows developers to optimize code, and for consistency
Supports several programming languages
It has a more straight forward routing mechanism
It is suitable for large, complicated, and highly scalable applications
Allows for easier testing
It is a great choice for applications with an extended interface and single page
This does not imply for a second that AngularJS is an unsuitable choice, but mostly depends on your requirements and plans. Dedicated AngularJs developers still exist, and the framework still in use.
As an open-source framework, you can use AngularJs for app development
AngularJS supports most platforms and browsers such as Android and iOS
AngularJS is light and perfect for small app development
Since it uses HTML, it is a simple framework for app developers
This comparison of Angular and AngularJS should act as a guide in deciding the type of Angular developer you need for your project management.
What an Angular Developer Does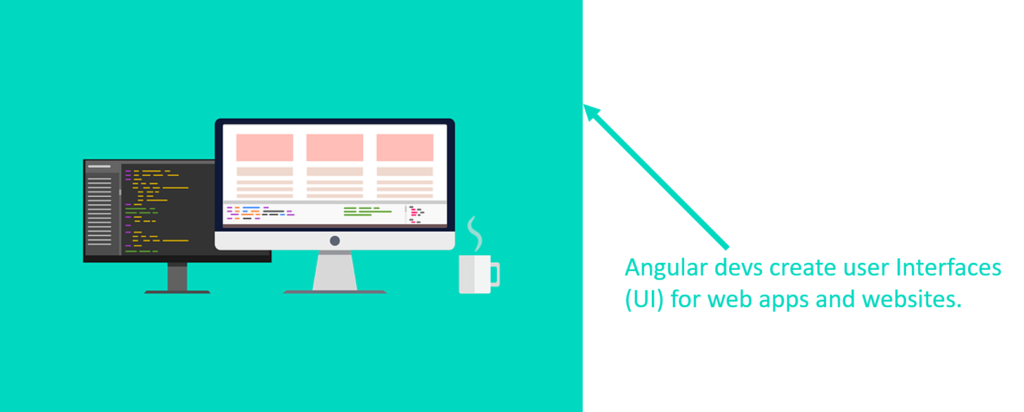 An angular developer works on the UI (User Interface) side of the software. The developer creates pieces of software and integrates them into a final product. Working with various frameworks needs the developer to possess specific technical skills, as so well as some soft skills.
Angular developers are JavaScript developers who have a deep knowledge of software engineering concepts. Angular developers' core job is to work on the client-side of software. They can create a User Interface (UI) for web apps and websites. Angular developers also work with module and component creation, which allows them to develop great software.
Angular experts also tend to the interactive front-end development of a web or mobile application. They can build high-performance software and work with back-end developers to ensure the building of a SPA (Single Page Application) such as a mobile app, and fulfills all technicalities.
Angular developers also carry out unit testing after the development stage. They test code units, components, services, etc. The developers should also know how to access APIs (Application Programming Interfaces) and external data supplies when they need to get data from a third-party service.
Which are the Essential Skills Needed to Hire AngularJS Developers?
It is quite a challenge to hire the right Angular developer for your Angular Web Development projects. Here are some of the FAQS on the different skills you should consider before hiring an Angular developer.
Knowledge of JavaScript, CSS, and HTML
The Angular developer you hire should be good at JavaScript framework, its core, CSS, and HTML. The candidate needs to be aware of UX concepts, element position, and interaction.
Deep Knowledge of the Angular Framework
The developer must have an in-depth understanding of the Angular framework. Since the Angular framework is updated regularly and new versions are released, a developer must stay updated. They should be familiar with RxJS, Git Able, and npm, and translate wireframes to front-end codes.
1) Good TypeScript Command
The candidate should have a good command of TypeScript. Angular is in TypeScript, a superset of JS (JavaScript), underwrites strong typing, and has fewer bugs.
2) Web Markup Knowledge
The web developer should have a deep knowledge of web markup, which primarily focused on HTML and CSS. A developer with web markup knowledge understands UX concepts and the interaction and positioning of the elements.
3) Experience with RESTful API
The developer needs to have experience with RESTful API, which involves HTTP requests to PUT, GET, POST, and DELETE data, and should have the ability to read and apply API documentation efficiently.
Knowledge of Node and Webpack
Technologies such as Node and Webpack add extra features to Angular applications, making the development process easier. A developer with these extra technologies has an extra advantage.
The candidate has to have attention to detail and pick up on minute mistakes, which means he/she can write high quality code. It is always crucial to spot errors earlier on in the project because it saves a lot of time and effort later on.
5) Good Communication Skills
The developer you hire needs to be an excellent communicator, which includes understanding what others need or want for the intended app.
The potential candidate should be a team player, which is closely related to the ability to communicate. Being a team player means the developer should be able to work well with others. Most development teams use Agile or Scrum methodologies, which the candidate should take in stride.
6) Experience and Expertise
Based on their years of experience and expertise, Angular developers are categorized into three categories:
Basic:

These developers have critical front-end skills, including JavaScript, HTML, CSS, Angular or AngularJS knowledge, libraries like NGX Bootstrap, Angular components, Prime BG, etc.

Mid-level-

These developers have all the crucial front-end skills but can work with other front-end frameworks like React. These Angular developers also possess a deep knowledge of back-end concepts such as Node.js, RESTful APIs, etc.

Senior

- These developers are both front end developers as well as and back-end developers
Should You Hire a Full-time or Freelancer Angular Developer?
In-house Angular Developer
The average hiring cost of a full-time or part time developer can shoot to $4,000 for huge corporations and at least $400 for startups and small businesses. This cost includes creating an Angular development job post, distributing the job post via job-seeking platforms, social media ads, interviews, onboarding, and other costs.
Having a full-time employee has its advantages, such as their availability on-demand, it becomes easier to collaborate and communicate among team members. Hiring an in-house developer is not always possible, especially for small businesses or startups trying to get an ROI. Hiring an in-house developer means you need to pay for office premises and pay overheads.
It is easier to have an in-house developer sign an NDA (Non-Disclosure Agreement) and hold them accountable if anything goes south. The long hiring process is expensive and disruptive, and if it fails, you will have wasted time and money, and rehiring means you have to repeat the entire process.
Freelancer Angular Developer
Freelancer developers are more affordable. You pay on a per-project basis, and you can turn the freelancer developer into a team member. Hiring a freelancer has both advantages and disadvantages. The freelance pool is wider than the local pool since, in the former, you can engage a developer from other countries. For example, according to PayScale, freelancer Angular 2 developer costs:
USA -$8,600
U.K - $8,100
Australia -$7,750
Asia- Has varied prices such as India -$610, Malaysia $930 and Singapore $3,530
Some of the downsides include the difference in time zones, lack of having the developer available, and not cross-check their credentials, leading to a lack of control in their work quality. You can control these freelancing challenges using several methods. One method of doing this is to recruit Angular developers from various platforms that vet their talent.
These platforms allow you to create job posts, pore through the applications, and assess the potential candidates. You can request the candidates' portfolios and request them to go through a paid trial project. Some of these platforms cannot guarantee you that the freelancers are fully qualified for these jobs, and even if a remote freelancer from a different country signs an NDA, it is very hard to hold them accountable.
Other platforms such as Toptal boast of picking top Angular developers, their focus on the results and the experience for both the talent and the employers, and various flexible engagement models.
How to Find Angular Developers
Other than hiring model platforms, you can use several ways to find Angular programmers.
Use your website and post great content and methods such as SEO(Search Engine Optimization), attracting more visitors. The visitors will visit your career page, so ensure it is well done and has all the information for potential candidates on job listings.
Various job portals allow you to increase your audience reach with paid and free job postings such as Honeypot and ZipRecruiter.
Online webinars are one way you can share knowledge with others and position your development company as an expert in Angular development services. Organizing an Angular-theme webinar will attract potential developers.
Referral programs are a sure way of adding to your talent pool. Awarding people for candidate referral when you employ the candidate is one way of running a referral program. This means nobody will refer a less than qualified developer for the job post.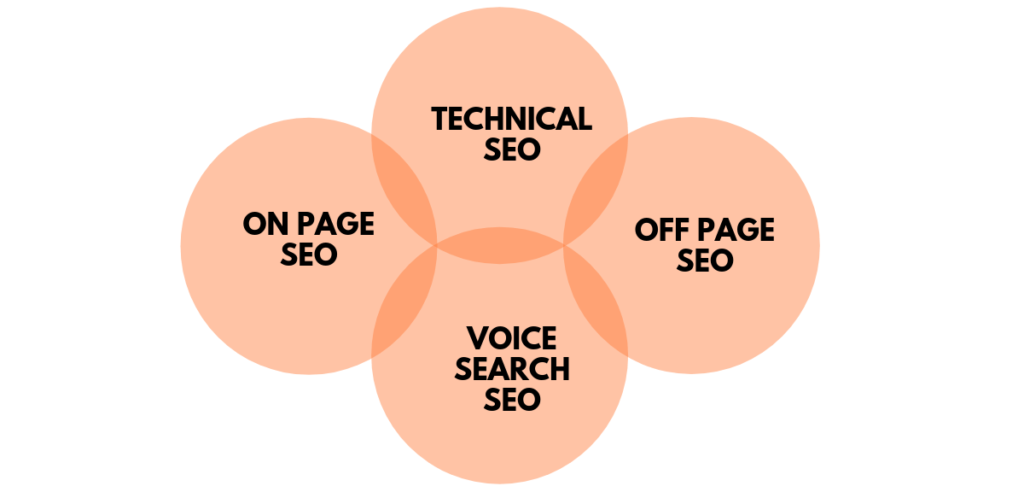 Using SEO (Search Engine Optimization) creates web content that can attract an Angular developer to your website due to an organic search result.
Use social media such as Facebook, Instagram, LinkedIn, etc. to discuss your open position.
Top 10 Platforms You Can Hire Angular Developers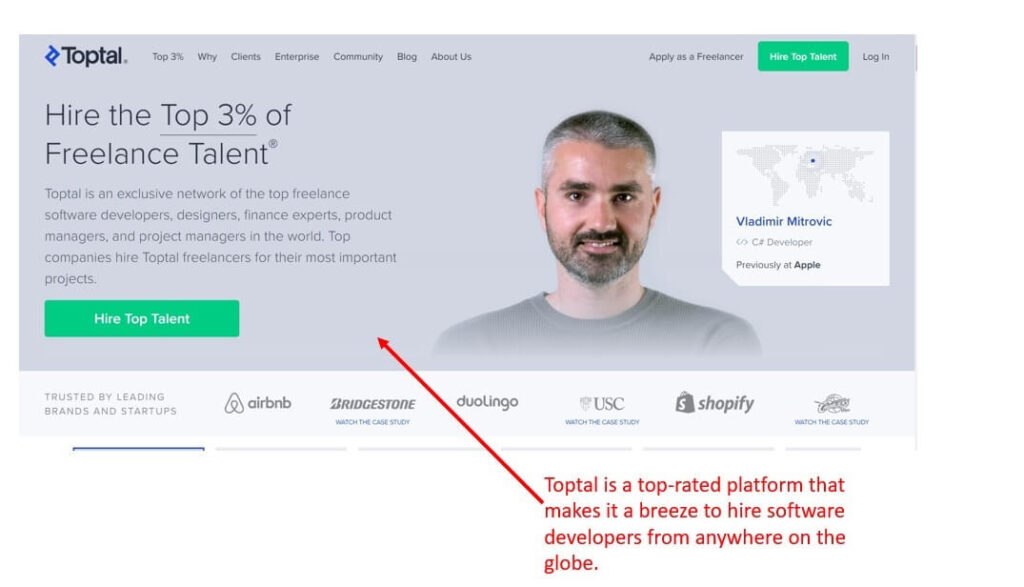 Toptal is one of the best platforms that make it easy to hire Angular software developers worldwide. When the platform was created in 2019, tech talent was intended but later accommodated designers and finance professionals. If you want to hire an Angular developer, shorten the process and hire an excellent developer, use Toptal. The platform has a top-rated crop of software developers as it only picks the top 3% of the applicants who pass their rigorous vetting process.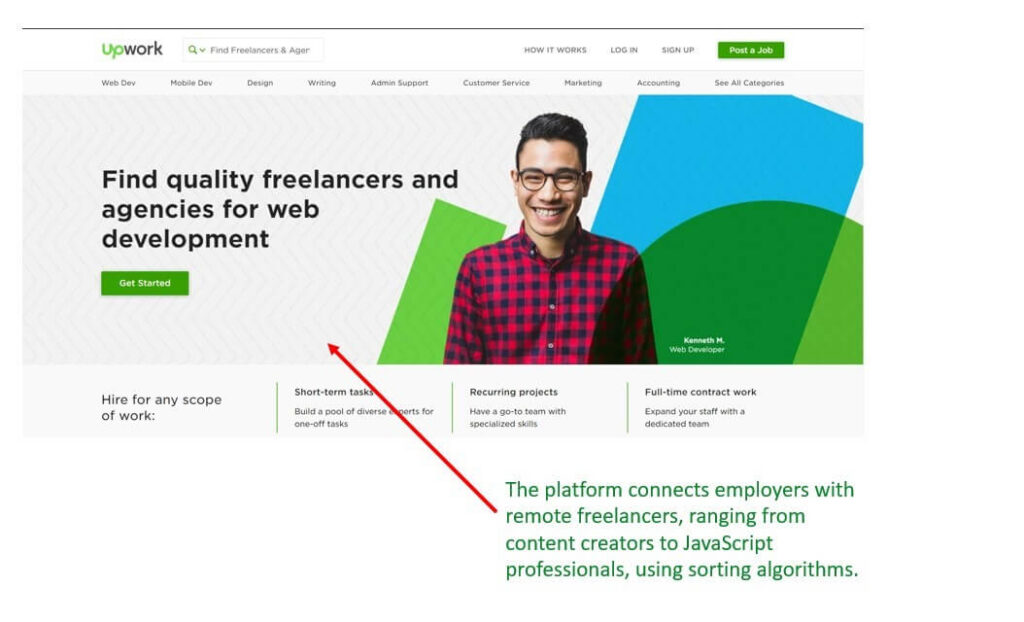 Upwork is a popular and vast marketplace, with over twelve million users. This massive platform connects clients with freelancers, from content writers to Angular developers via sorting algorithms. Upwork has an easy to use interface, although quality assurance is a huge issue.
Finding Angular developers on the platform is not hard, but you have to go through the motions of interviews, which is tedious and time-consuming. The platform performs very little screening, and most of the vetting is up to you.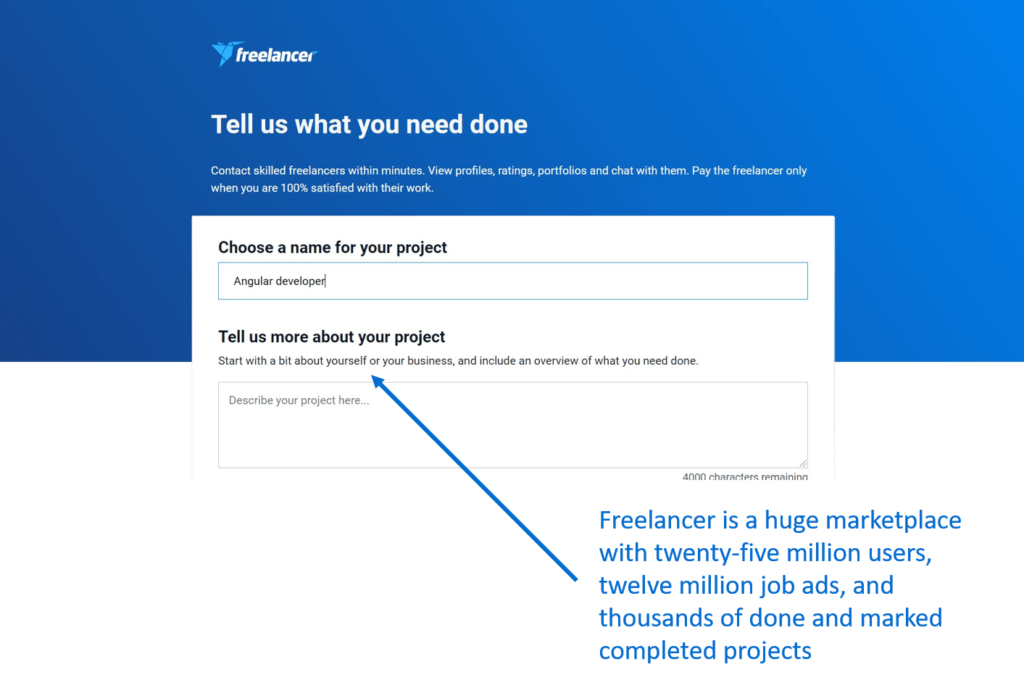 Freelancer is a huge marketplace with twenty-five million users, twelve million job ads, and thousands of done and marked completed projects. The massive market size makes it harder to find the ideal software developer
Software development is a popular job category on this platform, but you must wade through thousands of profiles to find the right Angular developer. You have to conduct the interviews, vet the candidates, and manage the freelancer's payments. Freelancer is affordable, but for short-term projects.
The best freelance platforms make it easy to find developers fast. Hired assists employers in finding developers fast by using customized matching software. Hired helps you create your company profile and search for the right Angular developer. It does this by using a search algorithm, which can eliminate racial and gender identifiers to allow for fair hiring and request for interviews with potential candidates.
7) People Per Hour
People Per Hour is a top recruiter platform and connects clients to freelancers in the U.K. Depending on your physical location and your software needs, you might be on the lookout for a developer living in the UK. You will find some of the best UK-based Angular developers on this platform, and all you do is sign up for an account and reach out to your potential candidates.
GitHub is a community of tech experts who collaborate to build great software. On GitHub, the attraction lies in that the platform is entirely tech-based, meaning all the members are experts in all software development forms.
Stack Overflow is a large and trusted online developer community. Stack Overflow is a resource utilized by most clients looking for software developers, ranging from the very experienced to the not-so-experienced coders. The Stack Overflow's job board is similar to GitHub and provides excellent exposure to Angular and other developers worldwide.
8) Guru
Guru has a huge, global freelance network, albeit smaller than People Per Hour and Upwork's talent pool. You have a choice of exploring 1.5 Guru Profiles, project proposals and pay the hired freelancers paying freelancers through the platform's SafePay system. Guru is not only developer-focused, and an employer can get other professionals if need be. You have to do the legwork of vetting and screening the candidates.
9) Gigster
Gigster recruiting platform connects employers with qualified developers for various projects. Gigster sets employers up with project managers, who act as a medium between them and the developers, making the process smoother for less experienced managers.
10) Dice
Dice is a very popular IT and tech-related job board that boasts of three million registered tech experts. Dice has a lot of site traffic, with more than two million visitors. Posting a job listing is more costly on Dice than on other job boards, but the exposure for your job post justifies the cost of listing the job.
Final Thoughts
Hiring an Angular developer is a tedious process requiring you to vet, screen, and interview candidates. Hiring the wrong candidate can be disastrous financially and a serious waste of time. Rehiring means starting the whole process afresh, and if you have a project that needs to start within a certain period, it will mean a delay and a loss of reputation with the project owner.
Angular developers are in a lot of demand, and to avoid the hassle of recruitment, you can use a recruiting platform. Some of these platforms match employers and freelancers, but they do not screen, vet, or interview, except a select few like Toptal. The recruitment process is up to your budget and your project requirements or length, and you can decide to either employ an in-house Angular developer or hire a freelancer.