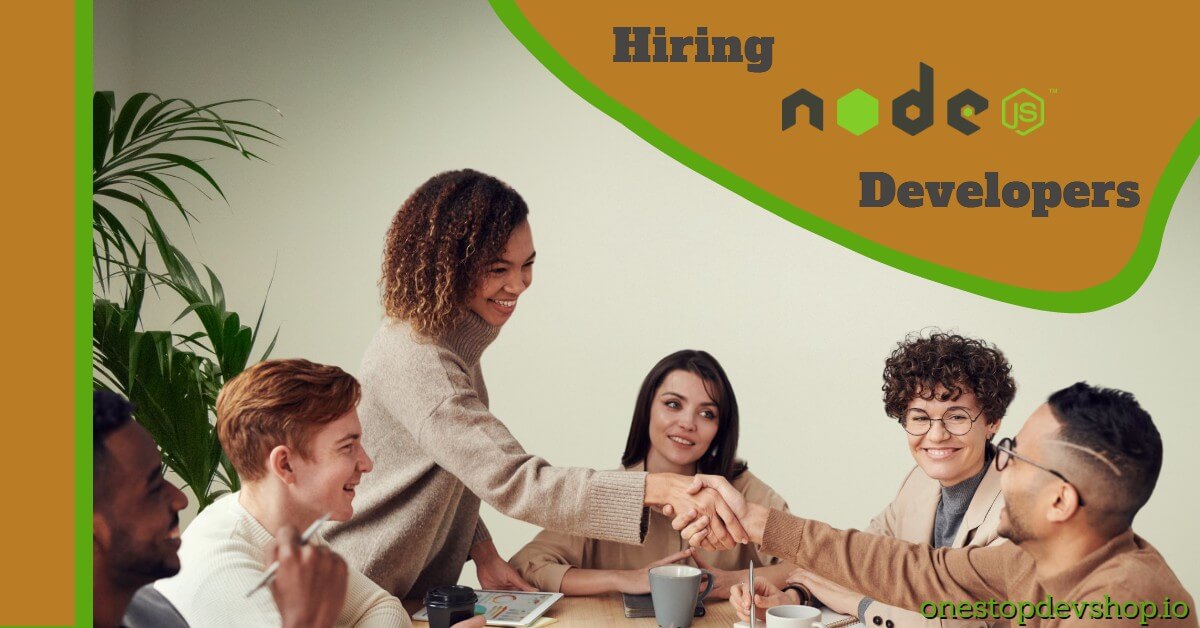 Top Tips on How to Hire Node Js Developers for Your Software Project
In the technical world. Node.js has become quite the buzzword, and hiring node.js developers is one of the processes any software development company needs to be aware of.
How to hire node.js developers is a skill that requires both experience and expertise. You have the option of outsourcing versus hiring an in-house node.js developer, of which the former is a longer process. Either way, you have to know the skills the node.js developer needs to have, both technical and soft.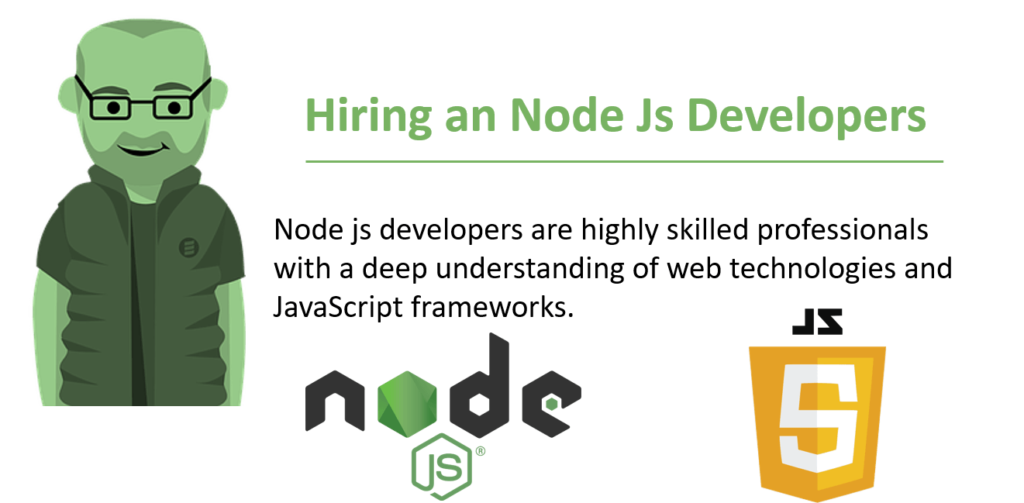 What is Node.js?
To hire dedicated node.js developers, it's essential to understand what node.js is, what it is used for, and the type of skills the developer you hire needs to have.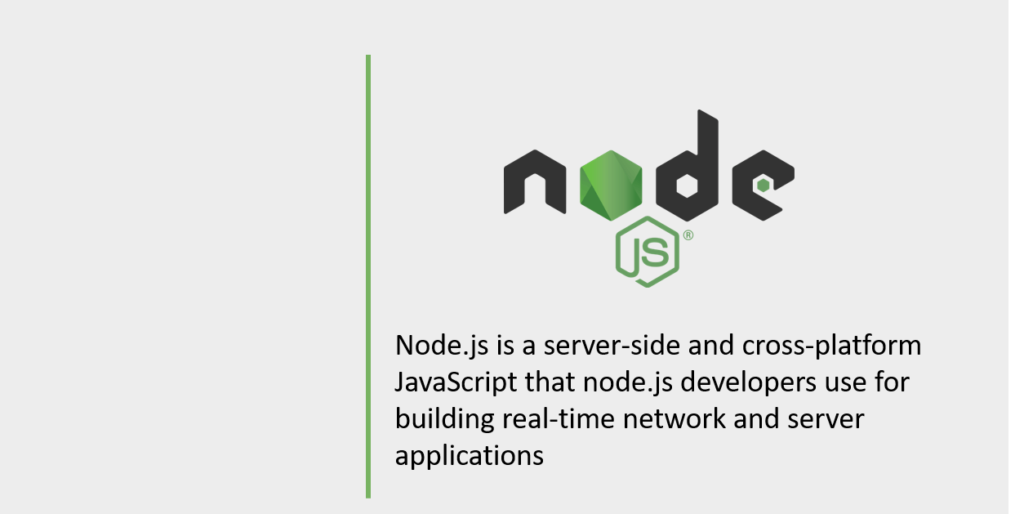 Node.js is an open-source, JavaScript runtime environment that helps to execute JavaScript code outside your browser. Node.js is a server-side and cross-platform JavaScript that node.js developers use for building real-time network and server applications. Node.js links the front end and back end and is the fastest server-side for development of web apps or mobile apps that can traverse distributed services.
The latest node.js is v.0.10.36, with companies using it being Microsoft, eBay, Yammer, General Electric, Yahoo!, Uber, and many others. Node.js allows a developer to use JS (JavaScript) to write server-side scripts, which means the script is run server-side to produce excellent web application content before the page goes to the browser command-line tools.
Node.js apps are in JS and run on Microsoft Windows, Linux, and OS X, all within the Node.js runtime. Node.js has a vast range of varying JS modules, a mobile or web application development with Node.js much simpler.
Steps in Hiring a Node.js developer
Node.js is used to develop back-end development, and the primary role of a Node.js programmer is to create a link between the server and the client-server and client. Developers create the app functionality logic and help in processing user requests performed by a system.
Node.js also plays a role in front-end development, and because of this, Node.js developers must possess skills in front-end development and know the basics of front-end elements working with back-end elements.
Find developers with experience with sub-sets of Node.js such as Angular.js, Meteor, Vue.js, and Express.js. Node.js also integrates third-party tools into various software, and a node.js developer is responsible for implementing different tasks such as:
Applying Agile Methodology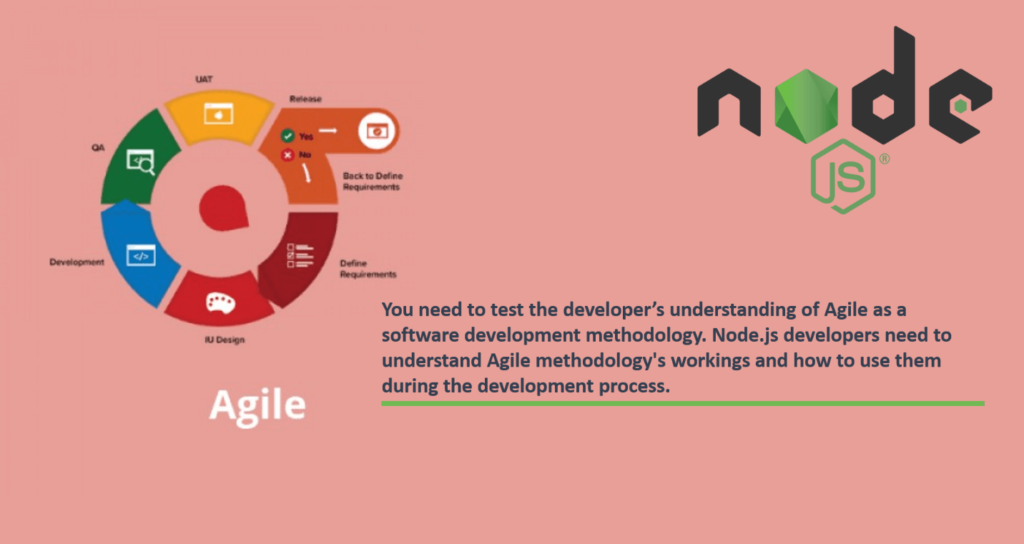 Today, agile methodology is in use by most software development companies because it makes building websites and apps efficient.
The Node.js developer needs to understand Agile methodology's workings and how to use them during the development process. By using Agile, developers can plan the entire process and divide it up into sprints, which helps them build the software faster.
Front-end building capacity
Node.js developers need to be skilled in front-end building. Node.js in the front-end means automating the building and running front-end code tests. Node.js uses Web Pack, Gulp, and Grant, which automate standard processes like concatenation and compression of images, tables, and JS files.
Building a single-page app requires a Node.js developer to use the Angular framework to make the User Interface (UI) of the app. This is because Angular provides lots of ready-made front-end elements that are quickly applicable. Node.js developers are skilled in front and back-end development more than those with front end or --development only.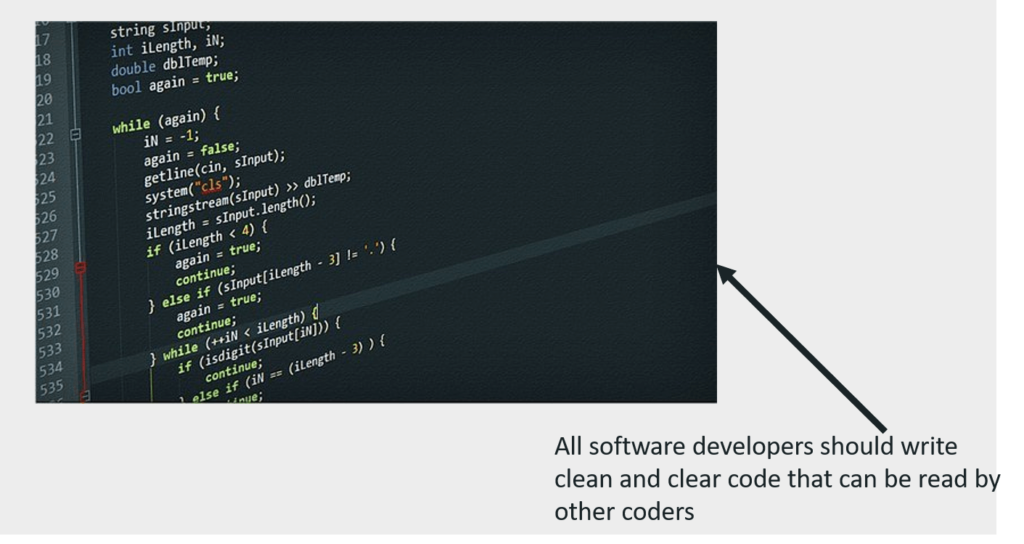 All software developers should write clean and clear code that can be read by other coders. Senior developers with more years of experience can write better, higher quality, and understandable code, and they endeavor to use a standard code format. Clean code makes it easier for other developers to work quickly with it.
Everybody recognizes that security is a priority, and Node.js developers must work with security features to protect their created software. This includes aspects like the limitation of concurrent requests, HTTP response adjustment, data extraction from configuration files and using encryption packages, and automatic and constant inspection of weak dependencies.
A developer needs to consider crucial elements like processing personal data or payment details, so there is a need to keep up with GDPR (General data protection regulation) if the software is meant for the European Union market. A node.js developer must ensure the software is secure and cannot be damaged or easily hacked.
When the development process is done, the QA (Quality Assurance) engineers start testing the software and checking bugs. If the QA detect a bug, the developers can then fix it as soon as possible. Since the Node.js programmers have to fix code written by others, writing clean code, as mentioned above, is crucial.
The bugs in software should not be high because developers run unit and auto testing during the software development process.
Third-Party Tool Integration
Most apps or websites worth their salt utilize third-party services such as payment platforms like Braintree or PayPal, email marketing service providers like MailChimp, Amazon services, and social platforms such as Google Analytics, Facebook, or Twitter.
Node.js incorporates particular modules that help developers integrate third-party service APIs mor4 seamlessly, leading to a faster development process. This means you can hire an experienced node.js developer who will build your software much faster and write fewer lines of code.
Working with data means the developer has to do with databases, which makes it necessary to find storage, a fact a Node.js developer should concentrate on. Most databases offer devs with libraries and drivers for Node.js, making the configuration process move faster. In most development scenarios, Koa.js, MySQL or MongoDB is used alongside Node.js since it contains all the required elements. There is a MEAN development stack comprising of MongoDB, Express.js, Angular, and Node.js), widely utilized for building the front and back-end of apps.
The Node.js tool is regularly updated, and the developers need to keep up-to-date with updates and learn how they work while applying them. The continual learning means Node.js developers are very competitive because being in demand requires them to be updated on any new technology and know-how to use it. This means a Node.js developer needs to be a hard worker and an inquisitive one as well.
Skills Required to Hire Node.js Developers
Node.js skill levels are divided into three-junior, middle, and senior levels. Each level needs a developer to have experience in specific skill sets. In a nutshell, the Node.js should have sound knowledge in maintaining mobile applications, designing, developing and API testing on AWS, Google and Heroku platforms.
Junior Node.js Developer Skills
Excellent grasp of Node.js basics (libuv, asynchronous programming, Event Loop, etc.)
Knowledge of JavaScript programming language
Grasp of Node.js Frameworks
Knowledge of both relational and non-relational database basics
Middle and Senior Level Developer Skills
HighLoad Projects
Architectural pattern knowledge
Optimization of performance
Serve as both front and back-end developers
Soft Skills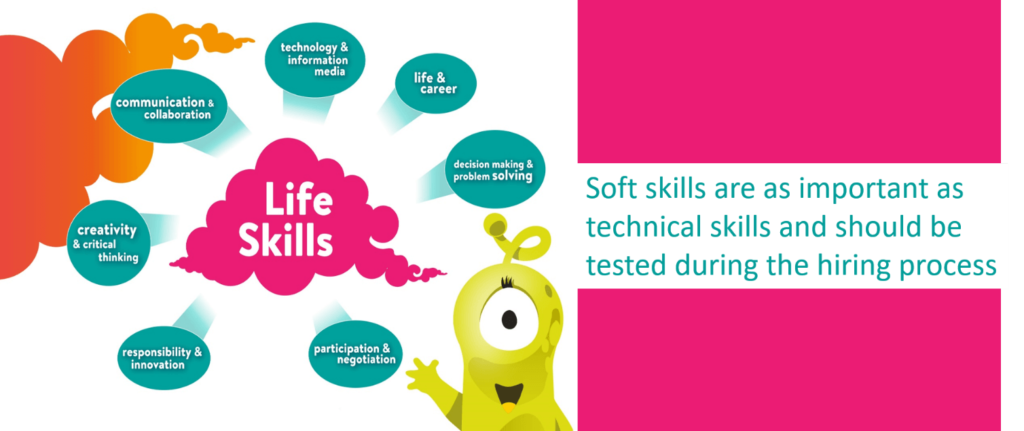 Other than the hard, technical skills that the best Node.js developers should possess, soft skills are equally important. The primary technical skills include knowledge in object-oriented programming, following code styles, and web encryption knowledge. The soft skills, in addition to these basics, include:
Interest in seeking continual knowledge and ability to answer FAQs
Accuracy
Algorithmic and analytical thinking
Ability to work with other team members
Interview Questions for Node.js Developers
When hiring a Node.js developer, you must be aware of their skill level before you engage them. Here are some questions you can ask and that any developer should answer with no problem.
Technical Skills Questions
What is NPM?
Explain Closures
Explain what Modules are in Node.js
What is a V8 Engine?
What is non-blocking?
Describe Event Loop
What is libuv in Node.js?
Explain why Node.js is single-threaded and how you can utilize all CPUs
Explain what a cluster is
Explain what event emitters are in Node.js
What is the difference between createReadStream and readFile?
What are the steps used to set up Express.js applications?
Explain how middleware in Express can be used
What is the difference between process. nextTick() and setImmediate()?
Soft Skills Questions
Soft skills are just as essential as hard, technical skills. A developer needs to be not only technically professional but also able to communicate with fellow team members. Other than this, a developer should display stress tolerance, be a reliable team member, have conflict management skills, be adaptable, creative, and respond to situations fast.
An experienced HR manager will know to pay a lot of attention to soft skills. It plays a huge role in evaluating potential candidates for the Node.js programmer position.
Where to Source for Node.js Developers           
There are three general ways of sourcing and recruiting Node.js software developers. These three methods are:
Freelance Node.js developers
In-house Node.js developers
Outsourcing from companies
Ø  Freelance Node.js Developers
Freelance Node.js developers are the fastest type to hire. This is because there are various platforms where remote developers are ready to work and help you to create your dream software. Remember that it is not easy to find out their real technical skills because they are far away, for example, in India, and you can only take their word for it and read feedback and reviews about their qualifications. You can only communicate with them via Skype, email, chat messaging services like Google Hangouts, etc.
One Node.js developer is not enough if you want to build new software from the ground up. You will need a UI/UX designer, a QA engineer, and a front-end developer. Freelancers are an excellent option if you want to fix bugs or make a few software changes.
Most people choose freelancer websites when they need assistance with short-term projects on plugins, web development or open source app development.
Pros
Affordable engagement models
It is easy to find developers
Cons
A developer might disappear at the time you need him/her the most, leading to unplanned delays
There is no signing of an NDA (Non-disclosure agreement) or contract signing
You are in varying time zones
Project managers find it hard to manage the project because of the freelancer's distance and that they cannot meet all your business requirements, considering they do not sign an NDA or contract.
There are various platforms that you can use to get a freelancer, such as
1. Toptal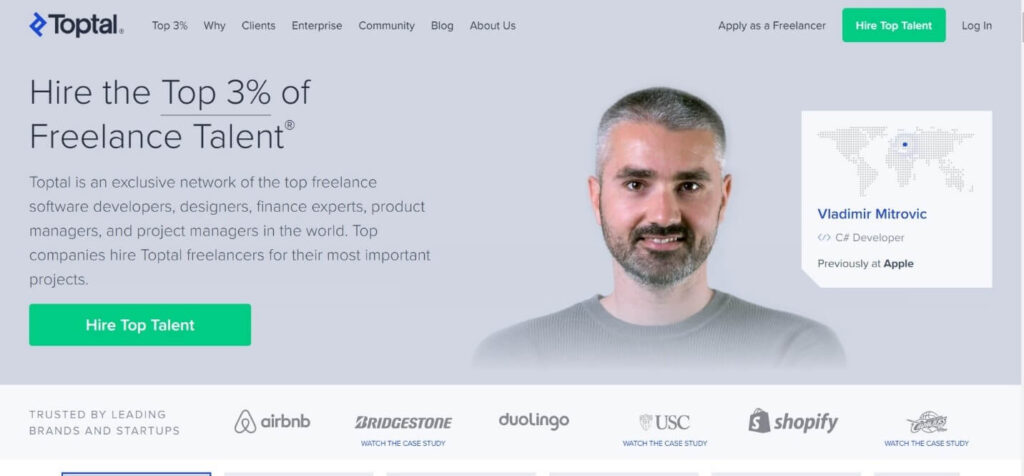 This is a top-rated professional matching service platform for expert Node.js developers and other professionals such as coders, devOps engineers, consultants, programmers, iOS developers, Android developers, etc. Toptal has one of the most rigorous vetting processes that identify and pick only the top 3% of all the applicants.
Toptal has a no-risk trial, and any time you pick a Node.js developer, you get a trial period to see if the developer matched your expectations. If the developer is not a fit, you will not be charged, and you can keep any work the developer did during the trial period. If you need to add more resources, Toptal can form an expert team to complete your project.
2. FullStacks Labs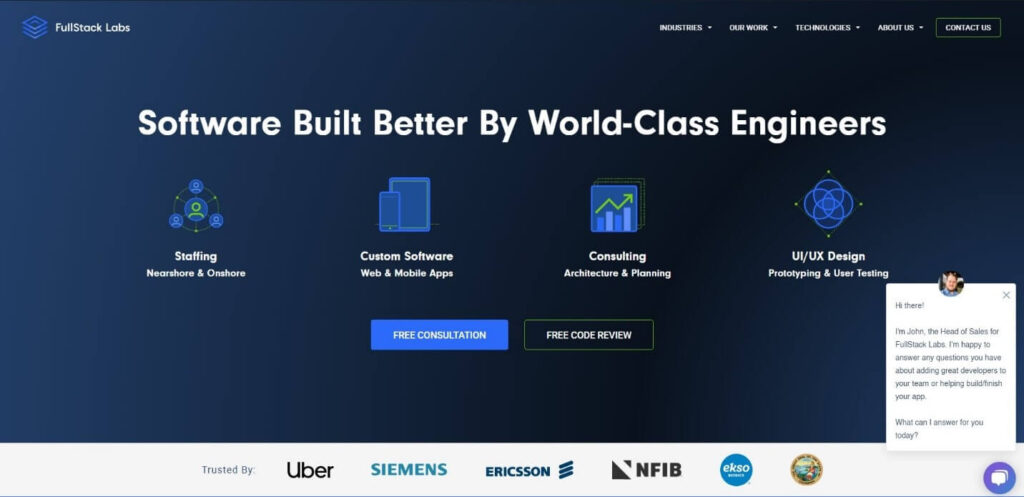 FullStacks Labs holds a team of experienced Node.js developers who offer development, design, and other support services that help you with your software development project. The experts will help you to outline your project, develop excellent code and on time, create Agile project plans, and give you an agreement on maintenance after the project is complete.
Whether you need a new app developed or need to tweak an existing app, FullStacks Lab has ready developers who can start on your project or join a current development team. They even offer a free consultation to assess your need for a Node.js developer.
3. Need Developers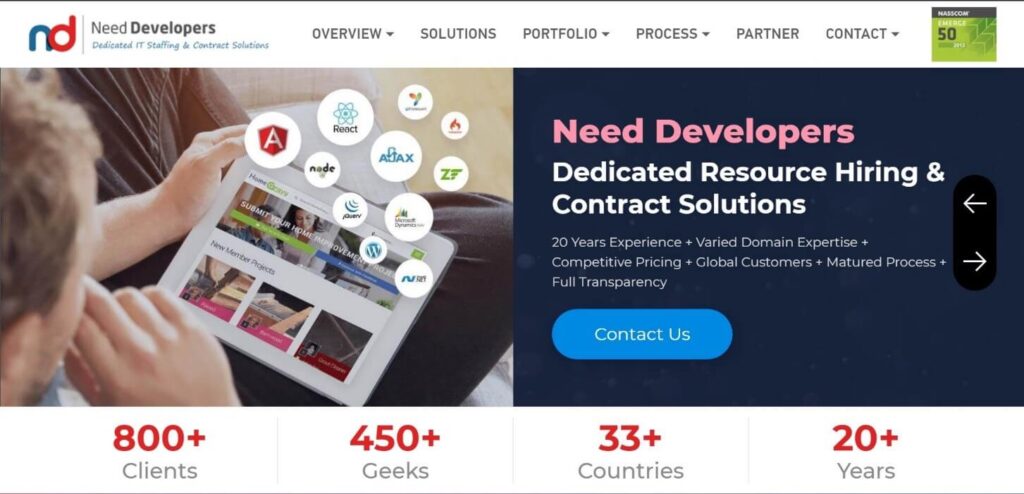 Need Developers has been around for 17 years, is present in 33 countries, and has 350 developers across various platforms and over 800 clients. All you do is visit the site, choose the Node.js projects Development platform, choose the experience level suitable for your project, and choose whichever billing model that fits your budget. The best part is that this platform makes it affordable to hire Node.js developers, and you can save at least 50% on long term projects. It is transparent and offers you timesheets, project demos, and daily updates.
4. GeeksPerHour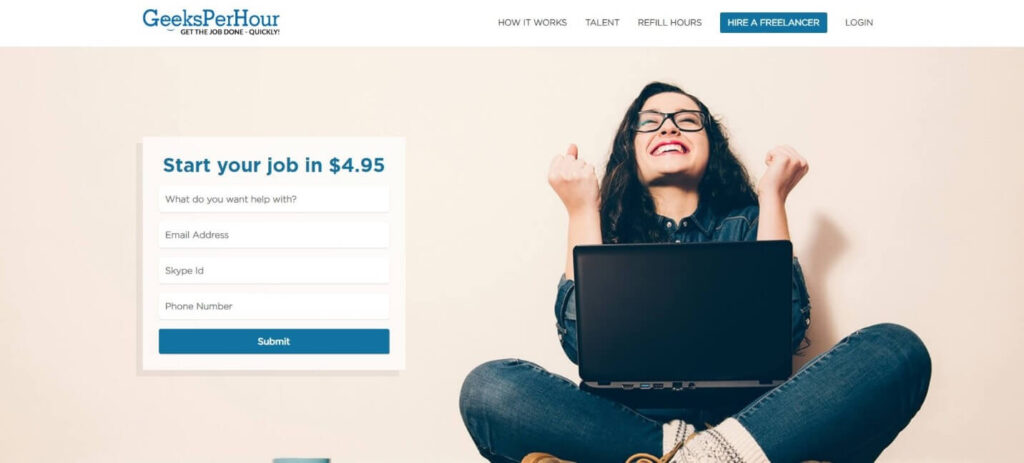 GeeksPerHour has a 100% money-back guarantee on each outsourced job, such as Python, Ruby on Rails, PHP, as well as Node.js development services. Their primary focus is on offering small businesses and startups an easy way to hire experienced Node.js developers.
All you do is post a job with a job description and wait for the platform to handpick a suitable developer. Their developers are available throughout (24/7) and charge low hourly wages. You do not need to go through thousands of profiles looking for the best developer.
5. Hired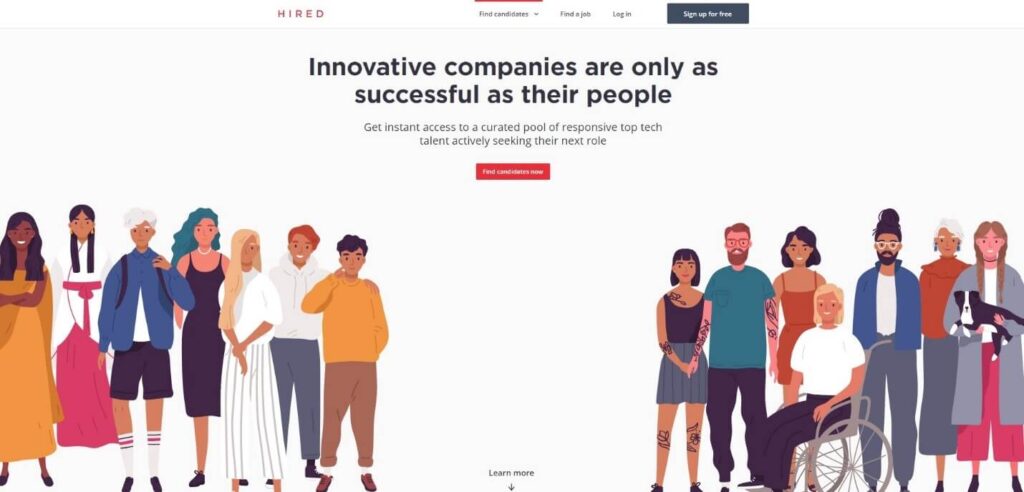 Hired makes the hiring process smoother to enable you to find the right Node.js developer. Hired considers your project requirements for the project and matches you with developers who match your application development. The platform has at least 70,000 applicants every month and vetted to ensure they are adequately qualified, available, and delivered on time.
You need to create your company profile, then search through profiles via their advanced search algorithm, and request interviews with promising candidates. If you are looking for someone in your area, you can do so.
6. GitHub Jobs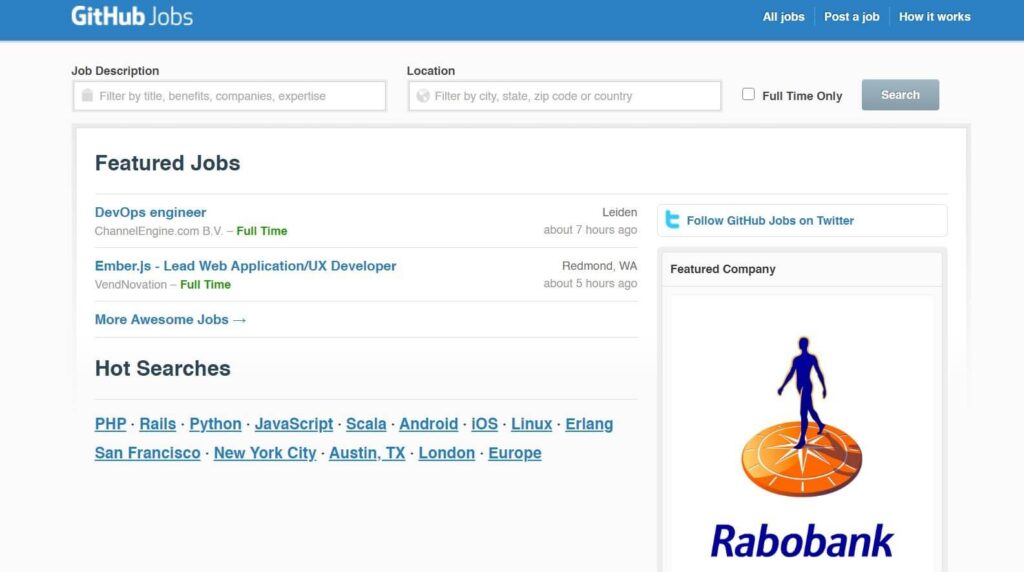 GitHub Jobs has a job board that is focused on finding the best talent in the tech industry. It's among the largest open-source online platforms for coders to manage projects, host and review codes, and build software in collaboration with other developers.
After paying $450, you can post a listing that lasts for a month, meaning all the best talent on this platform will see your listing and respond.
Ø  In-House Node.js Developers
If you want to efficiently perform your project management tasks and have your developers at your beck and call, an in-house developer working full time is your best option. You have direct access to the developers, and you can track their activities on the project. However, this option is the costliest because you have to pay their wages and other overheads such as rent, utilities, taxes, etc.
Pros
Developers are accessible all the time
Better collaboration
The schedule remains the same
Not language differences
Excellent for long term projects
Cons
You have to screen and interview candidates
There is a fixed salary for all, even if sometimes they are not busy
Additional overheads such as software licenses, rent, etc.
Ø  Outsourcing Companies
Using outsourcing companies is a popular choice because its affordable and convenient. You can use outsourcing companies for both large and small projects. This method is popular because you have no additional overheads, and all you need to pay is the Node.js developer hourly rates.
The hourly rates in some countries are lower than yours, saving you a ton of money. The signing of contracts and NDAs ensure the workflow is not interrupted. Hiring a developer via these companies is stress-free, and you do not need to worry about how the development process is faring.
Pros
Cost-effective
High quality of work
Top experience level
Flexibility
Cons
Conclusion
Hiring a Node.js developer is not a complicated process if you go about it the right way. The developers need to have all the technical and soft skills required to handle the job. If you feel that you cannot afford an in-house developer, hiring a freelancer from one of the numerous platforms or hiring an outsourcing company are great options.
Depending on your budget, you can hire any level of Node.js developer, from junior to middle or senior class. Recruiting from a platform is much more comfortable in terms of time and cost, but each method has its pros and cons. Doing due diligence on your requirements, project needs, and budget will set you off in the right direction.