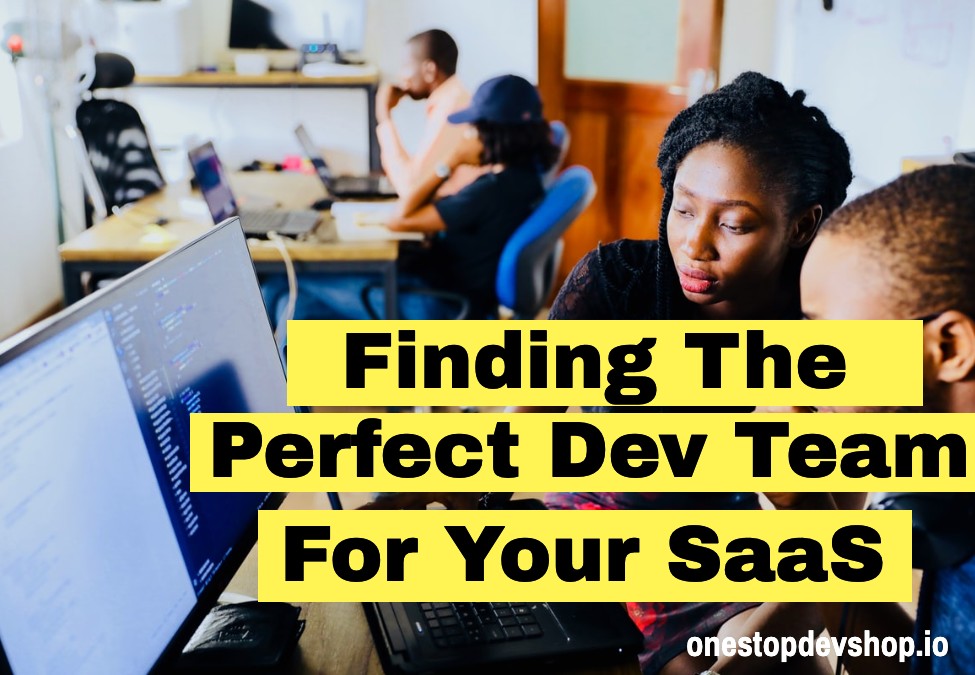 Finding the Perfect Development Team for Your SaaS Application
SaaS or Software as a service is one of the fastest-growing markets in the software industry and with a lot of potentials. Most organizations go for web-based software for a lot of reasons, such as fewer overheads, flexible prices, seamless updates, and many more. If you are a SaaS development company and you are building your own SaaS or for the public, you need a highly skilled development team. Not everyone can build a SaaS, so you need to find someone who has extensive experience in the SaaS field as the wrong person can bring your project crashing down.
A SaaS is an ongoing project, it is in a constant state of maintenance, meaning upgrades, and updates are the order of the day throughout its existence. A SaaS development company offers software as a service app development, which the client either pays at a flat rate for every project or billed monthly. Many SaaS development companies build desktop, mobile or web apps for their clients. For a client looking for a SaaS company to develop its app, there is a lot to learn.
The Risks of Freelancers and Advantages of SaaS Companies
When it comes to building apps, most people assume that a freelance app developer is their best bet. In recent years, there have been horror stories from individuals or companies who hired freelancers. In most of these freelance groups such as Upwork, many will post their qualifications and since there is no way to verify their claims clients fall for it.
The right SaaS team works with a trusted and verified team of developers. The advantages of working with a team that reports to the same office and works together on projects cannot be overemphasized. If you need daily stand up meetings or require a site visit for onboarding, you should be able to get it. Other advantages include:
Unlike a freelancer, a team cannot disappear on you when your project is at its most critical stage. When one freelancer has all the details of your project, it is easy to be held at ransom.
A team has multiple skill sets and they can easily brainstorm and bounce ideas off each other. Freelancers cannot do this as they work alone.
A team can help you to balance costs by hiring a more senior developer to lay the project foundation, a junior coder who deals with menial tasks, and a quality assurance officer who deals with testing bugs.
What to Look For in a SaaS Development Company
Since we have established that freelancers are out of the question, it is only fair if we highlight the qualities a great SaaS development company should have before you engage the team for your project.
· Flexible and No Long-term Contracts
The company that you choose should be able to offer all the skills and expertise needed to create a great application. They should offer flexible options that let you access all the expertise you need, even after most of the developing work is over. Do not enter into a long-term contract because you might get trapped in a contract that wit a poor development team. An awesome team is confident in its work and never tries to force you to sign a contract. They know that you will continue paying if they do a stellar job and build an app that your customers will pay for.
· Robust MVP Process
A shady SaaS application development company would only be too willing to build you a robust application. Instead of advising you against building a large app, they will happily go along every time you add a new feature.
An MVP (minimum viable product) developer understands that your app needs to launch and generate some revenue. The app, therefore, needs to be as small as possible so that your company can become profitable as soon as possible. Many SaaS companies tend to lose money for the initial year. A huge MVP means you lose money for more than a year and if you spend too much money to insert unnecessary features in the initial app stages, it will take you longer to recoup that money.
· Code Review
The beauty of having a coding team is that they can review the code. A freelancer working alone may not be able to review code and it may end up with bugs. In a team, other coders can detect flaws that one person may not pick up on. To cut a long story short, you need a team that has a common goal, which is to create a code structure that will deliver what consumers need.
Just as a writer needs an editor, a coder needs fellow experts to go through their code and pick out what needs improving. Spotting flaws in one's work is incredibly hard, but a dedicated team will help to review each other's codes.
· Communication and Cooperation
Communication is vital for any project's success. When working alone, a freelance developer will spend a lot of time seeking for answers, talking to himself or herself and getting no answers! A development team needs to be communicative. It will be full of people asking questions, getting answers from each other. They will keep you updated on the exact progress of the project, with all members proficient in their jobs and cooperating. In short, all the members of the team need to be willing to communicate and cooperate with everyone involved in the project.
· Proficiency in Online Payment Systems
Creating a SaaS product is done to generate profits and you need to pick a development team that gets this concept. At least one team member needs to be proficient in creating a robust and secure payment gateway to the final product. You need to ensure that the team understands the differences in the various payment options and can discuss with you what your SaaS needs most.
· SaaS Architecture and Security Understanding
SaaS requires a team that possesses specialized skills and a good understanding of the security measures needed for successful deployment to different subscribers. SaaS architecture implies that you need to develop an easy-to-use, secure and fast data service layer, especially if you are developing a public API. If you want your SaaS app to be a success, you need to make it possible for your product's integration with various software packages. You also need to make way for the development of extra features by third-party developers and provide services for mobile apps.
· Ready to Make Frequent and Non-disruptive Updates
SaaS needs to have uninterrupted and consistent uptime, and if the team you choose cannot provide this, they are not the right team. The best feature of SaaS is that constant updates and changes to the products are deliverable to the user who ends up enjoying the most recent product version.
Your team of developers needs to know how to plan and execute the updates without disrupting service continuity. This means the team needs to have foolproof architecture underneath, and with strong fail-over plans in case of any difficulties.
· Fully Managed in All Aspects
Ensure that the development company you choose does not only manage the team of developers but also manage the final product. A developer team that manages the SaaS end to end needs to take it through its launch and beyond. To do this, they must have more talent on the team other than developers. These include:
a) Product managers
Product management is all about managing the product. A product manager keeps track of the developers by ensuring they meet deadlines and they build a product that meets customer expectations and demands. Attempts to save money by managing the developers without a product manager means the application will keep breaking all the time and have lots of bugs, rendering it unusable.
b) QA testers
Quality assurance (QA) testers ensure they handle both automated and manual testing to ensure that each software feature works, as it should in whichever environment the client might use, which includes various devices and Operating systems (OS) as well as the state of the product.
c) DevOps Engineers
The management of cloud infrastructure needs a different skillset from coding. The unfortunate bit is that most SaaS development companies do not offer this service. DevOps engineers help secure the software for clients to access in the cloud.
Conclusion
Developing a SaaS application is a complicated process that needs highly skilled and experienced developers. Choosing a development team needs to be given careful consideration and pass a few tests. A SaaS application's core purpose is to turn profits, and if you do not choose the right developing team, you might end up with a low-quality product that will only cause you losses. Stay away from freelance developers from sites such as Upwork.
Most people who have gone the freelance way have been terribly disappointed. Going with a team ensures continuity and quality work. A team of several developers means they can review each other's codes and detect flaws and bugs that one freelance developer cannot manage.