In 2002, Microsoft launched the .NET platform as an open-source development environment. The .NET Framework was the first version released. It was a software with predefined functions and classes that allowed developers to write codes and build applications at Net Development Companies. The .NET Framework was an alternative to Java Framework by Sun Microsystems.

Microsoft introduced .NET Framework to be used for building applications for Windows only. However, the company launched newer and updated .NET versions like .NET Core, enabling adaptability with various platforms like macOS and Linux.
Is .NET Development in Demand?
The demand for tech professionals is rising, and .NET development is in high demand among various industries and employers. Here are reasons why the need for .NET developers is high.
A Full Stack Platform
Two parts make up a software application: Front-end and back-end.
Front-end focuses on the visual appearance and functionality that the user interacts with. On the other hand, the back-end focuses on ensuring the website runs by working the code on the server, data sourcing, and APIs.
As part of the .NET ecosystem, you can integrate the front-end and back-end of your application in one place.
A Unified Platform
The .NET is an open-source platform that allows developers to build software applications that incorporate different categories such as desktop, web, cloud, IoT, gaming, microservices, and AI applications.
The platform's versatility opens up many possibilities.
Popular Platform
Many tech giants and industries demand dot net development services because the platform is a component of the biggest, top-tier tech companies such as Microsoft, Stack Overflow, Intel, and Siemens.
.NET's popularity influences many businesses and employers to use the platform, increasing the demand for .NET developers.
Evolving Platform
.NET platform has a great roadmap. Since its release, it has improved with time and has become accessible for different platforms and purposes. It enriches the dot net application development with its upgrades and evolutions with time.
What is the Latest Version of .NET?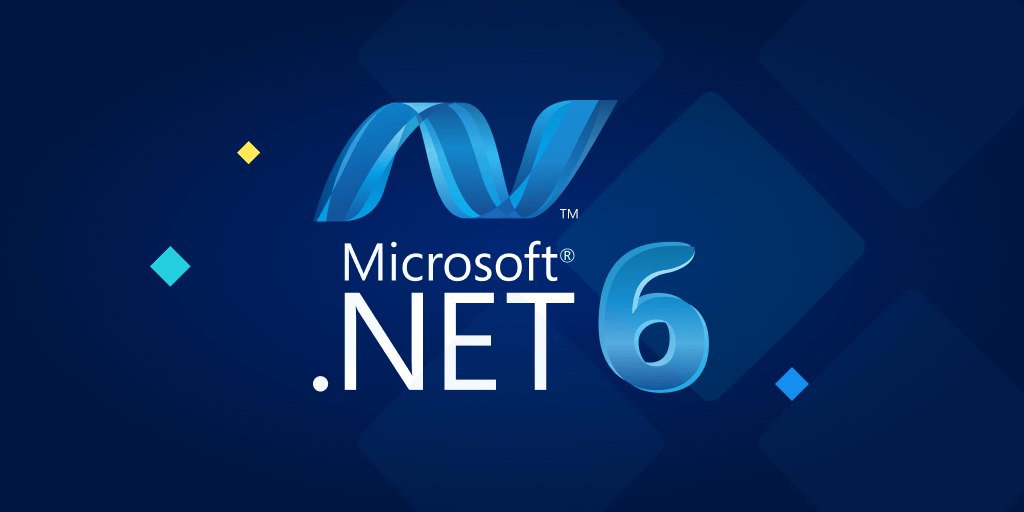 The .NET 6.0.2 and .NET 6.0.102 SDK are the latest versions of .NET released on February 8, 2022. The latest release includes:
Support for Windows Arm64 and macOS operating systems.
NET Core Runtime and .NET Runtime for hosting stand-alone apps.
NET Core Module for IIS that you can install separately on servers without installing .NET Runtime.
The .NET SDK has a matching updated .NET Runtime. You do not need to download the ASP.NET Core packages or the Runtime when installing SDK.
The .NET 6 version introduces macOS, iOS, and Android SDKs for developing native apps. They provide the foundational desktop and mobile pieces for the new .NET MAUI.
You can install the .NET MAUI after installing the .NET SDK.
Microsoft also updated the .NET Docker images for this release. .NET Docker samples depict various ways of using Docker and .NET together.
Visual Studio 17.0 or later is required to use .NET 6.0 on Windows. Additionally, you will need the latest version of Visual Studio for Mac on macOS.
Microsoft has also partnered with Google to enable developers to build apps and websites using Angular 10 and .NET Core Web API.
What is a Net Development Company?
A .NET development company is a professional company that designs, builds, and implements applications using .NET platform technologies. Though .NET is compatible with different programming languages, many developers prefer using C# to build software applications.
The platform has modern versions that allow .NET developers to build applications for different platforms such as desktop, mobile, web, gaming, IoT, and machine learning.
.NET Components
The .NET architecture is based on the following components.
1. Common Language Runtime
The Common Language Infrastructure (CLI) is a .NET architecture platform on which .NET apps are executed. CLI has the following features:
Exception Handling:Errors that occur when a program is executed are known as exceptions. An example of an exception is when an app tries to open a file, but the file is not present, or when an app tries to access records from a database but the connection is invalid.
Garbage Collection: This process involves removing resources that are no longer needed. For example, when an app finishes all files' operations, the file handle is no longer needed.
The CLI has three levels:
Language: This is the first level, the programming language itself. The most popular .NET development languages are VB.NET and C#.
Compiler:The second level involves a compiler, which is different for each programming language. There will be a VB.NET compiler for the VB.NET language. Similarly, the C# language will have its own compiler.
Common Language Interpreter: The final level in .NET is a common language interpreter, which runs a .NET app built in any programming language. The subsequent compiler sends the program to the CLI to run the .NET application.
2. Class Library
The .NET platform has a set of standard class libraries, which are collections of functions and methods used for the core purpose. For example, a class library consisting of ways to handle file-level operations. Such a class library will have a method to write text and another method to read text from a file.
Methods are divided into either the Microsoft or System namespaces. A namespace enables logical separation of methods.
1. Languages
Applications built in the .NET platform are classified into the following categories:
WinForms: WinForms are used for building Form-based applications that run on an end-user machine. An example of a client-based application is Notepad.
NET:  Developers use this framework to create web-based applications that run on any browser, such as Firefox, Chrome, and Explorer.
NET: Developers use this platform to build applications that interact with Microsoft SQL Server or Oracle databases.
.NET Development Languages
There are various languages used in the .NET software development process. These languages include:
Visual Basic .NET (VB.NET):This is a redesigned version of Visual Basic. It is frequently taught in college and is easy to program with. It is a prevalent programming language, which means there are numerous libraries, code snippets, and tools to use.
C++: Most programmers are familiar with C++ and can quickly their knowledge and skills to the .NET environment instead of learning an entirely new language. This language is also popular, making it easier for developers with expertise in C++ to get hired.
C#: C# is becoming Microsoft's most popular programming language. It is a mix between C++ and Java but without the problems of both. C# development is famous for dot net projects, from mobile applications development to IoT programming. The language is also scalable, lightweight, and easy to optimize, making it ideal for custom software development.
F#: F# gives .NET applications conciseness and simplicity like Python but delivers robust, cloud-native, and high-performance apps. It is mainly used as a cross-platform language on .NET.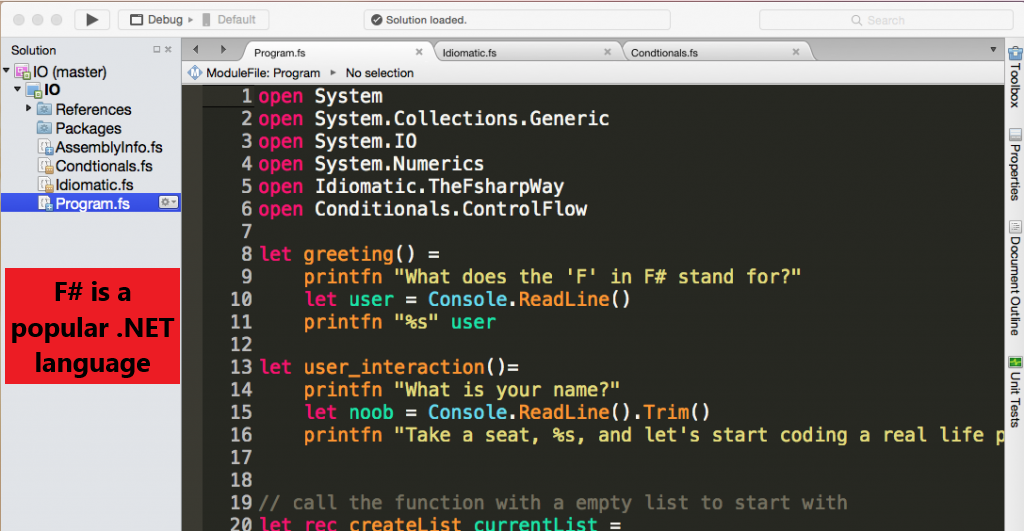 Ada: Ada is a high-level, structured, object-oriented programming language developed from Pascal.
IronPython: IronPython offers a comprehensive implementation of Python on the .NET platform.
IronRuby: This language is ideal for Ruby on Rails experts seeking to use the .NET framework.
NET: This is a compiled version of JavaScript and is ideal for .NET developers seeking to produce codes easily and quickly.
PHP through Phalanger: PHP is a common web-based language, and Phalanger enables PHP development through .NET.
Perl through Active Perl: Perl programmers can migrate their code into the .NET platform with Active Perl.
Visual COBOL .NET: This language can compile directly into Microsoft intermediate language for use in .Net projects.
VBx: This is a dynamic variant of Visual Basic and uses a Dynamic Language Runtime.
Benefits of the. NET Design
The .NET platform has numerous benefits, such as:
.NET is object-oriented and allows developers to break down software into smaller pieces. It enables less coding by eliminating unnecessary programming. It also allows developers to reuse code ad components.
.NET design leverages Visual Studio IDE, making app development easier by providing write and test software. Integrated Development Environment (IDE) builds, debug, and publishes apps across various platforms.
Since .NET Core is a cross-platform framework, developers can run the code on macOS, Linux, and Windows. This allows .NET to offer customized solutions across numerous operating systems.
.NET allows the flexible deployment, which means you can install it separately or as part of the application you are developing.
Though Microsoft explicitly built the first version of .NET for Windows, .NET Core supports a broad range of applications. .NET developers can use the platform to develop various software products for desktop, mobile, gaming, AI, and IoT.
The .NET platforms regularly release better versions which allow developers to build high-performance applications.
.NET is cost-effective because most of the tools and IDEs are free, offering a lot of conveniences for both startups and successful companies.
Differences Between .NET and ASP.NET
.NET is a software framework that allows developers to build, run, and execute applications. ASP.NET is a web framework for building dynamic web applications. ASP.NET is a component of .NET.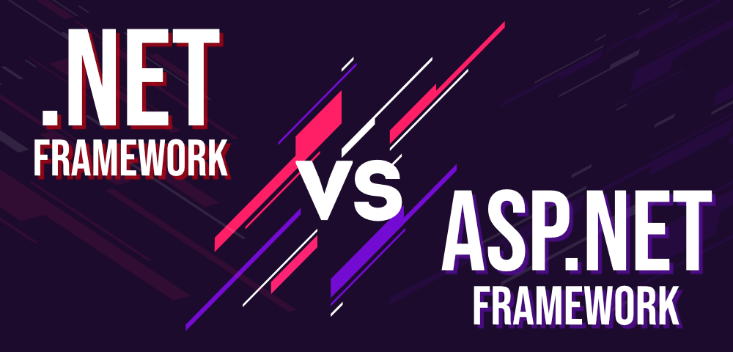 .NET framework targets multiple platforms, including operating systems, web browser plugins, embedded systems, and mobile platforms. It provides cross-platform compatibility with various programming languages, improves security, provides tools to build, execute, and implement apps.
On the other hand, ASP.NET develops dynamic websites, web services, and web applications.
What a .NET Developer Does
A .Net Developer focuses on various categories of software and mobile app development, including:
Web Development
A .Net developer builds applications for web browsers using a variety of programming languages. The platform was initially designed for Windows only, but with the introduction of ASP.NET and ASP.NET MVC, .NET developers can create apps that run on other platforms like macOS and Windows.
A .NET developer must have a solid knowledge of essential tools and features for creating an agile desktop application. Developers should be well-versed in front-end languages like HTML and JavaScript and back-end development languages like PHP and Python. Understanding these languages is essential in developing applications on the .NET platform.
Mobile Applications
Dot NET developers are not limited to only building desktop and web applications. They have an extended responsibility of developing mobile applications with Xamarin on the .NET framework.
Xamarin is .NET's extended version with tools and libraries for developing mobile apps adaptable for iOS, Android, Windows, and watchOS.
Artificial Intelligence (AI) and Machine Learning
AI and machine learning are the future of technology. ML.NET, an extensible platform, enables .NET developers to utilize machine learning technology with .NET applications.
Dot NET developers are responsible for building interactive AI models for apps that run faster, smoother, and better.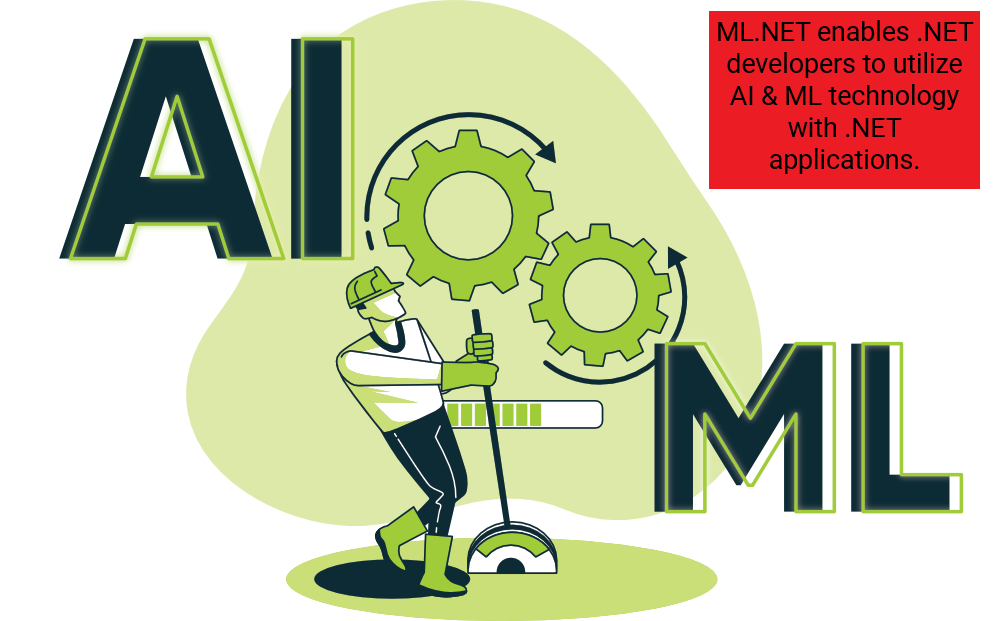 Cloud Applications
Cloud computing is an essential dot net technology for maintaining and storing data in the cloud. .NET developers are responsible for building cloud applications that allow businesses to save their data in the cloud.
Their responsibilities include maintaining, implementing, and managing cloud applications from development to deployment.
Microsoft Azure is a well-known cloud computing platform. In addition, Azure offers several SaaS products such as Outlook, Dynamic 365, and Office 365.
Responsibilities of a .NET Developer
A .NET developer has several responsibilities, including:
Creating software solutions using the .NET infrastructure.
Working on the existing applications and codes for high performance and productivity.
Maintaining an extensive data set in a repository secured for easy retrieval and analysis.
Looking out for errors in codes and developing solutions.
Developing test runs for codes to ensure excellent output.
Ensure the development process of an app aligns with business processes and meets all the deliverables.
Monitor the applications for speed, efficiency, cost-effectiveness, and functionality.
Work with the recent updates and latest technologies in the .NET frameworks.
Collaborate with the dot net development team, interested parties, and clients and update them on the development process. A .NET developer has to work with a remote or dedicated team in some cases.
The Skillsets of a .NET Developer
.NET is a platform with various libraries, features, tools, and frameworks. Updates and additions in the platform have widened the performance scope and functionality of the software development platform.
A .NET developer, therefore, needs to continuously learn so that he is in line with the platform's updates. Here are the top skills that every .NET developer needs.
ASP.NET Framework
The demand for web development is surging for all businesses. Everyone wants a digital presence on the internet. ASP.NET development allows developers to build web applications with robust technology, efficient controls, and security. In addition, the platform ensures custom software is scalable, better, and enables faster deployment.
Therefore, a deep understanding of the ASP.NET framework is essential for every .NET developer.
Database Management
Handling, maintaining, and storing data is essential for every business. Loss of business data could have dire consequences for any business. Therefore, it is beneficial for developers to have basic knowledge and experience with database management systems like SQL and Oracle.
Having a clear knowledge of various frameworks and systems could give you an upper hand over other candidates. It may also help you when negotiating your salary.
Front-End Development Technologies
Dot net web development involves designing websites with the users and target group in mind. Client-side or front-end development is the part of the application that the user interacts with.
Having experience and skills in basic front-end technologies such as JavaScript, CSS, and HTML allows developers to be more aligned with the business needs. It also helps develop more agile, interactive, and immersive applications.
Front-end is one of the most preferred skills by software development companies.
Microsoft Certified Solutions Developer (MCSD)
Microsoft's MCSD certificate is a certification for .NET skills.
Companies and businesses that offer dot net software development services value this skill for three key reasons:
The certification is created and maintained by Microsoft.
.NET developers must remain current with the latest modifications and skills to recertify every two years.
MCSD is a challenging but competent program that justifies the certification level.
Obtaining this accreditation will keep you at the top of .Net developers.
Microsoft Most Valuable Profession (MVP)
MVP is the most important and prestigious program vetted by Microsoft. Program participants gain expertise not only in the .Net platform but also in leadership skills.
Employers highly value .NET developers with MVP certification for their certified .NET skills and excellent leadership qualities.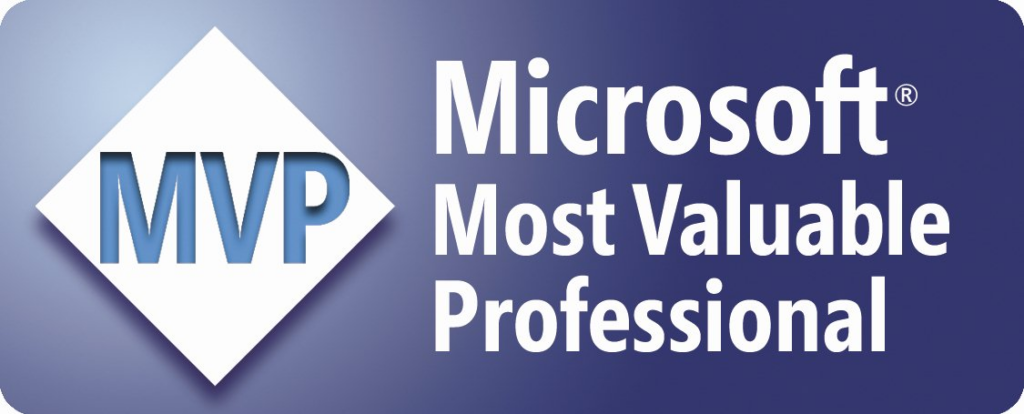 Exceptional Coding Skills
Coding expertise is without any doubt one of the critical skills for a .NET developer. Proficiency in scripting codes is essential for creating high-quality dot net solutions. The skill will enable you to develop apps for any platform, whether desktop, mobile, or web.
A .NET developer should have proficiency in various programming languages such as C++, C#, VB.NET, and F# for developing mobile and web apps.
Soft Skills
Dot NET developers also need various soft skills in addition to technical skills. These skills include:
Problem-solving skills
Team building
Communication
Project Management
Time management
The Decision Between Hiring an In-house developer Vs. Outsourcing
Hiring an in-house developer vs. outsourcing will depend on several factors, such as the nature of the project and cost.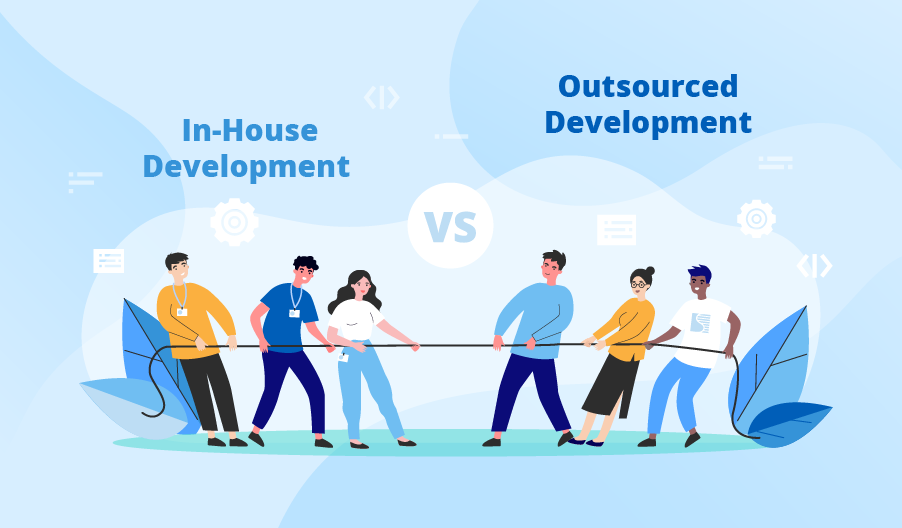 With an in-house developer, you will be responsible for the entire overhead costs. You will also have to provide the developer with all the tools and equipment they require to complete the project effectively. These may be costly in the long run, keeping in mind that you still have to pay your in-house developer even when there is no work to do.
But if you decide to outsource a service provider, you only pay for the services rendered, which is cheaper. You also don't have to provide any tools and equipment needed to complete the project. Freelance developers are readily available on-demand, and you will only seek their services whenever you need them.
Your decision will also depend on the nature of your app or software development process. If you are looking for a short-term commitment, outsourcing may be a better option. However, it is best to find an in-house developer if you seek long-term commitment.
How to Find the Right .Net Development Company
.NET is a flexible general-purpose platform that matches the latest programing languages allowing developers to various app and software development solutions. But how do you identify the right .NET company to take you through a successful digital transformation? Here are a few factors to consider:
Vendor's Experience: Check the experience of the .NET development company before engaging it. Research on the dot net projects they have worked on before. You may also ask for references and contact them.
Multi-Tasking: It would be better to find a company that can offer multiple product development services. You might need testing, deployment, and support services. Finding a one-stop shop that will meet all your .NET needs will be better.
Communication: Communication is vital when you are outsourcing your developer. To develop a software or application that offers delightful user experiences, the company needs to understand your business needs and processes.
Top .NET Development Companies
Numerous companies offer .NET development services, and choosing the best may be a daunting task. This list of top .NET development companies will make your work easier.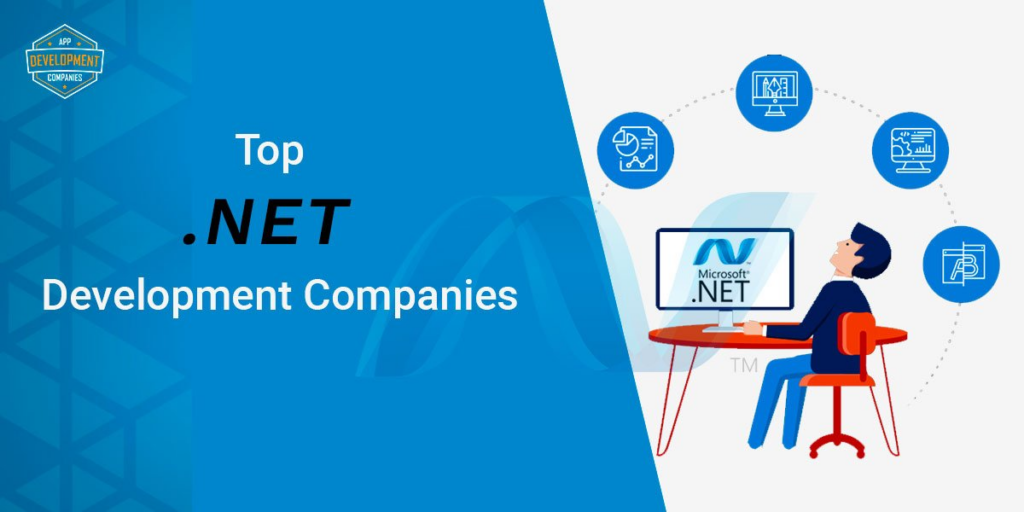 IndiaNIC: The primary forte of IndiaNIC is Web development, ERP solutions, e-commerce development, CRM, bespoke software development, and mobile app development with design-led engineering practices. IndiaNIC is located in the United States and India.
ELEKS: This company partners with SMEs and startups to evaluate their business needs and provide automation to their processes. They offer a full range of .NET development services, including custom software development, mobile app development, R&D, Quality assurance, support, and maintenance services.
Aspired: Aspired assists clients in hiring and building remote autonomous dedicated teams by carefully selecting the best from the global talent pool.
Iflexion: Ifexion assists companies across numerous industries in optimizing their business processes by offering bespoke software solutions.
7EDGE: This is a full-cycle software development company that assists startups, enterprises, and brands in analyzing and identifying improvement areas and building a strategic roadmap to their digital transformation journey.
The .NET platform offers tools, components, and libraries that enable developers to build various enterprise applications and software. However, utilizing this platform requires specific technical skills and several years of experience. However, you can hire a dot net developer to assist you with your digital transformation.