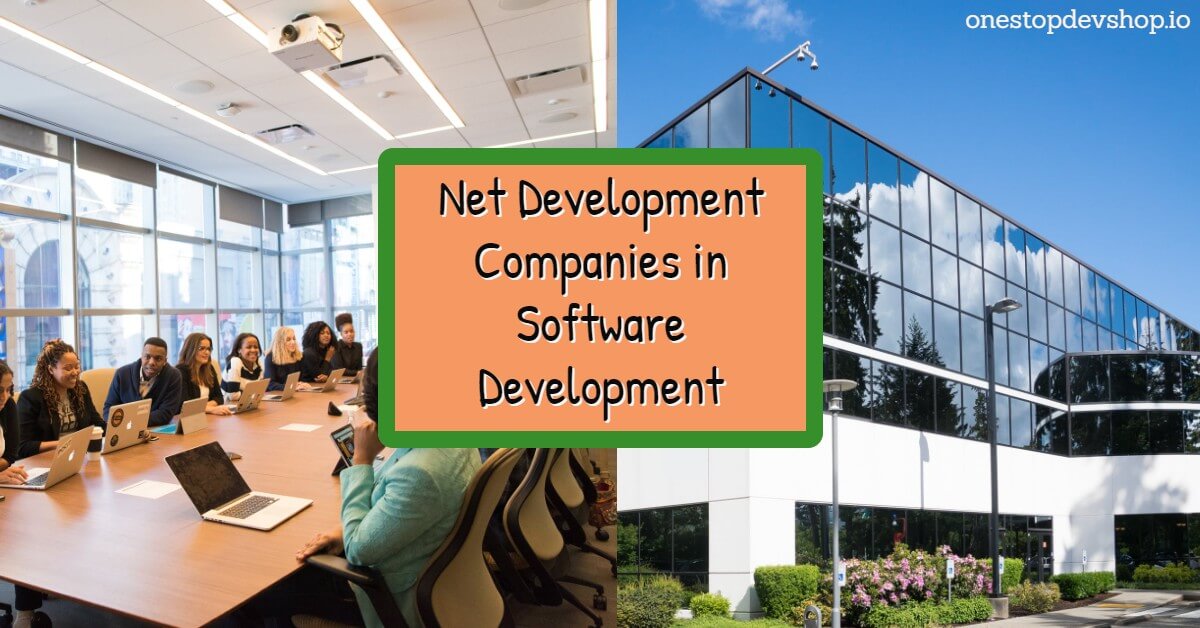 Net Development Companies in Software Development and their Functions
In the software development industry, net development companies are probably in their hundreds. However, finding the right one is a process. But before you look for a net development solutions company, you need to know its functions, its benefits, what to look for in a net developer, et al.
What is a Net Development Company?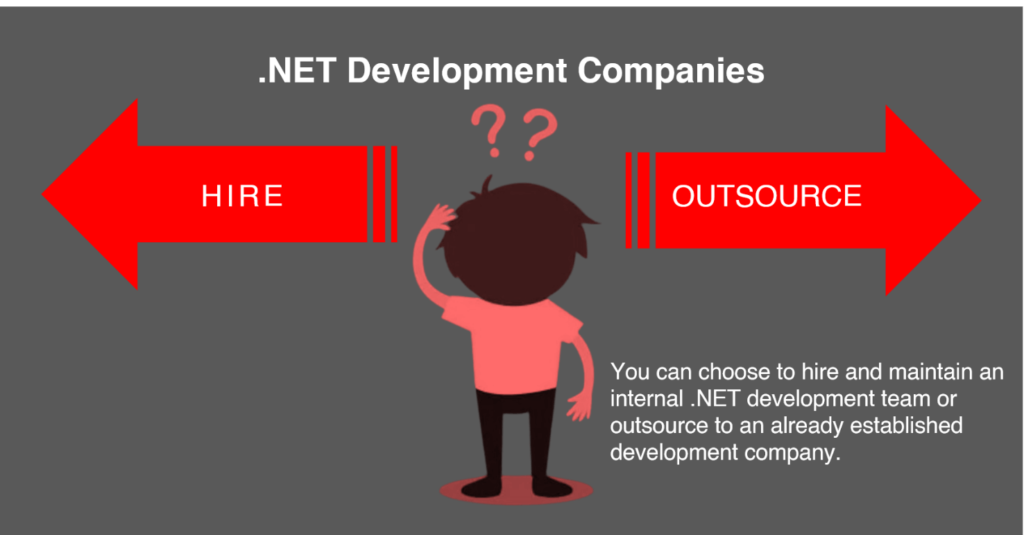 A net development company is the outsourcing solution if you lack manpower and you need to have an expert software development optimization services team. You do not need to recruit new employees for performance improvement, but you can outsource and pay for the services rendered.
Before choosing a net development company, we shall go into detail on what .NET means.
What is .NET?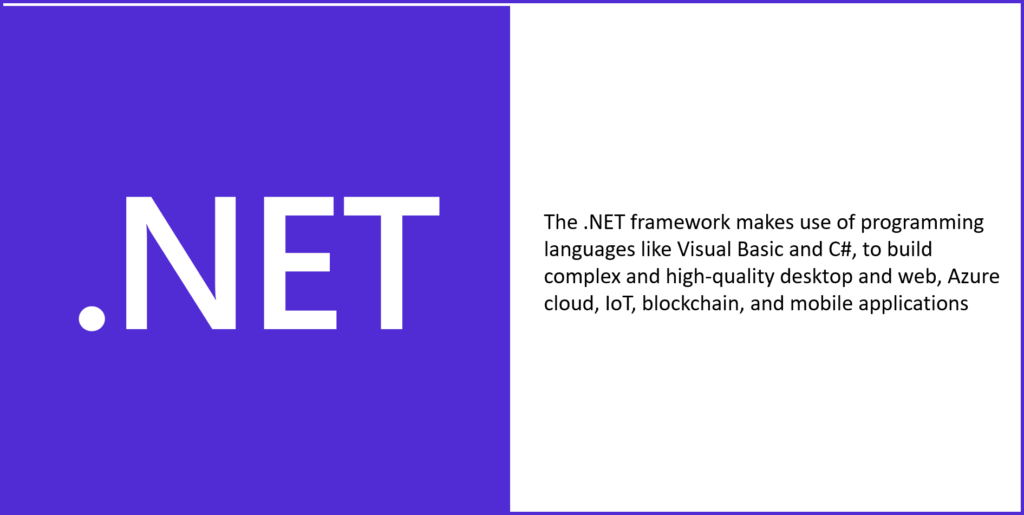 .NET is one of the most crucial, yet most overlooked tools in programming. The powerful framework makes use of programming languages like Visual Basic and C#, to build complex and high-quality desktop and web, Azure cloud, IoT, blockchain, and mobile applications.
The .NET framework (pronounced as dot net) is an open-source programming language by Microsoft and is a programming framework that software applications run on. The .NET framework's first version was released in 2002 and was meant for creating apps that would run on Windows.
.NET Components

1. CLI
Common Language Infrastructure (CLI) is the platform where the .Net programs are executed.
The CLI's features include:
Exception Handling- Errors during the application's execution are known as exceptions. Examples include:
If an application attempts to open a file on a local machine, but the file is unavailable
If an application makes an attempt to extract records off a database, but its connection to the database is invalid.
Garbage Collection- The process of getting rid of unnecessary resources when they are not needed anymore. Examples include:
Unnecessary file handles, which include all files an application has finished operations on
The database connection is unnecessary if the application has finished working on the database.
2. Working with different programming languages
An application can be developed in different .Net programming languages such as:
Language- The initial level is the actual programming language, the most common being C# and VB. Net
Compiler- The compiler is different per programming language. Under the C# language, there is another C# compiler. The same case applies for VB.Net language, where you get a separate C# compiler.
Common Language Interpreter- This is the last Net layer that runs a .net program that is developed in any language. The compiler that follows sends the program to run the .Net application in the CL layer.
Class Library- The .NET Framework comprises a set of class libraries. A class library refers to a collection of functions and methods that are used for the original reason. For instance, some class libraries have methods that handle file-level operations. One method reads texts from files, and there is a method that writes texts to files.
Most of the techniques are divided into Microsoft or System namespaces, which are logical method separations.
Ø Languages
The application types that can be in-built into the .NET framework are boldly classified as:
WinForms-Used to develop form-based apps, which run on end-user machines. An example of this is Notepad, which is a client-based app.
ASP.Net- Used for the development of web-based apps, which are built to run on any browser such as Firefox, Chrome, or Internet Explorer.
The web app would be server-processed, and Internet Information Services installed
IIS or Internet Information Services is a Microsoft component, used for the execution of an ASP.Net app.
The execution result is sent to the end user's machine, and output displayed on the browser, improving the user experience.
Net- This is useful in developing applications that interact with databases such as Microsoft SQL Server or Oracle.
Microsoft ensures that the .NET frameworks comply with the supported OS for Windows.
.NET Development Languages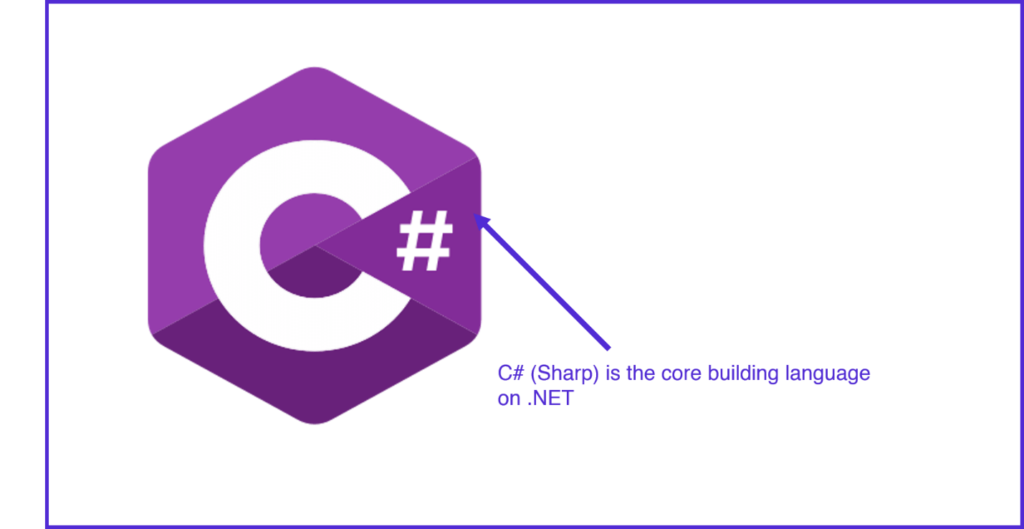 C# (Sharp) is the core building language on .NET. It is a very simple, yet scalable, structured, and object-oriented programming language with a vibrant library and high speeds. C# has an integrated debugger, high-performance code editor, and numerous tools that assist developers to build robust and secure apps. C# enables .NET development companies to write cross-platform trade that is compatible with varying OS systems such as Mac, Windows, Linux, Android, etc.
F# is a functional-first, object-oriented, and open source programming language that includes type-inferred functions that are automatically generalized. It is concise and takes fewer code lines than C#. It contains several in-built libraries, good support, and an actor model.
Visual Basic is a simple, but powerful programming language whose straightforward syntax helps in building object-oriented, type-safe, Windows-based apps with various functionalities. Visual Basic is n interpreted language, which means that it is possible to run code immediately after it is written. Visual Basic only runs on Windows.
Benefits of the. NET Design
The .NET framework offers enormous backward support. If you have an application that was built on an older .NET framework. And you attempt to run the same app with a higher .Net framework, the app still works because Microsoft makes sure that older versions of the framework integrate with the current version.
Apps built on the .Net framework are compatible with all Windows platforms. Microsoft plans to make all Microsoft products compatible with other platforms such as Linux and iOS.
The.NET framework possesses an excellent security mechanism and is more secure than Java. The built-in mechanism helps to validate and verify applications. Each application can define its security mechanism, which is used to give the user access to the running program or the code.
The runtime of the Common Language manages the memory. The .NET framework is capable of seeing these resources that the running program does not use. The framework released the resources via the Garbage Collector. Which keeps checking which system resources are not used, and disposes of them.
The .Net Framework has tools that can be useful in packaging applications that are built on its framework, and are distributable to end-user machines. The packages install the application automatically.
One of the best benefits of the .Net Framework is the support from Microsoft, which continues to invest in .Net and promote it in the tech community. The .Net developer community is very vibrant and passionate, with their support for the framework being why ASP.Net framework is among the most well-loved web development framework, and .Net the second top best non-web-development framework. (We shall delve into the difference between.ASP and .NET in a short while)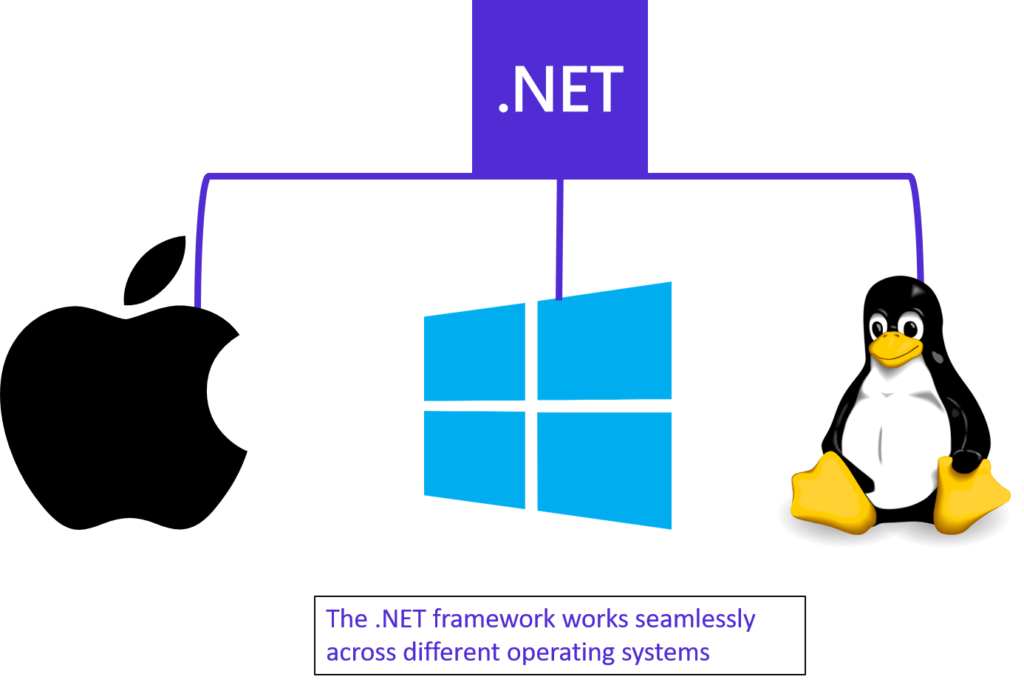 The .NET framework works seamlessly across different operating systems. This means a developer can write one piece of code in either C# or any other .Net programming language, and it will be compatible with any operating system.
.Net accomplishes cross-platform compatibility via a compiler, which takes the code, translates it into a language any OS can decipher. Before cross-platform compatibility in programming languages, engineers had to write separate code sets and new modules that translated the code into OS understandable formats.
Object-Oriented Programming
.NET works on an OOP (Object-oriented programming) model. The Microsoft supported framework, as well as Ruby, C++, and Python all use OOP to make the development process simpler. In this method, objects compartmentalize information. Class declarations describe the actions and contents of the object.
The OOP method uses encapsulation, abstraction, data hiding, and polymorphism to solve most issues that occur during normal programming procedures. Most .Net and tech companies gain from the heavy code access protection of OOP. It prevents data errors and mistakes, leading to better product quality.
OOP also gives developers an easier time reading code via abstraction. The point of view in OOP hides unnecessary details, which makes it much easier to find crucial code parts.
.NET is a massive software network with thirty-two programming languages. The most prominent are Visual Basic, F#, and C#. Others are Boo. ASP.NET, IronPython, Fantom, Cobra, Oxygene, Sharp, and others. .Net includes front-end and back-end languages, and languages like ASP.NET are suitable as front-end while VB.NET and C# are suitable for front-end development.
Differences Between.NET and ASP.NET
Professionals who use .NET and.ASP usually stays updated with the differences between the two, while most newbies often struggle with understanding what sets them apart. The main difference between these two is that .NET is a software development platform that is useful in developing, running, and executing applications, while ASP.NET is simply a web framework that builds dynamic web pages.
THE .NET framework is a framework that provides interfaces and guidelines to APIs and Windows services. The development platform creates, executes, and deploys various applications such as mobile, web, as well as Windows-based apps. .NET is used for enabling SaaS (software as a service).
ASP.NET is a major tool in the .NET framework and plays a major part in the .NET SaaS Strategy by Microsoft.ASP.NET simplifies the job of creating, debugging, and deployment of web-based apps.
The NET Framework is an environment used for creating, executing, and deploying various apps and services that utilize .NET technology, and CLR is the main runtime engine that keeps track of the execution of .NET applications.
The runtime infrastructure and development changes how business applications are created and developed. The ASP.NET architecture has components like CLR, Library, and Language, and the ASP.NET apps are modular and mostly component-based
NET was initially for PC and Windows users, but Microsoft nor offers a novel programming interface to Windows services and APIs, which can integrate several technologies to develop different technologies for web, Windows, and mobile-based apps.
It simplifies the multi-tier and client to server development processes. ASP.NET on the other hand the web application section of the .NET framework that creates data-driven and dynamic websites that are scalable and are compatible with different websites that are hosted on a dedicated server with no custom coding.
The .NET framework uses many different programming languages, which include VB.NET, F#, J#, C++, C#, and nearly 200 other languages. It comprises of development tools, which include various versions of Visual Studio, which is a class library mostly used to build Windows applications and web services. ASP.NET is incorporated with the Visual Studio and the. Net Framework. Its applications are built on a software environment known as CLR and any of the many .NET languages can write ASP.NET web apps.
What a .NET Developer Does
.NET developers are responsible for the designing and developing of software applications according to your business needs. Web developers determine and analyze prerequisites for your software and their responsibilities also include supporting the software as well as continuous product development.
.NET developers are mostly employed in software and systems houses, computer service providers, ICT companies, and technical planning engineering offices.
Responsibilities of a .NET Developer
.Net developers are responsible for designing, implementing, and more developing the software. The .NET software engineers take charge of analyzing specific issues and provision or development of the proper system requirements, which are implemented in the design mixture of components and interfaces.
.NET developers often work on solid projects, which involves developing software solutions that are based on different technologies. The .NET developer is also in charge of programming and can-do simple tasks such as fixing bug issues on an existing app or complex tasks such as building a new app from zero.
The Skillsets of a .NET Developer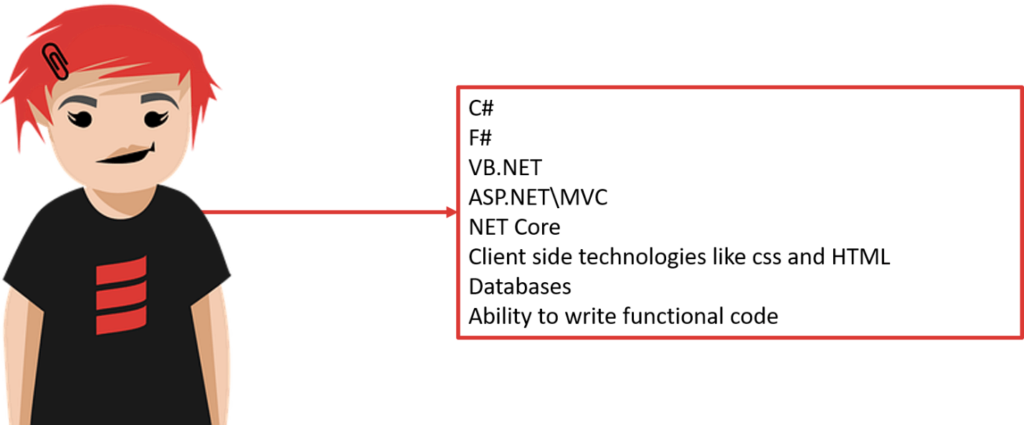 A .NET developer should be experienced in working with system design and code structures. The developer should also have the following skillsets:
Experience with at least one .NET programming language such as
C#, (C Sharp)
F# (F Sharp)
VB.NET
Libraries and .NET stack such as ASP.NET MVC or NET Core, which are rapidly gaining popularity in the .NET environment. A developer needs to master the stack to help in building faster and more secure web apps.
Knowledge of client-side technologies such as CSS, JavaScript, and HTML, which help the developers build and understand both sides of the app and make them more flexible.
.NET has compatibility with many different databases, but the developer mostly needs to be well -versed in Oracle and SQL Server.
Ability to write functional code and spot errors
Net developers should have soft skills as well as technical skills. They should be independent, creative, flexible, and inquisitive workers. They should possess mental resilience and ability to work under pressure, as well have abstract-logical thinking capacities, computational or arithmetic thinking or skills, memory ability, organizational and commercial thinking, and spatial imagination.
As a rule of thumb, a .NET developer should have a degree or some formal training in computer science, software engineering, cybernetics, IT or mathematics. Having certification within the database and software development is an added advantage, and this also applies to developers who have many years of experience. These are all positive and advantageous experiences .NET development companies take into consideration when hiring developers.
.Net developers are always in high demand, with few talented developers in the field. There is no clear-cut answer as to what exactly defines a .NET developer, and the skillset needed. Companies usually as for specifics such as X number of years' experience with WinForms and proven experience with VB.NET, C#, etc.
The Decision Between Hiring an In-house developer Vs. Outsourcing
In-Sourcing
When looking to develop a .NET software product, you have an option between hiring in-house or in-sourcing, hiring a freelancer, or a net development company. When a company hires an in-house development team, they hire full-time employees.
Pros of hiring In-house
For any regular employee, the company comes first in case there is an incident that demands an immediate response, considering the company is their income source. They are always available and can work on an issue as soon as it crops up.
Once an individual is hired by a company, the company invests in the employees' time and talent by paying them a monthly salary. The employee in return has a deep understanding of the company and stays longer, growing his/her career and helping the company grow as well.
When a company fails to find a potential candidate, who fits their job description requirements, they can train the person they hire to develop his/her skills to the company's level
Cons of In-Sourcing
When a company hires an in-house developer, all its software development operations are hinged on them. If team members are not available to work for whatever reason, the whole project stalls, which has dire consequences such as the extension of deadlines and cost overruns.
Lack of Local Skilled Employees
A company might spend a lot of time, effort, and money searching for a local talent pool, find a qualified candidate, but with exorbitant rates. With the demand for qualified .NET developers and a limited local talent pool, finding a professional with your exact requirements is difficult.
The process of hiring the right .NET developer can both be tedious and lengthy, with project managers spending lengthy hours interviewing potential candidates. For startups, an in-house team can be financially draining with many foreseen and unforeseen overheads.
Outsourcing to .Net Companies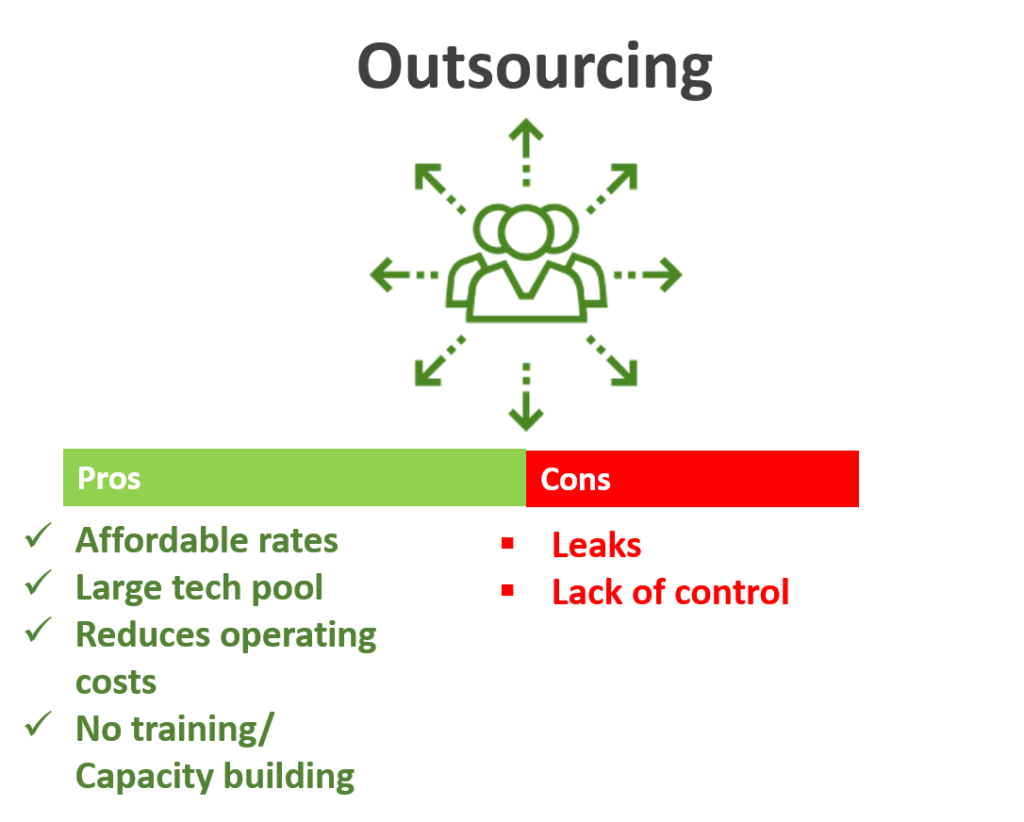 Outsourcing is the inverse of in-sourcing, and it refers to contracting a third party or an outside organization to complete your software development project. When you outsource your project, you spare your company the tedious process of finding the right candidate, saving time and money. All you pay is the expenses you agree on.
Pros 0f Outsourcing
Rates are lower when you outsource overseas, and outsourcing to offshore companies is a more cost-effective solution. The overseas companies deliver high-quality work and charge a quarter of what you would pay locally.
These .NET companies have a vast database of tech talent. All you need to do is communicate your requirements and the right candidate will be found. India is one of the top outsourcing destinations globally. The top benefits of hiring from India is its huge talent pool and a vibrant IT market.
However, most firms who have outsourced to the Indian talent pool say that is it very difficult to find skilled developers who can write high-quality code. The next outsourcing point of reference shifts to Eastern Europe in countries like Bulgaria, Ukraine, Belarus, Poland, etc.
Unlike in in-sourcing where you have to bear the costs of seeking and recruiting candidates, .Net companies do all the legwork for you.
Unlike with an in-house team where you may need to train the candidate, this is not necessary with .NET development companies.
Cons of Outsourcing
Leaks are a probability, so you need to sign an NDA (Non-Disclosure Agreement) with the company. This contract prohibits the company from sharing any sensitive data.
You do not have total control over the project and the developers.
How to Find the Right .Net Development Company
When you decide to hire a .NET Development Company, here are some factors to consider:
When hiring a net development company, you need to prioritize the company's experience. A company with a long track record over many years and a good number of completed projects is a perfect fit. Without consistency in quality and timely delivery, a shoddy company would have flopped.
Look at the .NET developer experience as well. An experienced developer can run your project with precision until completion. The more experienced developers, the easier it is for them to deal with the required technology.
Client Reviews, Awards, and References
Confirm if the company's website has a slot for client references. A company that provides high-quality services gets client reviews, references, and referrals as a result. You can contact the referral client to verify and look at their case studies to see if the firm has won any national or international accolades or awards that recognize its excellence in its field.
Chose a .NET development company that will act as an on stop shop service provider, not just .NET development services. After developing your software, testing and deployment and quality assurance are just as important, so hire a team that does all these things.
Maintenance is also as important as building the app since you need to update it thereafter as well as resolve any arising issues. If your company today only builds web apps, you may decide to expand and build mobile apps. If the company builds both mobile and web apps, that is an ideal .NET company.
Management Tools, Communication and Collaboration
When building a software product, requirement changes may happen. Choose a company that is adaptable to requirement changes. The firm should follow an Agile methodology to change adaptability. You need a development team that will guide you every step of the development process, so good and regular communication is key.
The chosen development company needs to be keen on regular updates on the project's progress. The company needs to assign a contact person, mostly the project manager, who will be available when needed. During the first interviews, confirm if the company takes a collaborative approach. You will be ideally searching for a partner, and not a company doing things without consulting you.
The more time spent building software, the more expensive it is. A reliable .NET development company is capable of delivering within a given time frame. This gives you time to test the product and report any bugs or vulnerabilities, as well as giving employees time to go through training in using the software.
You need to talk to several firms to find a perfect fit for your company, which means you have to inevitably share your ideas with them. You must be very cautious and protect your idea by signing an NDA (Non-Disclosure Agreement) before sharing your idea with them.

A project manager needs to be deeply involved in each phase of your development project for planning, organization, and control of the team. However, the manager must not interfere with the development process.
Before hiring, you must have a budget. Ask the company how much it will cost, and hire them if they are within your budget. Confirm the mode and type of payment beforehand so that you are well prepared.
Ask the company if they have any warranty or guarantee on their work and if they have a support team that provides services 24/7 in case you run into a problem.
Top .NET Development Companies
Microsoft.NET technology framework is used by businesses to develop scalable and high-quality apps for mobile, web, and desktop platforms. Using .NET, you can develop numerous applications that range from accounting apps, healthcare, warehouse and inventory apps, Websites, ERP, CRMs, mobile apps, and XML web services. This powerful programming language and the API set allows you to build a business solution that caters to all your business requirements.
The following is a list of some of the top .NET development companies, which work from onshore, nearshore, and offshore locations. The companies offer various .NET services such as end-to-end, web, custom application, web and desktop development, platform OS migration, and Enterprise mobility solutions.
Choosing the right .Net development company that can guide you in building a quality software app and get a significant ROI can be quite tricky. Here is a list of the top ten development services to help you make a decision.
1. Cyber Infrastructure Inc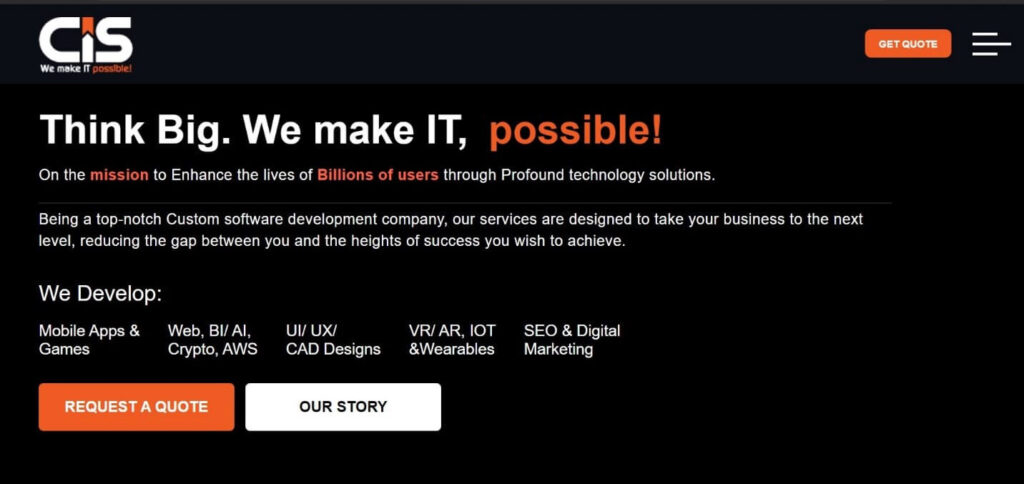 Cyber Infrastructure Inc is a top digital business solutions company that has slowly risen to the top of the ladder in the .NET development company list. It was founded in 2003 and its hourly rate is between 29$ and 49$.
Other than .NET development, the company also offers other services like software, mobile app development, enterprise solutions, full-stack development, IoT application development, and Azure cloud computing services.
Cyber Infrastructure Inc is a CMMI Level 3 certified firm and offers a vast range of digital business solutions. It boasts of a team of highly skilled .Net developers and ensures its clients get the best business solutions and digital transformation at an affordable rate.
With over twelve years of web experience, the organization has a lot of experience in and design and development. The company has a top developer team that includes mobile and website app developers, PHP coders, graphic designers, Net programming experts, Android and iOS application developers, etc. For its superior management system, the company has received ISO 9001:2015 Certification.
2. Zealous System
Zealous System is one of the most trusted tech leaders in the software and web dev services. The company has experience in mobile app development for different platforms such as Android and iOS, and in the newest technologies such as Xamarin, Flutter, Ionic, React Native, Swift, Kotlin, and Java.
The company embraces Agile methodologies in its clients' projects, which allows it to create excellent apps.
3. Algoworks
Algoworks specializes in various technologies such as mobile app development, Microsoft SharePoint, Salesforce, Cloud, Web, ECM, .Net, Front-end scripting, and Business Intelligence. Algoworks is a software company that is well known for being one of the best tech firms by Deloitte and SiliconIndia.
It provides Software Product Engineering (SPE), Content Management Solutions (CMS),Customer Relationship Management (CRM) The firm improves its software processes using its DevOps services. The company has a wide array of technology specialists and in 2018, Manifest awarded Algoworks as the top mobiledeveloper of the year.
4. Diceus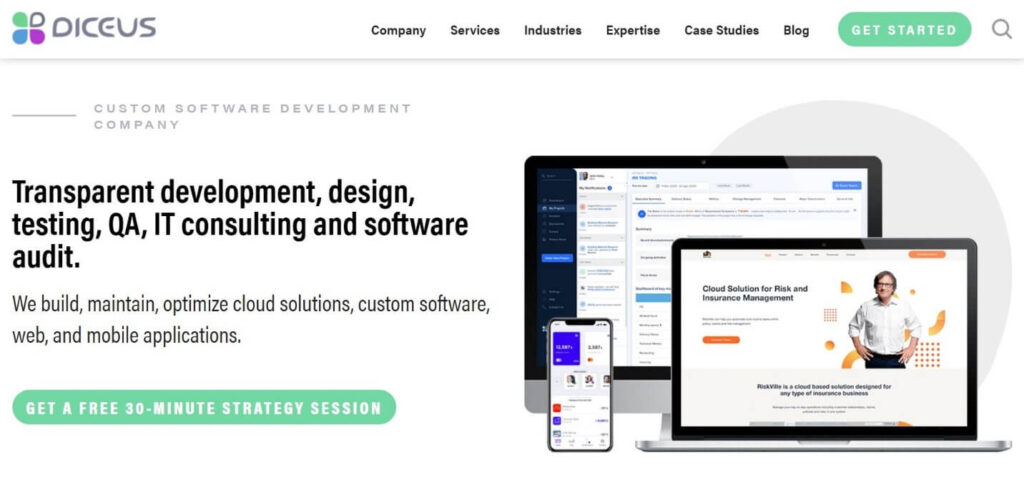 Diceus has experts in various technologies like Cloud, Angular JS, PHP, Ruby, Python, .Net, and Java. This company is an outsourcing firm that builds software using the latest Microsoft tech. It has a technology stack that integrates whole parts of enterprise product development. Large enterprises can use this full-service software development company whose specialty is creating and maintaining complex web and mobile solutions.
Being an expert in marketing and e-commerce solutions, Diceus provides web-oriented end-to-end solutions.
5. Clarion Technologies
Clarion Technologies comprises reliable and talented experts who develop and maintain various technologies such as PHP, .NET, Docker, Front-end, Android, software testing, Mobility, Cloud, etc. The company is a CMMI Level 3 certified IT firm that specializes in providing solutions to SMEs globally.
Clarion's .NET projects range from the United States of America (USA), Australia, Europe, the Middle East, and Africa and have won many awards including Top software Development Company by GoodFirms, Top Software Development Company by Clutch, etc.
Clarion offers dedicated development services in CMS, web development, E-commerce development, Application Maintenance, Rich Internet Applications, Mobility, Cloud, and Information Security.
6. MetaDesign Solutions
MetaDesign Solutions offers various tools and technologies for mobile application development across different platforms such as Windows mobile iPad, iPhone, and Android. They offer other services like Game development, HTML5 application, Microsoft development, WordPress development, and implementation of e-commerce solutions.
7. Eleks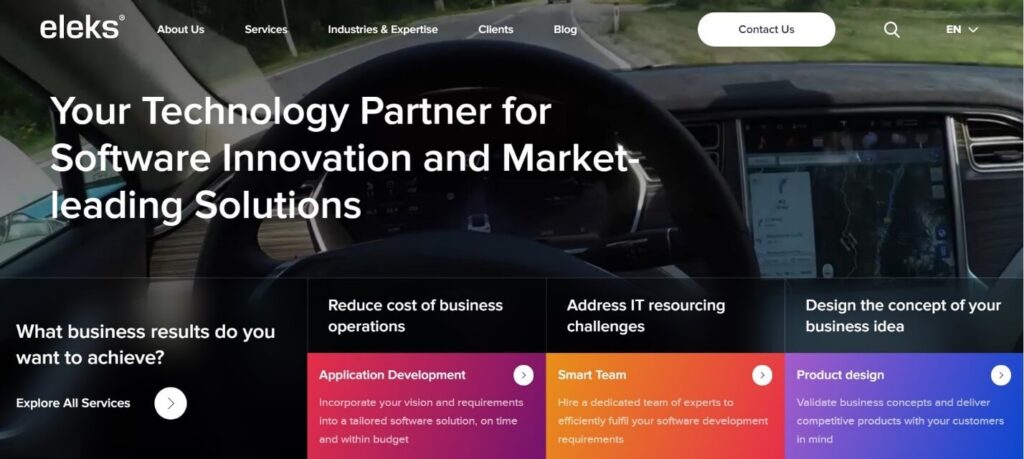 The software developers at Eleks are an experienced lot in various technologies, which include .NET, Front end, Java, DevOps, databases, blockchain, and big data. Eleks is a software development consultancy which for 26 years has been acting as a software innovator to technology innovators, large enterprises, and Fortune 500 companies.
The company creates software products that help transform client businesses, give them ideas that help to boost their profits, and save on costs by as much as 50%. Eleks takes care of client' needs during the Software Development Life Cycle (SDLC), allowing the client to take care of other business.
8. inVeritaSoft
inVeritaSoft is a customized software development firm that is focused on building top quality web and mobile and web apps in the .NET framework. Together with dynamic .NET solutions, inVeritaSoft uses technologies like Node.js, Android, iOS, JavaScript, and Java.
inVeritaSoft specializes in the delivery of offshore, custom development services, and full cycle. The company offers service in fast-evolving technologies as its turnkey solutions. The company has been rated 4.8 out of a 5 on Clutch.
9. Inflexion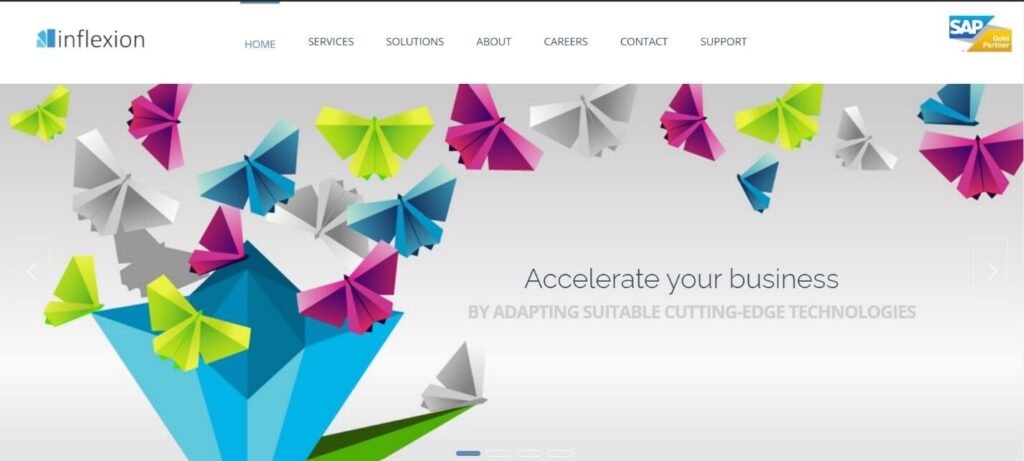 Inflexion provides services in various technologies such as .NET, Java, PHP, Rails, Python, iOS, Android, Cloud, Front end, back end, etc. The company is an IT solutions firm that serves clients from Fortune 500 companies to SMEs across the globe.
Inflexion has a wealth of experience in the delivery of advanced mobile and web solutions in different areas such as web and enterprise portals, enterprise mobility, e-commerce enterprise content, digital content distribution, digital learning, and business process automation
Inflexion has delivered over 1500 in more than thirty countries, with its developers possessing all the right skills and experience to develop different apps and program items for web, cloud, and versatile. The firm has been ranked by Clutch as one of the best .NET developer company in Austin.
10. Fingent
Fingent's .NET application development involves a site outlining, excellent administration, customized web architecture, web advancements, and web-based business arrangements for their numerous clients around the world. Fingent uses several technologies including Android, Microsoft, iOS, SAP, Odoo, and Open source to build high-quality and customized solutions.
Fingent is a top custom software development and technology consulting firm that endeavors to solve business issues using mobile and web solutions. The developers at Fingent have many years' experience in Microsoft technologies, which means they can develop as well as deploy high-quality business solutions. Fingent has won awards from GoodFirms and Clutch, and Business of Apps lauded the company as leaders in app development.
Conclusion
Hiring a .NET web development company is an exercise that needs extreme caution and due diligence on your part. You have the option of hiring an in-house software developer or outsourcing, but the advantages of outsourcing to a development company far outweigh in-sourcing.
The right development company will make the entire process faster and you can build your product with the confidence that you have expert developers on your team who will deliver when they are supposed to, which makes it more cost-effective in the long run.