An enterprise-level modern content management system like Sitefinity can save you time and money if you are developing a business website. Progress Sitefinity is one of the new CMSs that has seen steady growth in market share and features. This guide delves deep into what Sitefinity CMS is all about and why businesses should choose it over general-purpose alternatives like WordPress.
A Word About Content Management Systems
A content management system is a user-friendly platform or software that allows users to create, edit and manage multiple page websites with little or no coding. You can develop a website using a graphical user interface with a CMS like Sitefinity. More importantly, CMSs allow you to dynamically add, edit or remove content like text and images on your website without interacting with a database.
What is Sitefinity CMS?
Sitefinity CMS is a specialized software application that allows you to create, modify and manage marketing-centric enterprise websites. It distinguishes itself from other general-purpose content management systems by focusing on marketing and digital commerce functionality. Sitefinity is an enterprise CMS developed and marketed by Progress/Telerik.
What are the features of Sitefinity?
Being a premium CMS made for enterprise users, Sitefinity is loaded with features you wouldn't usually find in a content management system. Most of these features are designed to help enterprises with online marketing, e-commerce, customers support, online sales, digital asset management, and creating enterprise-grade digital experiences through the web.
Here are the core features and components in Sitefinity CMS:
1. The Web Content Management System (WCMS)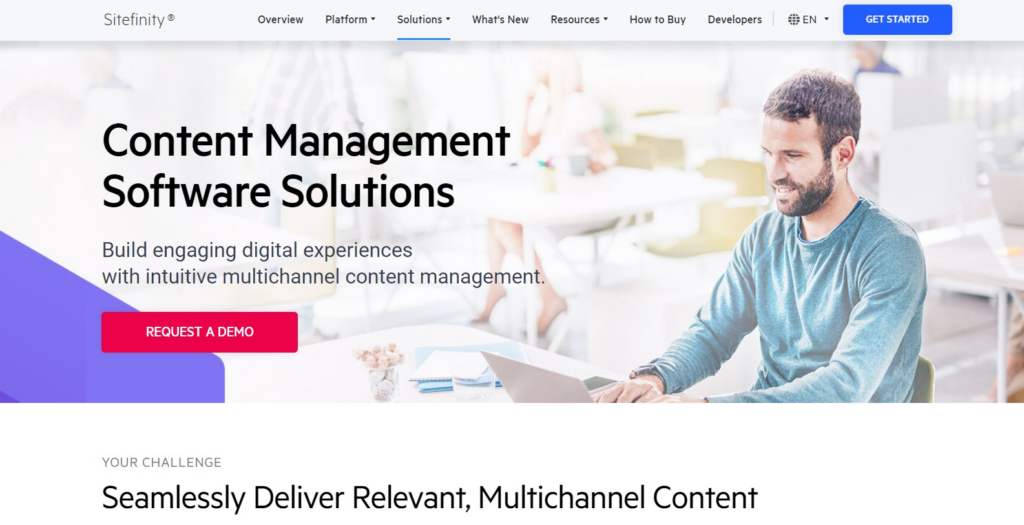 At the heart of Sitefinity is an enterprise-grade web content management system (WCMS) that allows businesses to create and manage marketing content. Sitefinity's custom CMS is designed to help companies develop, publish and push content on the web for marketing purposes. It has the following essential features.
A content editor which is customizable and extensible
Customizable content management modules
Multiple site content manager
Pages and page templates to help you create and organize display content
Easy content categorization
Content personalization
Libraries – to help you to upload, store or manage media such as videos, images, and documents
Multilingual, multisite experiences
Contextual analytics for pages and content items, and so much more
2. Built-in Marketing Tools
The built-in marketing tools are what make Sitefinity a unique content management system. Across the CMS, you will find tools to help you create and personalize content to different audiences and experiences. The marketing tools also allow you to optimize website content for better rankings and conversions.
An excellent example of how you can use Sitefinity CMS for marketing is by automating the creation of newsletters and marketing emails right inside the CMS. Other CMSs only allow users to automate such functionality through external tools or plugins that add to the size of your website.
3. Widget-based page Management
Sitefinity CMS uses a unique widget-based page management system to create and manage page components dynamically. Users can create and edit display components as widgets in the CMS with simple graphical user interface actions. The CMS comes with ready-to-use widget templates, eliminating the need for complex themes or display plugins.
4. Dynamic Content Modules
Unlike most content management systems, Sitefinity has a powerful dynamical content module system that allows users to create custom modules in the backend. The dynamic modules can be anything you can think of, allowing granular control over how content is created and managed.
5. Built-in Services and Website Utilities
Like other content management systems, Sitefinity also comes with basic services and utilities to help you automate the essential functionalities of your website. These include a built-in content feed, a sitemap generator, a built-in recycle bin, and an intuitive search utility to allow content discovery within your website.
The platform also comes with many SEO features such as SEO -friendly URLs, automated 301 redirects, multiple URL support, forms, explicit tracking consent support, etc.
6. Foreign API support/ External Synchronization
Being an enterprise-level content management system, Sitefinity has a robust external synchronization system that allows you to connect your website to other systems using an API or any other technology. For instance, users can synchronize their Sitefinity website to an external CRM using built-in connectors.
What Is the Latest Version of Sitefinity?
The latest official Sitefinity CMS is version 11.2.6900, released in March 2022. The release came with many changes and updates, including support for Microsoft .NET Core, DAM integration with Cloudinary and Frontify, more search functionality, and security updates. Constantly update your Sitefinity CMS to access the latest security updates and new features.
Is Sitefinity a good CMS?
Sitefinity is an excellent option for users looking for a robust enterprise-level CMS made explicitly to boost digital marketing efforts. The CMS is highly scalable and supports core technologies that any enterprise client would desire. Progress- the company behind Sitefinity CMS- also builds and manages other products such as Sitefinity Cloud-more rooms for extensibility.
How do I update Sitefinity?
You don't need to manually update your Sitefinity CMS as all updates are automatically rolled out and managed by the developer.
Sitefinity CMS Pricing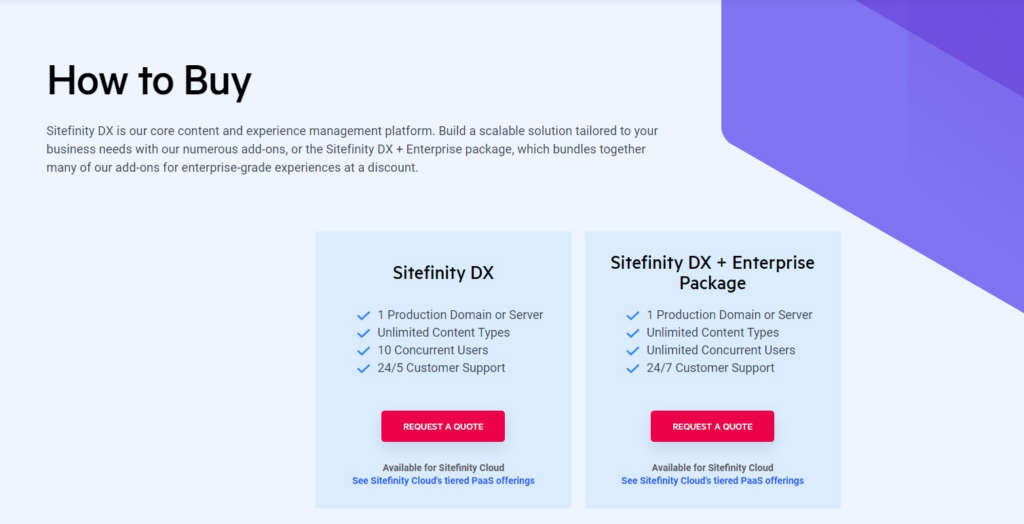 Sitefinity offers custom pricing to enterprise clients depending on the features they are interested in and package. There is a basic Sitefinity DX package and a more advanced Sitefinity DX enterprise package. They do offer a free trial with a $0.01 refundable fee.
Sitefinity Download
You can download Sitefinity as an installation file for trial purposes or use the online sandbox. The download allows you to develop a trial project, play around with the environment, test the SDK, view code examples and do trial runs locally. The online sandbox is made for business users and allows you to get up and running with the CMS instance in a few minutes.
Sitefinity CMS Examples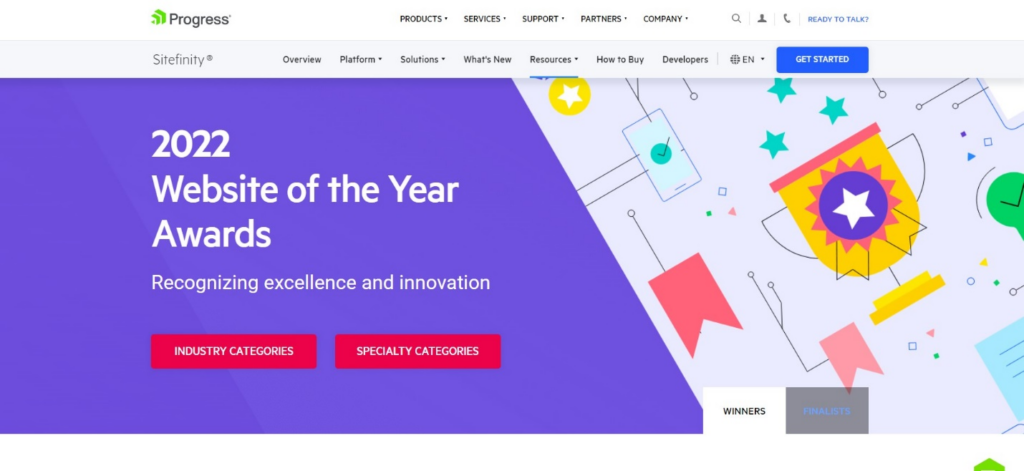 Every year, Progress honors its Sitefinity partners by awarding a website of the year. You can check out great examples of websites built with Sitefinity technology on the awards page. The samples showcase the best of Sitefinity's in the real world. Talk to us today and start creating your enterprise website with Sitefinity CMS.