10 of the Best SaaS Startup Incubators to Boost Your Bootstrap
Suppose you have an excellent idea for a SaaS startup but do not have the required resources to get it off the ground. We shall look at what startup incubators are and some of the best SaaS startup incubators to help you along your startup journey.
The best SaaS startup incubators are non-profit organizations (often associated with business schools and universities), teams of professionals, or platforms that assist new startups in bootstrapping your SaaS project in its early growth. The incubators provide working space, guidance, mentoring, and sometimes, funding. 
There are hundreds of startup business incubators and accelerators out there, and as an entrepreneur, you might be hard-pressed to figure out how to choose the best one. Before we delve into how incubators help startup companies, you need to know the differences between an incubator and an accelerator, which are often used interchangeably but erroneously.
A startup accelerator supports the initial stages of a growth-driven startup via mentorship, education, and financing. In this instance, your startup enters the accelerator for a fixed period.
The accelerator period is a fast-moving and intense education geared toward accelerating young and innovative startups, which compresses the years they would have spent learning into a few months.
An incubator's primary focus is innovation. Incubators aim to take disruptive and unconventional concepts and grow them with the hope of building them into a new company or business model.
An accelerator instead focuses on the growth of an already existing company. Rather than concentrate on innovation, the accelerator lives up to its name and speeds up an existing business's development.
Differences between Startup Incubators and Accelerators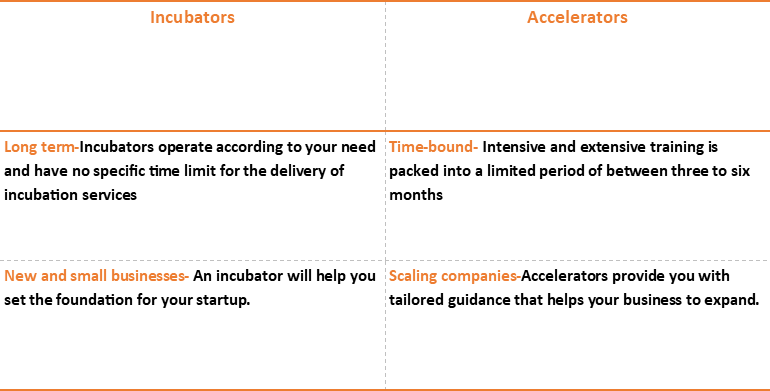 Some of the significant differences between incubators and accelerators are:
·  Time Frame
As mentioned, incubators take a longer time and have a flexible period of up to two years. An accelerator speeds up the process and packs it into a shorter and more rigorous time frame.
An incubator is a longer-term project. Incubators operate according to your need and have no specific time limit for the delivery of incubation services. You can be incubated for as long as the incubator providers deem it necessary.
An accelerator is time-bound, meaning that an accelerator program is done in cohorts. Intensive and extensive training is packed into a limited period of between three to six months. The accelerator program gives you the extra boost you need to launch your SaaS product successfully.
·  Project's Maturity
Whether you choose an incubator or an accelerator depends on the maturity of the project. Incubators are more beneficial for new and small businesses while accelerators lean toward scaling companies. Both options provide the entrepreneur with mentorship and guidance, but the product's growth stage changes the focus of the mentorship.
Incubators are for nurturing startups during their initial project phases. They provide you with mentorship that allows you to prototype, build customers, develop your SaaS product, and create a business plan. An incubator will help you set the foundation for your startup.
An incubator can help you to build your MVP (Minimum Viable Product, while an accelerator focuses its guidance and mentorship on scale-ups. Scale-ups are businesses that already have a prototype, have done customer discovery, have planned their business, etc. Such companies already have a foundation and are searching for more traction and seed investment.
Accelerators provide you with tailored guidance that helps your business to expand. Incubators and accelerators offer you legal advice and working spaces, but the difference in acceptance is your project's stage.
How Incubators Help Your SaaS Startup
Incubators help your startup in several ways:
·  Idea Validation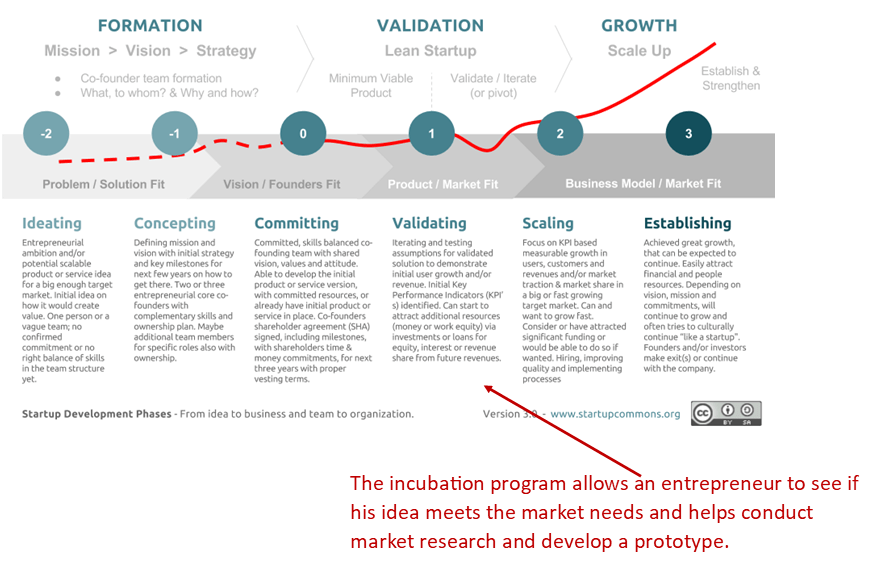 For any entrepreneur, their idea might feel like a revolutionary one, and sometimes, it might not be anything extraordinary. Every idea needs validation on its efficacy. An idea might be innovative but have zero potential commercially or does not solve a problem. The incubation program allows an entrepreneur to see if his idea meets the market needs, helps conduct market research, and helps develop a prototype.
·  Mentoring Support
Most entrepreneurs need mentoring on the different elements of a startup. Various business aspects such as sales, marketing, operations, business development, and finance need to be taught, well-planned, and understood for a beginner.
Mentors with startup experience and a sound business acumen offer good advice and help solve issues that crop up. Sometimes a startup may need to deviate from the original plan, and a good mentor is always on hand to steer the entrepreneur in the right direction.
·  Working Space
As a startup, you will be cash-strapped for a while before your new venture takes off. During this stage, investment in office space is an expense you cannot afford. When an incubator provides you with co-working space, this removes a considerable cost off your equation. Several other startups often share the co-working space, making it a vibrant area for idea exchange and support.
·  Fundraising Support
Incubators are deeply rooted in the ecosystem and are often well-networked. An excellent and well-validated idea with potential can almost always expect to have investor interest via the incubator method.
Most incubators have a demo day where entrepreneurs are offered a chance to present their ideas to investors to secure funding. Investors prefer startups that crop up from incubators, as they have some faith in reputable incubators and expect the startups to be thoroughly vetted.
·  Resource Pool
Incubators provide entrepreneurs with a pool of shared resources in terms of expertise and technology, which helps accelerate their idea actualization.
The Top-Ranked Incubators
Some of the top incubators are based in Silicon Valley in San Francisco Bay area, New York, Los Angeles, Chicago, Toronto, and other places. We shall take a look at different incubators in different countries.
1.  Y Combinator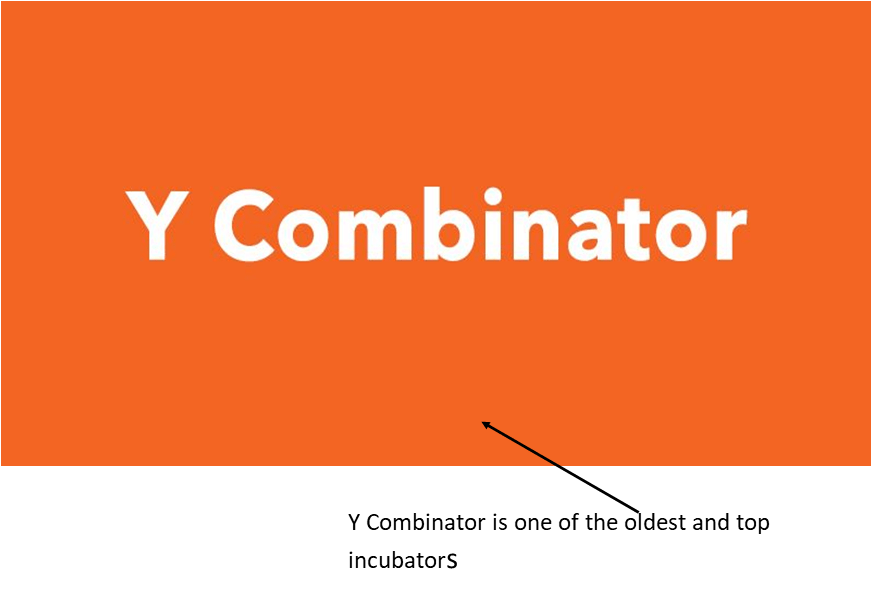 Y Combinator is one of the oldest and top incubators and was responsible for Airbnb, Dropbox, Coinbase, Twitch, Stripe, Reddit, Instacart, and Weebly. Y Combinator funds several startups per year to the tune of $120,000.
Y Combinator was founded by Paul Graham and has funded over 2,000 startups to an estimated valuation of over $200 billion. The startup incubator is located in Palo Alto in Silicon Valley and is run by a team of 40 individuals. The company gets approximately 13,000 applications from entrepreneurs annually.
Y Combinator selects at least 240 projects to incubate per year, and financing is done via a SAFE contract. Early-stage companies can profit from the company's three-month program, which happens twice a year, and where you would have to relocate to Silicon Valley for the duration.
2.  500 Startups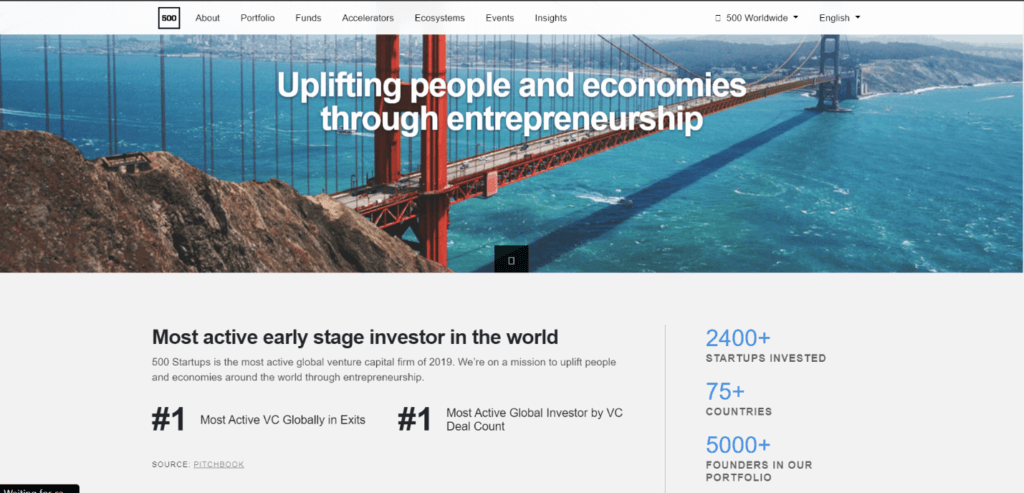 The company 500 Startups was founded in 2010 and is located in Mountain View. This startup incubator is a worldwide venture company employing 150 staff from 20 different countries that handle investments in almost 74 countries.
The main goal of 500 Startups is to create thriving ecosystems globally. They intend to do this by innovating skillful startup entrepreneurs and supporting their progress over a four-month seed funding program.
Their mentor network and investment department have worked with firms like Google, PayPal, Instagram, Facebook, LinkedIn, Yahoo, YouTube, Apple, and Twitter.
3.  TechStars
TechStars is among the oldest and well-known startup incubators. The incubator company selects more than 300 companies per year to join a three-month mentorship program.
TechStars spends $120,000 on each startup and provides interactive mentorship and direct and lifetime access to TechStars Network. TechStars plays host to numerous programs in various industries and cities.
TechStars venture capital fund has invested in companies like SendGrid, Twilio, Uber, Digital Ocean, etc. The TechStars Global Entrepreneur Network assists entrepreneurs with growing their ventures by linking them with a broader network of consultants, peers, mentors, corporate partners, and investors, among others.
The company also offers the entrepreneurs startup programs such as commercial advancement partnerships, mentorship-based catalyst programs, and the Venture Capital Fund, which funds unconventional businesses.
4.  1776
The company 1776 is a center for startups handling issues in energy, education, healthcare, and other industries. Startups in 1776 can access a worldwide network that boasts established corporations, institutions, investors, influencers, and experienced mentors.
Additionally, 1776 has a seed fund used for seed-stage investments in ventures that can succeed and change citizens' lives.
5.  Venture Catalysts
Venture Catalysts is one of India's top integrated incubators and offers a venture capital between $500,000 and $1 million. Entrepreneurs also get tutoring, upskilling, networking, and guidance with industry gurus.
Venture Catalysts works hand-in-hand with Amazon, IBM, and Microsoft and provides co-working space and seminars in each of the biggest cities in India as well as Doha, London, and Hong Kong.
Venture Catalysts has created a program for extending helping programs to entrepreneurs, such as review, pitch, and shadowing days.
6.  Metavallon
Metavallon is a venture capital incubator company situated in Athens, the capital of Greece. Metavallon focuses on tech startups to combine tech, talent, and hard work/determination. They have since evolved to Metavallon VC since 2017.
Metavallon offers interactive help in areas such as networking, coaching, consultation, and scouting for talent. They offer entrepreneurs workspace in their headquarters in Athens, but on merit, on a case-by-case basis.
7.  Capital Factory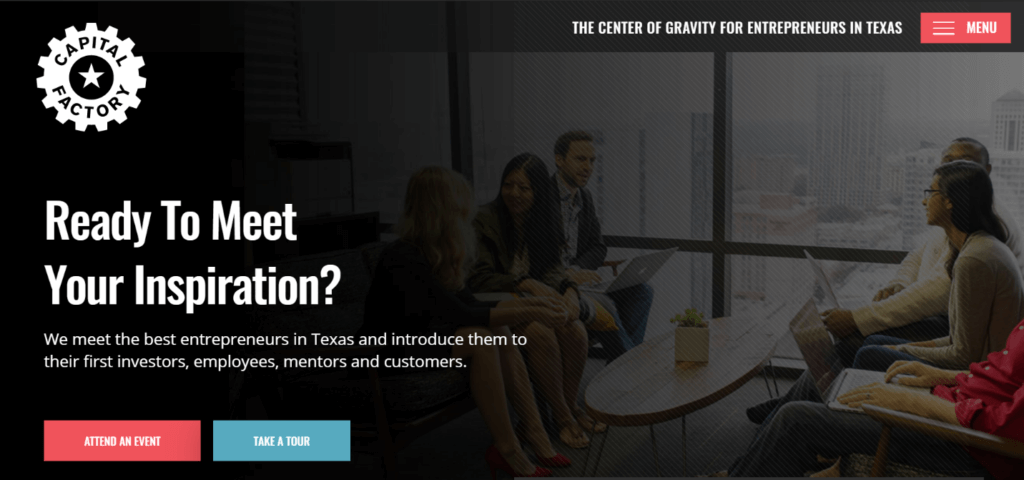 Capital Factory is an incubator specifically for early stage companies and is based in Austin, Texas. The successful entrepreneurs use the company's free working space, company advocate, hosting credits, and a network of entrepreneurs and investors in the Texas area.
Capital Factory gets a 1% stake in the startup's equity and has an investment right in the next company's funding round. The startups receive assistance from an Investor Relations Associate who improves the entrepreneur's chances of fundraising successfully.
8.  AngelPad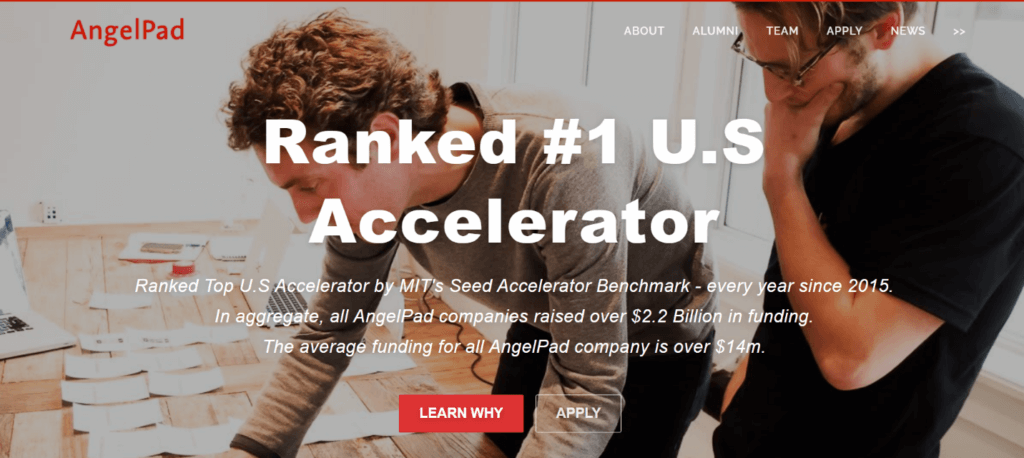 AngelPad is among the fastest-expanding incubators and operates from New York and San Francisco. The company has been a launchpad for hundreds of companies since its inception in 2010.
AngelPad gets 5% in common stock and invests in the company, adding up to 7% in AngelPad equity. If you are looking to grow your company, AngelPad is considered a popular option among incubators.
9.  Main Incubator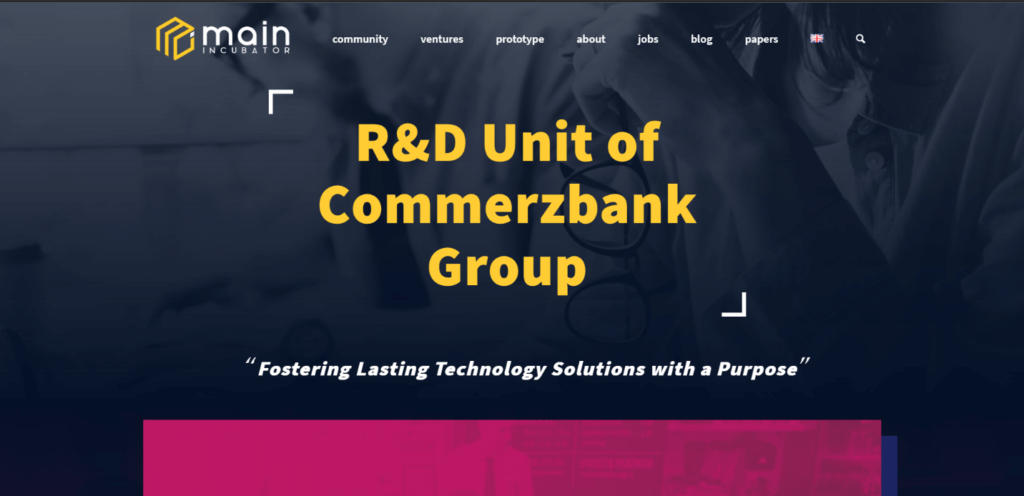 Main Incubator has its headquarters in Frankfurt am Main and is a subsidiary wholly owned by Commerzbank. Main Incubator deals with emerging technologies such as machine learning, big data, AI (Artificial Intelligence), blockchain, virtual reality, robotics, biometrics, quantum computing, etc.
Main Incubator invests strategically in tech companies and allows Commerzbank and its customers to use the innovations.
By the development of its own prototypes, Main Incubator shapes innovations and promotes FinTech in the process.
10.  Plug and Play
The goal of Plug and Play in Silicon Valley is to open up innovation to all. The incubator connects some of the top entrepreneurs in the world to top corporations. Plug and Play's program themes are based on industry and allow corporates to meet with the startups and forge successful business connections.
Every year, Plug and Play invests in hundreds of startups, assisting them in raising the much-needed capital to actualize their ideas.
What to Look for In a Good Incubator
To identify a good incubator, the entrepreneur should consider a few points.
·  Networking Opportunities
A good incubator should provide you with numerous networking opportunities and a robust business partner network.
·  Mentorship
They should provide capital as well as advice. Mentorship steers you in the right direction, and you can avoid making costly mistakes in the running of your company in the future.
·  Support
A startup incubator should support you. The Incubation Center for Entrepreneurship offers mentorship as one of its functions. The startup incubator business model offers several options. Some of the Startup SaaS incubator types include:
For-Profit Incubators: These incubators attempt to monetize equity in the startups they support
Non-Profit Incubators: These incubators try to grow companies for the sake of the local economy
Government or academic-owned incubators: These incubators are specialized and serve specific interests according to the government or academic department.
Final Thoughts
SaaS product development and launch are complex processes that will cost you a considerable sum of money. If you have a revolutionary idea and are short of funds, the best way to see that your vision gets off the ground is by applying for an incubator program.
Incubators ensure that your idea is validated, is proven to be a potential financial success, and that it solves a problem. You get a resource pool and mentoring from experts in the tech field, which prepares you for the market.
There are hundreds of tech incubators out there, and knowing what to look for in an incubator is critical. When applying for an incubator, know the difference between an incubator and an accelerator. An accelerator is designed for already existing businesses that are looking to upscale. An incubator takes on new ideas and attempts to build them into new businesses.
An accelerator speeds up the already existing business by jam-packing a few years' worth of knowledge into three to six months. An incubator incubates the idea slowly for up to two years, ensuring the entrepreneurs get the required mentorship to grow the business from concept to a real business model.
It's not just enough to have a fantastic idea. You have to work toward actualizing it, and realize not every incubator is ideal. Look at what is on offer and how much equity the incubator takes in return, its networking connections, and how much exposure and mentorship it offers you.