Do you have a great business idea but lack the necessary resources to actualize your dreams? Did you know that a business incubator can help you in your entrepreneurship journey? As best startup saas incubators flood the market, choosing the ideal organization for your business model can be a difficult task. This article highlights some of the best startup incubators to boost your bootstrap.
What is SaaS Incubator?
A SaaS incubator is a firm that helps tech startups grow from the early-stage startup concept to a fully-fledged company that can operate on its own. Incubators offer various services such as administrative roles, office space, mentorship and education, idea generation, and access to capital and investors.
Worth mentioning is that there are differences between a SaaS incubator and a SaaS accelerator. For example, the incubator's key role is innovation, while an accelerator focuses on facilitating growth for already existing companies.
While incubators hardly invest capital in startups, they may negotiate an equity stake in return for the priceless resources they offer. On the other hand, Accelerators offer businesses a seed investment in return for an equity share.
Best SaaS Startup Incubators
Some of the most effective and best SaaS Startup Incubators are located in Silicon Valley in Toronto, Los Angeles, New York, Chicago, and the Bay area in San Francisco and other parts of the world. They include:
1. 500 Startups
500 Startups is a global venture capital firm established in 2010; it is based in Mountain View. The incubator strives to discover proficient founders and help them grow via a four-month seed program to create successful global ecosystems.
The mentor network and investment team behind 500 Startups have functional experience in various companies, including PayPal, LinkedIn, Facebook, YouTube, and Twitter. They have invested in more than 2,000 tech companies over the years, such as Udemy, Canva, and Twilio.
500 startups have 15 thematic funds and four global funds devoted to particular verticals or geographic markets. As a result, startup companies can be assured of getting the relevant support they need to scale.
2. Startup Wise Guys
Startup Wise Guys is one of the top B2B startup accelerators in Europe. They offer an intensive three-month program designed to provide straightforward mentoring and coaching. They also provide SaaS businesses with powerful energy to facilitate growth. Their core focus areas include Fintech, B2B SaaS companies, and CyberNorth.
The accelerator program targets scaling up and sales. They collaborate with a network of more than 150 local and international mentors to help businesses customize and prepare their products for their customers. Startup Wise Guys also offer Demo Days and allow startup founders to attend tech summits nd startup fairs.
3. AlphaLab
AlphaLab is a SaaS accelerator located in Pittsburgh, PA. It provides an intensive four-month program to help early-stage tech companies grow and evolve. Apart from funding, the program involves comprehensive educational sessions and a mentorship network.
AlphaLab only deals with 6-8 startups per program, meaning that successful firms will receive customized help and personalized assistance based on their company's needs. This firm is a Global Accelerator Network charter member and one of the inaugural ten accelerator programs globally.
More than 70% of their institutions have secured follow-on funding amounting to $150 million. Among the remarkable exits from AlphaLab include Powered Analytics by Target, Shoefitr from amazon, and NoWait by Yelp.
4. Boost VC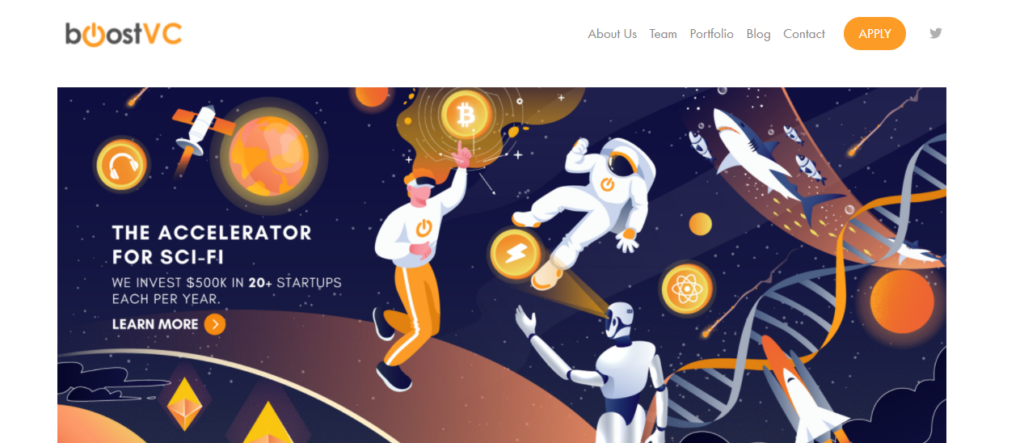 Boost VC is a pre-seed fund that is based in Silicon Valley. Its mission is to actualize Sci-fi. They provide a three-month accelerator program for tech startups passionate about leveraging state-of-the-art technology to solve problems.
Boost VC has collaborated with startups in more than 30 countries. Once you join the program, they will give you a working space, housing, and funding until you complete the program. They also offer connections, resources, and mentorship.
5. JumpStart Foundry
Does your startup target the healthcare industry? JumpStart Foundry is committed to supporting early-stage healthcare firms to make the world a better place. It links firms with stakeholders in the industry and provides consulting on marketing and strategy. They also advise companies on growth and talent.
Besides funding, members of the JumpStart Foundry program receive exclusive connections, perks, and knowledge from top business brains in Nashville. JSF offers a $150,000 SAFE with a two or four million valuation cap in return for a 7.5% equity. Startup companies will need to pay $50,000 to participate.
6. The Alchemist Accelerator

Is your venture looking forward to acquiring its revenue from companies instead of consumers? The Alchemist Accelerator should be your go-to firm. This venture-based initiative strives to accelerate the development of enterprise monetizing investments. It offers a six-month program in the San Francisco Bay area limited to 25 teams. During the program, participants will use the available co-working spaces.
Further, they will get a chance to access the Alchemist's valuable network of mentors, feedback coaches, and customer prospects. These professionals will connect startups with mentors who will help them reach potential customers, secure funding, and increase sales. You can apply for this program without a particular idea. All you need to do is discuss your opinion in your application, and you can be accepted into the program.
7. Seedcamp
Seedcamp focuses on pinpointing and investing in early-stage companies, solving complex problems via technology, and responding to global markets. The seed fund is based in the UK, London. Seedcamp is committed to helping startup SaaS Company entrepreneurs develop their businesses by providing interactive support in various areas like initiating connections via their global network, marketing capabilities, building sales, and finding product-market fit.
Seedcamp also provides lasting access to its support community, apart from the investment. The firm often targets European founders, but they are open to collaborating with startups from other parts of the globe. Seedcamp has invested in various Fintech companies like Revolut and TransferWise.
8. Gener8tor
Gener8tor connects entrepreneurs, startups, musicians, and artists with corporations, universities, and investors. This firm has a unique concept that includes accelerators, fellowships, conferences, corporate programming, and pre-accelerators.
Gener8tor invests in five companies only per program and focuses on high-performance startup companies in various industries like life science, SaaS, web, IT, hardware, eCommerce, MedTech, and software.
The accelerator program runs for 12 weeks. Besides the investment, participants also get access to Gener8tor's network of corporate partners, venture capitalists, angel investors, technologists, and mentors who help them grow.
9. AngelPad
AngelPad is an accelerator program located in San Francisco and New York. They have worked with over 150 companies with median funding of USD 11 million for each. They have a remarkable track record and have been classified as the leading US accelerator by the Massachusetts Institute of Technology's Seed Accelerator Benchmark annually since 2015.
AngelPad selects 15 teams to attend their thorough three-month program bi-annually. Luck applicants receive mentorship, funding, and prepping in various subjects like preparing for fundraising, acquiring validation, and product-market fit. Often, participants get a chance to become part of their community of co-founders and connect with investors.
10. Launchpad LA
Are you and your team ready to relocate to Los Angeles to participate in one of the most powerful accelerator programs? Launchpad LA could be the ideal choice for your tech startup. Their 4-month accelerator program provides a comprehensive network of mentors, advisors, and investors.
Participants will also get free office space, funding, and various interesting free perks. Launchpad is flexible in selecting companies to work with. They focus on strong teams with excellent products that require support and a push in the right direction, which can be: business development, fundraising, or product refinement.
11. Techstars, USA
Techstars was established in 2006 and is present in more than 15 countries. The firm is a global network that allows entrepreneurs to introduce state-of-the-art technology regardless of where they live. Techstars strives to offer consultations monetary terms and provide startups with the necessary assistance to grow.
The Techstars accelerator program has generated more than 1,000 companies valued at more than $8 billion. It introduced Startup Weekend, which encourages entrepreneurs to establish new companies within hours. The Techstars Global Entrepreneur Network assists entrepreneurs and their businesses to grow by connecting them with a wider network of corporate partners, investors, mentors, consultants, pioneers, and peers.
Currently, the firm is running 47 mentorship-oriented accelerators in more than 15 countries. They provide startup programs like venture capital funds, commercial development partnerships, and mentorship-oriented catalyst programs, stimulating success by funding some of the most offbeat companies.
12. Y Combinator, USA
Y Combinator is one of the most high-ranking startup accelerators across the globe. It has accelerated the growth and success of various companies like Stripe, Airbnb, and Dropbox.
Y Combinator has funded more than 2,000 startups over the years and receives more than 13,000 startup applications through the internet only annually. Successful startups must relocate to Silicon Valley, working closely with the Y Combinator team.
13. Plug And Play
Plug and Play is a seed accelerator, investor, and corporate innovation platform established in 2006. The accelerator's notable investments include Paypal, Google, and Dropbox.
14. Portland Incubator Experiment (PIE)
The Portland Incubator Experiment has evolved from an early-stage startup accelerator into a co-working space and community hub and an international consultant for accelerator and incubator programs. Today, PIE is a thriving ecosystem that mentors and nurtures startups from different parts of the world.
Participants in the PIE incubator program receive funding and office space to spend approximately nine months. During that time, they learn from the comprehensive PIE network and other thought leaders, alumni, and resident startups.
15. Egg (Enter-Grow-Go)

Egg is one of the most remarkable startup incubators in Greece. It helps startups grow within a year through a mixed co-working, accelerator, incubator, and incubator program. The incubator focuses on both companies and early-stage startups interested in scaling up.
Successful applicants must be ready to move to Athens and pay a monthly participation fee of 45 euros. Egg grants you access to various funding modes like EU programs like Horizon, equity funding, and a 75,000 euro bank loan.
Finally
Are you an entrepreneur looking to scale your early-stage company to success? Apply now in an incubator program to give your business access to the necessary resources to boost growth.