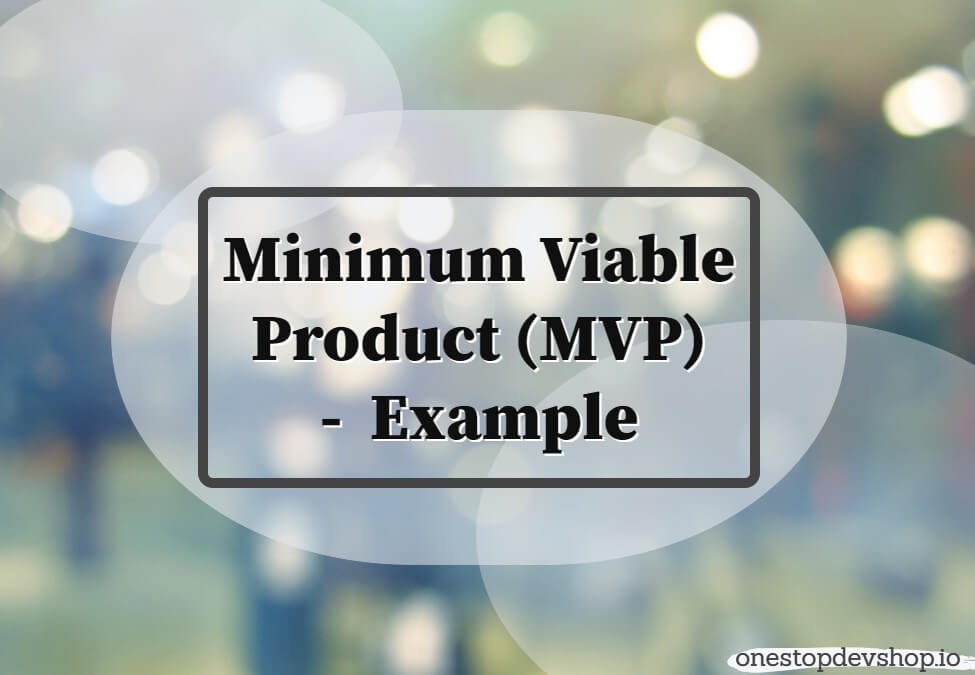 What is a Minimum Viable Product Example in Action Looks Like
The business world is becoming very competitive, and the faster you can get a Minimum viable product (MVP) to the market, the better for your company.
A Minimum Viable Product example is a basic or watered-down version of a new product or service ready for release to consumers. The MVP could be a landing page, an app, or a video with no working product, but introduces a concept to the consumers.
The Origins and Functions of the Minimum Viable Product Example

In 2001, Frank Robinson, the CEO of SyncDev, also known as the MVP father for having coined the term Minimum Viable Product, described it as the "Simplest version of a deployable product." The term became influential and mentioned in several books; most notably "The Lean Startup" by Eric Ries, which further popularized it.
This book was a huge hit and had a significant impact in the startup industry. It introduced to the world concepts such as MVP, continuous software deployment, agile methodology, Business Model Canvas and A/B testing.
As mentioned, a minimum viable product example is one that has a basic feature set. It is released for the sake of testing a new business idea and gauging people's reactions to the potential product or service before the release of the full-fledged product. An MVP helps a startup mitigate failure and financial loss by avoiding developing a product no one is interested in.
The concept of an MVP development process seems simple enough, but some startups still get the concept wrong. Rather than making an initial product version with simple functionality, some startups make complicated products or reduce the product's core functions. A Minimum viable product example should strive to deliver its essence in its raw form, with product development and improvements coming later, depending on user reaction.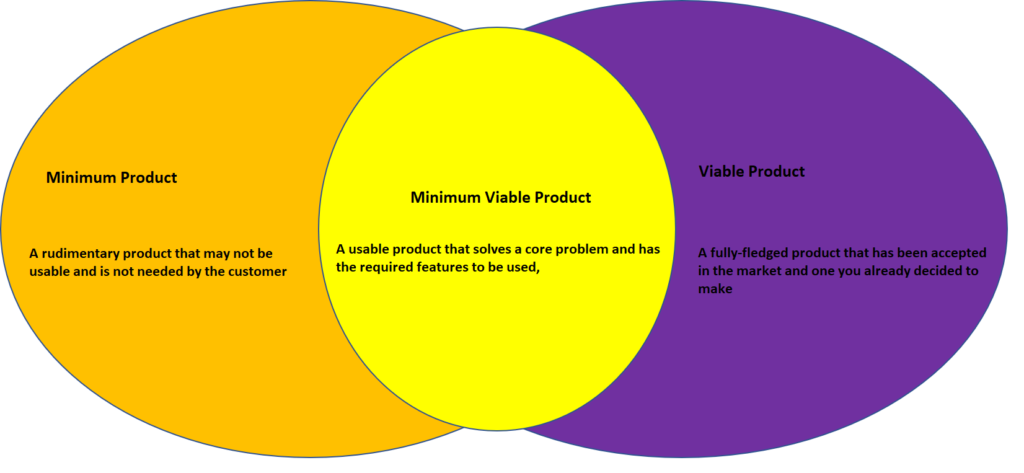 An MVP is that action that allows a team to collate the maximum amount of validated learning on their users but using minimum effort. The MVP should allow the startup to finish a cycle of the Build-Measure-Learn loop by releasing a product to the customers and getting feedback on its performance or lack of it thereof.
An MVP consists of four parts:
Value Proposition- which is either a solution or promising a solution, and the type of benefits the customers receive
Customer segment- This is where the customers give their opinion on the value proposition and whether it can work or not
Channel- The customers receive the value proposition to provide feedback, so the channel is the method used to reach the user base.
Customer Relationship- When the users give feedback on whether the product benefitted them, measuring the product's effectiveness means the startup has to maintain a relationship with the user.
Types of Minimum Viable Products
There are thousands, even millions of products and services available on the market, but minimum viable products are different in many ways. The most prominent types of MVPs include:
· Piecemeal Minimum Viable Product Example
A piecemeal minimum viable product example is an excellent way of introducing your product or service to customers by investing very little money, or sometimes nothing, on your product. The concept of a piecemeal MVP is about using the tools and solutions you have to present your customers' product or service.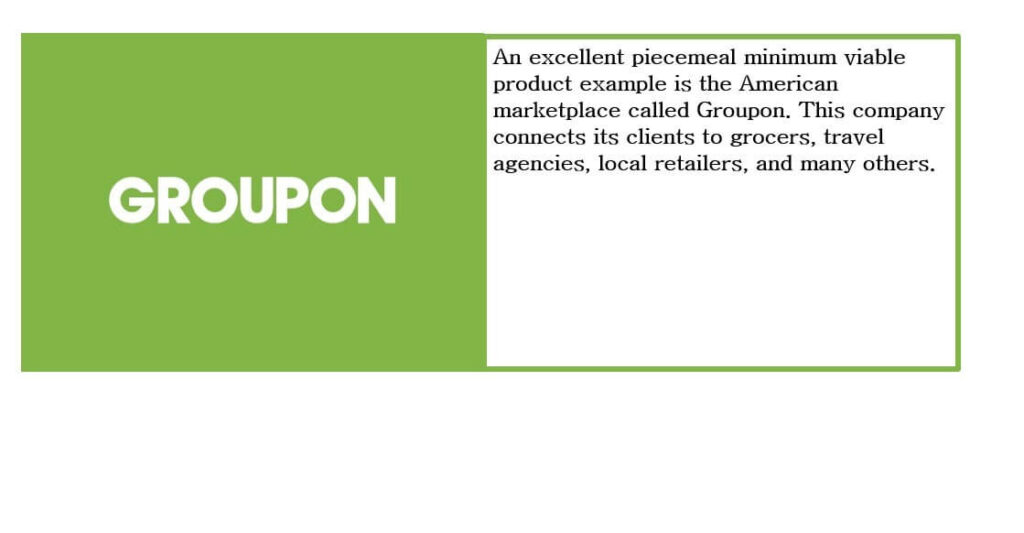 A Piecemeal MVP consists of various components from different sources, all of which form the base of your product's foundation. An excellent piecemeal minimum viable product example is the American marketplace called Groupon. This company connects its clients to grocers, travel agencies, local retailers, and many others. Part of Groupon's attraction and justification for their existence is their deals, which are available at great prices, but for one day only and are activated after a specific number of people purchase them.
When Andrew Mason and Eric Lefkofsky launched Groupon, it was not self-sufficient and depended on third-party resources to power it. This proves you do not have to build a complete product initially. The founders of this company focused on making sure their concept was viable and that people were receptive to the idea. Your plan should be to earn validation for your concept, and then you can scale it afterward.
· Concierge Minimum Viable Product Example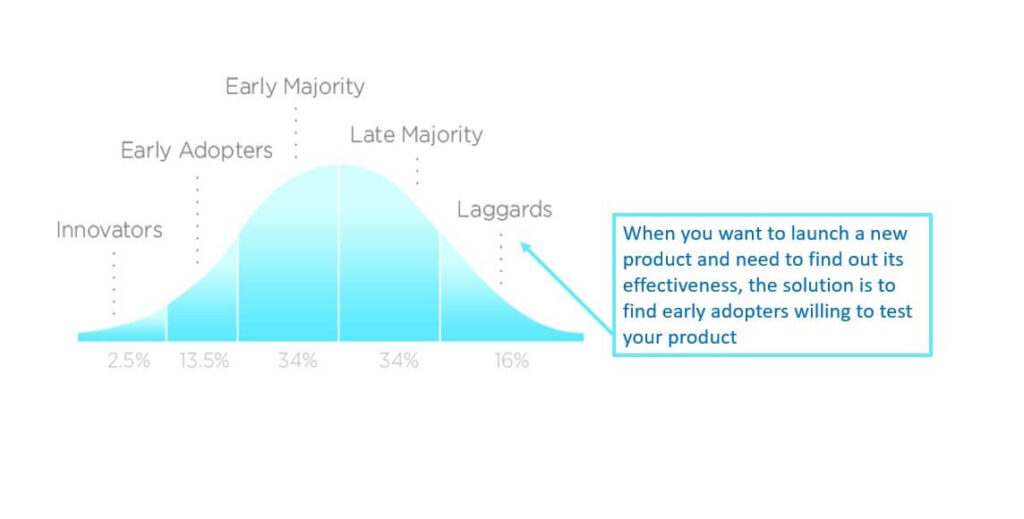 When you want to launch a new product and need to find out its effectiveness, the solution is to find early adopters willing to test your product. You can start by data analysis and selecting the sample to be tested. Once you validate the idea, build an app that will collect the user responses and carry out data analysis.
This type of minimum viable product example is called a concierge MVP because you have to validate the concept by manually providing the services. A concierge MVP is an excellent way to know your target audience and have them validate your concept so that you know if they need the product or a different one.
· Wizard of OZ Minimum Viable Product Example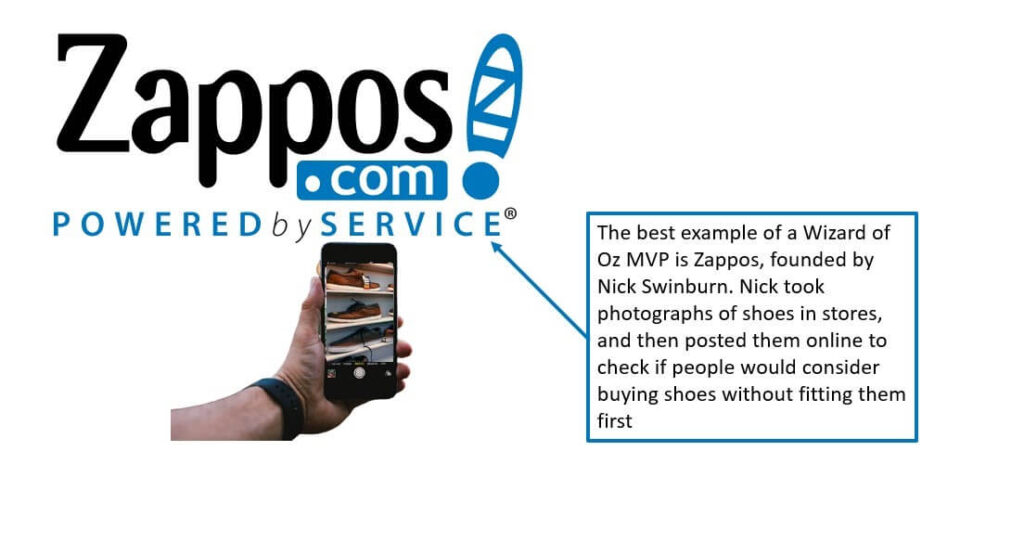 A concierge MVP focuses on delivering a user experience powered by real-life people and clarifies it is not a complete product yet. A Wizard of Oz MVP concentrates on creating an illusion of a finished product while the truth is that it is under development. The Wizard of Oz MVP examples are sometimes referred to as "Manual-first MVPs" or "Flintstoning" MVPs
The best example of a Wizard of Oz MVP is Zappos, founded by Nick Swinmurn. Nick took photographs of shoes in stores and then posted them online to check if people would consider buying shoes without fitting them first. We shall talk about Zappos at length later on in the article. Swinmurn had an idea, and he put it out there for people to sample, while he had not even finished thinking out the logistics.
A Wizard of Oz MVP is an excellent way to test startups that provide all sorts of services. Your product may look like a full-fledged product on the outside, but you are still figuring out the core features behind the scenes. This approach allows you to work with your customers and analyze their preferences and behaviors.
· Crowd-funding Minimum Viable Product Example
One of the challenges that most startups face while using the Learn Startup methodology is accessing their potential MVP. They do not have a channel that allows their target audience to sample and give them actionable feedback. Crowdfunding is one of the ways a startup can raise cash and get feedback. Pebble, an e-paper watch for smartphones, is one idea that was successful in validating an idea and received payments before its production. This MVP by Apple raised over $10M on Kickstarter.
10 Successful Minimum Viable Product Examples
1. Dropbox
Arash Ferdowsi and Drew Houston formulated an idea for a file-syncing service that was cloud-based. They knew that building the hardware infrastructure would be too expensive and time-consuming, so they scrapped the idea. The Dropbox MVP was just a simple explainer video that showed clients how the app would work, and nothing had been built at that point.
The video was a huge success and garnered more than 70,000 signups from interested customers interested in the idea. This video tested the founder's most prominent risk and question- whether anyone would be interested, and this question was answered cost-effectively and quickly.
2. Zappos
In 1999, Nick Swinmurn leaped into the unknown when he felt he could build niche-selling shoes online. Swinmurn did not go the usual way, trying to build an e-store, look for delivery partners, or purchase inventory. Nick was smarter than that and recognized that most startups use a lot of money and die long before testing their ideas.
Swinmurn did the next best thing. He went ahead to register Shoesite.com and dived into business with no inventory and zero stock! He only took photos of shoes he intended to sell, and when a customer expressed interest and placed an order on his site, he would purchase the shoe from the shoe stores and shipped it to the client.
This provided him with an excellent low-risk method of testing his idea without tying up funds in inventory. Shoesite.com evolved to Zappos and bought off by Amazon for $1.2 billion in 2009!
3. Groupon
In the late 1990s, discount vouchers and coupons were a hot item, and Groupon's initial concept was to smooth the way for people looking for great deals. Their idea was a simple one- they built a website where visitors who wanted coupons would subscribe to and Groupon would email them the coupons in PDF format.
Some startups might have put time and money into building a website and getting into deals with retailers. Groupon built a WordPress site and collected a substantial email list of customers who engaged them. This WordPress website is a perfect minimum viable product example for any entrepreneur who intends to test their product or service with minimal fuss. Groupon eventually built a voucher and backend system with the site's proceeds. In 2011, Groupon's IPO (Initial Public Offering) was the largest by an American company after Google.
4. Amazon
In his capacity as an investment banker, Jeff Bezos saw an opportunity with the advent of the internet and thought books would sell online. Instead of sinking cash on an e-commerce store, Bezos realized that by operating on a frugal scale, he could test his idea and save himself from wasting money on an idea no one was interested in. He moved back into his parents' home and built a basic website.
The Amazon website, despite its simple design, helped Bezos prove that selling books at low prices on the internet is a great idea. What followed was iteration and within no time, the business had taken off. Bezos's earliest orders were from his family and friends, and had he not operated frugally, his idea would not have taken off.
5. Uber
Back in 2008, Garret Camp and Travis Kalanick in San Francisco were having a hard time grappling with the expensive cab fares and the lack of other affordable options. Their initial product idea was pairing drivers willing to take passengers who would take passengers along with people who needed a ride. They did not go crazy building apps or design a website and realized that scaling too fast would finish their idea before it took off.
In 2009 when Uber launched, the MVP app called "UberCab" was only available on iPhones or SMS and only in the San Francisco area. This app provided the two founders with insights on the viability of their original idea. The MVP helped the two co-founders test the biggest risk with very little cash. Data obtained from the app helped them scale, allowing it to quickly become one of the most valuable companies down in Silicon Valley.
6. Airbnb
In 2008, Joe Gebbia and his co-founder Brian Chesky struggled with rent in their expensive San Francisco apartment. Their initial idea was to check if a market was available for people interested in renting out their homes. Again, rather than building a website and making deals with homeowners, they created an MVP that was just a simple website with photos of their apartment.
This way, they got to test their idea with no costs involved. They found that they could rent rooms to people attending conferences in the San Francisco area, have them check-in, and stay for as long as they needed and checkout. After some time, the two got revenue to improve their website, both in functionality and design.
7. Buffer
If you want a social networking tool that lets you schedule social media platform updates on Facebook, Twitter, Google+, LinkedIn, etc., Buffer is the tool for you. Joel Gascoigne, Buffer's CEO, decided to build a product that everybody could use and did what Dropbox did, but the difference was that he built a landing page instead of doing a video.
The landing page showed the users the idea behind the Buffer software, its set of features, and the pricing. Whoever wanted to buy the product would select the accessible plans. A screen would appear, letting them know Buffer was still in the development process, and they could apply to a waiting list to get the final product. Buffer made use of email lists to tell their potential customers about their future intentions. This method allowed Buffer to build a product that the consumers had proven they were interested in.
8. Food on the Table
Food on the Table is a favorite minimum viable product example that was launched as a concierge MVP. Food on the Table is a mobile application that collects food preferences, suggests recipes plus the grocery stores nearby with the best deals, and helps you cook great but inexpensive dishes.
In 2009, Food on the Table's founder Manuel Rosso had no mobile app or website for this service. He, however, made it up by ensuring his idea had value addition to his clients. Manuel first found people willing to participate and interviewed them to find out their budgets and food preferences.
Manuel compiled his shopping lists manually, chose recipes, and picked coupons from grocery stores. Rosso provided an extremely exclusive service that later became a business success that currently helps thousands of people shop on a budget and help the grocery stores in marketing themselves.
9. Spotify
In 2006, a challenge became apparent because of file sharing sites such as LimeWire and Pirate Bay, which meant that few people paid for the music. Daniel Ek and co-founder Martin Lorentzon recognized that legislation was not working, so their initial concept was to build a free streaming site that used ads for revenue generation.
Around the same time, many streaming services similar to this were launched but died shortly after. Spotify, however, went on to become a successful streaming site worth $23 billion. The two Spotify co-founders did not build fancy websites but built an MVP as a desktop app. The app offered a single feature, which was music streaming. Later on, they included an option for the users to pay a monthly subscription fee for ad-free user experience.
10. Twitter
In 2001, Apple released iTunes, which threatened Odeo, a podcast business, who thought fast and ran hackathons to get new ideas, one among them an SMS service known as Twttr. At first, this service was only for Odeo employees, and before long, Odeo's employees started spending a lot of money posting on this platform. Twttr, later on, morphed into Twitter, scaled and evolved into the famous and popular platform Twitter.
Conclusion
Sometimes it is hard for startups to distinguish between which Minimum Viable Product example types to choose for their startup. Sometimes, an explainer video can suffice as an MVP example, while in some cases, a landing page is enough or a software prototype.
Whatever you go for, your product needs to be viable; the primary focus should be to test the idea and gain validated learning using the least effort and resources possible. To develop your MVP strategy, you need to think and start small but have a bigger vision for your product's future.
In the Lean Startup, Ries talks about choosing what you will test when creating an MVP. He writes about testing the riskiest assumptions as a priority. For many startups, the riskiest assumption remains to be the market existence. For example, Dropbox assumed that people would want to use a file syncing service, while Zappos assumed that people would be interested in online shoe buying.
For Airbnb, the founders assumed that people would be open to living under a stranger's roof instead of a hotel, while Spotify assumed people would want a music-streaming site. In all these scenarios, the startup owners designed their minimum viable product example according to these assumptions.
When you answer your assumptions, test these assumptions, and prove them right, you will well be on your way to a successful business.