Saas- Software as a Service- is one of the hottest cloud computing models today. Annual SaaS sales have been miles ahead of traditional offline business software (Gartner). Over 70% of total company software, according to BetterCloud- a tech Thinktank- is SaaS. Investing in or purchasing a promising SaaS company is therefore very attractive today.
If you are an investor or involved in venture capital and interested in the SaaS industry, then you have come to the right place.
In this guide, we explore the SaaS (Software as a Service) landscape from the perspective of someone wanting to invest or purchase a SaaS business or startup. We answer important questions like why you should invest in SaaS, where and how to buy promising SaaS companies, and more.
What Is Saas?
SaaS is one of the cloud computing models primarily concerned with delivering software solutions to end-users. In SaaS, the software company develops software that it intends to sell to customers, but instead of making it available for downloads, it publishes it in the cloud.
The term SaaS refers to distributing software over the internet. Using the internet to access software is an alternative to installing and maintaining it offline. Doing this relieves enterprises of the burden of maintaining software and IT infrastructure. Most SaaS providers operate as online businesses, and it's unlikely that they ever interact physically with clients.
SaaS is one of the models in the cloud computing ecosystem and the most popular going by current usage statistics. Today, nearly every software developer delivers their software exclusively on the internet under this model, e.g., Adobe. Others, such as Microsoft, currently maintain hybrid models while waiting for users to catch up.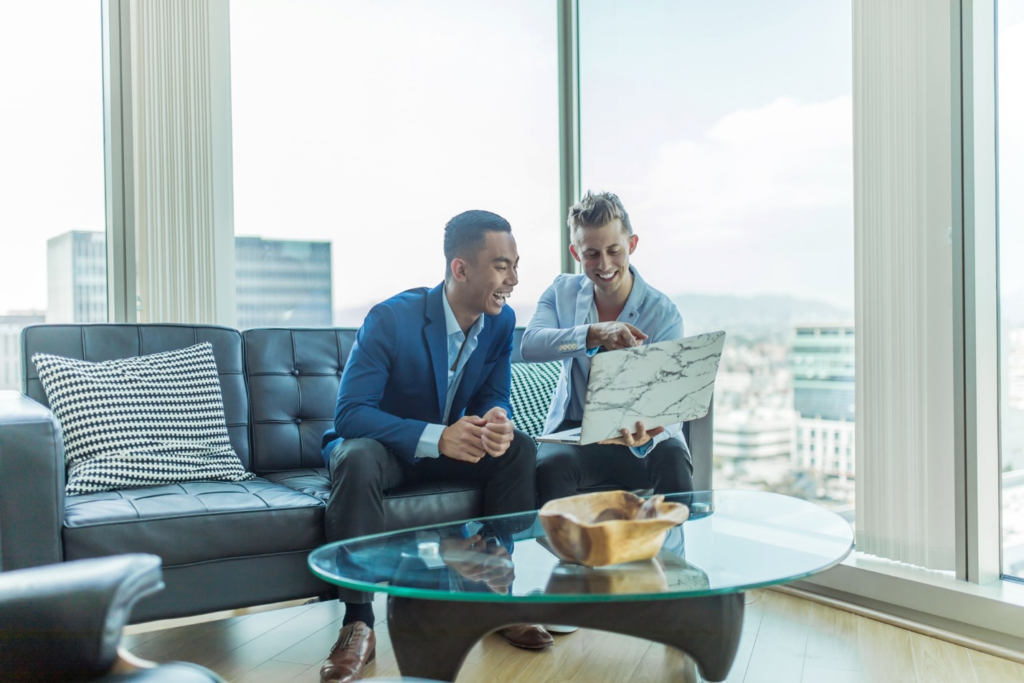 The other competing and complementary models are Platform as Service (PaaS) and Infrastructure as Service (IaaS). Platform as a Service is a model where a provider avails hardware and software infrastructure, primarily for software development and maintenance purposes. Infrastructure as Service is a model where a cloud computing provider sells ready IT infrastructure (storage, servers, networking) in the cloud.
SaaS commands the largest market share in providers, products, and users of the three cloud computing models. Some of the biggest software companies like Microsoft have made massive investments in SaaS, and smaller players also have a fair chance to succeed. If you have used any web-based tools like a CRM or productivity tools like Office 365, you have interacted with SaaS.
What Is a Saas Company?
Any software company that develops client software made to reside on the cloud is a SaaS company. This includes all the major software companies like Amazon, Microsoft, Salesforce, Adobe, and QuickBooks, whose range of tools and client software is accessible online through a web browser.
What Is the Difference Between a Saas Company and A Software Company?
For a software company to be considered a SaaS company, their software must be available through the internet, where users can access all its functionality through an internet browser. Companies that only have downloadable software versions are not in the SaaS business.
A SaaS company does not just deal with developing and uploading software to the cloud for companies and individual users to access and use; SaaS companies do more. Some of the major activities modern SaaS companies are involved in include:
Online Software development
The core business of a modern SaaS company is developing software that they can then deliver to end-users through the cloud. Some SaaS companies use PaaS and IaaS platforms from major cloud providers like Amazon or Microsoft. Others provide their online software through private clouds, built and maintained by them.
Software Maintenance
Apart from developing and selling web-based software, modern SaaS companies also maintain the same software for clients. The SaaS model allows software companies to remotely do regular maintenance services like updates, security patching, upgrades, configuring, etc. They are the custodians.
Other SaaS companies provide a wide range of services, including help-desk support, security management, user management, data management and analytics, backups, etc. SaaS companies generally allow their users to use software without worrying about what goes on behind the scenes.
What Are the Advantages of Saas Companies and Why Invest in A Saas?
SaaS companies have many advantages from an investor's perspective. Here are some of them:
They are easy to set up -A small startup with one or two employees can set up a successful SaaS company without many resources. Most SaaS companies are pretty lean in terms of resource use.
They are easier to analyze- All the information you need to purchase An SaaS company is readily available either as an online report or data from external sources. You don't need to jump through hoops to know how a SaaS company is performing in terms of sales or market penetration, as you can obtain the stats quickly through various channels.
For instance, a simple SEO report can help you tell how well a SaaS company is doing and its prospects. There are several other sources of information all over the internet to analyze SaaS companies you are interested in.
SaaS companies Are Cheap to run- Compared to traditional brick-and-mortar companies, SaaS businesses have significantly less operational costs. For this reason, anyone can start and run a successful SaaS company with very little in terms of capital or funding so long as they have a viable business idea. The asking price for a typical SaaS startup with a steady revenue stream/cash flow is usually relatively low.
No Geographical boundaries- You can invest in any SaaS company worldwide because most of them are internet-based. You don't need a physical presence to purchase or manage the business unless in extraordinary circumstances. For instance, you can buy an ecommerce SaaS business in New York while in Los Angeles online, with no hassle.
Finding Saas Businesses for Sale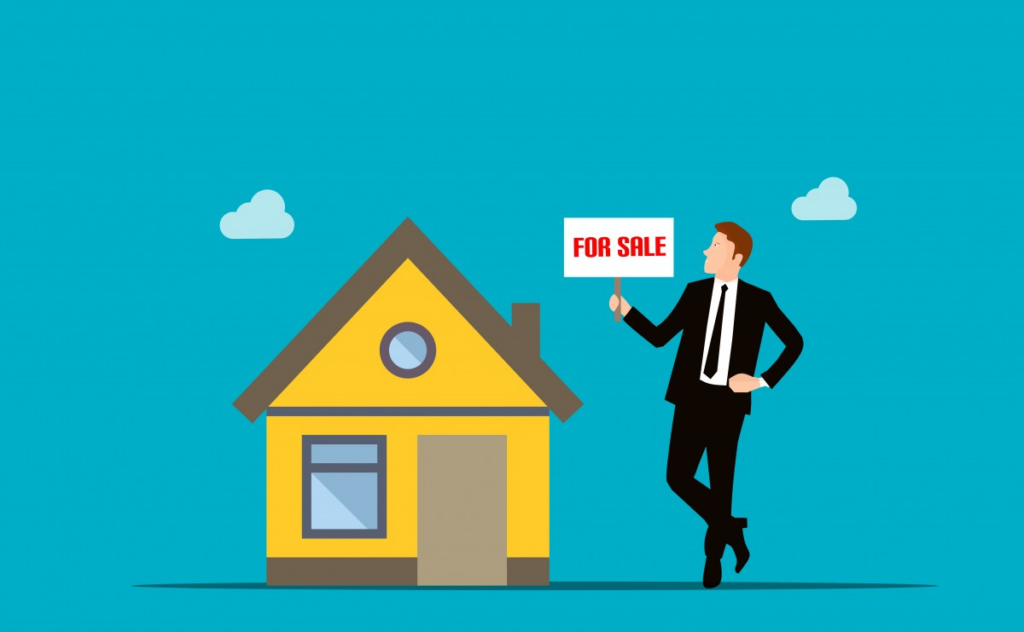 There are many promising SaaS startups and established SaaS businesses out there that you can purchase. To find companies to invest in, you may need to do a bit of due diligence and know exactly what you are looking for.
Your due diligence should involve knowing the entrepreneur or current owner of the business, their location, cash flow, asking prices, and other things. Use industry indicators like the Gartner hype cycle to understand the status of the technology you are investing in for future success.
If you are purchasing a business through the internet, you need to be careful that you are working with the current owner and not a scammer or fraudster. Ensure that the seller can provide verifiable documentation to prove that they are the actual owners of the business before you pay.
Find Reliable Sites for Purchasing Saas Companies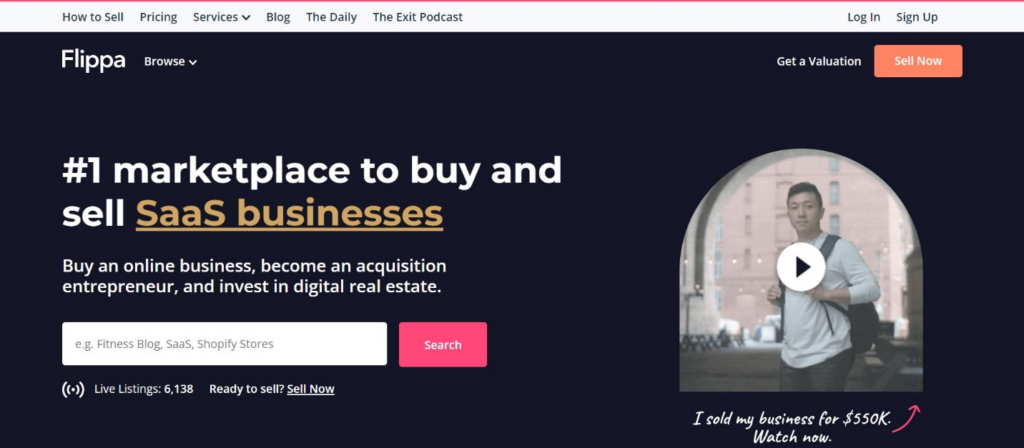 Many online sources list or analyze promising SaaS companies that you can use to find and learn about the companies you want to purchase. Some good and reliable websites to buy online SaaS companies are
Flippa
Shopify exchange
FE International
Digital exits
Latona's
Side Projectors
Empire Flippers
Exchange marketplace
IndieMaker
Motion Invest
MicroAcquire
Trustiu
Another option to purchasing a ready SaaS startup is setting up your own from the ground up. This gives you complete control over the company's direction and might be fun as well. Thinking of starting a SaaS company, it's easy; hire a SaaS developer today and realize your dreams.