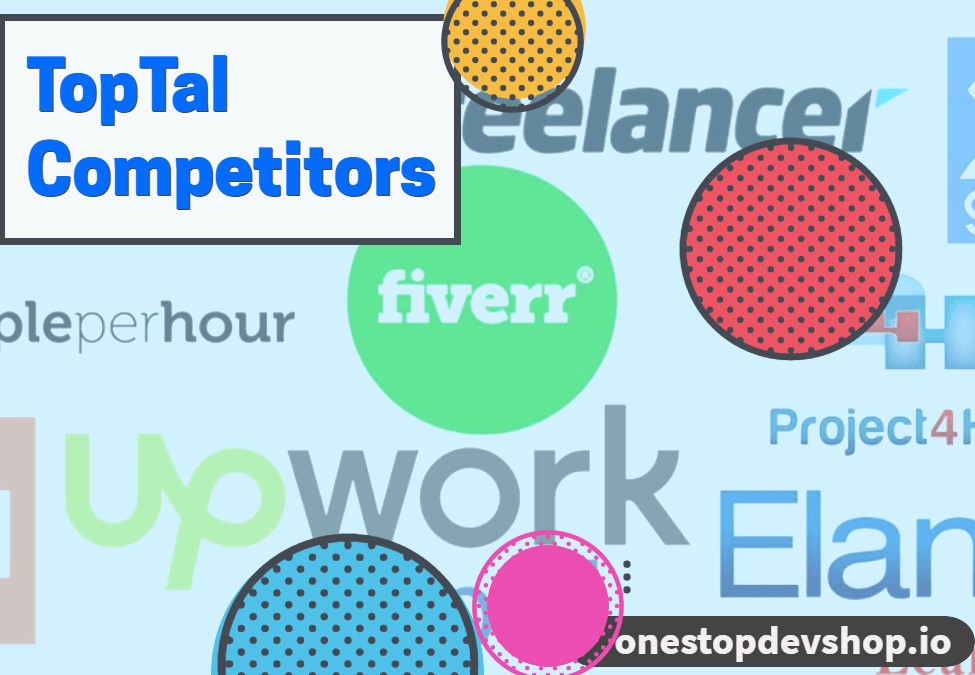 TopTal Competitors
Toptal is a freelance online marketplace that allows corporates to hire the most talented and thoroughly vetted freelancers globally. Toptal hires the top 3% of talent and takes freelancers through a thorough vetting process that takes four to six weeks. As an employer who wants to hire software engineers, designers, and finance experts, they can get them from Toptal.
TopTal has no brick and mortar offices. If an employer wants to hire Toptal talent to work on a project, whether a solo freelancer or a team of five or ten people, the employer needs to give as many details about the project as possible so that they can get the perfect talent match.
Founded in 2010, Toptal started by offering only software development services. In the past few years, they have since included finance consultants and designers. Since Toptal employs only the best, it tends to be a bit costly for some companies. For such instances, Toptal alternatives come in handy. Not all Toptal options are similar, but the excellent platforms are determined by checking these criteria:
1. Fixed hourly rates and no bidding system
2. Thorough vetting process
3. Focuses on up to five professions
4. Lower prices and take on small projects.
If the client picks the freelancer they want to work with, they are given a risk-trial period. As the client, you can work with the freelancer and, if not satisfied, choose another freelancer. You can change freelancers until you get a match, but not more than five times, and you do not have to pay for this.
How Toptal Works
TopTal came into the limelight with its new approach to freelancing that attempts to match every client with the appropriate freelancers. For clients looking for developers, financial experts or developers for hire, they submit their project description to Toptal who goes on to match the client with the freelancer who can complete the task. This technique has saved the clients' need to peruse through hundreds, possibly thousands of profiles looking for the perfect freelancer to take on their project.
Unlike the other online platforms, Toptal has no bidding system where freelancers bid for jobs. This system allows them to set the hourly rates for the freelancers. The prices are based on the freelancers' work experience, how well they can code, how many code languages they are good at, and where they are from.
1. Upwork vs. Toptal
Upwork, being one of the biggest freelance websites, is very popular with both freelancers and employers alike, and especially newbies. The two platforms have different models, and it might seem a bit off to compare the two. Upwork is the most popular website used by employers to hire freelancers for all types of work. You can hire talent such as developers, designers, data entry copywriters, etc. Unlike Toptal, Upwork's model has a bidding system. The problem with the bidding system is that you might have the best qualifications, but if you have no recommendations from clients, you might have a hard time getting a gig.
On Upwork, you are never assured of the talent you hire, and you might be lucky to hire decent talent at a lower price. You also have to go through C. Vs., applications, interviews, and still not get a guarantee of on-time project delivery. Anyone can open an account on Upwork, and you might bump into fake software development accounts, run by poor quality development shops.
There is no bidding system on Toptal, and you can be sure of the proficiency of the talent you hire. The Toptal team goes through all the trouble to seek the best freelancer for your project, and all you need to do is tell the team what you need to be done. Toptal is not cheap and is suitable for larger projects with higher budgets. Freelancers on Upwork can choose the jobs they apply for just by giving justification of why they are fit for that job. The client makes the final decision on the freelancer they wish to interview and award the job. Jobs are paid on an hourly rate, as a one- time fee or as one fee split into several milestones.
2. Fiverr vs. TopTal
Founded in 2010, Fiverr is an online marketplace. The company is among the best-known Toptal alternatives. The Fiverr platform allows employers and freelancers to buy and sell online services such as logo design, writing, web and mobile application development, etc. at a throwaway price. It was initially called Fiverr because you could sell any service at $5 or less.
Fiverr is similar to the Upwork platform and has various freelancers that you can hire for different skills. Employers can browse through a list of different profiles. Check the freelancers' starting prices, score rating, and how accessible their services are with clients.
Unlike Toptal, anyone can set up an account on Fiverr and create a profile, then start selling skills. Fiver has a Fiverr Pro, which provides client access to the top freelancers in various professions. These top freelancers are vetted depending on their online presence, work experience, language proficiency, customer behavior, and more.
Toptal only chooses the top 3% of talent in the world, and getting in is very tough, considering their thorough vetting process. Even after a freelancer gets in, they have to keep up the excellence in their work.
3. Gigster vs. Toptal
Gigster is a freelance online marketplace that connects software developers with clients that need their services. Gigster is different from other platforms in that it charges a standard per-project fee. Gigster also pays its developers a standard per-project fee.
Gigster is a network, which invites only and 70% of its workforce is in the U.S.A, 15% in Western Europe, and the other 15% from different parts of the world. Gigster accepts only 0.5% of the total applicants, and only 0.2% makes it to the experienced freelancer stage. Toptal eliminates applicants at every step, only picking 3 out of every 100 applicants.
Gigster uses AI (Artificial Intelligence). Unlike Toptal, which lacks a project manager, Gigster assembles teams led by project managers, and who is the only contact point for the client. The vetting stage in Gigster is in three stages
Review of resume
Written vetting where they ask the freelancers some questions
Phone screening where the freelancers' personality is tested via phone calls and a confirmation given if they are fit to be accepted on the platform.
Toptal has a more rigorous 4-step acceptance process. The freelancers go through:
Language and personality
In-depth skills review
A live screen
Test projects
nbsp;
4. Lemon.io
Lemon.io was formerly known as Coding Ninjas and has been in operation for three years. Lemon.io works mostly with developers from Eastern Europe. Lemon.io does fast matching, thorough vetting, and excellent support, as well as the provision of the best developers, equaling Toptal.
Lemon.io has some similarities with Toptal, such as:
90% of the new clients hire the first candidate suggested to them almost immediately
io is fast and matches the appropriate developers with new projects within 24 hours most of the time
Lemon.io is suitable for people who need long term developers, and it is considered the biggest competitor to Toptal.
Wrapping Up
In my many years of freelancing, I have worked for most of these freelance marketplaces, and they all have their pros and cons. When a freelancer is looking for work, the primary considerations are mainly the hourly rates and if there is a bidding system. The vetting process is another essential aspect you need to look at, especially if you are a client.
Sometimes people embellish their resumes, yet they cannot deliver, and when the going gets tough, they disappear. A freelancer may work on an hourly project, do the job halfway, and then vanish into thin air. The disappearance can cause you untold losses, and you have to go back to square one and spend more time and money on another freelancer.
Toptal, an acronym for Top talent, eliminates the need for second-guessing but lacks a data-driven agile process. It also requires an account manager to manage projects and ensure developers are productive. You are assured of the experience and skill of the talent you hire. When seeking to hire or to be hired as a freelancer, due diligence is critical.
Look at what each platform offers for both clients and freelancers and make a decision based on what you need. If you are looking for part-time or full-time gigs, platforms such as Upwork are the best. If you are on a low budget for a short-term project, you certainly are not the target audience of Toptal. Look for a small budget platform like Fiverr. On Fiver, you can get freelancers willing to do anything, from writing a break-up letter to designing a website.
Do not jump into any contract you get, as sometimes scams are rampant, especially in platforms like Upwork. Years ago, a client hired me for a project on Upwork. When I submitted my work, he went under with my money! To avoid such scenarios, ensure the platform has safe payment modes such as SafePay and Escrow. At the end of the day, only you can decide which platform to use, whether as a client or freelancer. Just do a bit of research into each first.